Tent, but comfortable as a home. Have you ever heard of Glamping? The word comes from a combination of 'camping' and 'Glamour' and is the new frontier of outdoor vacations.  The trend of glamping comes from Northern Europe and America, where travelers are looking for direct contact with nature, but also the comfort of a hotel. Glamping in Italy is becoming more and more popular. Let's discover the best eco-friendly glamping not to miss in this country.
Top 13 Amazing Eco-Glamping in Italy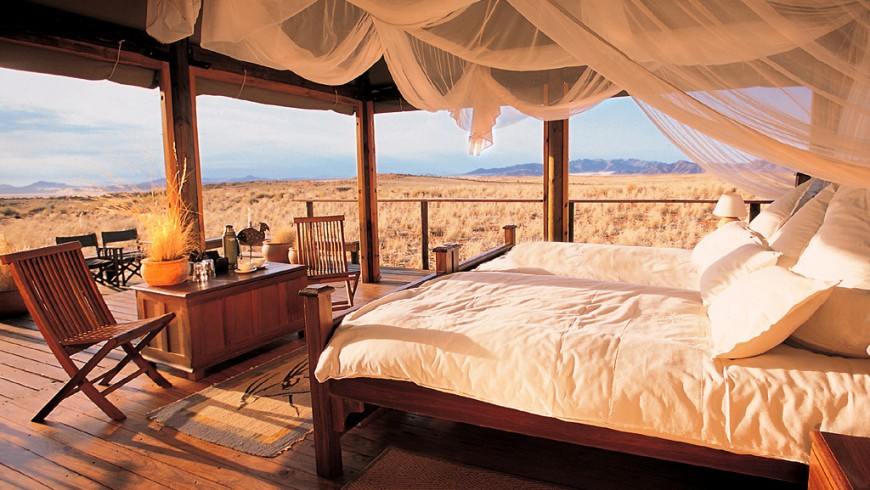 The Glamping offers the freedom of camping but the comfort and well-being of a house. If you can not decide between be surrounded by nature and sleep in a comfortable bed, it could be the right solution for you! In your tent you will find mattresses and fluffy pillows, designer decor, private bathroom, or even a space for cooking and a veranda.
Do you need some suggestions for your next trip? Here you can find the top 12 eco-friendly Glamping in Italy:
1. Garda Lake: here you wake up surrounded by olive trees
Do you need to relax? The place for you is La Casa del Tempo Ritrovato. Here you can sleep in a modern Yurt tent, furnished with comfortable king beds, carpets and design details, set in one hectare of olive groves, few kilometers from Garda Lake.
Why is it 'Green': Sheets are made from organic cotton, and at breakfast, you can taste organic food, homemade jams and exquisite oil dop of Garda Lake. The old farmhouse has been restored following the principles of green architecture and enhancing the local tradition. The accommodations retrieve rainwater and reduce energy consumptions.
How much does it cost: from 135 € per night for a tent for 2 people with a comfortable King Size bed, private bathroom, and raised decking.
Why we love: Because it's located in the countryside, with a breathtaking lake view. There is also a swimming pool and lots of hammocks where you can enjoy reading a good book.
Info: Casa del Tempo Ritrovato, Brescia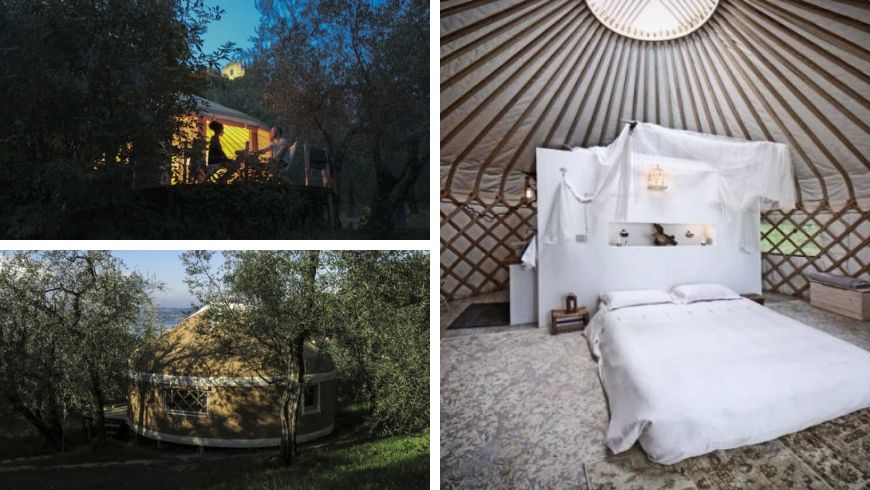 2. Marche: here you sleep under the stars
Have you always dreamed of sleeping under the stars? In this transparent curtain decorated with comfortable mattresses you can. In the morning you wake up with the colors of dawn behind the mountains and the first sounds of nature. All around the soft contours of the hills of Marche (center of Italy), and a lot of possibilities for walking or biking.
Why is it Green: La casa dei Nonni Guesthouse is an organic farm in Monteleone di Fermo, Marche, which offers excellent breakfasts with local and organic food, and homemade cakes. The old farmhouse has been restored following the principles of bio-architecture and using traditional materials. Water is heated using solar energy (with solar panels), and recycling is more than 80%.
How much does it cost: € 70 per day for the transparent curtain with double bed and separate bathroom. Included an excellent organic breakfast.
Why we love: because the experience is unique and the price is low. In addition, guests can use bicycles for free and explore the surroundings.
Info: B&B la casa dei nonni, Fermo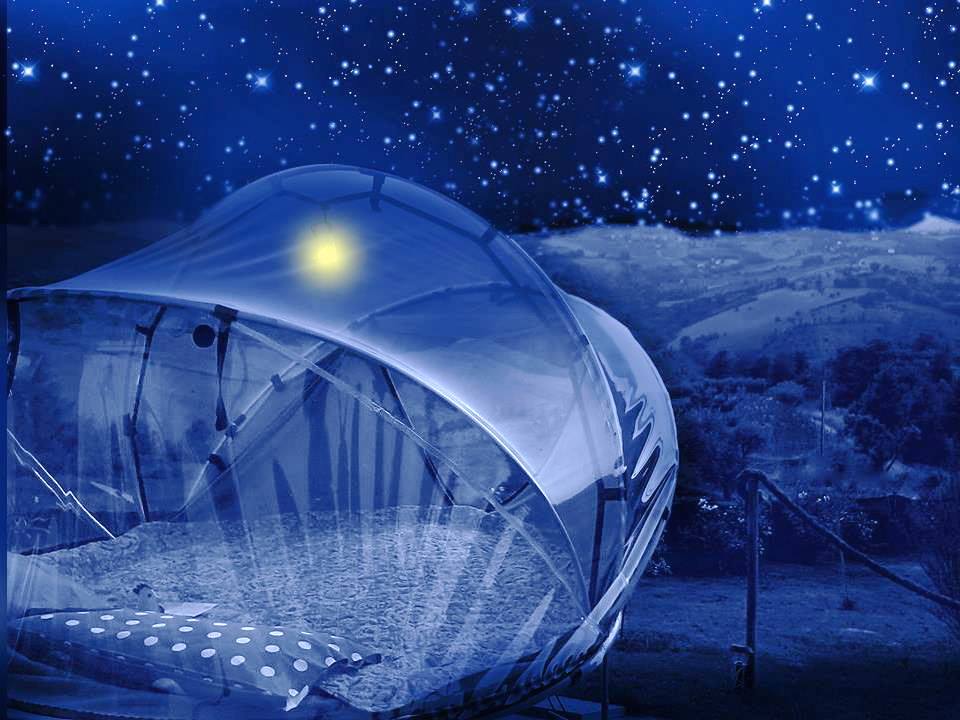 3. Tuscany: here you jump into the sea just wake up
Looking for a stay just a step from the sea? Here you can enjoy 11 km of white sandy beach and one of the cleanest seas in Italy. You can sleep in a comfortable African tent with a raised wooden veranda.
Why is it green: the Camping Capalbio uses natural products for cleaning, serves organic and zero miles food, is engaged in the waste-reducing. In addition, camping offers a bicycle rental service to encourage soft mobility.
How much it cost: from 80 € per day (low season) for the tent furnished with a comfortable bed, a raised wooden terrace and a separate bathroom. Prices vary according to the season, and in July and August, you can rent tents only weekly.
Why we love: because the camping is just one step away from the sea, in the Natural Reserve of Burano, Tuscany.
Info: Campeggio Capalbio, Grosseto
4. Sardinia: here we go back in time
Looking for the most authentic Sardinia? Start this magical place, surrounded by mediterranean trees, 2 kilometers from the sea and the sand dunes of the beach of Cape Conino. Here you can sleep in the ancient 'pinnatu', the traditional houses of the Sardinian shepherds.
The ancient huts are equipped with comfortable wooden beds and organic sheets. In the bathroom, you can find natural soaps and spring water served in earthenware jars. At night the light is given by a lamp to the salt, just as once.
Why is it green: old houses, abandoned for over 50 years, have been recovered respecting the tradition and transformed into unique accommodations. They offer organic food and body care products made with essential oils.
How much does it cost: 120 € per day for a Pinnatu lodge with double bed, private bath, and mountain spring water served in earthenware jars every morning.
Why we love: for the eerie silence, broken only by the sound of birds and wild animals, and for the incredibly starry sky at night.
Info: Sardinna Antiga, Nuoro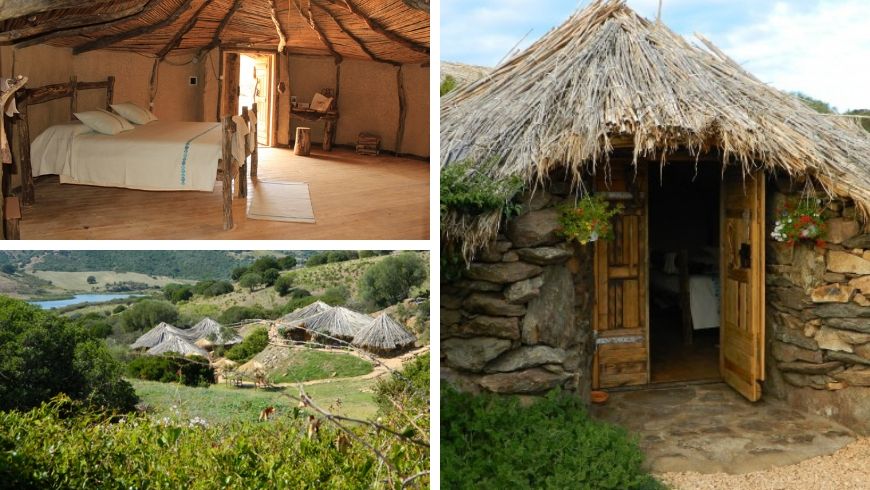 5. Piedmont: here you look deep into nature
Do you want to immerse yourself in the green? In the woods of the hills of Turin, a Yurt, or Gher, an original Mongolian tent, which also offers a panoramic terrace on the Alps and the city of Turin. It is a unique and striking accommodation that will give you relaxation and well-being for your soul. Around you, you will be able to see the inhabitants of the woods: foxes, squirrels, badgers, wild boars, and a wide variety of birds and raptors. At your disposal, you will find a large garden, cots, and beds for children, a barbecue, free private parking, and a private bathroom.
Why is it green: the tent is eco-sustainable because it is entirely made of wood, sheep's felt and natural fabrics, lit by Led and low-consumption lamps, wood-heated, clean with natural detergents and finally there are natural soaps for the guests.
How much does it cost: 60 € per night with breakfast.
Why we love: because this special place allows you to live a unique experience, almost spiritual, definitely refreshing: the true essence of glamping.
Info: Yurta Soul Shelter, Turin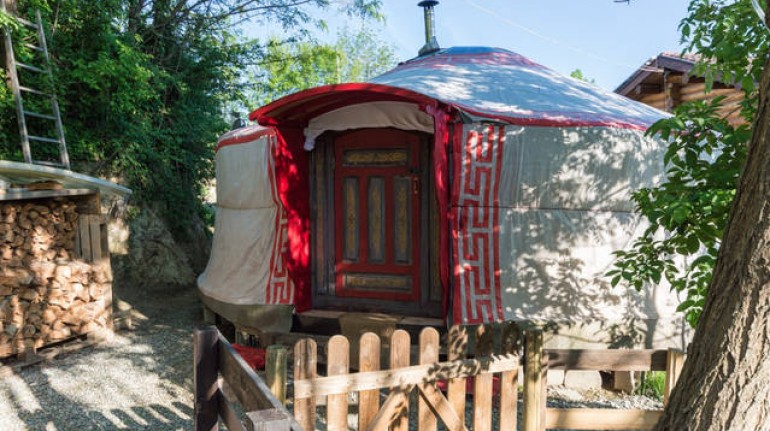 6. Liguria: here you can experience a unique natural wellness
Whether you are looking for a glamping experience on the banks of the river and unique moments of wellness, in Tiglieto (Genova) you will find the best solution to these needs. This glamping area will give you the chance to connect with the unspoiled Ligurian nature. There will be two four-person tents at your disposal, well suited for families, couples and groups of friends.
Why is it green: the accommodation was built using natural materials (wood and cotton). They use environmentally friendly cleaning products and they also encourage the differentiated collection and low energy consumption.
How much does it cost: from 120 €
Why we love it: the accommodation gives you the chance to experience unique wellness moments, such as a massage on the banks of the river, a bathtub filled with river water which is heated with wood and a suspended tree tent.
Curiosity: this eco-glamping gives you the chance to host one-day events (up to 25 people) along with a catering service.
Info: Tende sul Fiume un magico incanto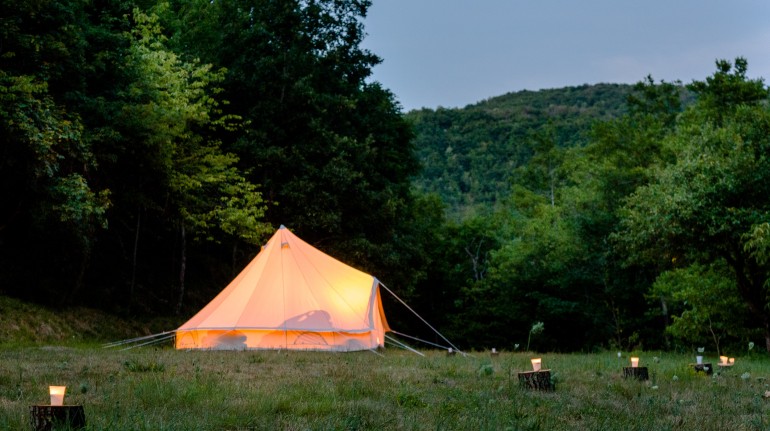 7. Tuscany: here you experience real farm life
In Tuscany's Maremma, you can live a farm experience, near animals, eating organic and home-made products, discovering simple yet unique hospitality with beautiful moments of sharing among guests. The B&B Pietra Serena offers its guests a beautiful yurt with lots of comfort and small attentions for your relax.
Why is it green: the accommodation, attentive to the differentiated collection, uses environmentally friendly cleaning products and energy-saving lights and offers organic food
How much does it cost: 85 € per night with breakfast
Why we love it: because it is authentic and is the perfect place for a glamping experience among incredible views.
Info: B&B Pietra Serena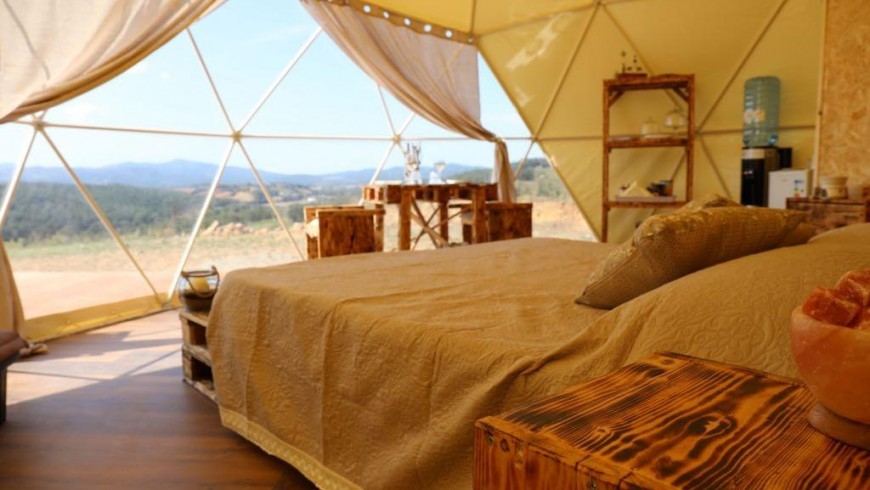 8. Sicily: here you admire the starry sky
Here is another magical place for all those who love to contemplate the stars. Just a few miles from the center of Messina, surrounded by greenery and among the scented gardens, you can find the Green Bubble Room, a transparent sphere entirely made of recyclable materials.
Why is it green: this unique tent is inside a fully organic farm, accessible without a car, and using clean ecological products.
How much does it cost: 120 € per night for the transparent tent with double bed and separate bathroom, including the great organic breakfast.
Why we like it: because it will be a unique and magical night, and during the day you can choose to dive into the various farm activities or to live the city center that is only ten minutes away.
Info: Villarè Farm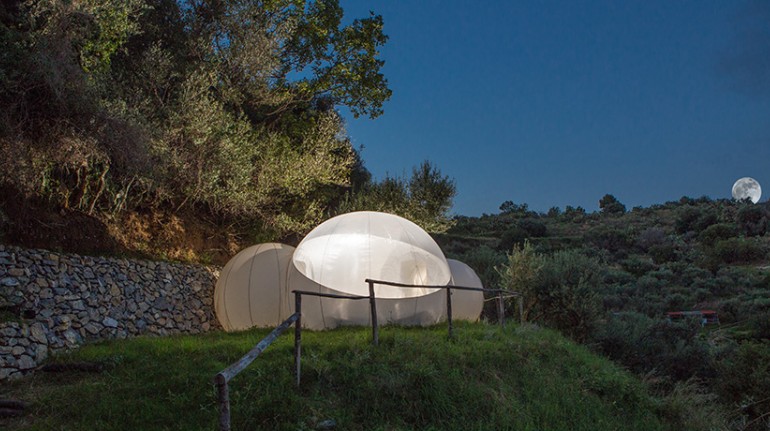 9. Tuscany: here you find silence again
Just a few steps from the Arcipelago Toscano, Agricamping La Gallinella offers to its host 8 awe-inspiring lodge-tents. Some of these also have a private bathroom available, while others have a practical kitchen with everything you might need. Lying deep in the green hills, amid chestnuts, heather, and oaks for you to enjoy complete silence and a breathtaking view!
Why is it green: because only renewable sources are used for energy and the whole camping is made out of wood. Moreover, only biological products are used.
How much does it cost: from 50€ per night
Why do we like it: because these tents have all the necessary comforts you need and they're far from the hustle and bustle of the city life.
Info: Agricamping La Gallinella



10 Apulia: here luxury awaits you
In Gallipoli, the Agricampeggio Torri Sabea is the ideal destination for those who travel respecting the environment but also want to allow themselves a luxurious holiday. In fact, here hosts will find a private closet, air conditioning, solarium in every Premium Tent, with an amazing view on the crystalline water of Puglia.
Why is it green: because this glamping is entirely made of biodegradable and recycled materials. Local-grown food and cleaning products are biological as well.
How much does it cost: from 75€ per night
Why do we like it: because it combines ecology and luxury, to make everybody happy and let you fully enjoy your stay.
Info: Agricampeggio Torri Sabea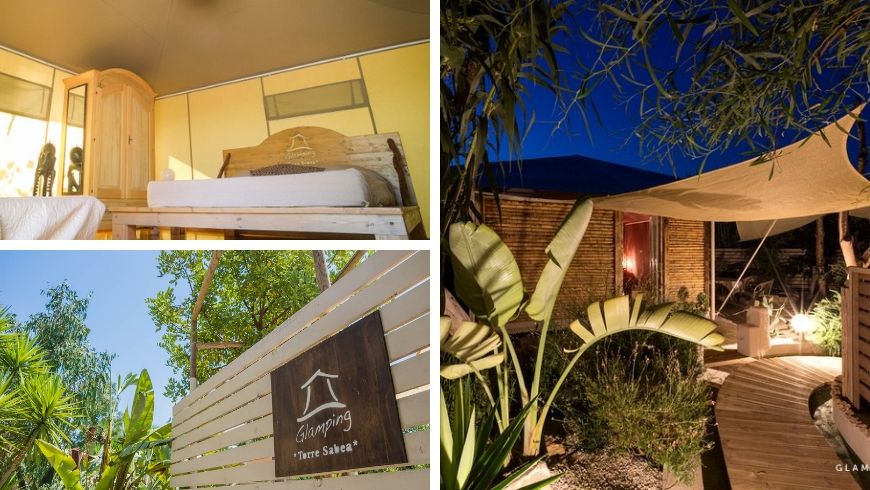 11. Campania: here you experience the Tree Sleeping
Maremirtilli is a unique place to choose for your holiday: in an unspoiled natural reserve between Amalfi Coast, Cilento Coast and just a few steps away from the archeological site of Paestum. In this Ecovillage, you'll sleep in tents hanging from trees and enjoy local food products, from fish to vegetables.
Why is it green: because you can only reach it without a car and solar panels are used to have hot water.
How much does it cost: from 7o€  per night, breakfast included
Why do we like it: because it's unique and special, giving you the chance to enjoy the silence and to sleep without even touching the ground!
Info: Ecovillaggio MareMirtilli



12. Tuscany: here the whole family will have fun!
In the Camping Village Orlando, in the heart of Chianti, there's always something to do. Swimming pools, 5-a-side football pitches, and restaurants to have fun, coupled with great care for the environment in the architecture and materials. From kids to adults, everybody will have the best time ever!
Why is it green: you'll find biological food, energy-saving light bulbs, and bio-architecture! p
How much does it cost: from 37€ per night in the AirLodge
Why do we like it: Because it's perfect for those who travel with their families.
Info: Camping Village Orlando



13. Tuscany: here you can sleep in a super chic Bell Tent
In the Lazy Olive Glamping you're surrounded by olive trees of the luxurious lands of Toscana, where you'll overnight in one of the 10 dream-like Bell Tents. This is a "pop-up" Glamping, as it actually disappeares when it's time to take care of the trees. Among their green branches you can enjoy your open-air dinner with your friends and the other guests, and then dive into the swimming pool at midnight to admire the sky full of stars.
Why is it bio: all the products are locally grown and also cleaning products are ecological. Moreover, solar panels allow this Glamping to have hot water without wasting energy.
How much does it cost: from 100€ per night
Why do we like it: because it's the perfect oasis for a relaxing, charming and romantic getaway.
Info: The Lazy Olive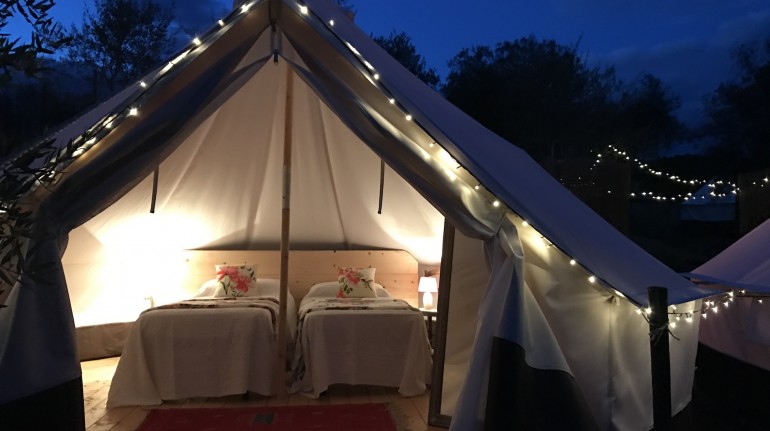 So, have you found the perfect Glamping for your holiday?
Click on Ecobnb to discover all the eco-friendly glamping in Italy and in the world!