Eco-Hotels, organic guest houses, amazing eco-resorts, eco-glamping surrounded by nature with sea views… let's discover the best eco-friendly accommodations near the northern Italian lakes.
Every lake is beautiful, but there are some which make everything around them actually magical. And this is the case of Northern Italian Lakes. Situated among enchanting alpine landscapes and crystal clear waters, these lakes are the ideal destination to relax while listening to the soothing sounds of nature or just stroll among the enveloping scents of the plants which this territory hosts.
Are you looking forward to organizing your next lake holiday? Keep reading. We have selected the most beautiful eco-hotels in Northern Italian Lakes, which will make your holiday both eco-friendly and unforgettable.
1. An Ecological BnB on the Shores of Lake Caldonazzo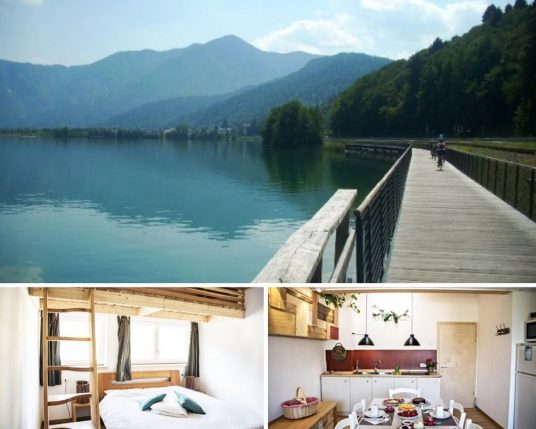 One of the best eco-hotels in Northern Italian Lakes is B&B Casa Sul Lago. Situated in Trentino, it is an ecological Bed & Breakfast surrounded by nature, a few steps away from Lake Caldonazzo in Valsugana. It offers 3 newly renovated rooms overlooking the lake. In addition, here guests will taste organic/biodynamic/km0 breakfasts and spend time in the large garden where vegetables and fruits are grown. By reaching the lake with a nice walk, you will be able to swim, chill out on the beach, or even picnic in this green area.
In addition, if you are a fan of cycling holidays, this is also the ideal place for you. You must not miss the beautiful cycling route, which from Calceranica leads to the end of Valsugana.
2. A beautiful Spa Hotel in Lake Nembia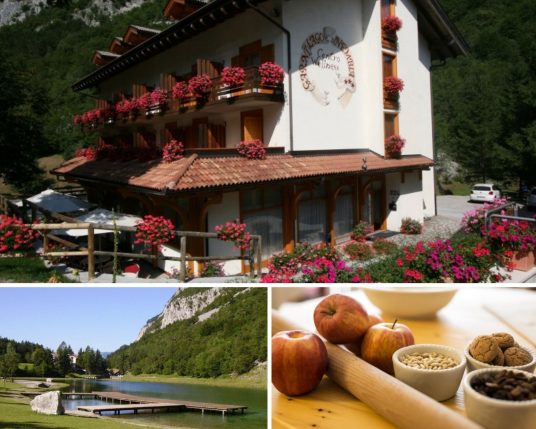 The second on our list of the most beautiful eco-hotels in Northern Italian Lakes, is Garnì Lago Nembia. It is situated on the homonymous Lake in the heart of the Brenta Dolomites (Trentino). It is the perfect place for both outdoor and wellness enthusiasts. In fact, this is an eco-sustainable spa hotel in the verdant nature of the Nembia Oasis – in the heart of the Adamello Brenta Natural Park. Here you will also have a chance to have a taste of some of the specialities of Trentino.  In fact, according to the hotel's mission, respecting the environment begins at the table. This is why this accommodation guarantees a strong commitment towards choosing local products, as well as towards minimising food and packaging waste.
Directly from the Garni, you can discover the Brenta Dolomites in all their beauty, either by bike or on foot. If you are brave enough you could even go paragliding.
3. An Eco-Resort with a Pool on the Shores of Lake Garda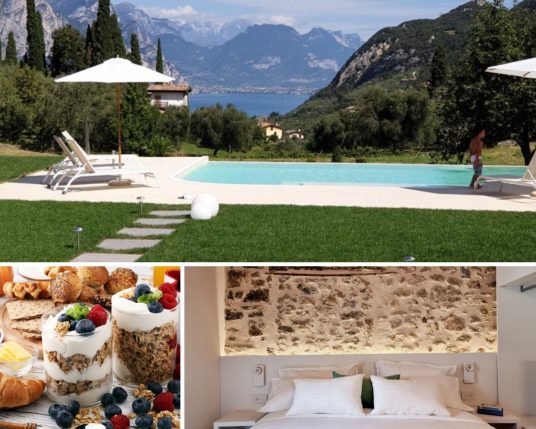 Are you looking for an eco-friendly hotel with an outdoor pool overlooking Lake Garda? We suggest Elle Ecoholiday, one of the most beautiful eco-hotels in Northern Italian Lakes. A few km away from Malcesine – one of the most romantic villages on Lake Garda – this accommodation aims at reducing CO2 emissions. For example, solar energy, natural fibers, km0 products, and biocompatible cleaning products are only some of the elements which characterize this place.
This resort is the ideal destination for those who are looking for a relaxing weekend on the shores of Lake Garda. One of the most interesting activities is trekking along the Busatte Tempesta route, which offers a breathtaking view of Lake Garda's west coast.
4. Eco-Glamping Near Lake Garda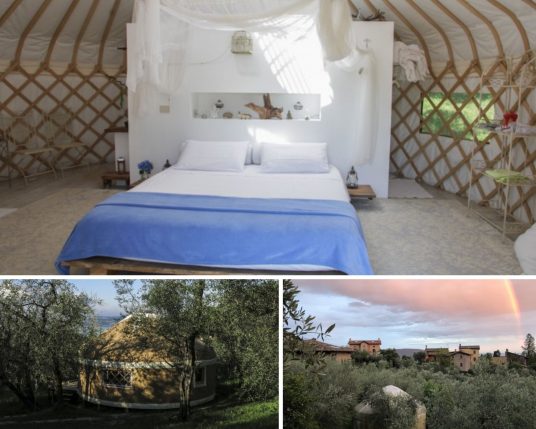 Yurta nell'Uliveto, is a beautiful eco-friendly glamping in the heart of Toscolano Maderno (Brescia). An enchanting olive grove surrounds it, within a walking distance from Lake Garda. This is the perfect place to relax in a swimming pool, or even in one of the hammocks of the large garden.
Reaching Lake Garda by foot is a must. You will experience and an amazing walk in the green and visit some of the most beautiful historic villages of this area. For instance you will find Gaino, Toscolano, Maderno, Limone sul Garda, Heller Garden and so much more.
5. Eco-friendly flats in Lake Garda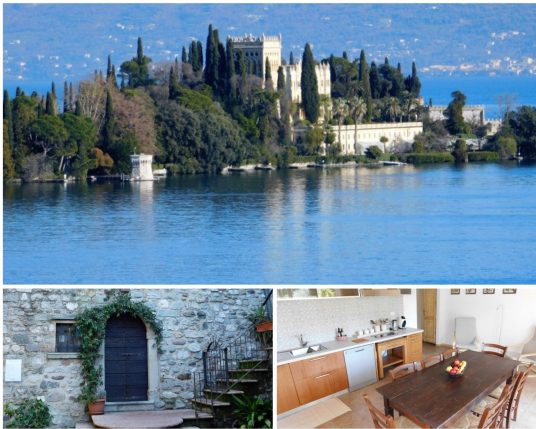 If you are looking for pet-friendly accommodation, one of the best eco-hotels in Northern Italian Lakes, is Casa di Paglia. Its location is in the verdant hills of San Felice del Benaco, between the town and the lake. It is a recently renovated farmhouse, which follows the principles of bio-architecture. Such materials as wood, straw, cork and clay make the whole atmosphere full of colors and scents.
Within a walking distance, you can reach the beaches of the Baia del Vento and the port, where you can rent a pedal boat, sup boards or canoes. It is also possible to embark from the small port to enjoy the panorama view of the Rocca di Manebra.
This is the ideal destination for both relax and sports lovers. Guests can go for a jog, rent e-bikes, do free-climbing, swimming or even surfing/kitesurfing on Lake Garda. In winter you can even reach the close untouched mountains, which are perfect to practice winter sports or just make beautiful excursions with snowshoes.
If you love spas, it will only take some steps to reach Villa Luisa Spa, or even the warm thermal waters of Aquaria in Sirmione, or Garda Thermal Park in Colà di Verona.
6. A zero impact Hotel with a Panoramic Terrace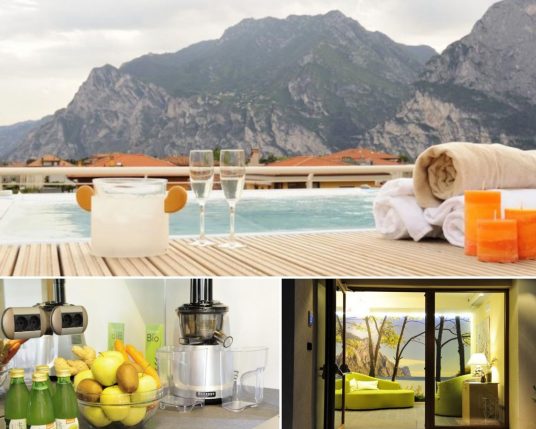 Another beautiful eco-hotel on the shores of Lake Garda is Eco Hotel Bonapace. It is a zero impact hotel, with a sustainable approach that involves many different aspects. For example, breakfast is organic/Km0 products, electricity uses only renewable sources and household appliances are powdered with hot water produced by solar panels of the structure.
The marvelous bedrooms are furnished in wood, in the typical Trentino-Alto-Adige style, which makes the atmosphere even more welcoming. You will find a panoramic terrace which from Torbole passes over the Dolomites, and finally over Lake Garda. You will also have the possibility to relax on the sun loungers or even on the hydromassage pool outside.
There are many activities to do nearby: from water sports on the lake, to mountain biking, climbing, and alpinism.
7. An Eco-friendly B&B only 300m from Lake Garda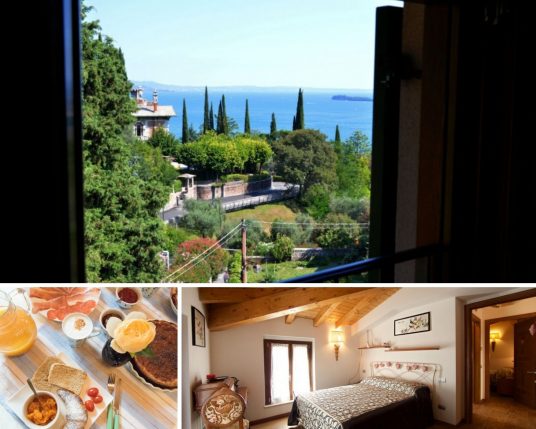 La Piccola Gardenia is a newly renovated eco-friendly B&B, which keeps intact the atmosphere of the old house in the ancient village of Morgagna.
Its location is simply unique. This beautiful B&B is found only 300m from Lake Garda, and you can reach the very lake by foot by following a comfortable panoramic street from the Vittoriale – the historic residence of D'Annunzio. Visit this house-museum if you love Italian literature and culture.
You will find incredible attention to ecology, and to the meeting of any possible dietary requirement of guests. For example, breakfast is not only certified organic and Km0 but there is also a huge variety of options, such as gluten-free and vegan meals.
8. An eco-friendly farmhouse in Northern Italian Lakes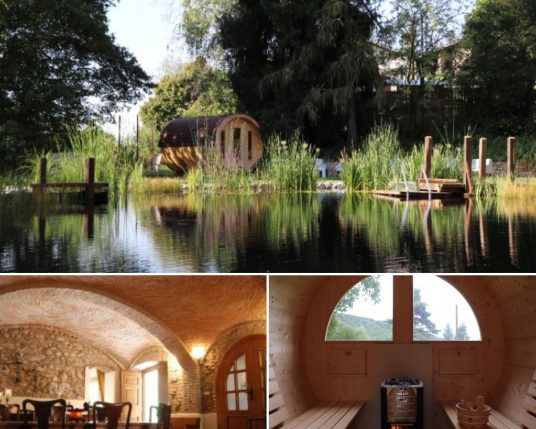 Are you dreaming about an accommodation that perfectly mixes nature and history? Then Cascina Rodiani is the perfect place for you. Situated on the Regional Park Spina Verde in Como, it follows the principles of green hospitality. In fact, according to the farmhouse's mission, tourists are not simple visitors, but proper 'guests of nature'.
It is an accommodation with low environmental impact, born from the renovation of an ancient farmhouse. More precisely, its location on Mount Drezzo (460 above sea level), offers marvellous hill views any time of the day. Guests will have the chance to stroll around on foot or even by e-bikes, which the farmhouse provides.
The private park of the farmhouse comprises a small natural lake and a sauna nearby. In addition, Lake Como and Lake Lugano, as easily accessible by walking along the beautiful trekking routes.
9. An Organic Farmhouse Between Lake Como and Lake Lugano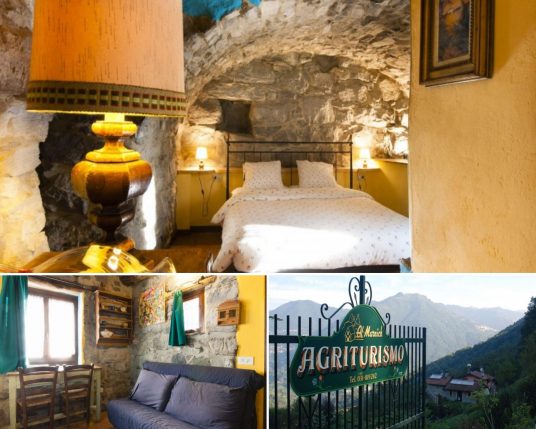 The beautiful organic farm Al Marnic is situated only 1 hour from Milan (Rho Fiera), in the green Val d'Intelvi (750m above sea level), between Lake Como and Lake Lugano. These 2 beautiful lakes are easily accessible within a short walking distance. More precisely this organic farmhouse is in Schignano, about 25 minutes from Villa Balbianello (Lenno).
This accommodation includes a restaurant, where you will taste fresh specialties from Lombardy. You can choose among double or family rooms, and even suites. Some of them are even provided with a fireplace and a panoramic terrace. In this interview with Antonino, the owner of the farm, we have further explained the Green Philosophy and the history of this accommodation.
You will find many trekking routes, in the green 40thousand sq park, among which the beautiful 'Sentiero delle Espressioni'. In addition, the staff organizes guided excursions with TracciaTrekking, in the areas of Valle d'Intelvi and Como Lake. It is also possible to explore other areas, still close to the farm, such as Lake Maggiore, PreApli, and Val Darengo.
10. Eco-friendly Farmhouse in the Heart of Val Camonica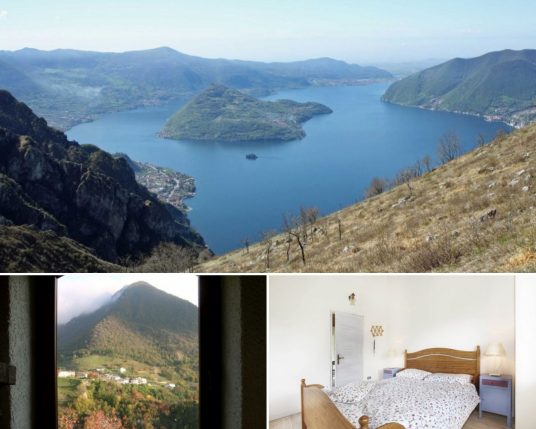 Last but not least among the most beautiful eco-hotels in Northern Italian Lakes is another amazing pet-friendly farmhouse, B&B Padò. This accommodation is in the very heart of Val Camonica, which is perfect for those looking for a regenerative experience in an atmosphere of absolute peace and relaxation. This B&B is situated at 650 meters of altitude, one kilometer away from the road linking to the residential center of Zone (Brescia) – and which is only doable in 4×4. In addition, this beautiful accommodation overlooks Iseo Lake. Guests can choose among the 3 beautiful double bedrooms overlooking the lake and the mountains.
There is so much to do in this area. From water sports to excursions towards Mount Guglielmo, or visit the fascinating Pyramids in Zone. In addition, there are some cultural and gastronomic itineraries in the lands of Franciacorta, Val Camonica, and the cities of Bergamo, Verona, and Brescia.
Which of these eco-hotels in Northern Italian Lakes will inspire your next trip?