From north to south, Italy offers endless possibilities for relaxation: wild hot springs, natural pools and thermal parks, ideal to regenerate body and mind. The amazing thing is that some of these havens are totally free. Many of Italy's natural hot spring has been tapped by spas, but if you take a tip from a local you can discover the wild free options to enjoy the relaxing natural hot pools. Let's see how and where!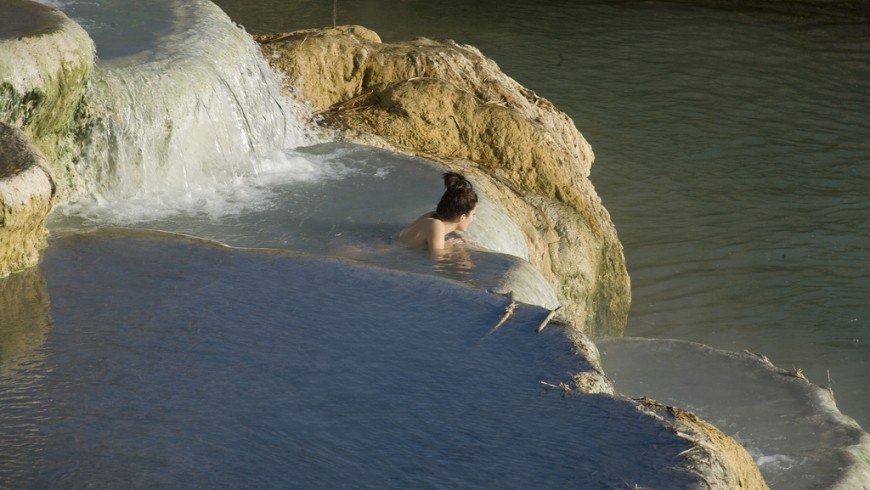 1. Bormio free hot springs in Lombardy, Italy
The baths of Bormio (Sondrio) are formed by a pond with stones that gather a hot bowl of crystal clear water. The view still preserves the memory of the movements of the rock. The red and gray stone blend seamlessly into the background of emerald green vegetation that stands proud of the blue. The baths are completely free to access.
Info: google map
Where to sleep near Bormio, Sondrio
Just steps from the historic center of Bormio you can stay at the eco-friendly hotel Meublé Cima Bianca. After a journey in the unspoiled nature of the Stelvio National Park, you can relax in the wellness center and in the beautiful rooms in typical Alpine style. With about 20 miles you can reach Livigno ( famous tourist and duty-free area) S. Catherine, the Stelvio and St. Moritz.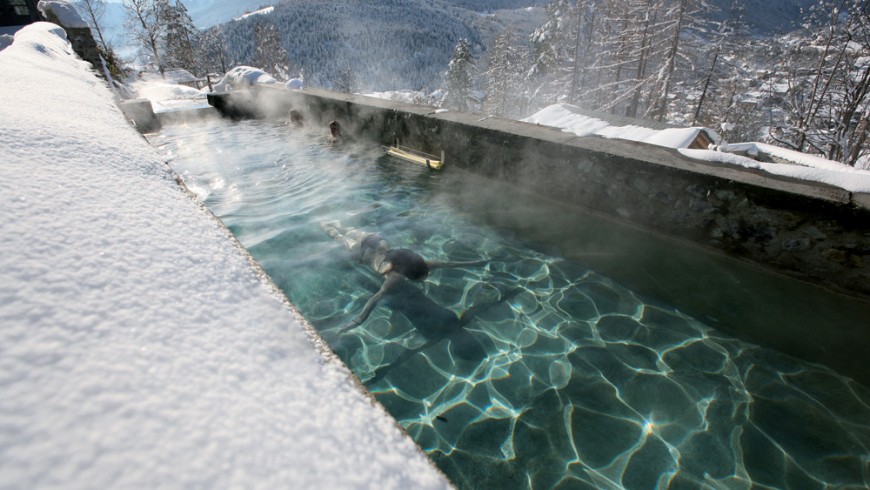 2. Viterbo Bullicame bath
Natural hot springs in Lazio, Italy
Bullicame pools in Viterbo: you can find them in many of Dante's quotations. they are natural pools in the open country that collect water directly from the source of thermal water (through channels). This park is also famous for hosting a toad, a protected species for which it was built a pond that collects water from the source. Unbelievable but true, the toad is the true master of the place, everything is done according to its protection. In the nearby, you can stop to Arvalia, a small country house that is located in the heart of Viterbo countryside where farming is still an important resource for the inhabitants of the area. Here you can eat genuine fruits and vegetables, not contaminated by pesticides or chemical fertilizers, to round off your relaxing day!
Info: google map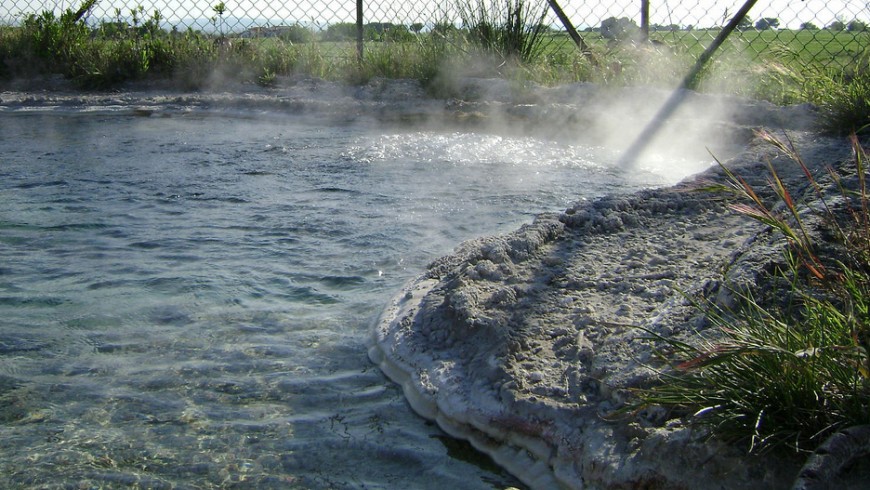 3. Under a snow-covered glacier… or not? Bagni San Filippo
Wild hot springs in Tuscany
Bagni San Filippo, in Castiglione d'Orcia (Siena), is famous for its thermal springs free, located in a green area near Mount Amiata, much frequented mainly by locals. The water contains a white powdery substance that remains on the skin, turning the swimmers in small ghosts, an evocative image, especially in the evening. This natural spa also includes small pools and waterfalls. The spa is "free" and there are many pools where the temperature varies from 30° to more than 40°. A chain of natural pools where you can bathe, topped by a characteristic limestone formation similar to a snow-covered glacier high mountain. Mount Amiata is an old volcano, the unmoved mover that enriches all its area of hot springs  Saturnia, Bagno Vignoni, San Filippo bathrooms, etc … ) and in winter offers skiing opportunities.
Info: google map
Where to sleep near Bagni San Filippo, Siena
Not too far away, on the slopes of Monte Amiata, near Santa Fiora, on a hill surrounded by old chestnut trees that seem dancing silhouettes, you can find Podere di Maggio. First of all here you will enjoy the peace that the silence of this place manages to infuse; wonderful walks in nature reserves in the area (Holy Trinity , Monte Penna , Pescinello , etc.), medieval villages ( Arcidosso , Castel del Piano , etc …), Etruscan sites and the beautiful villages in tuff (Pitigliano, Sorano, etc …) .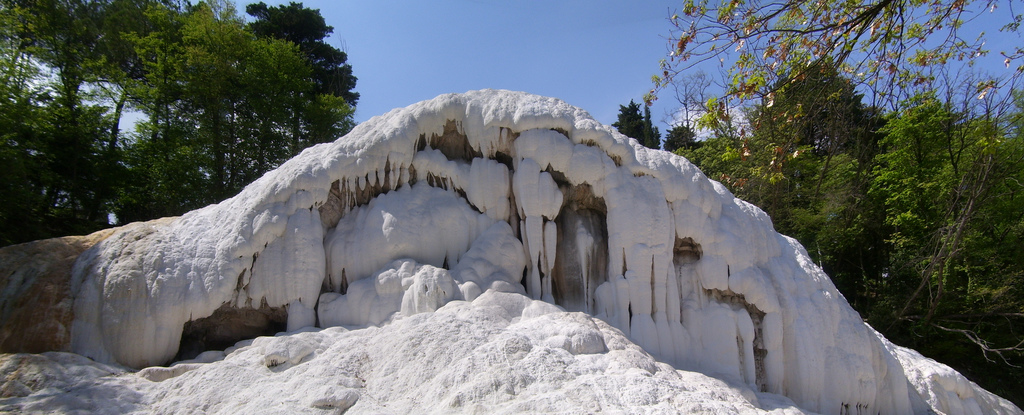 4. Terme di Saturnia: an open-air free Spa
Free hot springs  in Tuscany

The natural pools formed by the waters of Saturnia (Grosseto) are one of the best Italian solutions for natural health care.
An ancient legend says that Jupiter, during an argument with Saturn, hurls lightning from the sky, striking the earth and thus creating the hot springs of Saturnia (Grosseto), already known at the time of the Romans and the Etruscans. The sulfur springs, that flow from the ground at a temperature of 37 degrees Celsius, form waterfalls and collect in pools carved into the rocks. It's the perfect place to relax, even when it's cold outside.
Info: google map
Where to sleep near Saturnia, Grosseto
A good point of reference for those who choose only to drink a good glass at the restaurant Fattoria Acquaviva: delicious wine to taste, Tuscan cuisine, typical products of the Maremma and oil Km 0. To regenerate mind, body and … belly!
Not to be missed for those staying for a few days, eco company Terre Brune,  in just a few minutes from the thermal baths of Saturnia ( only 18 km ); from this beautiful hause, you can quickly reach the beautiful Grosseto.
Here you can also have funny trekking, discover the history of the villages in the Pitigliano, Sovana, Sorano and into the Etruscan necropolis, in the medieval towns of Monte Amiata. An experience of relaxation and taste that will involve all your senses.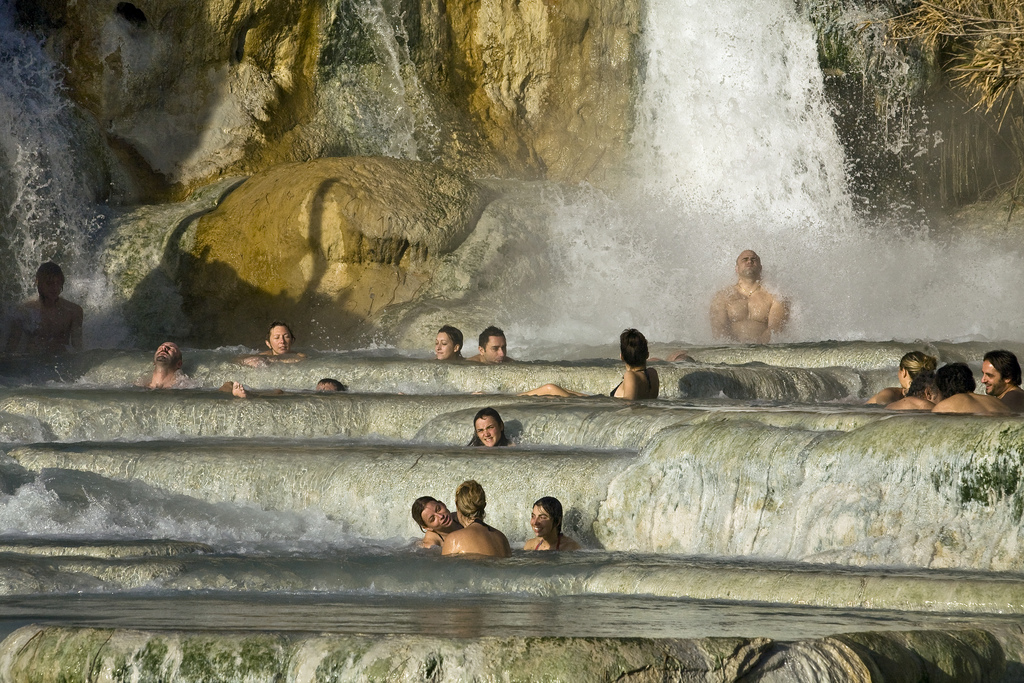 5. Colà: discover Lake Garda's secrets!

Hot springs in Lombardy, Italy
Surrounded by cypress, thuja, yew and beech trees, a hot spring discovered by chance has transformed the splendid park of Villa of the Cedars in a place of delights where you can find your own essence in the embrace of the warm thermal lake.
Nature lovers can walk in the hinterland to discover majestic ancient trees.
Through a tunnel, you dive into the water without coming into contact with the outside temperature. Unlike the other spas, which are completely free, to visit the Villa Cedri Thermal Park and enjoy the Colà natural spa, you need to pay an entry ticket, which ranges from 18 to 24 euros for adults, and about 15 euros for children (children lower than 120 cm can enter for free). Info: Thermal park Garda Villa dei Cedri
Where to sleep near the Garda Lake
In Lazise (just ten minutes walk) you can stay in the farm Tirtha, in Pescantina: in a natural environment, the owners promote the philosophy of biology and bio-compatibility. Two rooms suitable for yoga, meditation, and gentle aerobics and a massage, and you'll have the chance to try horse riding and trek cycling.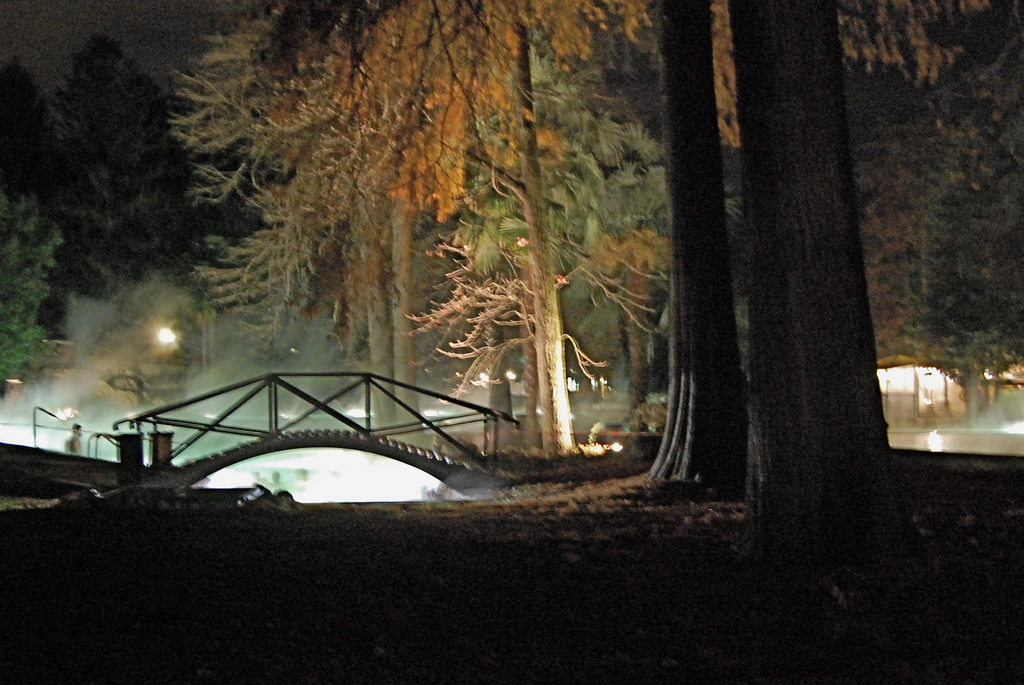 Most of the baths we have quoted in this little article are free and so we recommend you to organize yourself in order to have stocks of water, towels, and snacks!