Trentino is slow and sustainable. The Eco bnb "Casa sul Lago" explains us the new ecologic choices and values of life. A special holiday on a lake.
We interviewed the owner of Eco-friendly Casa Sul Lago, a B&B on the shore of Lake Caldonazzo. An ideal place for an ecologic and slow holiday. A natural open-air museum in Trentino, following the curvy line of mountains and the deep valleys, for an holiday with lake view.
Lake Caldonazzo is in Valsugana, one of the most sustainable places in Italy. B&B Casa sul lago is located between two lakes and its owners (Alex and Alessandra) welcome all their guests in a comfortable and special atmosphere. Eco-sustainability is the keyword for the perfect lifestyle.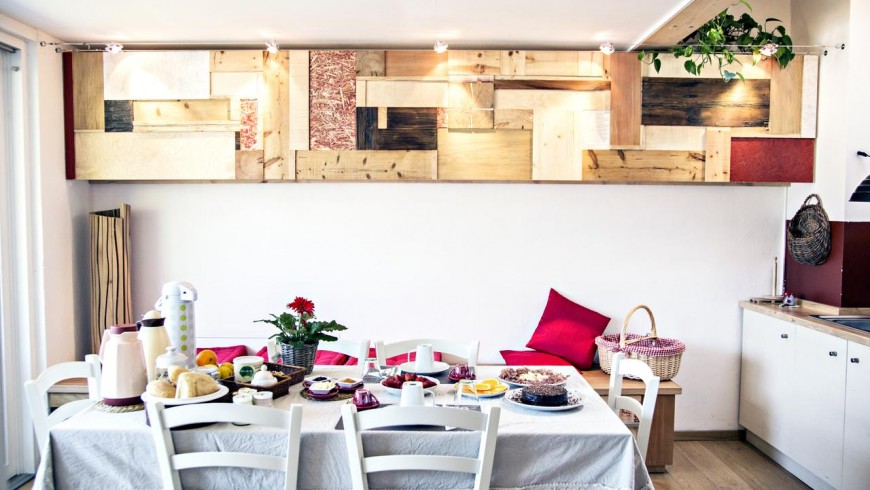 We met Alex who told us the history of his activity and showed how to be eco-friendly.
How was the B&B Casa sul Lago project born?
My wife's parents they have been managing for 20 years another B&B in Levico Terme. So, we just inherited our experience. Everything began some years ago, when we decided to reorganize one room of our as holiday room. We had one child only it was ok but when the second one came, we decided to change it. 5 years ago, we completely reorganized the house, converting in a B&B. I personally managed all the works, in order to be careful to sustainable characteristics. Furthermore, as woodworker I concentrated myself on interior design.
In this regard, what eco-sustainable attentions have you adopted?
Firstly, the roof is entirely made by wood, and we chose carefully all the materials used. The purpose was to keep a good level of performance for the energetic point of view. So, now the temperature cannot go beyond 14°C in winter, with heating off. While, in summer air conditioners are not always necessary. Furthermore, we installed solar and photovoltaic panels to get water and electricity.
All the cleaning products are 100% natural – my wife is very strict about it. Moreover, all food products are organic, and we cook them at home: cakes, creams anything. we go shopping at Gruppo d'Acquisto Solidale di Caldonazzo, because of organic and high-quality products.
What to see and what green itineraries are there in this area of Trentino?
The main activity is 10 km away, in Calceranica al Lago, reachable by bicycle. "Arte Sella" is a fair of natural works of art, in a wood near Borgo Valsugana. The itineraries are different: the central part, near Malga Costa, where most of the works are collected; and a larger ring where you can see other works in a day rather than a half day. Tickets are sold all year round; you can buy them from us for a price reduction. They give you a clothespin and you can walk around to see all the artwork. The forest is very beautiful and collects different types of holly and broad-leaved trees, access is easy for the whole family.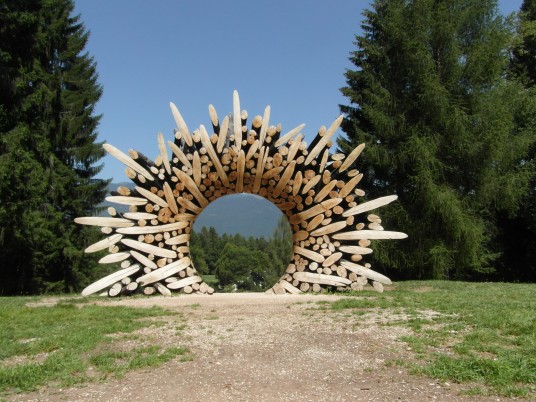 Another green experience to do is tour of lakes by bike. The cycle path of Valsugana runs the entire west shore of Lake Caldonazzo, arriving in Pergine Valsugana. Here you can reach the Pergine castle, from which a dirt road starts to cross the shore of the other lake, that of Levico. This is called "the fishermen road" because of its water level. Once there you can take the cycle lane again and come back at Levico Terme. You can do it in half a day, and it is very easy for children too. furthermore, you can do it on foot.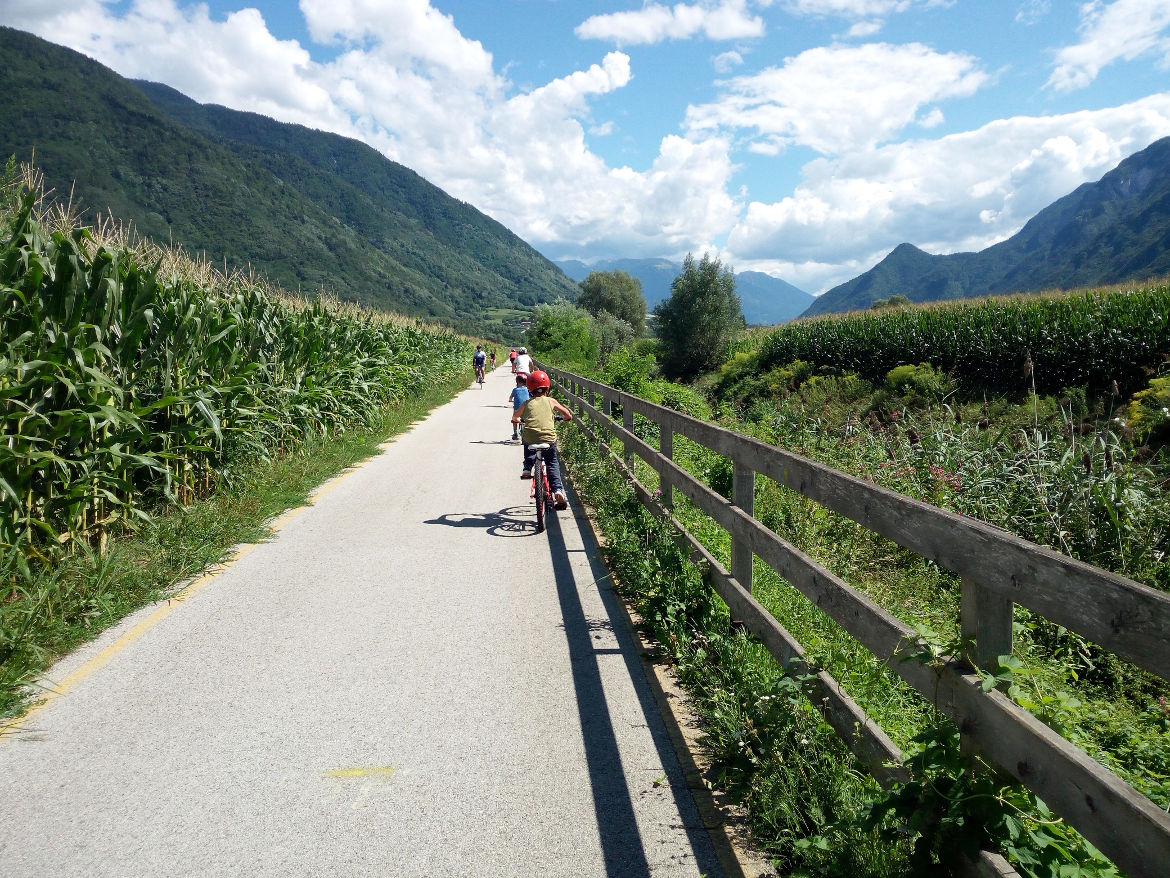 There are several cycle and foot paths, in the area. Between the two lakes (Caldonazzo e Levico) there is an amazing panoramic path.
In Tenna, a little town; you can taste the vegan falvors in the restaurant "Veg Point".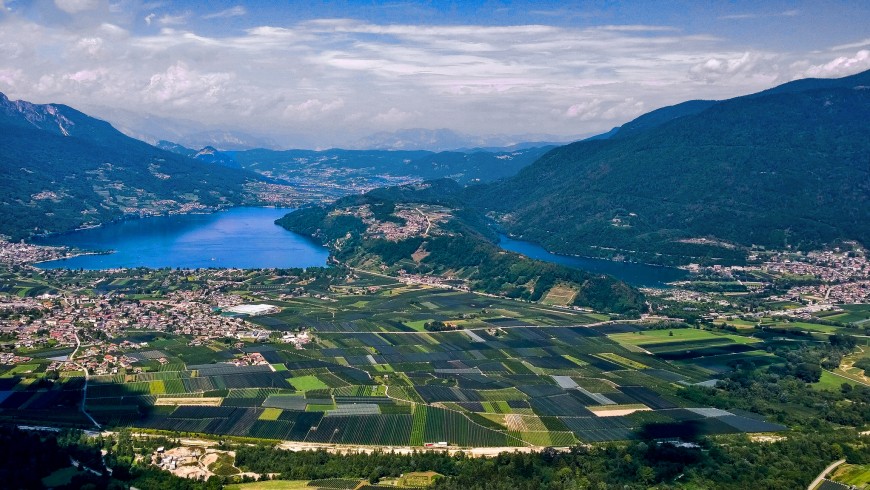 Is it easy to rent bikes here?
Yes, of course. Prices are also good for multi-day rentals. It is possible to try the new e-bike, this is a good opportunity for those who are not trained enough. With these new bicycles you can also try to follow more challenging routes. No more, flat and boring itineraries, but forests and mountain top.
There is also an agreement with the train, active in the summer (in the other months, it is necessary to check). A train carriage is used to transport bicycles, in this way, it is possible to go along cycle lane, take the train and then come back home.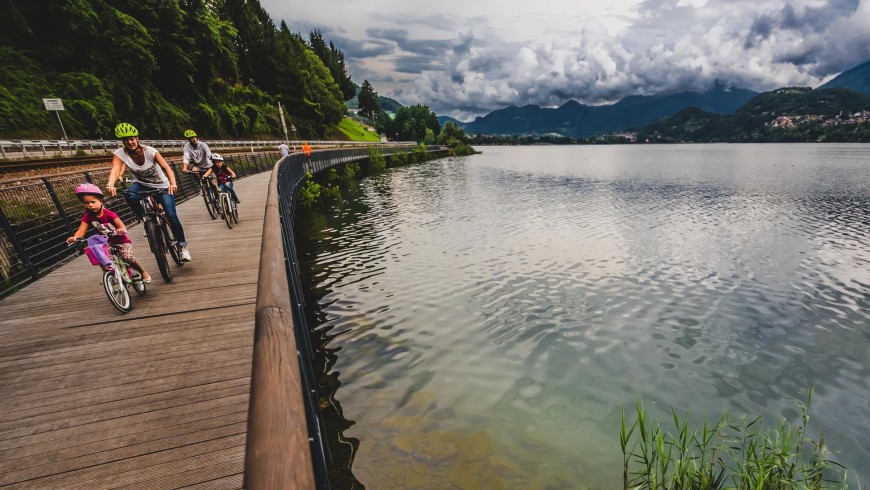 Other tips, for those who don't like cycling?
There are only pedestrian paths. For example, the path of 100 steps, it links Calceranica to stones of the mountains on our head. This is a historical tour, crossing vineyards.
Kaiserjägerstrasse is another incredible experience. A road from Caldonazzo to Lavarone on the Asiago upland. It has been recognized as one of the 20 famous climbs in Trentino, overlooking an enchanting valley with lakes. In addition, you can go to visit the Malghe – where cheese is produced – and see the mountain pastures, stopping to eat in excellent restaurants.
Otherwise, I am used to promote a tour in the valley and Centa river. It follows the opposite itinerary, from Lavarone to Caldonazzo. The valley houses a lot of windmills, but the most amazing thing is The Valimpach Waterfall. It seems to be in the Lord of Ring book.
What does it mean for you to be an Ecobnb?
It means a service inspired an ecologic philosophy. This is a way of being not only a job. When I was a woodworker, I used to promote eco-sustainable furniture. Alessandra joined "Friday for Future" event in Trento. We just want to reach people that share this lifestyle as well. We want to promote it a concrete way, at home and in our B&B.
What are your next projects for the B&B?
We are organizing home concert: in Easter period there will be a cello concert, in our garden. We are managing for others in summer. It is for free, in fact, this is not a way of profit, rather a way to keep house alive.
Moreover, we would build a terrace for breakfast, but it is not sure.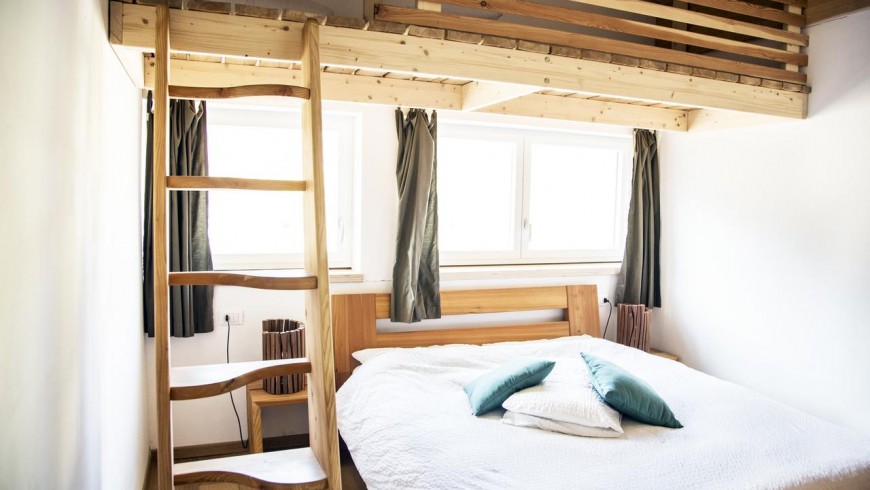 Simplicity and hospitality; engaging excursions and relaxing walks: B&B Casa sul Lago offers all this at the same time. The varied landscapes are the ideal destination for relaxing families and trekking or cycling. Is it your plan for the next green mini-vacation?
Book your lake view stay in the b&b that feels like home!
Cover photo: Valsugana cycle path, from Caldonazzo and Levico, up to Bassano del Grappa and Laguna Veneta, and breakfast based on organic and local products at B&B Casa sul Lago.