Go glamping in Slovenia in Koren Kobarid Campsite, a second home for contemporary adventure seekers and sanctuary from everyday stress in the gorgeous natural environment of Soča Valley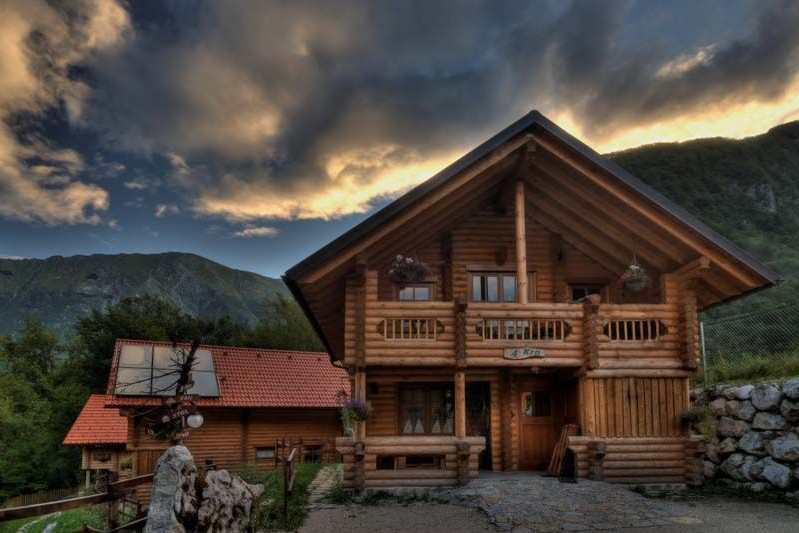 Kamp Koren isn't far from the town of Kobarid, on the left bank of the river Soča, which is considered as one of the five naturally best preserved rivers in the Alps. Here, the emerald green river flows through a short but truly evocative canyon, slows down on the beautiful white gravel river bank and meanders through the Soča Valley. Near the campsite are also the waterfalls of the stream Kozjak and a renovated front line from the First World War.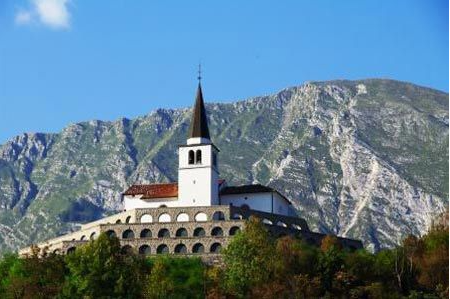 Photo by Karen Baijens on wikimedia
Soča_river by Rosino
Photo by Christian Pabst
Glamping in Slovenia
The campsite features various zones for tents, campers and caravans, with electric hook-up points and campfire spots; but if you're looking for something different, why don't you try glamping in Slovenia? There are six beautiful wooden ECO-chalets (in two of them, pets are allowed) that offer a luxurious stay on two levels with 100 square meters in total size. A stay in eco chalets is especially comfortable due to the warmth of the wood, which always creates the optimal climate in the rooms.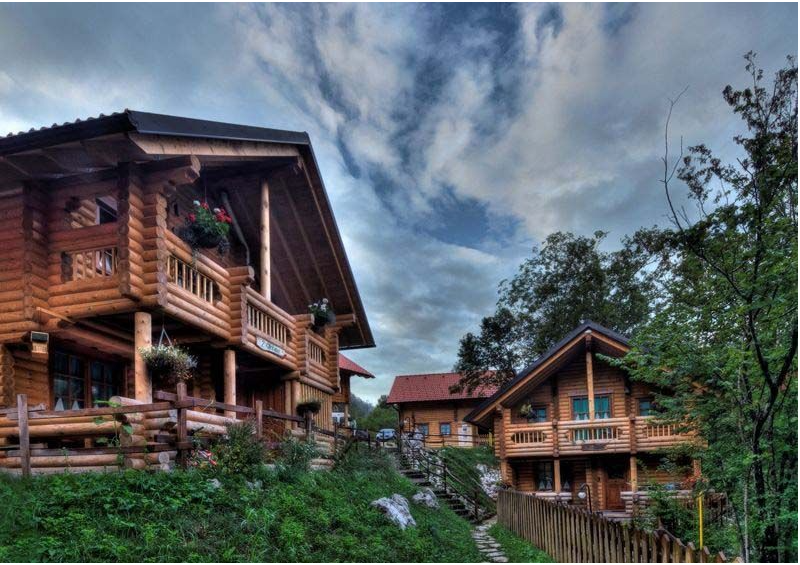 There's a second alternative for your glamping in Slovenia: you can stay in a glamorous, insulated and heated wooden house, built of natural materials and suitable for rent in all seasons. This house has a special panoramic glass wall through which you have a direct view of the outside directly from your bed, and a large wonderful wooden terrace where you can relax. There's also a smaller glamping wooden house, with a roof skylight window, through which you can observe the starry sky.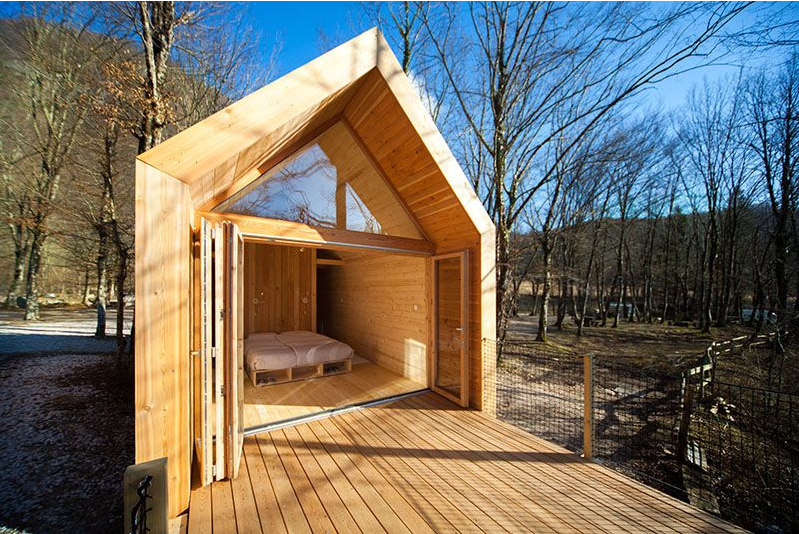 We had the pleasure of interviewing Koren Lidija, the owner of Koren Kobarid Campsite, and asked her to tell us more about it. Let's find out all about this marvelous campsite in Slovenia.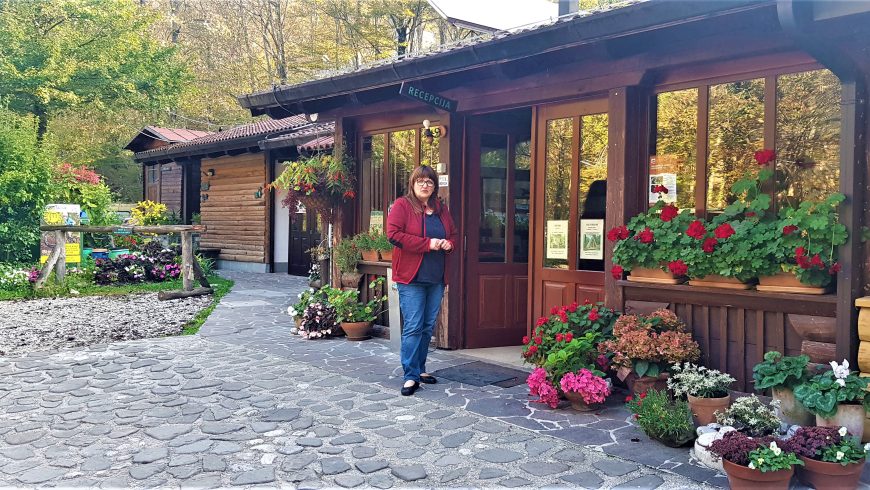 What makes your accommodation special? Why did you enter the green hospitality market?
«We are the first ecological campsite in Slovenia with the Ecocamping certificate and the European certificate for sustainable eco-tourism, EU EcoLabel. Kamp Koren also received the Alan Rogers Award in 2010 in the category of excellent accommodations, and in 2016 we received the title "Slovenia green accommodation".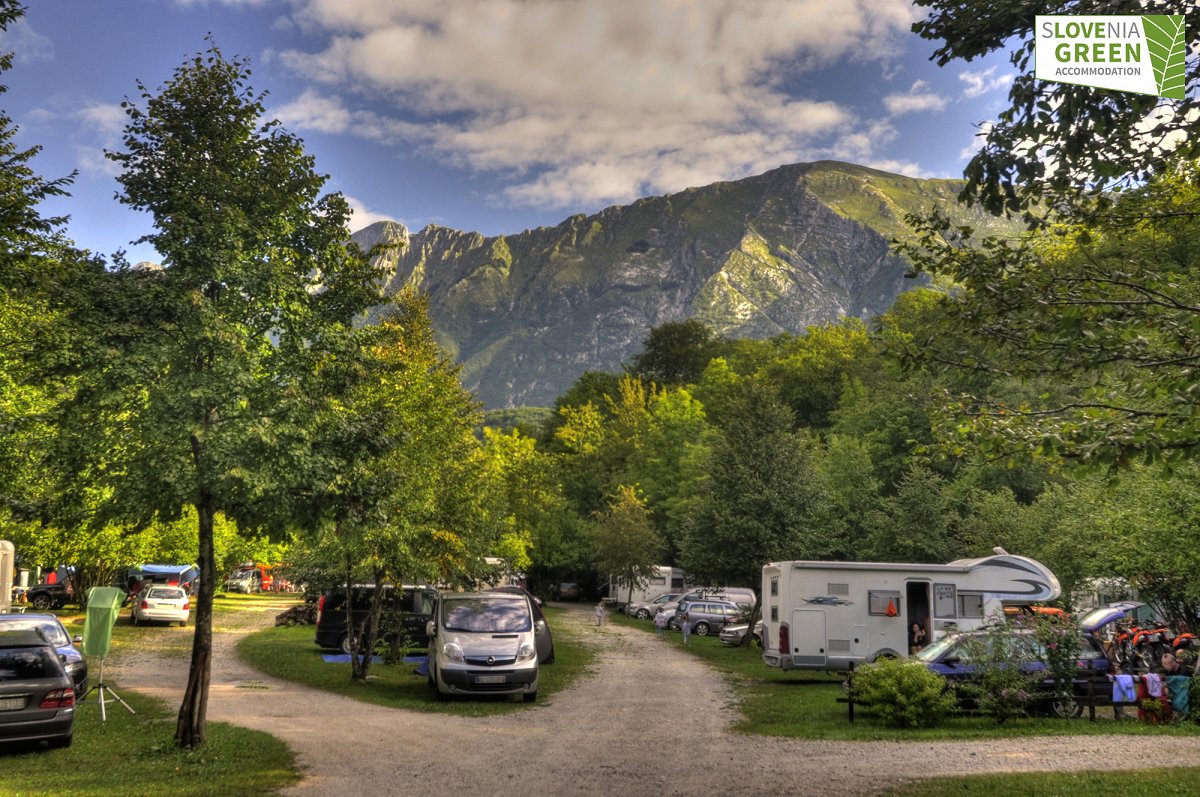 One of the main characteristics of our campsite is a sustainable attitude as a fundamental commitment to nature and our guests. We want to make continuous improvements towards the protection of the environment and nature. The human side of the world of work is also an essential component of our social responsibility. We want to make a contribution to ensuring the livelihood of current and future generations.»
Which criteria of sustainability have you implemented?
«We strive to offer as many products from the local organic cultivation in our store. In the store, which operates within the campground, fresh seasonal fruit and vegetables from the nearby farms and other local specialities, such as cheese, local Slovene honey, herbs, aromatic plants and more, are always available. We also laid out some herb gardens in the campsite, so that our guests can gather fresh herbs for their soup, risotto or grilled fish, free of charge.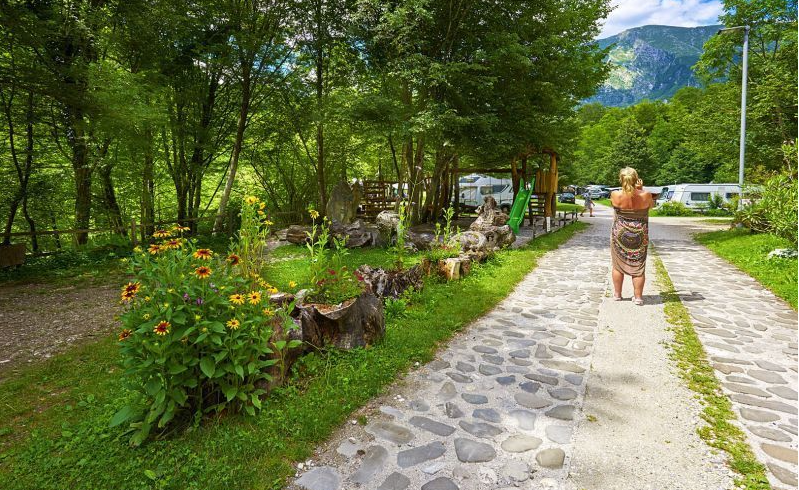 Along with the EU Ecolabel and the sustainable and ecological orientation of our campsite, we are actively implementing the use of renewable energy sources. For example, we have a heat pump for water heating and we use rainwater for watering the plants. We make sure that we use as many reusable containers as possible and we employ natural, degradable cleaning agents (i.e. vinegar). We recycle and expect the same from our guests, and we encourage green mobility with bikes or E-bikes available at the campsite. Finally, Kamp Koren has an electric vehicle charging station.»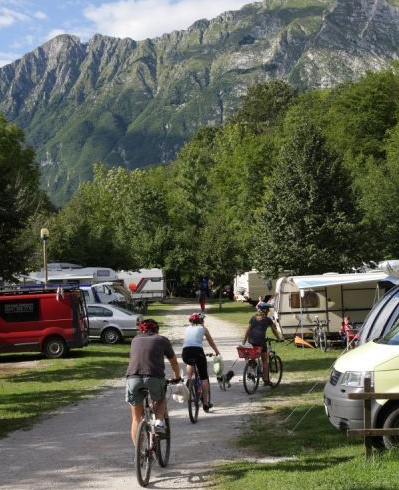 Which green itineraries in your surroundings do you recommend to your guests?
«In our valley there are a lot of things that are worth seeing. For example, we suggest a visit to the Ecological Farm Žvanč, where you can take part in the traditional cheese making process in the old way on an open fire, presented by the owner of the farm. You can taste various types of domestic spirits, cheese, other dairy and local products.



There are also many mountain pastures. Guests can visit them, sit down for a while and take a break from the noisy town, breathe in fresh and clean air, watch cows grazing and check how farmers milk them. You can also buy cheese or cottage cheese directly from farms.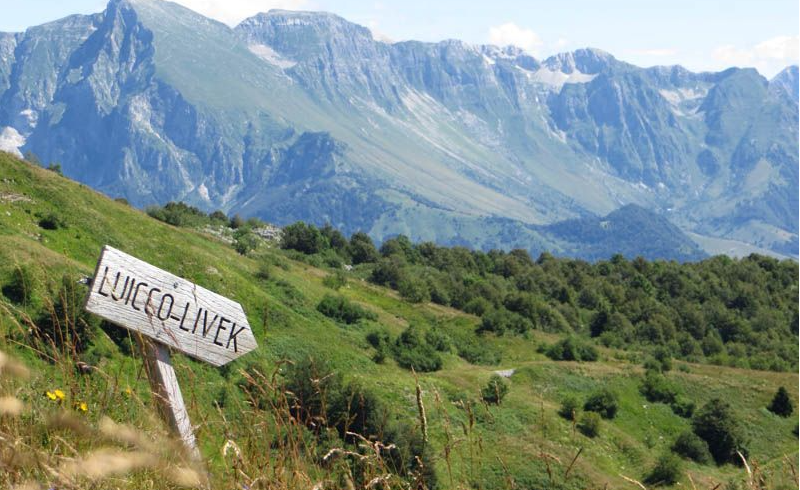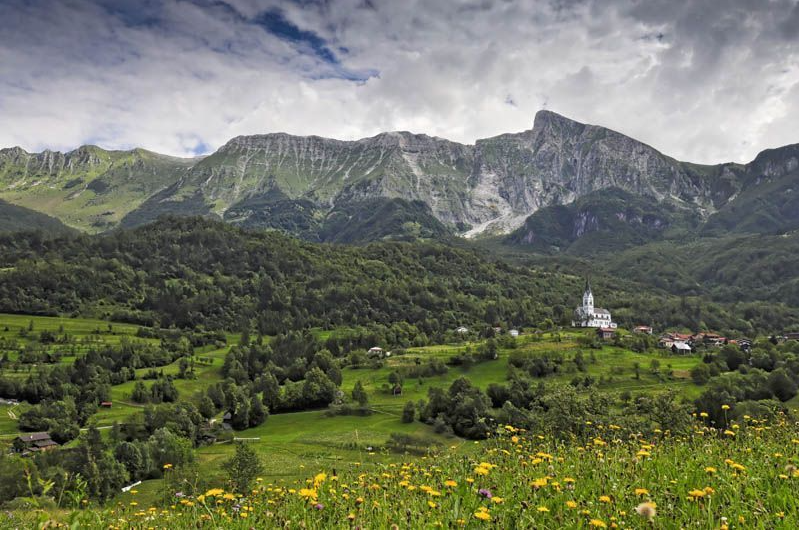 We also have bikes and E-bikes rental at the campsite, to explore the surrounding beautiful nature and mountains, and after the hiking and biking, you can unwind swimming in Nadiža river, which is well-known for its health benefits.



Sport activities are also very popular in our valley. We organize water sports on the Soča river, such as rafting, kayaking, canyoning, or fly-fishing. Also due to stunning views, surrounded by hills and high mountains, Kobarid is regularly visited by many paragliders. The campsite offers not the only organization of air sports but also of hiking and biking tours.»


What do your guests appreciate the most?
«Our guests admire the Soča river and the different possibilities for sports activities on it. They also enjoy the view as the campsite is surrounded by rolling hills and majestic mountains, with the beautiful mountain Krn above all others. This makes the campsite the perfect starting point for hiking and mountaineering.



However, we believe they appreciate the welcoming warmth of our campsite the most, as well as the competence of our staff, always providing them with all the information they need.»
What does being part of Ecobnb's community of authentic eco-friendly accommodations mean to you?
«The nature-friendly orientation of Koren Campsite is one of our basic features and our main obligation: when we take up a new endeavor, we always think of nature and our guests first. Our policy is to do the best to keep the environment clean or at least have minimum effect on it. We also try to make our guests understand the meaning of an ecological lifestyle. Respect for nature and fellow human beings is a virtue that has been the aim of Kamp Koren ever since it was established.



We firmly believe that nature provides us with everything we need: life, wisdom, peace, happiness, joy, freedom, food for body and soul. Being part of Ecobnb's sustainable community is a logical step on our way.»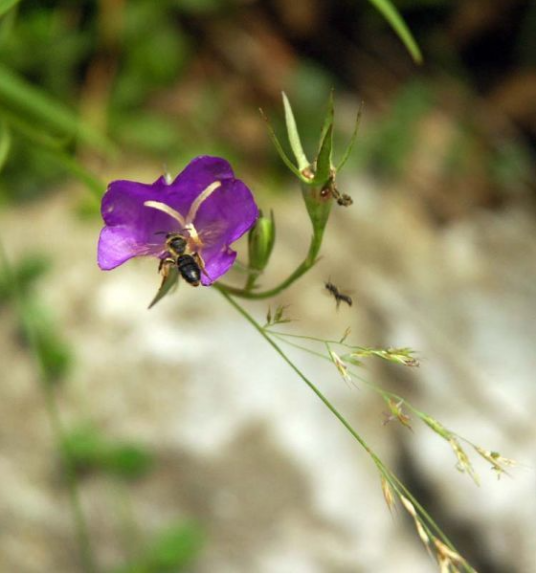 Book now your stay at Kamp Koren for glamping in Slovenia and enjoy this wonderful mixture of comfort and close connection to nature in enchanting Soča Valley!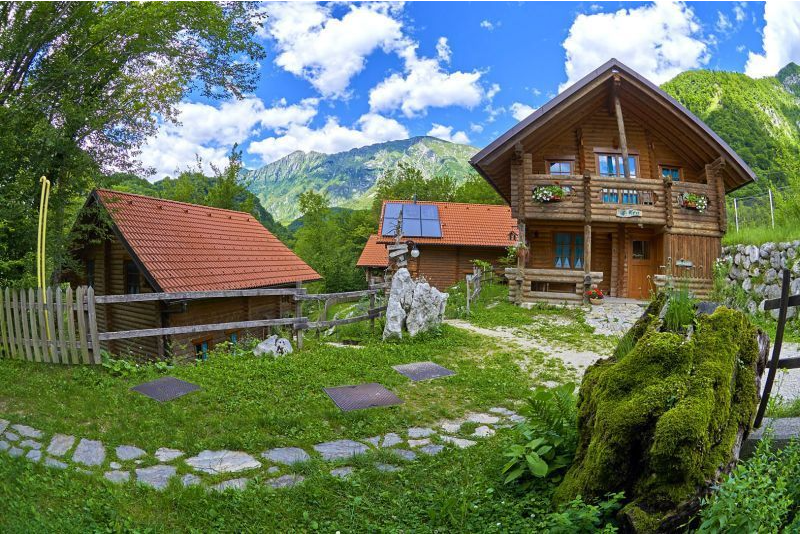 Cover image: Kamp Koren Kobarid, Slovenia green accommodation.