Ready to live a great adventure? Forget the most famous destinations and set off to discover less known, but no less interesting corners of the world. In the heart of the Balkan peninsula there are waiting for you a wild nature, endless spectacular itineraries, adrenaline activities, but also festivals, folklore and charming villages. Serbia is a perfect destination for an active holiday, to live in a green way. Not surprisingly, the country has also been selected by CNN for the twenty places in the world ideal for a holiday in 2018.
Serbia offers to its visitors 5 national parks, 15 natural parks, more than 60 natural and mountain reserves, 6 water courses to sail, countless canyons, 280 natural monuments and the deepest canyon in Europe, incredible places where it is possible try many sporting activities, from cycling to sailing, from rafting to climbing, from fishing to walking. The opportunities are truly endless, both for beginners and experts. In addition, summer in Serbia is full of events, such as the festival of trumpets in the town of Gua during which 600 thousand people, orchestras and bands give life to a week of folklore, notes and wild dances and the Belgrade Beer Fest, the largest beer and music festival in Europe and a great opportunity to visit the vibrant city of Belgrade.
To help you organize your holiday in Serbia we have selected 10 itineraries not to be missed in this spectacular country.
Itinerary in the Tara National Park



A long itinerary in the most pristine nature of Serbia, in one of its National Parks. In 9 hours you will discover ancient monasteries, waterfalls of hot water and natural hot springs and beautiful rivers.
You can't miss: on the way you will encounter navigable rivers, ideal for canyoning.
Green tip: stay in one of the colorful apartments of this eco-friendly accommodation.
On the top of Mount Stara Planina



A path suitable for everyone, even if long, leads to the top of one of the most beautiful mountains in Serbia through wonderful landscapes and four fantastic waterfalls.
You can't miss: you can also experience this itinerary with an expert guide, in an organized tour that also includes gastronomic stops.
Green tip: Villa Babin Zub is located on the mountain of Stara Planina and offers all the charm of the typical Serbian hospitality, the characteristic architecture and its flavors.
A ride around the lake



Lake Vlasina is surrounded by a beautiful path, which can be traveled either on foot or by bicycle. You will be able to enter a forest full of biodiversity, among birches, carnivorous plants and the crested newt amphibian and admire a pristine nature.
You can't miss: the lake has a surprising natural phenomenon, unique in the world. The peat floating islands are one more reason to visit this natural wonder.
Green tip: just five minutes from the lake you can find comfortable eco-friendly apartments, surrounded by a beautiful garden.
Climbing a mountain



From the Lake of Vlasina another interesting route starts, which takes us to the top of Mount Cemernik, offering spectacular views and the relaxing sound of the waterways.
You can't miss: Cemernik is known for its extensive blueberry and berry crops and summer is the best time to harvest them.
Rafting on Lim River



For the more adventurous, I recommend this rafting experience on the Lim river. You will discover the evocative Canyon of Uva and admire the flight of a griffin.
You can't miss: the organized tour includes the departure from the quaint village of Kamena Gora, whose symbol is a 500-year-old pine tree.
Itinerary in the small town of Vršac



10 kilometers to do on foot or by bike to discover this city of ancient origins and get to its castle, from which you can admire an incredible landscape.
You can't miss: once you arrive in Vršac, you should definitely visit the Vinik winery which produces 3 fine wines.
One day in a canoe along the Danube



An organized tour that will allow you to discover the landscapes of the Danube by canoe, which in this part of Serbia is characterized by the swamp forests and its islands.
You can't miss: the arrival point of the itinerary is Backa Palanka, famous for its Jazz and for the Blues Festival, which takes place every year in June.
Green tip: taste the local flavors and try the delicious Futog's cabbage in a typical soup with vegetables and meat.
Discovering the typical villages of Serbia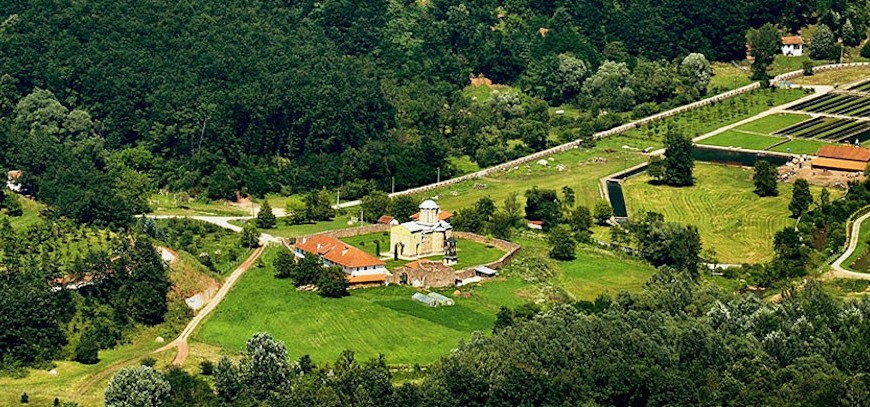 From the city of Cuprija you get to Senje, where a beautiful monastery awaits you, and then again to Sisevac. It is a perfect itinerary to rest and relax after the most demanding itineraries, surrounded by a beautiful forest and enjoying excellent food.
Green tip: the route can be done by car, but it can also be traveled by bike, a much more sustainable choice!
The wine route of Serbia



A long itinerary to ride on bicycle that will allow you to enjoy the most authentic Serbia, cycling through its vineyards, its uncontaminated nature and Lake Celije.
You can't miss: a dip in the lake, an oasis of peace!
Fruška Gora National Park
Marko Anastasov via Flickr
De kleine rode kater via Flickr
© annetteandbjorn.wordpress.com
A few kilometers from the town of Novi Grad, in the north of Serbia, lies a magnificent green area of ​​woods and hills: it is the Fruška Gora National Park, the oldest in the whole Region. Ancient forests and rolling hills, among which there are mysterious and fascinating stone monasteries, make this destination perfect for experiencing nature in complete relax.
You can't miss: not far from the park areas is the modern city of Novi Sad, the second largest in Serbia by population, it is definitely worth a visit.
Green tip: in Novi Sad you will find a comfortable eco-friendly apartment that can accommodate up to 5 people.
Ready to discover the beauty of Serbia?
You might also like: