Do you dream of unplugging from the daily routine and reconnecting to nature with a digital detox and eco-sustainable holiday? Among 50 hectares of green hills and just a few km from Perugia, Podere Vallescura is one of the best off-grid locations in Europe! We interviewed Simone and Simona who told us everything about this green farmhouse.
Podere Vallescura was recently mentioned on the international newspaper The Guardian as one of the best 15 off-grid places to stay in Europe. It is a 100% organic farm, ideal for a Digital Detox and off-grid holiday. If you want to abandon the stress of the city and immerse yourself completely in nature, this is the right holiday destination for you!
Digital Detox and Sustainable Living in the Umbrian Hills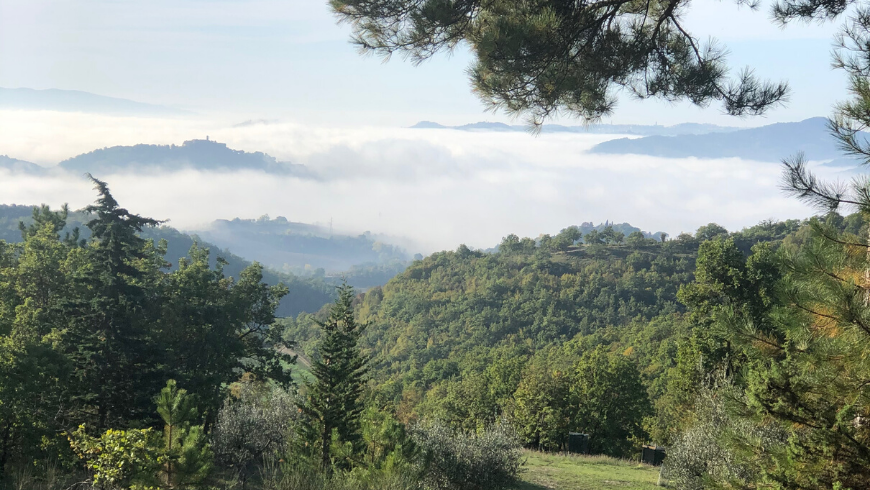 At Podere Vallescura you will unplug and live an authentic experience immersed in nature. Since no utilities reach Podere Vallescura, all the energy necessary to run the farm and the house is produced in an environmentally sustainable way, without telephone poles, power wire, and aqueducts. Electricity is produced by photovoltaic panels and wind generators, then stored in large batteries for consumption. Hot water is produced by solar panels and, if the sun is absent, by wood heaters. What's more, drinking water comes from a spring placed inside the property. All this ensures a true off-grid experience in full respect of the environment.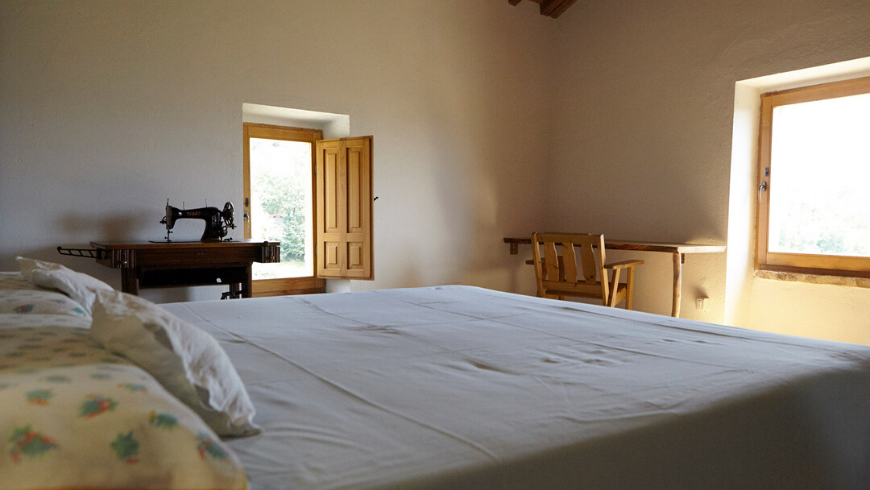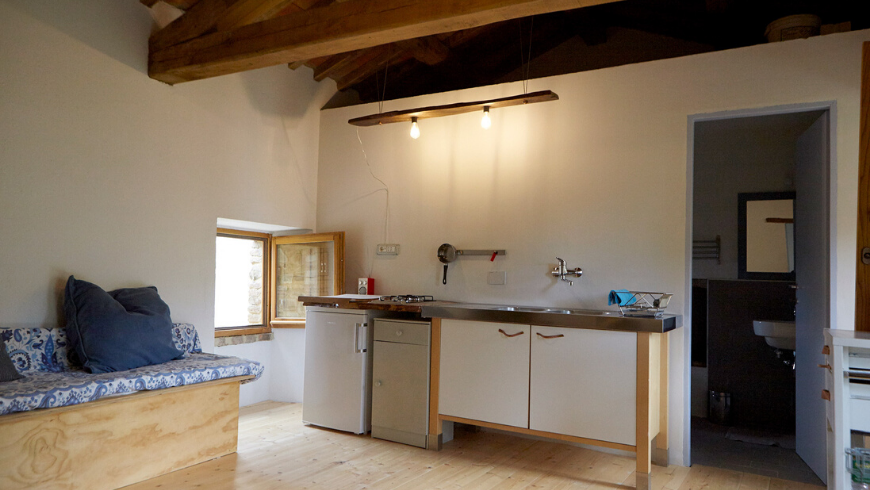 At Podere Vallescura you can discover the value and warmth of rural life, enjoy excellent breakfast with zero km products, stay in a romantic Torretta dating back to the 1600s and restored according to the most modern green-building regulations. The accommodation offers independent access, a comfortable bathroom, a kitchenette, and 2 wood stoves for romantic evenings.
Return to Nature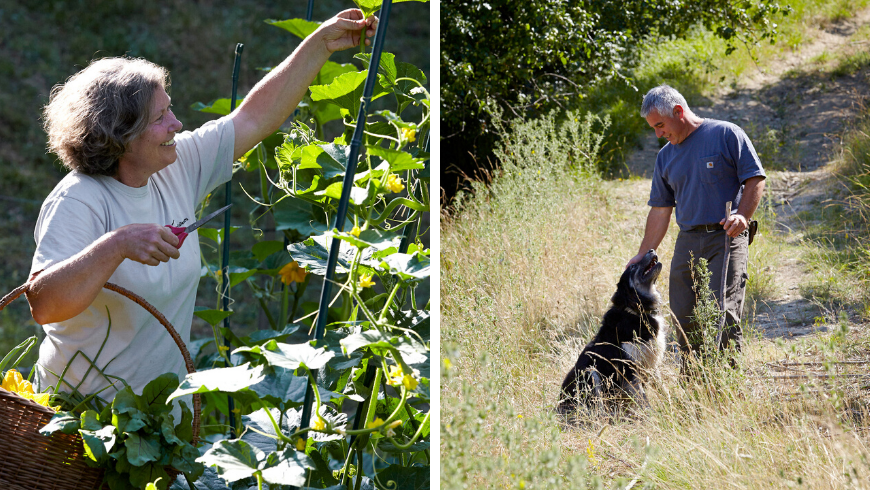 Simone Santuari and Simona Stacchezzini are the owners of the Vallescura organic farm. They told us their incredible story, born from the dream of changing their life and leaving the city to get closer to nature. This is a dream of many, but Simone and Simona had the courage to risk and invest everything to make their dream come true… Here's what they told us:
How did you start the Podere Vallescura project?
Fifteen years ago, while drinking a coffee in an office in Milan, we decided to change our life. The logical choice was nature, outdoor life, animals, and new challenges. Renovating a hillside farm in Umbria, abandoned for over 40 years, was the challenge we were looking for. We used materials present on-site, furnished the premises with the wood of the previous farm, organized and started the agricultural activities, olive groves, and sheep. Besides, we were looking forward to sharing all this with our guests. 
The name derives from ancient maps in which this place was called "valloscura". However, we find it funny because the sun illuminates the Podere and the farmhouse from sunrise to sunset.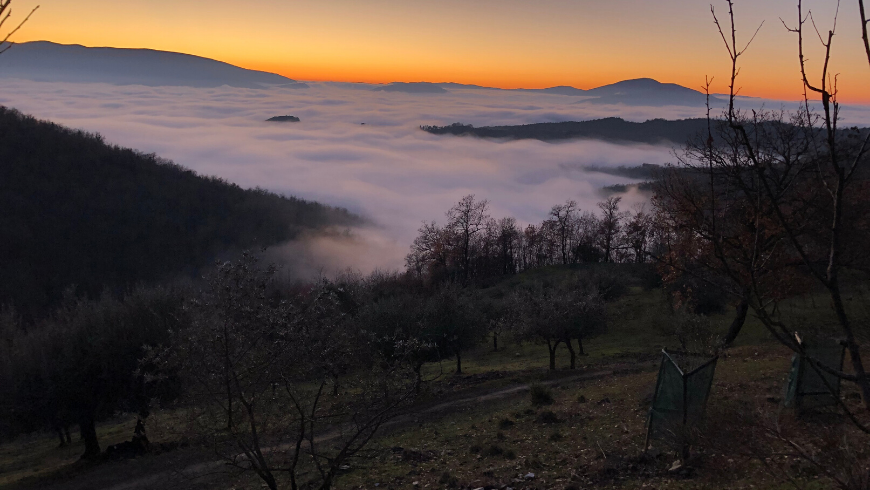 What good sustainability practices have you adopted?
Adopting sustainability practices was the right thing to do in such a pristine place. So, we decided to use any means accessible to us to leave an as little carbon footprint as possible. 
Not being connected to the electrical network is a great advantage. In fact, it has spurred us to undertake modern and ancient solutions to be able to live with almost all the comforts. However, having only 1,6 kW of photovoltaic system available provides for a thrifty use of electricity. This is dedicated to making everything necessary for the farm and our home. The recovery of almost all water is not only a virtuous way to avoid waste, but also a system to use less electricity in pumping fresh water from the source. In addition, there are many small tricks, such as the use of homemade detergents and the reduction of plastic. Another important aspect is the virtuous recycling of all possible materials.
The good combination of sheep-olive groves-chickens has proved strategic and successful for the fertilization and elimination of the pest insects of the olive grove itself. Moreover, the work of earthworms in processing animal manure by providing precious humus that enriches the earth is extremely important.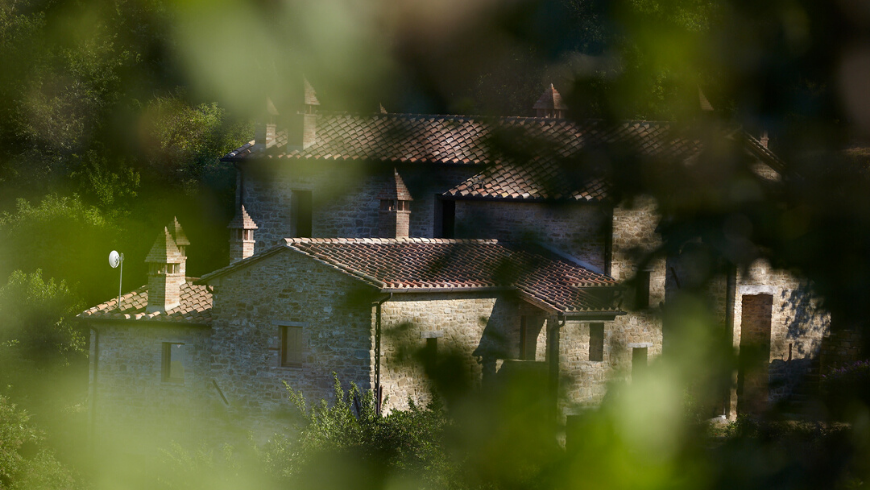 What do guests appreciate the most during their stay at Podere Vallescura?
Those who come here appreciate silence, peace, and relaxation. Moreover, they can admire the stars and "participate" in the various agricultural activities. The animals on the farm always generate a lot of interest. Furthermore, our guests love the genuine hospitality and the enthusiasm that we transmit for our project. The environment is minimalist but very comfortable.
Which slow itineraries near Vallescura do you recommend?
There are various opportunities for our guests. They can visit the many cities of art, go on excursions in nature, ride their e-bikes along numerous paths. Alternative itineraries such as the site of the hermit Santa Cecilia or Mugnano, the town of painted walls, are other possible solutions.
Let's not forget the interesting walk of the ancient Roman aqueduct in Gubbio.
Last, but not least, visitors can relax sipping a herbal tea and looking at the wild animals that graze in the distance between the woods and the clearing. Moreover, guests love to lie down in an outdoor hammock to peer at the shooting stars.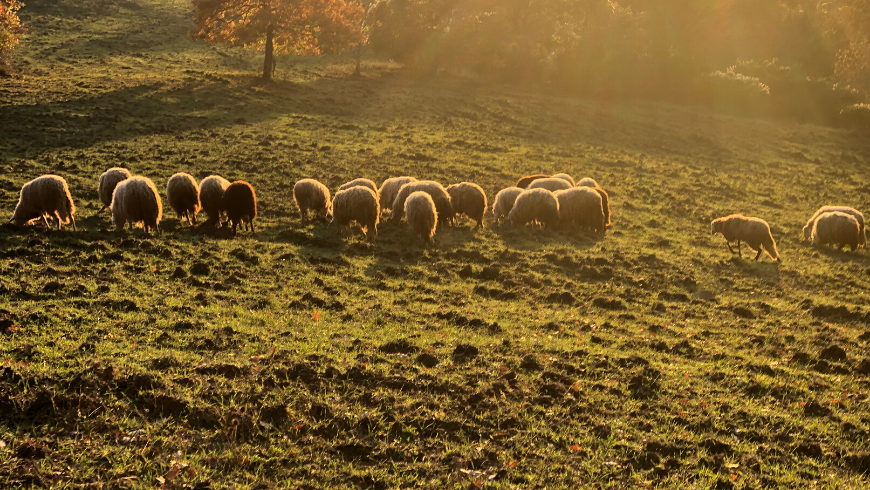 What does it mean to you to be part of the EcoBnb community?
When we became part of the EcoBnb community we realized that our belief in transmitting and spreading the culture of environmental protection is widely shared. This comforts us and pushes us to continue this way. It is important for us to give other people the opportunity to learn to live in a sustainable way, just as we did, even if only for a short time.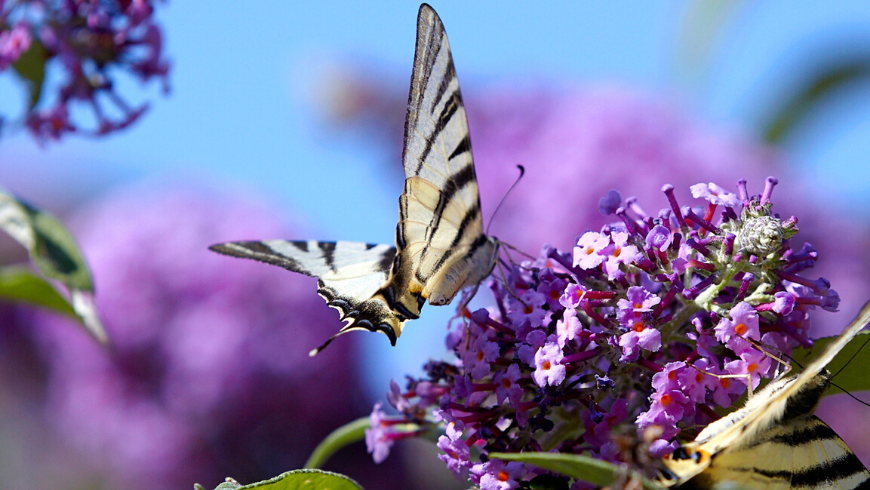 If you liked the story of Podere Vallescura, book your Digital Detox holiday in Umbria now!
Take a break in nature surrounded by the scents of Umbria. Regain your energy and live an eco-friendly holiday away from everyday stress. Book your stay at Podere Vallescura here!