Let's discover BLUM farmhouse in Trentino – in the north of Italy – a special place where the attention towards the environment and guests guarantees an unforgettable stay.
Blum is not a simple farmhouse, it is much more. It is a dream that became true. The owners Giovanna and Stefano have worked hard for years in order to create their own special corner in Valsugana, not far from Lagorai. This sustainable touristic resort offers alpine lakes surrounded by majestic mountains, bike routes, ancient villages and touristic attractions immersed in woods.
The owners have a special bond with this territory. For this reason, they aim to preserve it by respecting the environment while working. In addition to this, they look forward to meeting people from all over the world and offer them a pleasant and unforgettable stay.
By staying at BLUM farmhouse you will take part in this amazing adventure and you will be involved by Giovanna and Stefano's enthusiasm.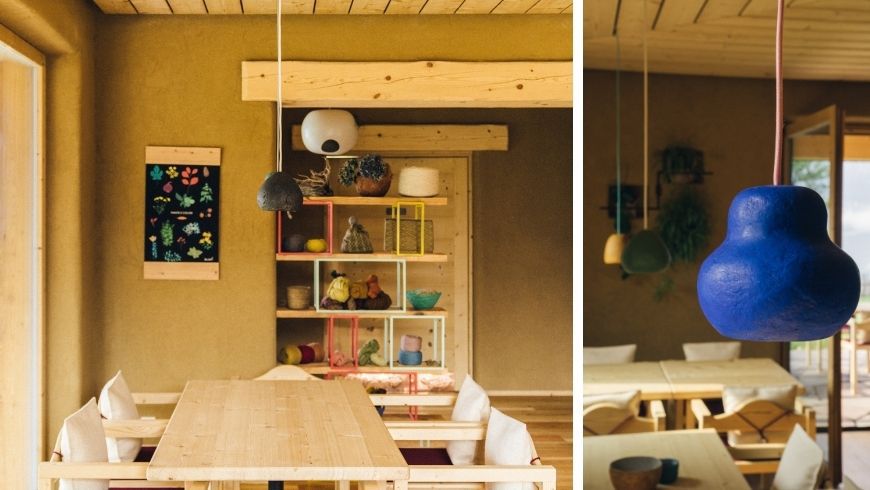 We have interviewed Giovanna and Stefano in order to find out more about their dream and their mission. Respect for the environment is one of the pillars of their business, as you can easily notice by observing the building itself and the management. The owners offer local and eco-friendly products, recycle waste and do their activities respecting natural rhythms.
Why did you decide to open BLUM farmhouse?
We wanted to diversify our farm and give value to our products. We also wanted to communicate our love for this place.
Lagorai is wonderful all year round and in Valsugana you have the opportunity to discover a lot of interesting small realities. The idea to meet several people from all over the world was also fascinating.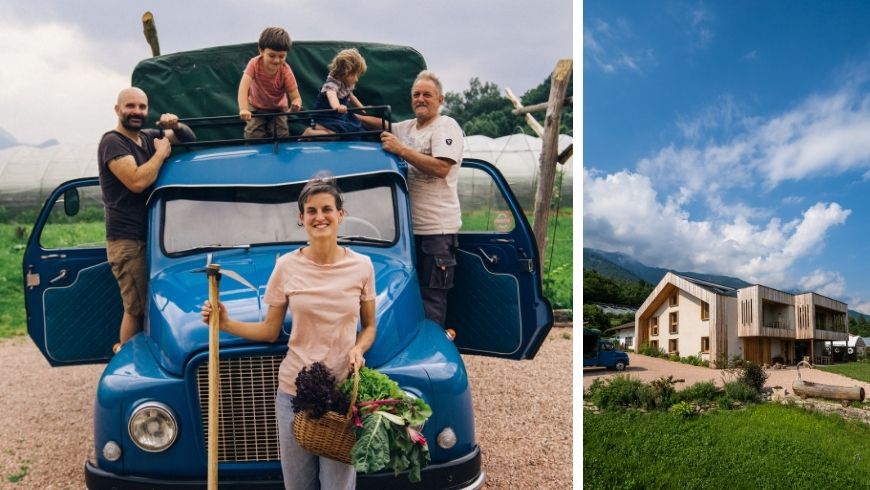 Last but not least, we wanted to get involved and put to use our skills and knowledge (we both studied completely different things: IT and design):
The interest in food and local products
Recycled materials building techniques
Iron craft
Dyeing with natural pigments
Wool processing
Foreign languages knowledge
After 4-5 years of bureaucracy, planning and renovation we finally open BLUM farmhouse.
Which sustainable practices did you adopt?
The most important one is by far the renovation.
In fact, we renovated an ancient family warehouse without consuming additional surfaces and by employing only wood (we used fallen trees). The crawl space was built by adopting the dry technique and we opted for biomass heating (our forests always need maintenance).
We chose low consumption light bulbs and we are energy-independent because of the solar and photovoltaic panels we installed.
On the roof, there are evergreen plants that help to preserve the heating both in winter and in summer.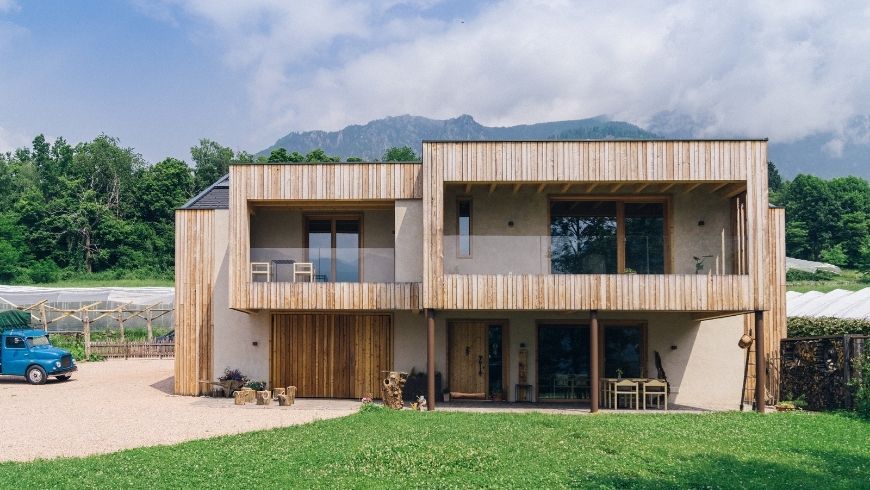 Decor and upcycling
We planned the decor starting with pieces of furniture and objects we already had.
For example, we created some lamps with motorbike carters. Parts of the old roof were used to build beds, bedside tables, architraves, stairs and pallets for the vegetable garden. For the sink tops, we chose plastic panels obtained from recycled small jars.
To fill pillows and covers we used wool that was supposed to be thrown away.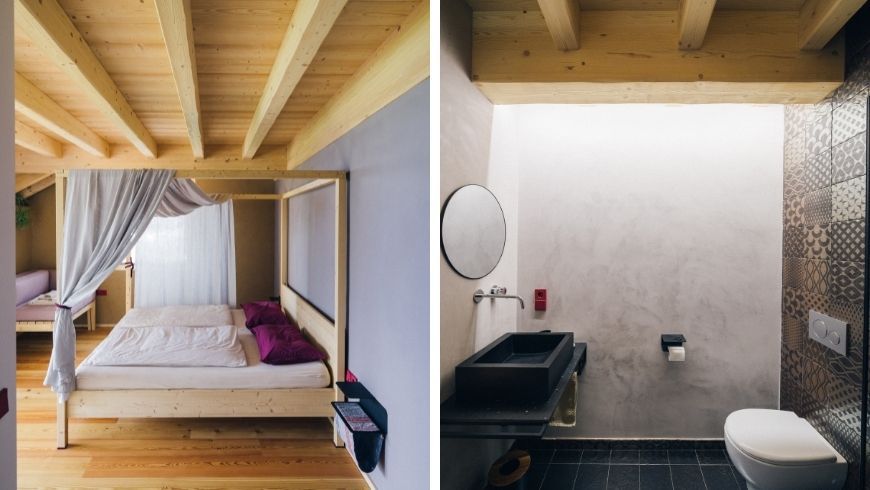 Local food
To prepare our dishes we use the products of our farm. When we have to buy products that we don't produce, we opt for local businesses similar to ours. In fact, it is very important for us to create a network in our territory.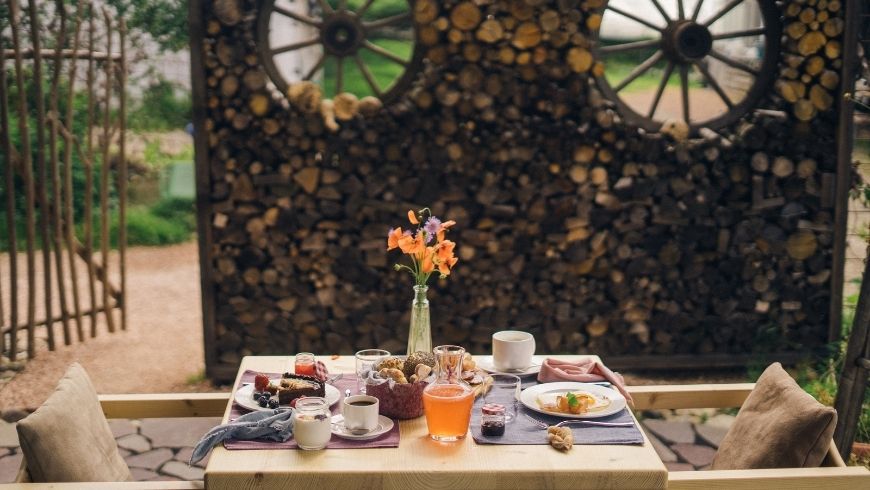 Natural soaps
We employ natural products to clean and we also offer them to our guests. These products are also vital for our septic tank. In fact, it works thanks to bacteria and microorganisms that don't tolerate aggressive substances.
We don't offer single-use products. On the contrary, in our rooms, you can find handmade soaps and a soap and shampoo dispenser.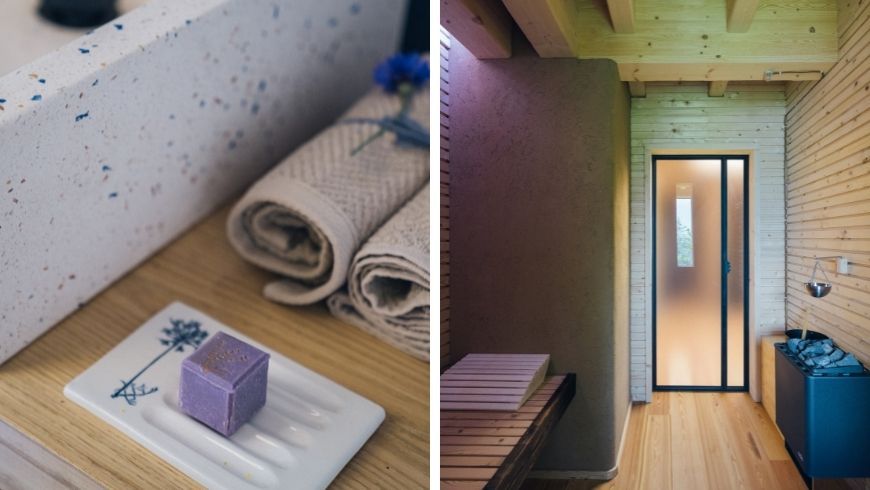 Home-made and plastic-free breakfast
We don't offer single-use products during breakfast, too. We prepare yoghurt with the yoghurt maker and the sparkling water with the carbonation device. You can taste homemade bread and cakes. In addition to this, we slice cheeses and cured meats during breakfast.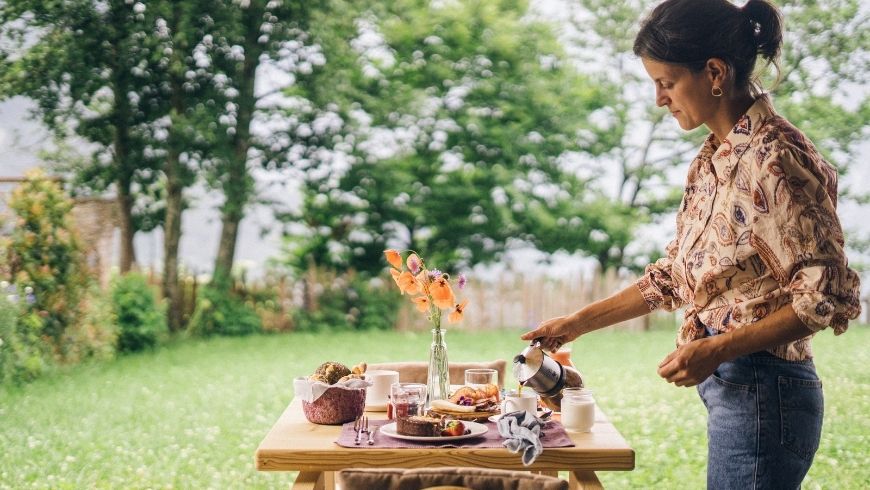 Which are the advantages of the natural materials that you have chosen?
We have paid a lot of attention to the shell of the building. In our view, it had to be a sort of skin instead of a border with the exterior. We employed natural materials such as rock wool and clay and we combined them with lime and mortar. In this way, the building "breathes" and can regulate temperature and humidity on its own.
Clay, in particular, is a fascinating material. With its deep colour, its smell helps to thin the border between interior and exterior.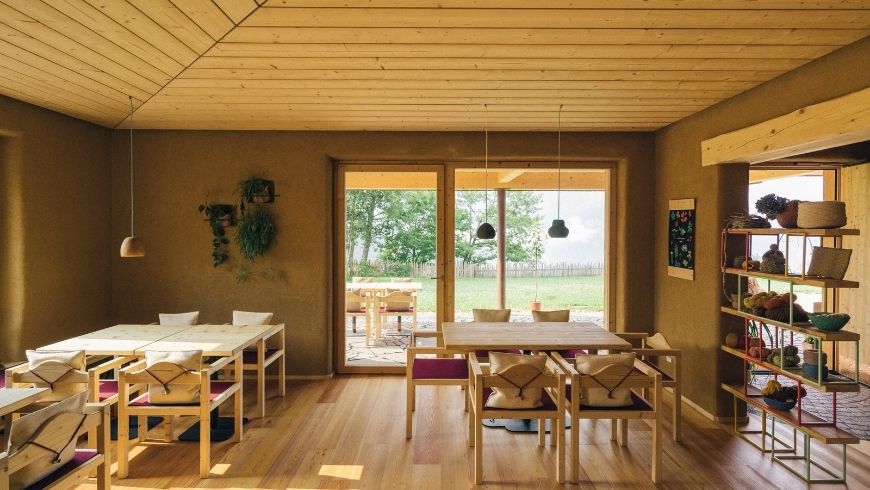 Also for this reason we opted for large glass windows. In fact, we thought of the walls as an element that links us with the exterior. We didn't want them to be just an element of protection and covering. The materials are also beautiful themselves. These natural materials are both functional and helpful to create a peaceful atmosphere. In addition to this, they will also be beautiful in the future. For example, the larch wood isn't treated and, for this reason, it changes its colour depending on the exposure. It is grey when close to water and red when exposed to the sun.
Which itineraries would you suggest to your guests?
Guests can't miss the opportunity to visit Arte Sella, an open-air museum that offers evocative experiences all year round. Arboreto del Tesino is another charming place. It is an hour and a half itinerary suitable for children. You will have the chance to walk in the fresh air and admire little woods, peat bogs, flowery meadows. On some boards, you can read about the plants and the animals living in this territory.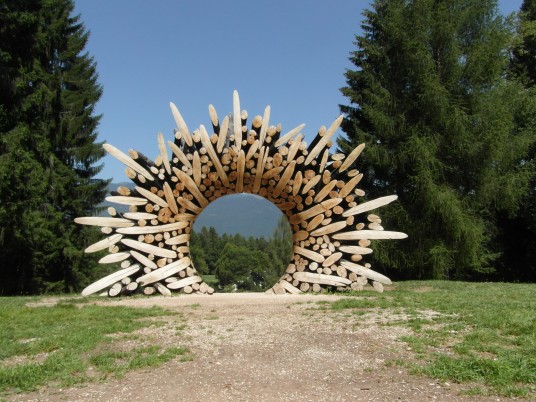 If you like hiking, Lagorai is the perfect place where you can have an incredible experience surrounded by wild nature. This area is characterised by a lot of high altitude lakes. Another interesting itinerary is the WWF Valtrigona oasis. It is a small valley in the Lagorai chain where the climatic variation enables a lot of floral species to thrive. You can also reach Ivano castle by walking on a natural stone bridge 40 metres long.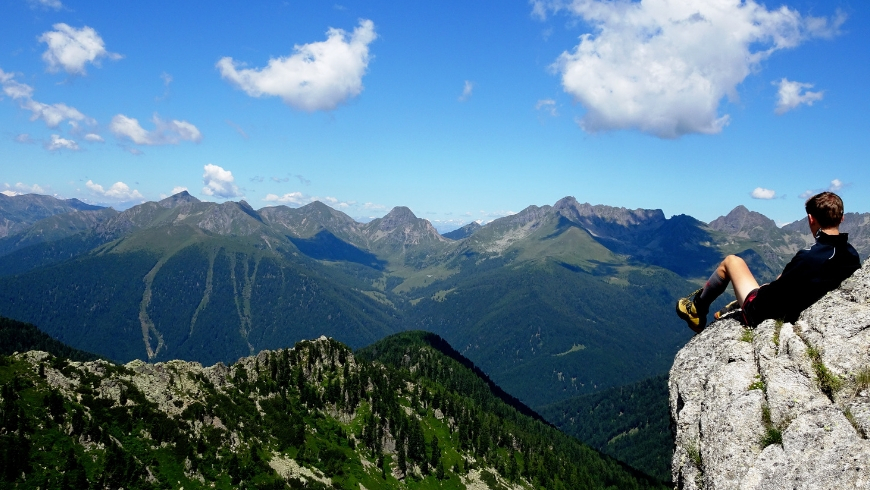 In the surroundings, there is also the Valsugana bike path, which is considered to be the greenest in Italy. It is 80 kilometres long and goes from Bassano del Grappa (in Veneto region) to Trento. It is suitable both for children and grownups. If you prefer a more demanding route, you can opt for Cima d'Asta or Val Campelle tours.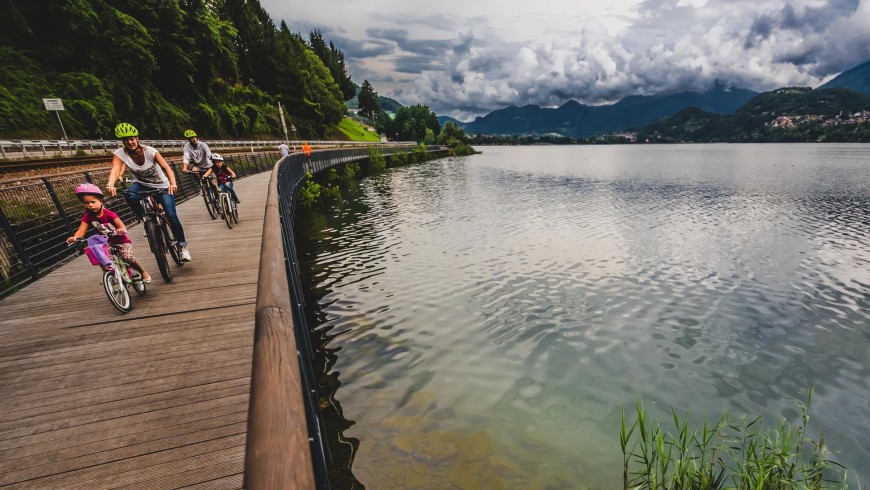 What does it mean for you to be an Ecobnb?
It means maintaining a strong balance between our lifestyle and natural resources.  We care about transmitting this mission to our guests.
BLUM farmhouse is the perfect place where you can spend an unforgettable holiday and feel at home. Respect the environment while enjoying nature's treasures.