A full immersion in the nature with the whole family, included children. Have a taste of the country life, leave the hustle and bustle of the town and enjoy a holiday surrounded by the woods of the Trentino or in a mountain farm. A car-free holiday: you can reach the destination by train, bus or other public means and when you get there you will need just your bicycle. This is the dream of Arianna, who sent us this wonderful e-mail. This is our answer.
"Goodmorning
I would like to spend a 7 day holiday into the nature and with my family (parents with a 8-year-old girl and a son who will be 4 next July) from June.
I have already seen some of your accommodation facilities such as "La Fonte" in Trento. Is it possible to have a stay there? How much does it cost? Do you offer bicycles for adults and children? Can I get there by using public means of transport from Rome?
Could you suggest other low cost accommodation facilities in Trentino Alto Adige that combine country life, bicycles and walking routes?
Thank you very much,
Arianna"
Thank you Arianna! I take your e-mail as an example to let me better write about what Trentino can offer to families and to whoever is willing to spend a holiday away from the hustle and bustle of the town and find peace among the trees of the woods and high-altitude pasture, vineyards and cultivated countryside.
3 green ideas for your family holidays in Trentino (north Italy)
Ecobnb always suggests accommodation facilities that are careful about the environmental sustainability and offer activities into the nature. How can you find the one that will suit you perfectly? You can write the name of a locality (region or town) on our search engine and choose the best solution.
In every holiday farm, farmhouse, B&B or hotel you will find, you can see the eco-sustainability "rating" and the services offered, in order to help you choosing as much as possible.
In Trentino you will find a lot of eco-accommodation that will be perfect for families both with little children and with elder ones. The green mountains and the wide valleys offer a lot if you want to do some healthy physical activities in the open air. Moreover, a mountain farm has always an itinerary to go hiking in the nature. They offer indeed very often green experiences that will make you fully live the countryside life, away from the chaos and pollution of the town. For example, you can join the pet therapy with donkeys, long walks following the traces of a wolf, courses to learn how to make cheese and so on.
Are you willing to unwind and spend some carefree days in a natural environment, breathing in some fresh mountain air, staying in the outdoors and walking through vivid green grasslands, while surrounded by mountains? If you and your family are looking for a place where you can enjoy beautiful trips in the nature, here you have 3 perfect location for you. Three eco-friendly accommodation solutions in Trentino that we think are magic and perfect for a holiday with the family:
1. Here you can join the pet-therapy with donkeys and have long walks following the traces of a wolf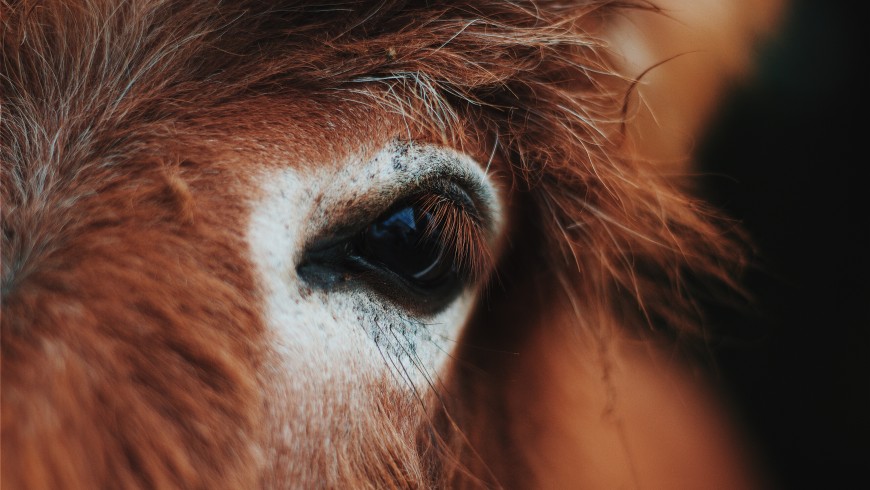 Mountains and countryside: the perfect match for a holiday into the nature

Biologic and local food: all made in the holiday farm, in total respect of nature
Between the wonderful Lessinia Natural Park and the Little Dolomites, with a unique landscape, Malga Riondera Farmhouse offers a perfect service to let you and your children enjoy the genuine life in the mountains.
Springs of fresh water, wide grasslands bordered with conifers and hardwoods, various possibilities to have long and pleasurable walks in the mountains, farm and didactic farm. At Malga Riondera there is definitely no lack of chances to spend some time in the nature and have fun with your children.
The Malga is always very attentive towards nature and it shows its dedication being a structure realised according to bio-architecture criteria, and selecting natural materials and clean energy with very little impact on the environment, solar panels and wood for heating.
The delicious honey of the Malga, produced by the owners
The dunkeys of Malga Riondera holiday farm
Walk in the vivid green mountains around the Malga
The love for nature is so strong here that even your body will take benefit from it, thanks also to the great care of the owners when choosing food. The kitchen prepares only bio and local dishes, indeed they use only products cultivated by them in their garden. What they can not cultivate is bought from local producers or the fair trade.
Children will love playing with the animals of the farm, most of all during the activities of the didactic farm. The Malga breeds donkeys, goats and sheep that provide also their cheese, and hens to have always fresh eggs. Moreover, the owners breed also bees that let them produce their delicious honey!
Tip for whoever travels without car:
If you travel using public means, don't worry. Let the owner know about your arrival and they will provide you a transfert service from Ala railway station.
2. Here you can pet goats and join the activities in the farm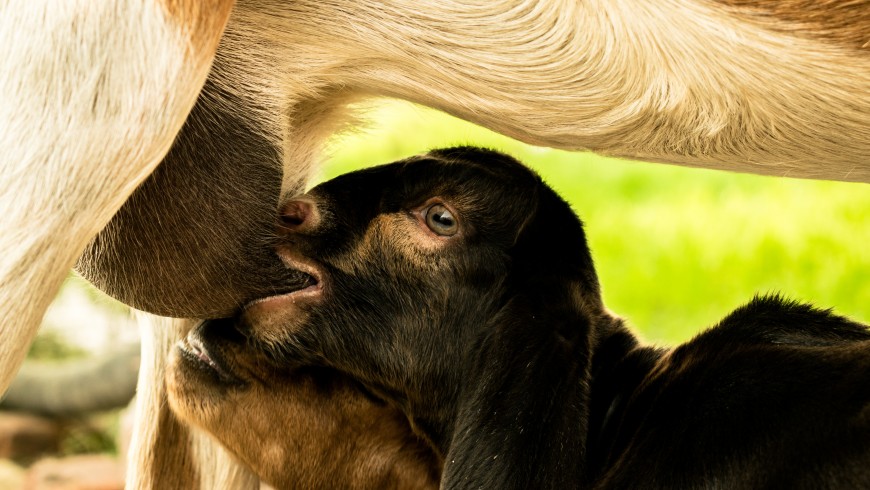 La Fonte holiday farm: between mountains, walks on vivid green grasslands and countryside life
La Fonte holiday farm
Children doing activities in the biologic garden of La Fonte holiday farm in Folgaria
La Fonte holiday farm is a little house made out of stones, hidden in the green mountains of Trentino, in the municipality of Folgaria (Cimbri Highlands). Staying here with your family will be a fully green experience: the farm is realised with eco-friendly materials, boasts a unique natural landscape and offers exciting activities that will convey to children and interested people the treasures of a lifestyle in connection with the rhythm of nature.
La Fonte is extremely respectful toward nature and its dedication is represented in its building. It counts 3 structures that are all eco-sustainable thanks to the natural materials it is made of and the use of clean and renewable energy. It uses indeed solar panels, thermal solar energy and constructed wetlands to treat waste water and minimise the impact on the environment.
The location of the Malga is really suggestive and the perfect starting point for long walks and hikes through the woods, along the river and around the mountains in Trentino, for a real holiday into the nature!
Being a holiday farm with garden and farm, you can be sure about the genuineness of the products it offers: from fruit and vegetables to infusions, bud extracts and Bach flowers! Moreover, the Farm organises workshops and didactic activities that are suitable for all the family. Even schools join them. You will therefore learn something more about the cycle of grain, wool, milk and other products made by them, in real meetings of dietary education.
Tip for whoever travels without car:
La Fonte is in Gruim, near Folgaria (Trento). If you don't travel by car, there is no problem. You can easily reach the Malga by bus too, leaving from Rovereto railway station.
3. Here is the perfect destination for your family holidays by bicycle!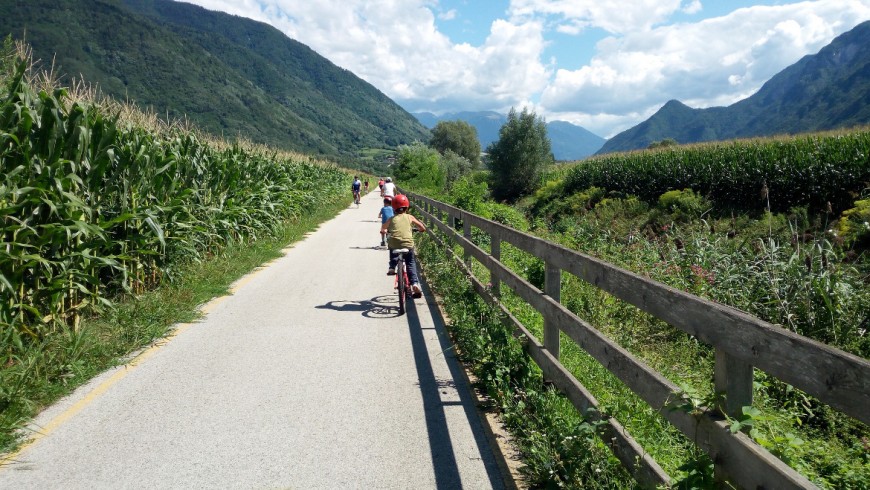 The perfect place to ride a bicycle: you can get to the cycle path directly from the B&B!
Casa sul Lago, a eco-friendly house in Caldonazzo
The wonderful Caldonazzo Lake, just a stone's throw from the B&B
B&B La Casa sul Lago in Calceranica (Trento) is the perfect starting point if you are looking forward to riding a bicycle. As the name suggests, this B&B is just 200 m away from Caldonazzo Lake and from it you can get directly to the very long Valsugana cycle path. This is 80 km long and offers lots of fascinating views. If you want you can cover the distance in stages: the path is always flanked by the train, on which you can bring your bicycle.
Recently, another cycle path has been opened in Calceranica : Calceranica-Pergine cycle path is 10 km long and reach in beautiful views. If you love biking you can not miss this place! Don't worry if you can't bring your own bike with you: the B&B itself will provide you one.
If you want to relax you can also get into the enormous garden of La Casa, where your children can also play with the animals. The accommodation facility hosts also cats, hedgehogs and little birds. I also suggest you should have a nice walk along the lake, which is just a stone's throw away from the building. In the summer days you can sunbath on the shore of the lake, swim, rent pedal boats and watch your children while playing in a playground.
La Casa sul Lago is an eco-friendly accommodation that uses renewable energy and has solar panels and water flow reducers. It does not lack in providing also biological and local food. It has indeed a big garden and fruit trees to cook you tasty and healthy breakfasts made out of only local food or products bought at Gruppo d'Acquisto Solidale (ethical purchasing groups), with which the owners of the B&B collaborate.
Tip for whoever travels without car:
You can easily reach Calceranica and Caldonazzo Lake by train. If you catch the train for Bassano del Grappa you will have to stop at "Calceranica" and in a short walk you will be at the lake.
Cover photo: photo by Jenn Evelyn Ann via Unsplash
You might also like: