The Amber Road was an ancient trade route running from the Baltic Sea to the Mediterranean area, named after the precious resin called amber.
Already from the Middle Ages and with the subsequent development of cities and roads, this route became not only better defined, but also very well known. In fact, it established itself as one of the most important trade routes between Vienna and St. Petersburg, dedicated to what then began to be known as "the Baltic gold".
Today, centuries later this route is very popular among tourists, and especially among those who decide to travel in the greenest way possible: by bike.
Whether you are an experienced cyclist or a first-time one, by travelling by bike along the Amber Road you will live an unforgettable experience. Let's discover more about this cycling route.
The 7 Countries Along the Amber Road are on Your Bucket List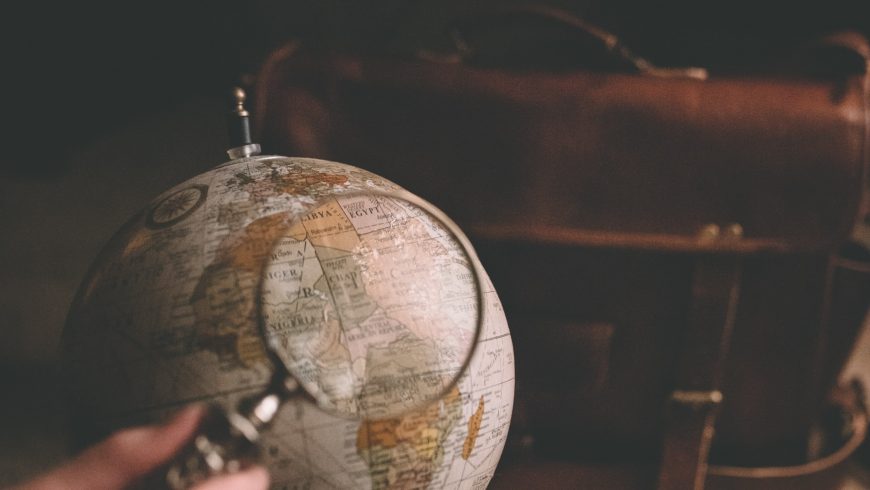 At first, the number of countries the Amber Road crosses might put you off. I totally get it! But, you should know that it is actually an easy journey to do by bike.
The entire route is about 2,500 kilometres, and runs through 7 countries in total: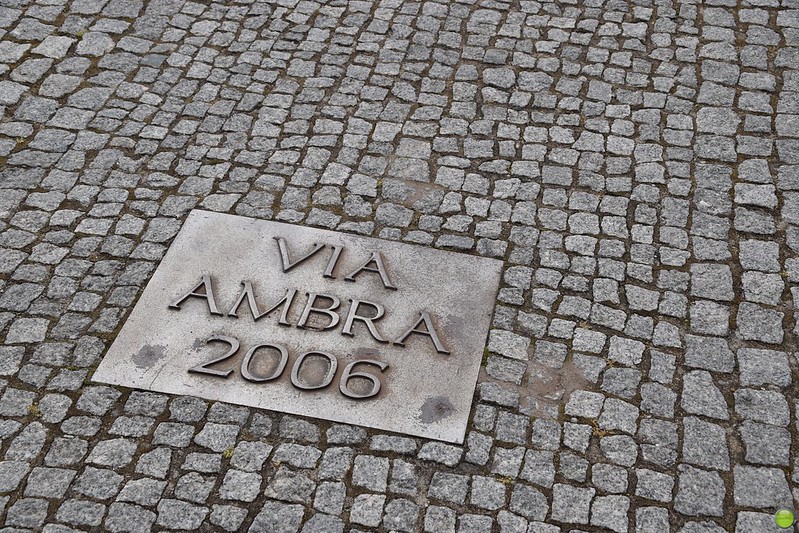 It goes without saying that the higher your training level, the less time you will take to complete the entire route. But there is nothing to be afraid of! In fact, this cycling route presents several advantages compared to even the most well-known routes.
First, along this itinerary, you won't find large inclines. Second, it is composed of low-traffic roads. And last but not least, there is a large number of bike trails. And this concerns not only secondary roads but also major streets.
Along Amber Road is quite easy to find accommodation and meals. You will find a lot of cafès and restaurants, as well as hotels and guest-houses.
Why biking from Vienna to St. Petersburg?
Vienna. Photo by Jacek Dylag via Unsplash
Saint Petersburg. Photo by Hu Chen via Unsplash
Wish to bike the Amber Road? You could start your holiday from the elegant Vienna, to finally reach the majestic St. Petersburg. The stages of the journey in addition to these two cities will therefore be Krakow, Warsaw, Vilnius, Riga and Tallinn.
Each of these beautiful cities is unique. And although they are all different from one another, they are still sharing the presence of shops and places that recall the Baltic Gold.
3 The Amber Road's Must-sees: the Absolutely-not-to-be-missed Stops
Each of these cities deserves to be visited at least once in a lifetime, and most of them are included in the UNESCO list of World Heritage sites. However, if you cycle along the Amber Road there are some locations that you must not absolutely miss, and where it is worth stopping a little longer.
Are you ready to discover the 3 most breath-taking places?
1. Rynek Główny, The Main Square of Krakow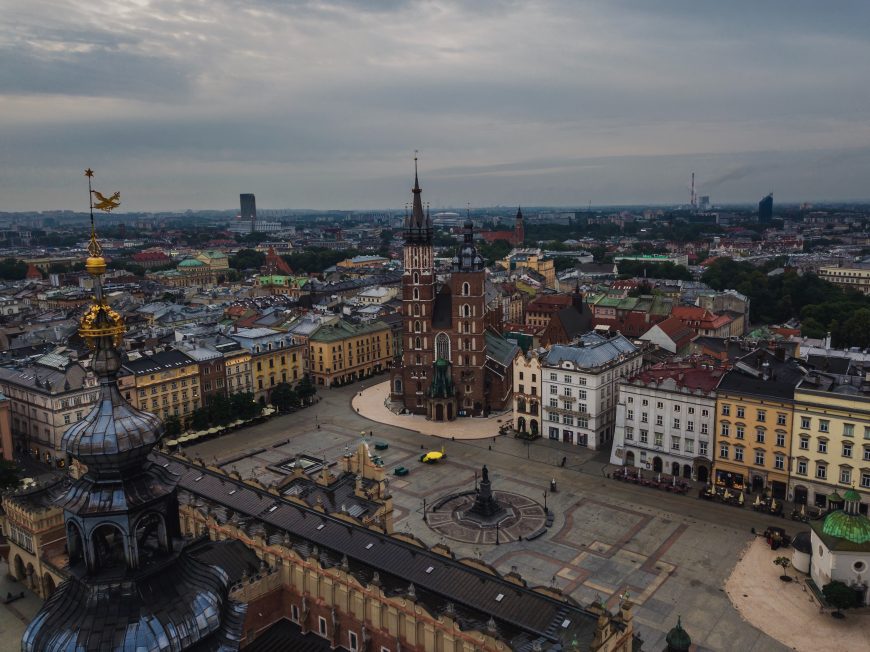 The main square of Krakow is also the main cultural centre of the city. Thanks to its 40.000 square meters of surface, Rynek Główny establishes itself as the largest medieval town square in Europe. Its original project dates back to the 13th century and it is located in the Old Town of Krakow.
The most important monuments of the city surround it, such as the St. Mary's Basilica – famous for the legend of its two towers of varying heights.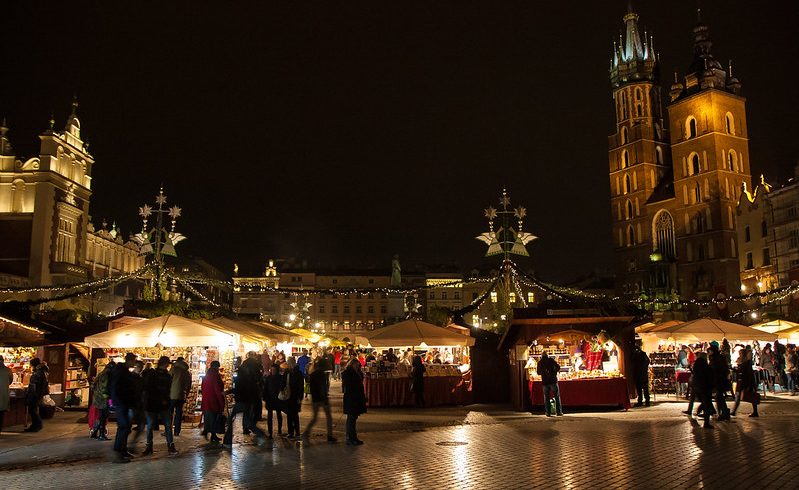 As this was originally a market square, its main function was commerce. And amber has always played a very important role. Still today, you can find some souvenirs, shops, and stalls selling objects made with this precious material.
2. Trakai Castle, an Architectural Beauty a Few km from Vilnius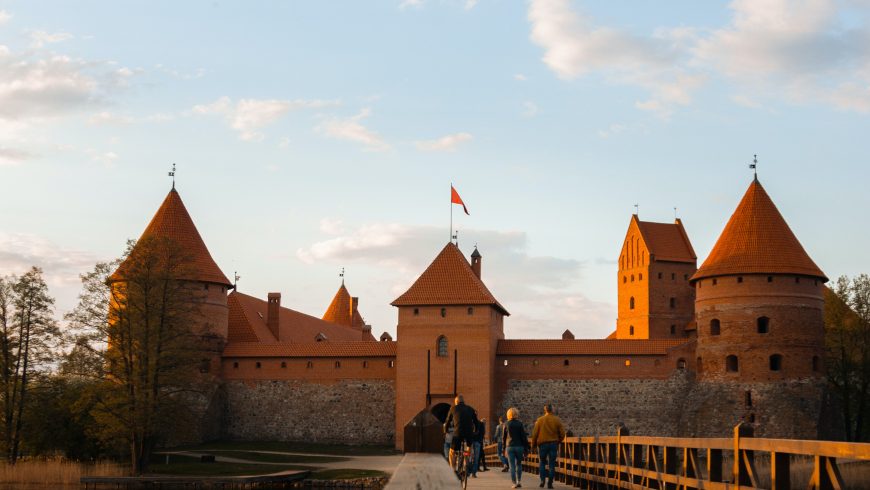 Located about 30 km from the Capital of Lithuania, you will find the town of Trakai, which is small yet famous for its homonymous castle. The main attraction of the town is an architectural beauty that seems to belong to a fairytale world.
Trakai Castle is located on a small island in the centre of Lake Galvè, and you can access it only by crossing a long pier. This beautiful building was first built in the XIV century, but it has been damaged, destroyed, and rebuilt several times over the years. The final Baroque-style construction dates back to after World War II.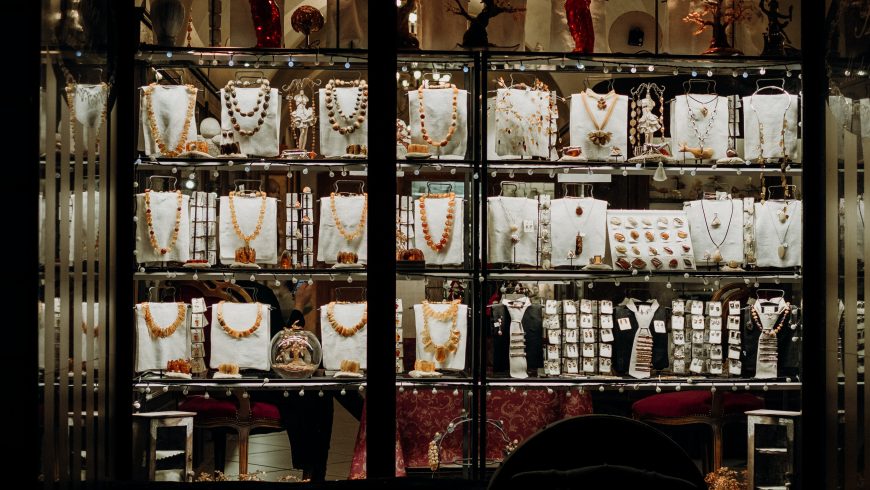 The interior is no less beautiful: treasure chests, ceramics and antique furniture are only a few of the treasures that the castle houses. Besides, amber is a constant presence: both in the objects of the castle and in the numerous souvenir stalls that crowd the shores of the lake.
3. The Amber Room in Catherine Palace, Pushkin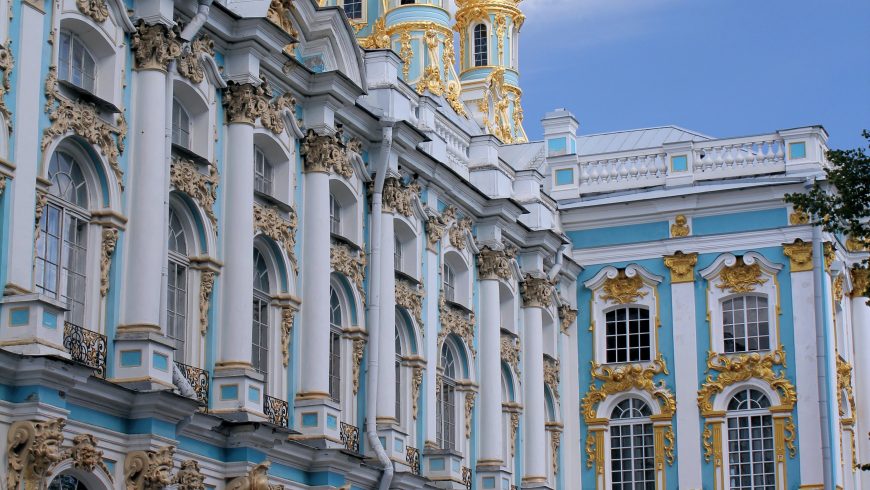 The beautiful Catherine Palace is located about 30km southeast of St. Petersburg. This magnificent building was the former summer residence of the Tsars.
Its iconic Amber Room, could not only be considered the most beautiful room in the entire Palace: it is also the most breath-taking place you will see in your whole holiday. Although the original Amber Room was damaged and lost after World War II, the remake, completed only in 2003, is just as beautiful.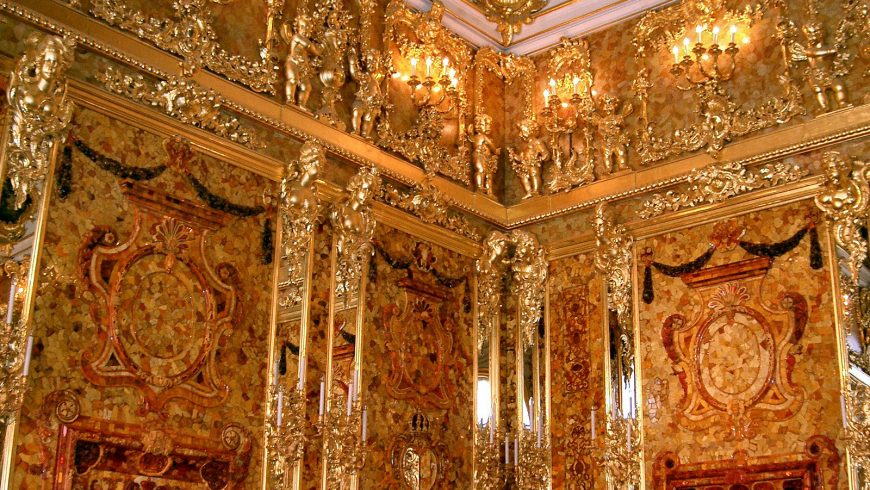 This was originally a Tsar's room, in which countless millions of amber shards compose both walls and furniture. Is there a better way to end your holiday than visiting this spectacular room entirely clad in Baltic Gold?
If you fancy a cycling holiday, try the Amber Road: I can promise you that every effort will be rewarded by the discovery of the most unforgettable places you have ever been to.
Featured image by Flo Karr via Unsplash