Versilia is a very rich in history area in Tuscany, dating as far back as the Neolithic. Indeed, its villages and archeological sites show the ancient charm of this stretch of coastline, which is delimited by the white mountaintops of the Apuane Alps. With its sandy beachfronts, majestic mountains and rolling hills covered in olive tree groves and vineyards, this lovely destination is sure to surprise you.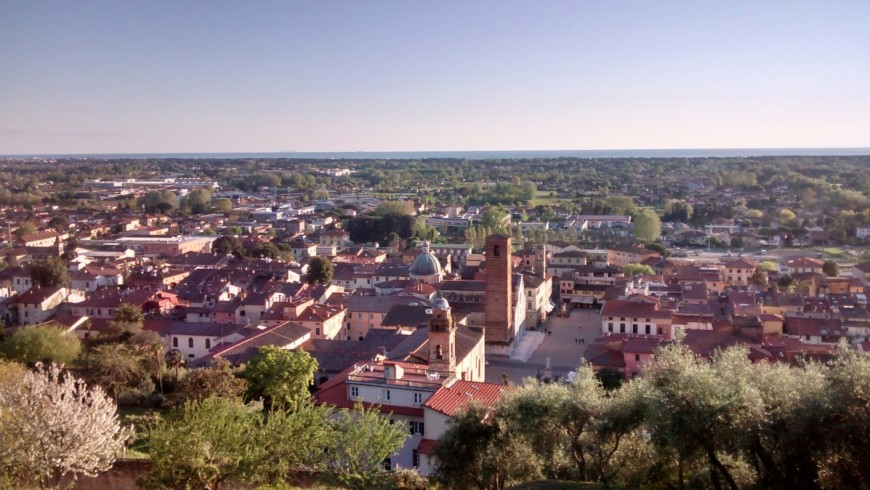 The main city in Versilia is Viareggio, which owes its name to the via regia, the royal road that took from the walls of the Medieval village to the sea in the town of Lucca. Viareggio is well-known for its spectacular Carnival, but it's also a strategic point from which you will be able to visit several amazing destinations nearby and explore the diversity of the breathtaking sceneries Versilia has to offer.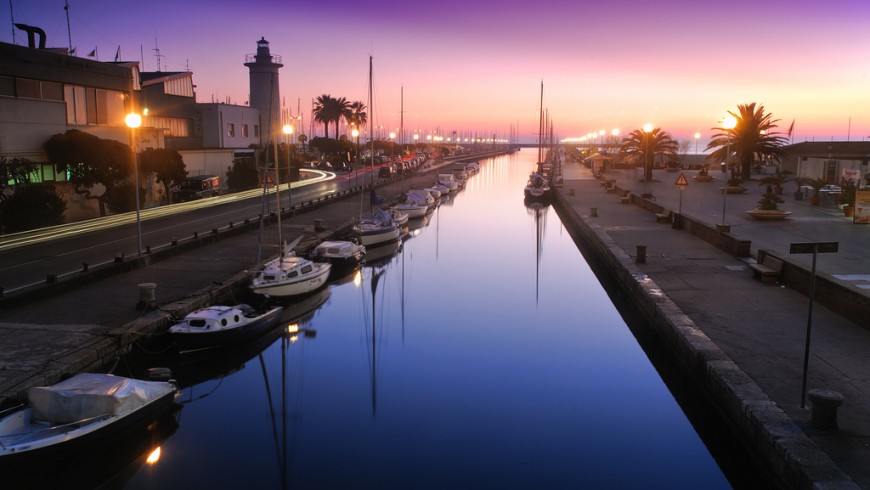 Moreover, the area features many possibilities for tourist bike excursions, on trails with different length and difficulty. Why don't you take this opportunity to exercise while discovering enchanting landscapes? We selected 5 must-see cycle routes in the area, so that you can forget about your car and relax, living your holiday in Viareggio at its best, slowly and peacefully.
Passo del Vestito

Length: 60 miles ca.

This is the best and most beautiful itinerary, going through the Passo del Vestito pass. Go north from Viareggio to the town of Seravezza. There, you will find an 8 miles long gentle rise, up until the Galleria del Cipollaio tunnel. You'll find a steeper climb starting from there and leading to Passo del Vestito, an Alpine mountain pass perfect for springtime picnics. Not far from the pass is a bunker built by Germans during World War II, which belonged to a fortified defensive line called "Gothic Line" (Linea Gotica).
Descending towards the town of Massa offers a stunning view, with marble as far as the eye can see. For a genuine holiday in Viareggio, we recommend that you stop in Massa and taste some delicious Tuscan specialty before heading back to the via Aurelia and finishing the loop.

Montemarcello

Length: 50 miles round trip
Town of Montemarcello is easily reachable riding along the seafront from Viareggio to Marinella di Sarzana, and then continuing towards Ameglia. Once you get there, you will ride along a slight rise and finally get to Montemarcello. This town is truly spellbinding, and if you love the stories about the Knights Templar, you really should visit its church, where you will find armed statues referring to several interesting legends. Moreover, Montemarcello offers an astonishing view of the Ligurian coastline, allowing visitors to see local mussel farming. On your way back to Viareggio, you can ride down the slope on the opposite side.

Capriglia loop

Length: less than 12 miles
This trail is really short but definitely challenging. The recommended departing point is Piazza Statuto square in Pietrasanta, a 10-minute train ride from Viareggio. From the square, take Via Capriglia road. You will ride through evocative olive trees up until the village of Capriglia. Ride through the alluring village and you will get to the traditional "Muretto", the low stone wall. The view here is amazing: you can admire Corsica, Elba, Liguria and its homonym sea, the Mar Ligure. When the sky is clear, you can also spot the Maritime Alps and even Monte Viso.
On your way back to Pietrasanta, you will ride down a steep descent: be careful and take your time!

Montemagno

Length: 15 miles
From Vareggio, head to the town of Camaiore and follow the SP1 road (which overlaps with European cycle route Eurovelo 5) to fascinating Montemagno. You will find a statue of Italian singer and composer Giorgio Gaber, who died here in 2003. Heading back to Viareggio, keep on the SP1 for about half a mile, then turn right onto Via Pioppetti. Keep on the main road, which will later become Via Giacomo Matteotti. At the roundabout, go straight onto Via di Montramito.
An alternative road back is the way up to Pedona, which leads to the splendid Castello di Mommio (Castle of Mommio) and then down to the village of Bergecchia. An interesting anecdote about Bergecchia: in 1885, some bells were melted here and a bunch of residents tossed gold in the casting. The noise these bells made was so pleasant that Giacomo Puccini added it to the Act I of his Tosca.

A coffee in Pisa

Length: 28 miles round trip
Lastly, if you're looking for a short day trip free of difficult rises, an excursion to Pisa is definitely worth it. Ride along the seafront in Viareggio heading south and take via Aurelia sud – in less than half an hour, you will get to magnificent Piazza dei Miracoli, with its world-famous leaning tower. In the square, you will find the Baptistery of St. John, the Cathedral and the Camposanto Monumentale ("monumental cemetery"). Together, the three symbolize the main stages in human life: life, growth and death. While you admire this UNESCO World Heritage Site and extraordinary religious centre, you can catch your breath and savour an Italian espresso.
Casa Arsella, the Perfect Accommodation for your Holiday in Viareggio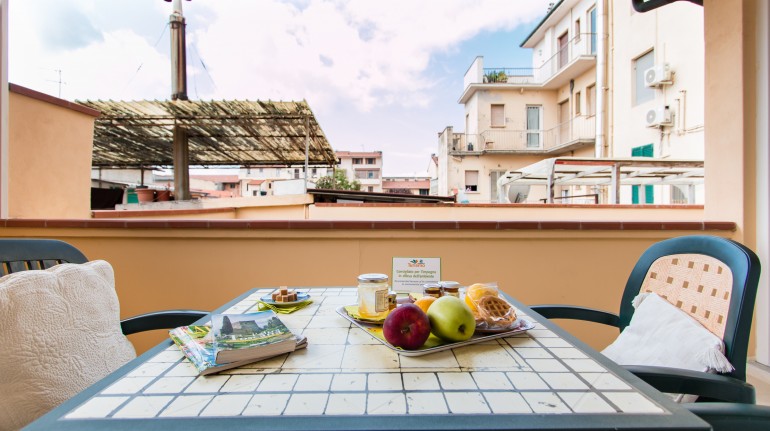 All of the routes we presented are recommended by B&B Casa Arsella, a welcoming and professional eco-friendly guesthouse in Viareggio. Its fantastic location allows its guests to reach easily the fully-equipped beach (just 150 feet from the B&B) and the Passeggiata (promenade), the seafront road sprinkled with boutiques, cafes and restaurants. Just as close, you can find the Parco Pineta, a green natural oasis with entertainment for children and adults alike: tennis and minigolf clubs, carousels, horses, nightclubs, bocce courts, bike rentals and restaurants, to make the most out of your holiday in Viareggio.
Book now your stay at Casa Arsella and live your two-wheeled adventure in Versilia's fascinating nature!
Cover image: photo by skeeze via Pixabay