Foraging is a new eco-friendly the practice of searching for edible wild herbs and berries. An ancient practice that is coming back into fashion thanks to the increasing focus on sustainable foods that enhance local resources. Let's find out more about this food practice…
What is foraging practice?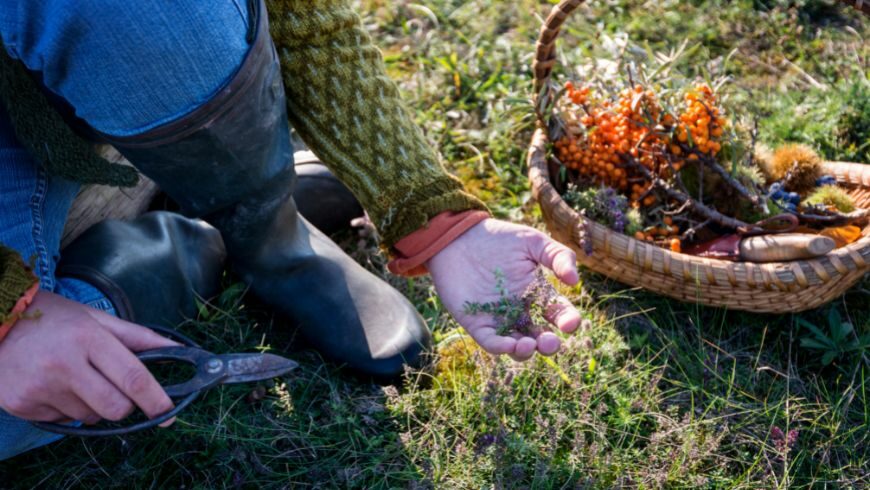 Foraging is an old practice of picking food directly from the natural environment. This activity, which was once a necessity for human survival, is becoming increasingly popular among those who seek to live in a sustainable and environmentally friendly way.
It can be defined as collecting food from natural sources, including berries, mushrooms, wild herbs, roots and seafood. These foods can be found in various natural areas, such as forests, meadows, mountains and beaches.
One of the reasons why foraging is becoming increasingly popular is because it offers a sustainable way to obtain food. Harvesting food directly from the natural surroundings can reduce the need to buy food that is often transported from afar, which has a negative environmental impact.
In addition, foraging can offer many health benefits. Many naturally harvested foods are rich in essential nutrients such as vitamins and minerals, and may also have medicinal properties.
How do you practice it?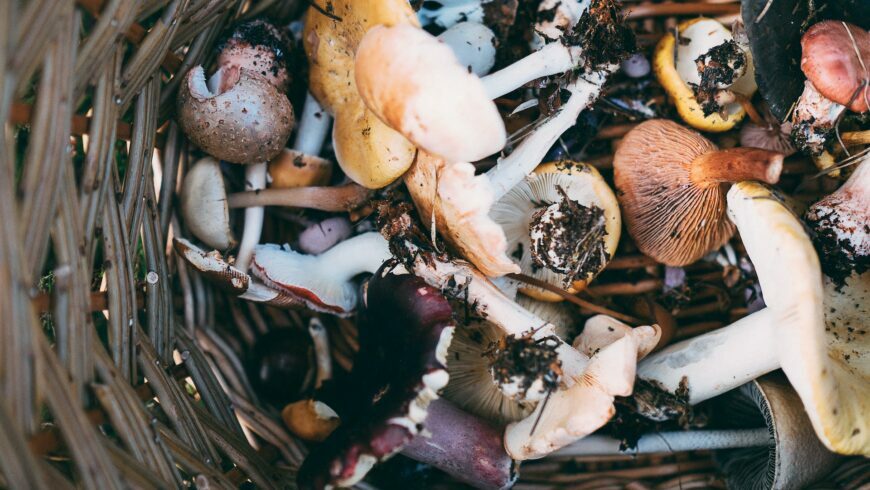 The picking technique is based on alimurgy, a science that studies the use of herbs and other wild edible species, such as:
edible and non-poisonous mushrooms
wild herbs
herbs
edible seaweeds
barks, tubers, bulbs and roots
edible wild berries
oysters
However, there are some important points to consider when foraging. First of all, it is important to know what you are foraging for and where to look for it. Some wild foods can be dangerous if consumed in large quantities or if they are not cooked properly. Also, some wilderness areas may be prone to pollution or contamination, so it is important to only gather food in safe areas.
Before you can fully approach this practice, you need to learn about and distinguish the various types, properties and quantities in which wild species can be consumed. No less important are the harvest period and how to cook them.
In fact, confusing species or consuming some fruits in the incorrect way, or excessively, can have health consequences. It is thus essential to only pick what you are sure you know.
3 Rules for an eco-friendly foraging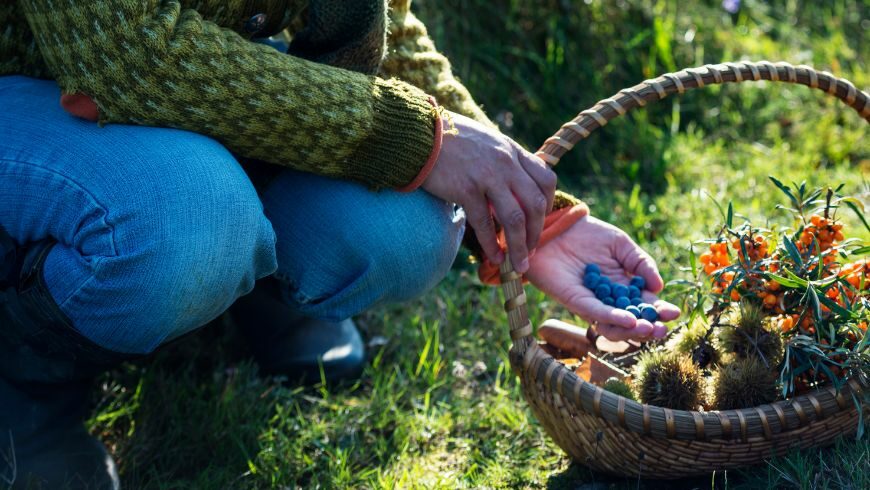 Among the basic rules to follow in order to engage in the activity without damaging the environment are:
collect only what you need
avoid trampling on species that are not edible for humans, but which can be essential for animals and the ecosystem
never uproot plants so that they can grow back.
Ideally, this practice should take place in safe and unspoilt areas, away from sources of pollution.
5 ideas to discover foraging during your holidays
Foraging can be a great activity to practice on holiday, as it allows you to discover new natural areas and experience unique local flavours.
Below we suggest 5 lovely destinations surrounded by nature where you can have some foraging experiences, guided by the knowledge and experience of the hosts.
1. Picking wild herbs and zero-kilometre tastings in Romagna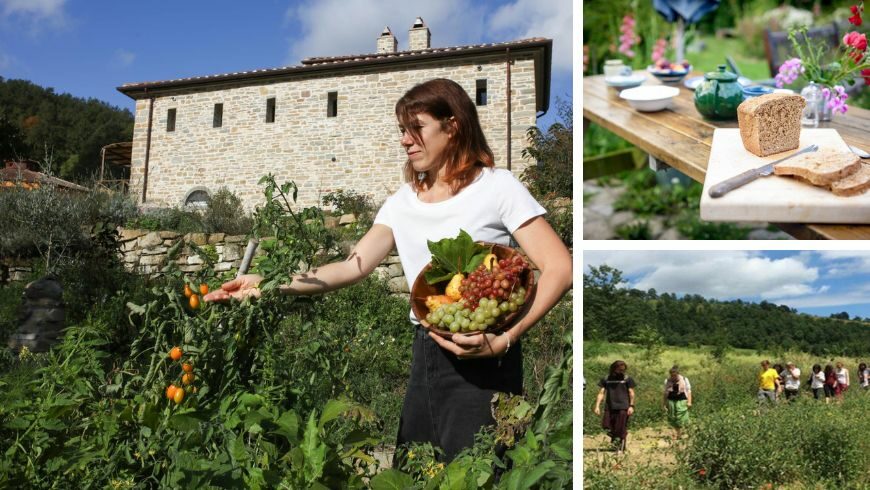 Fattoria dell'Autosufficienza (the Self-Sufficiency Farm), located in the beautiful countryside of Emilia Romagna, offers visitors the opportunity to immerse themselves in a unique foraging experience. The farm is a place where organic cultivation and wild food gathering come together to create a sustainable and eco-conscious philosophy of life. Here, visitors can participate in guided tours and lessons on foraging, learning to recognise local plant species and discovering how to grow fruit, vegetables and herbs. During the foraging experience at the Fattoria dell'Autosufficienza, visitors can harvest food in a responsible and sustainable way, discovering the value and beauty of nature and self-sufficiency.
Morover, the farm also provides delicious tastings of local products, prepared with locally harvested ingredients. In this way, they give visitors the chance to experience the flavours and smells of the Emilian countryside in a whole new way. The foraging experience at the Self-sufficiency Farm is an opportunity to immerse yourself in the region's farming culture and tradition, discovering the importance of respect for the environment and sustainable agriculture for the health of the planet and people.
2. Excursions and foraging in Ireland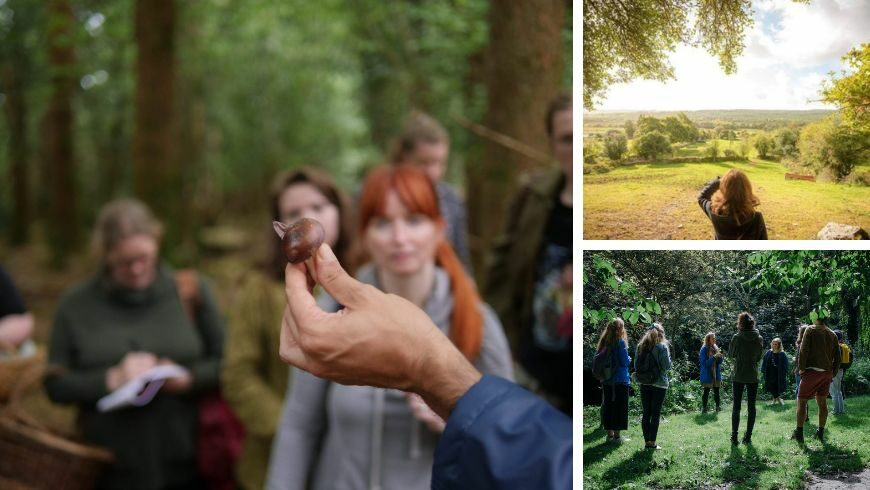 Slieve Aughty Centre, located in the unique Galway region of Ireland, provides visitors with a foraging experience that allows them to immerse themselves in nature and explore the richness of the local flora. During the herb harvest, participants can explore the region's forests, meadows and streams, learning how to collect fruit, herbs and wild mushrooms. The centre's expert guide gives information on the different types of plants and mushrooms found in the area and their traditional uses in Irish cooking.
The foraging experience is also an opportunity to discover the beauty and tranquillity of the Irish countryside and to meet the centre's farm animals, such as sheep and goats. In addition, the centre offers a wide range of activities for the entire family, including horse riding, hiking and mountain biking. The foraging practice at the Slieve Aughty Centre is an opportunity to experience nature and discover the hidden treasures of the Irish countryside.
3. Wild berry picking in the Alps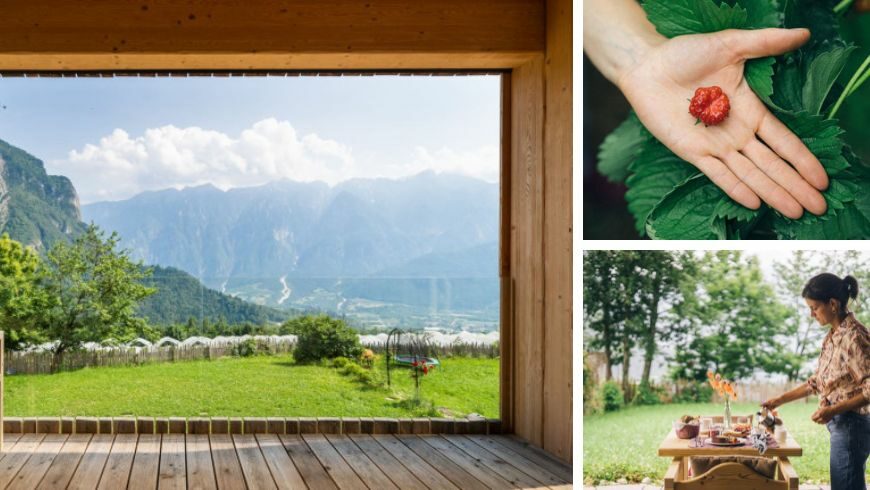 Located at the foot of the Lagorai Mountains in the beautiful mountainous region of Trentino, Agriturismo BLUM offers a foraging practice that will lead you to discover the treasures of Alpine nature. During the experience, participants will be guided by local experts in the collection of aromatic and wild herbs growing in the surrounding meadows and forests, learning to recognise the different species and experience their unique flavours and fragrances.
The farm also offers the opportunity to participate in the harvesting of forest fruits and mountain mushrooms, providing a complete and authentic alpine foraging experience. In addition, the farm houses tastings of local products made from locally harvested ingredients, such as jams, herbal teas and artisanal liqueurs, providing a unique culinary experience. The foraging experience at the BLUM farm is an opportunity to discover the secrets of Trentino's cuisine and culinary tradition, in a cosy and familiar atmosphere.
4. Foraging practice and zero km cuisine in Lazio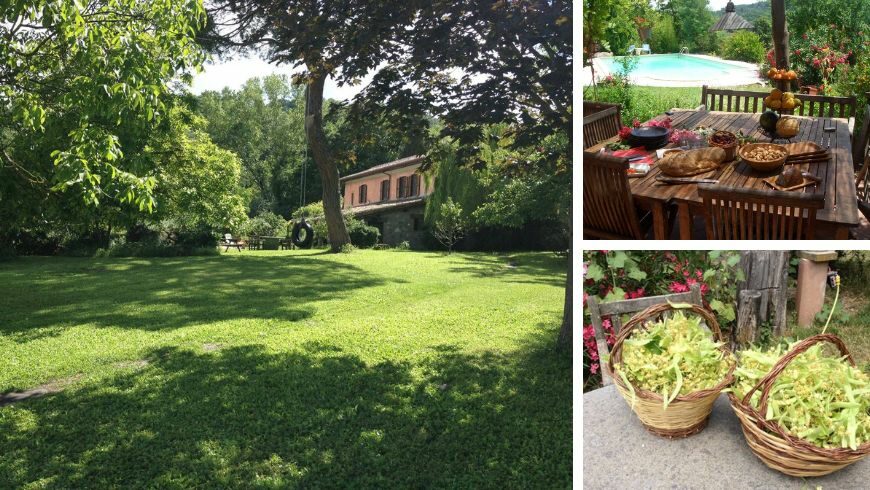 Situated in the picturesque Latium countryside, Casale Hortensiae will take you on a discovery of the hidden treasures of the surrounding nature. During the foraging practice, participants will be guided by the owner of the farmhouse, an expert chef in natural and sustainable cooking, in the collection of wild herbs and vegetables growing in the surrounding meadows and woods. Guests will learn to recognise the different plant species, discover their traditional uses in the local cuisine, and cook tasty and healthy dishes with the freshly harvested ingredients.
In addition, Casale Hortensiae also offers the opportunity to participate in the harvesting of fruit, such as apples and pears, which are used to make delicious jams and juices. The foraging experience at Casale Hortensiae is an opportunity to discover the authentic flavours of local cuisine, learning to cook with fresh, sustainable ingredients and living in contact with nature in an atmosphere of peace and tranquillity.
5. Foraging and wellness in the nature of Umbria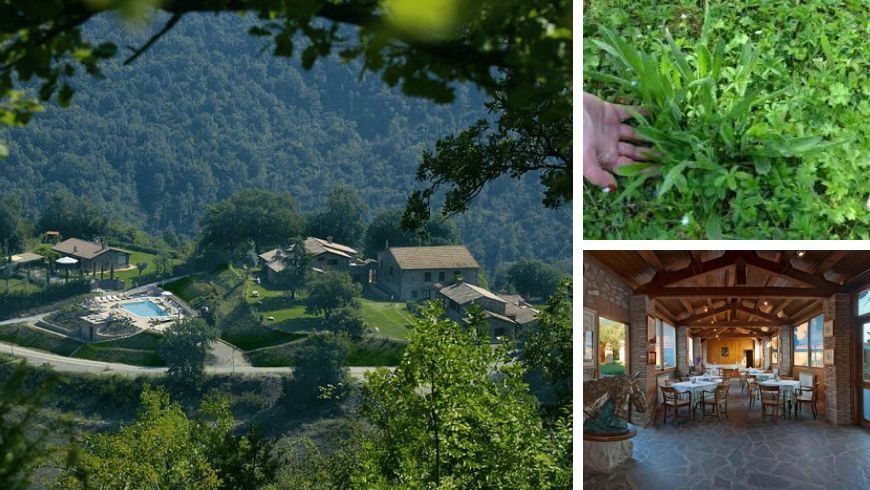 Nestled in the region of Umbria, the eco resort La Casella offers foraging practices and the opportunity to discover the hidden treasures of the local nature. During the foraging experience, local experts will guide you in the collection of aromatic herbs, wild vegetables, mushrooms and seasonal fruit growing in the surrounding meadows, woods and fields. Guests will learn to recognise the different plant species and mushrooms and discover their uses in traditional Umbrian cuisine.
The agriturismo also gives guests the chance to participate in the preparation of traditional dishes using freshly harvested ingredients, learning to cook as their grandparents used to do. In addition, Agriturismo La Casella offers numerous activities for visitors, such as trekking and horse riding, allowing them to explore the beauty of the Umbrian countryside.
In conclusion, foraging is a practice that is gaining in popularity because it presents a sustainable and healthy way to obtain food directly from the natural environment. However, it is important to practice foraging responsibly and sustainably, and to be careful about what you pick and where you pick it. With the right precautions, foraging can be a rewarding way to connect with nature and obtain fresh, nutritious food.
Cover image by Beth Jnr via Unsplash