Have you ever been to Australia? As you know, one of its peculiarities is the great wealth of natural landscapes. From deserts and rock formations to immense rainforests and breathtaking waterfalls.
If you've always dreamed of exploring Australia's magnificent landscapes, now is the time to do it. In the area, there's certainly no shortage of accommodation facilities in step with the times that try to be at the same time in harmony with the surrounding environment and to provide their guests with a unique stay.
To simplify your search, we suggest below some proposals that will surely suit you.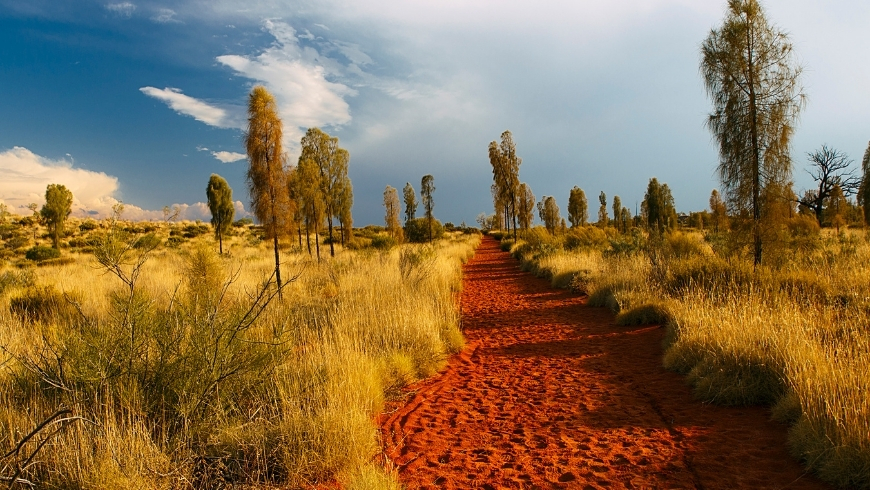 Broger's End
Imagine you're in the Upper Kangaroo River Valley on the south coast of Australia. To welcome you a veranda covered with wisteria and vegetation able to awaken your senses. All this is Broger's End, an old ruined farm transformed into a paradise of sustainable living.
To meet the different needs of its guests, Broger's End offers two accommodations: The Shed and The Dairy.

The Shed is a converted farm shed, which has been beautifully transformed using recycled and reclaimed materials. It's perfect for a family or a group of friends. Indeed, it includes a large living area with comfortable chairs and armchairs, a dining table and a fully equipped kitchen. In addition, it has three bedrooms and an outdoor space where you can spend evenings in company around the fire.
The Dairy is instead a luxurious eco-cottage. It was originally one of the first dairy milking sheds in the Upper Kangaroo River. Then, it has been converted and embellished with recycled and reclaimed materials. It accommodates up to 4 people, but is perfect for a solo getaway. In addition to the comforts available, the real pearl is the porch wrapped in wisteria.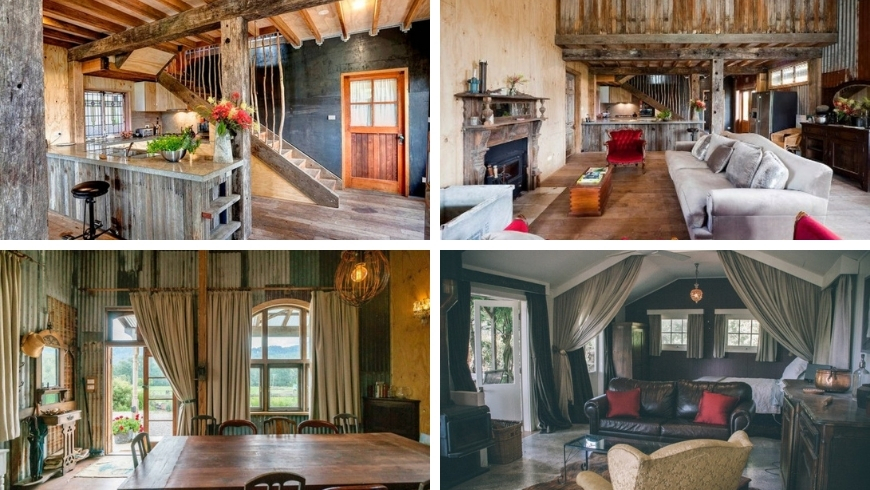 As for the activities you can do in this area, you could go for walks enjoying the landscape that changes from kilometer to kilometer: from paddocks and escarpments to the rainforest. It is a place rich in flora and fauna. So, it'd be nice to organize picnics along the valley or simply to see with your own eyes the typical animals such as kangaroos and wallabies. This and much more at Broger's End.
Bombah Point Eco Cottages
This private eco-friendly cottage is located in Myall Lakes National Park on the southeastern coast. The landscape is particularly impressive: from the kitchen the view is the typical Australian bush. But that is not all. In fact, since it's located in the National Park, it enjoys particularly rich flora and fauna. This area is also known for being the cradle of waterways, from lakes to beaches lapped by the sea.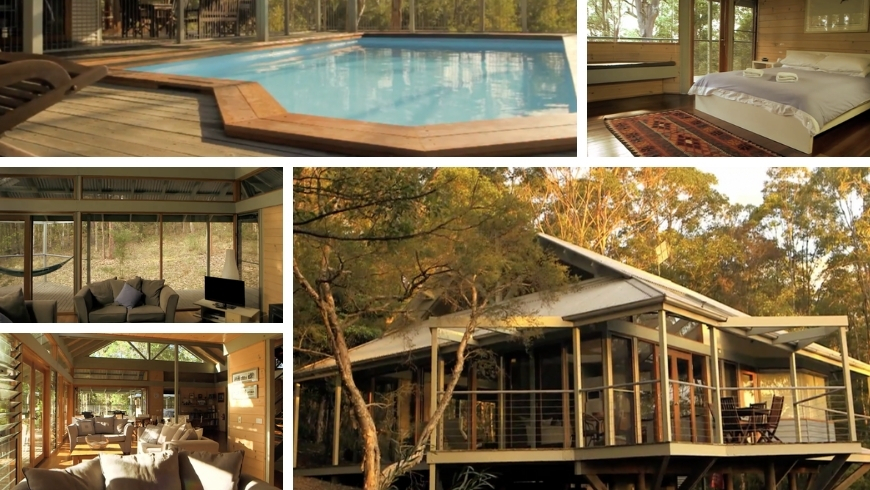 The cottage has a large bedroom with a double bed, a luxury bathroom with hand-made wood finishes and a large whirlpool bath. From the veranda surrounding the house you can organize a dinner with friends or simply relax in a hammock at sunset.
Silky Oaks Lodge – In the Greenery of Australia
Moving north-east we find this very elegant, luxurious and eco-sustainable hotel. It's the perfect starting point for an out of the ordinary experience of exploring Tropical North Queensla. There are many activities you can do. These include visiting the Wold Daintree National Park where fauna and flora abound, taking a dip in the Mossman River, admiring the Great Barrier Reef, the largest coral reef system in the world, taking scenic helicopter flights and cruises to spot crocodiles. and wild animals.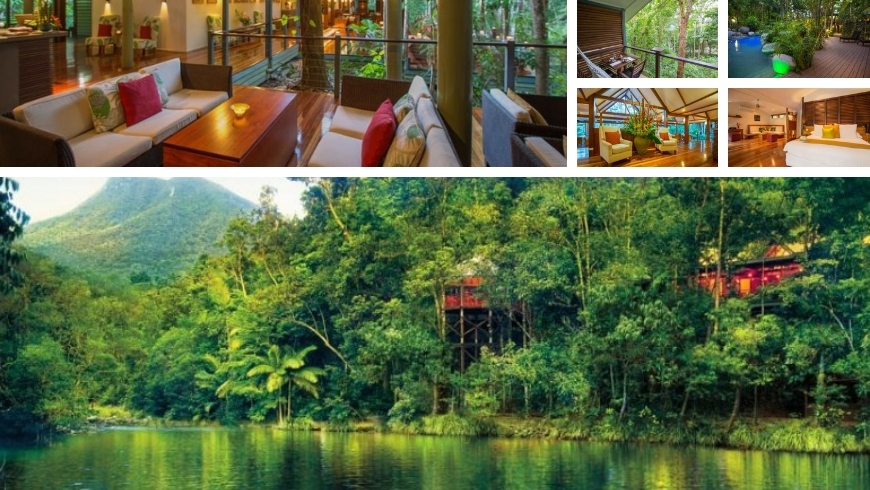 Faraway Bay – Tranquility in the north of Australia
It might seem like a remote place, yet it possesses a great charm given by its luxuriant and uncontaminated nature. Faraway Bay is more than just a resort. It's a welcoming retreat, located on a rocky hill overlooking the turquoise Timor Sea. It belongs to the coastal region of Kimberley in Western Australia.
The resort offers 8 lodges immersed in the woods and scattered among the natural scrub. From the cabins it's also possible to enjoy a 180 degree panorama of the bay flanked by cliffs. You can enjoy breakfast and dinner in the restaurant, relax by the pool or explore the area and meet local wildlife.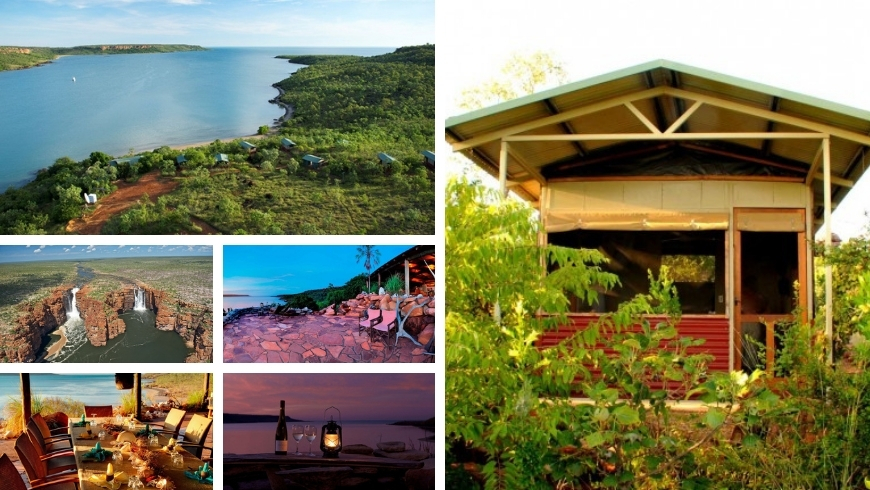 Longitude 131°
Longitude 131° is located in the bustling heart of Australia. It overlooks the Uluru-Kata Tjuta National Park, where there is Australia's most captivating natural icon: the Uluru also known as Ayers Rock.
You can choose among fifteen intimate luxury tents elevated atop rust-red dunes. Wake up to the view of the sun rising over Uluru. Immersed in its legendary light, you'll find unprecedented solitude and serenity.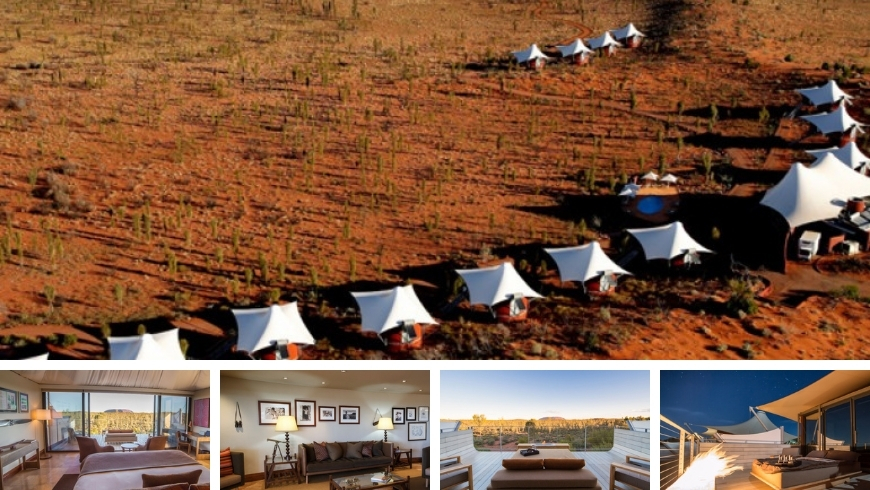 Firstly, in the luxury tent you'll find custom furniture designed by contemporary Australian designers, organic linens, armchairs and fireplace. But also a large balcony with a sofa bed. The unique textures of local indigenous artwork provide a colorful contrast to the pioneering past.
Longitude 131° offers the best of contemporary Australian cuisine, celebrating a fusion of modern and indigenous flavors.
Charnigup Farm
This lovely B&B is located in the Albany region of Western Australia. It has a private entrance, 2 bedrooms and everything you need for your stay. In this area you can visit the famous national parks of Stirling Ranges and Porongurups, home to a wide variety of unique and rare Western Australian wildflowers. Rare fauna, including the Noisy Scrub Bird and Gilbert's Potoroo, is in the natural reserves and national parks of the south coast.
Spend your vacation here and enjoy climbing, bushwalking, diving, fishing, cycling and sailing.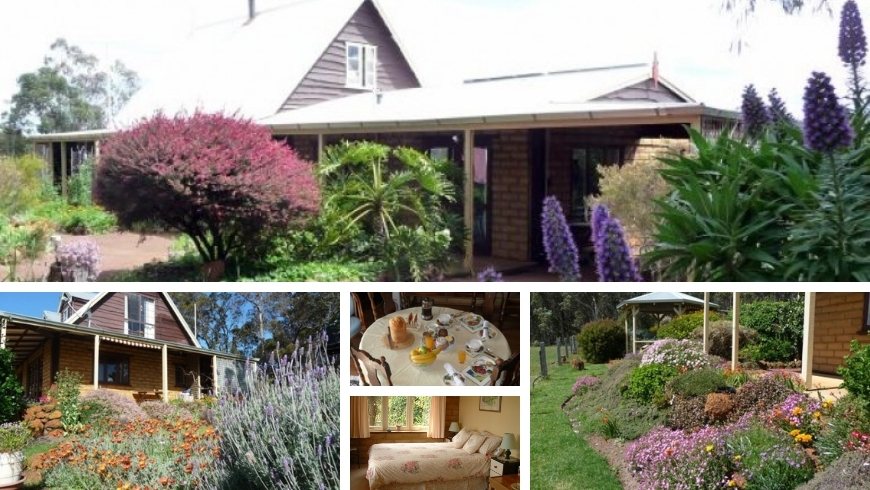 For other accommodations in Australia, visit Ecobnb.
Cover image via Canva Pro