Have you ever felt the need to recharge your energies? Villa Epicurea is the right answer. Full of peacefulness, surrounded by unspoiled nature, this Eco Lodge is the perfect destination for your green holiday!
Here you can stop being poisoned by civilization, walking and getting lost into the wild. Your mind gets inspired, your passions prevail, your body heals, and your daily stress disappears. You can immerse yourself in the power of nature. This green holiday at Villa Epicurea allows you to find your balance and well-being. Once you've arrived, time stops, and the secret word to be welcomed is love, love yourself and what surrounds you.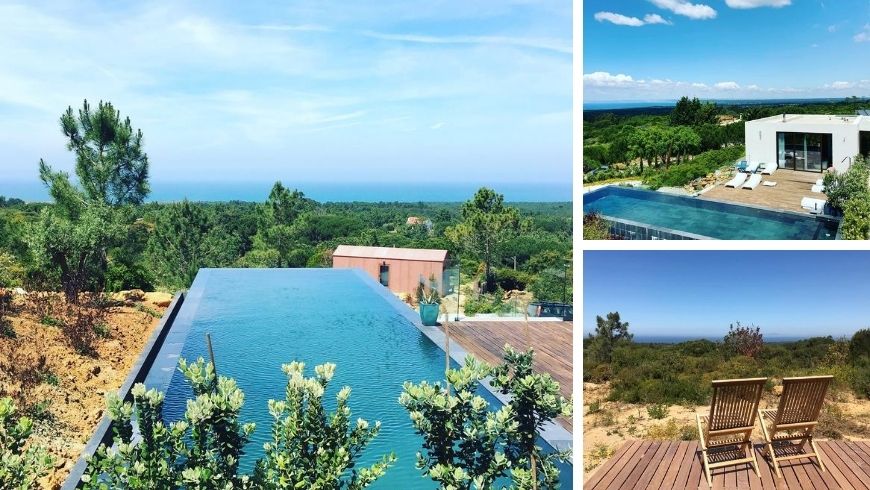 Villa Epicurea, Interview with Marianna, the Eco-lodge owner
A great combination of Nature and Art.
"Sustainability means caring about where you live, actually caring about what surrounds you and thinking a little bit ahead. I started this activity because it's my way of being, so it's nice to do something which reflects me".
Villa Epicurea is a small Eco-lodge surrounded by unspoiled Portuguese nature, nearby the Lisbon area. Marianna comes from Russia and she has an artistic background. She is deeply in love with nature. As a result, nature and art combine to create a unique place with stunning ocean views. In this interview Marianna told us how to love what you do. Let's discover it!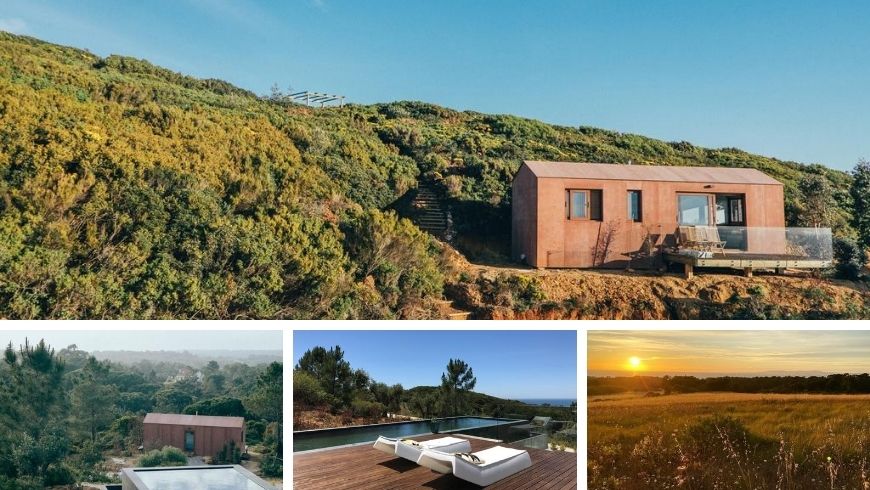 Hi Marianna, can you tell us something about yourself?
I am Mariana and I am originally Russian, but I have lived here in Portugal for the last 12 years. Before Villa Epicurea project I was a photographer for 17 years. I have a degree in painting from back in Russia and I got the scholarship for Benetton in Italy. So, I have been in Treviso for a couple of months, but this happened when I was 26. Then I mostly worked in fashion and advertising, having primarly artistic backgrounds.
Around 6-7 years I started to be more preoccupied with the environment and what it is like to have less waste, split the garbage and be aware of what I am eating. I was working as a photographer for 17 years, then, when I became pregnant, I got this idea that I wanted to do something like, sustainable hotel and I convinced a friend of mine to participate in this project. After searching for one year, we found the land and we built the place from zero with a biological pool. One year ago, on the 1st of June we started this activity. I had a little hospitality experience: I was renting my apartment in Lisbon, and a small country house next to Sintra. So, it was a sort of background, but never on that scale.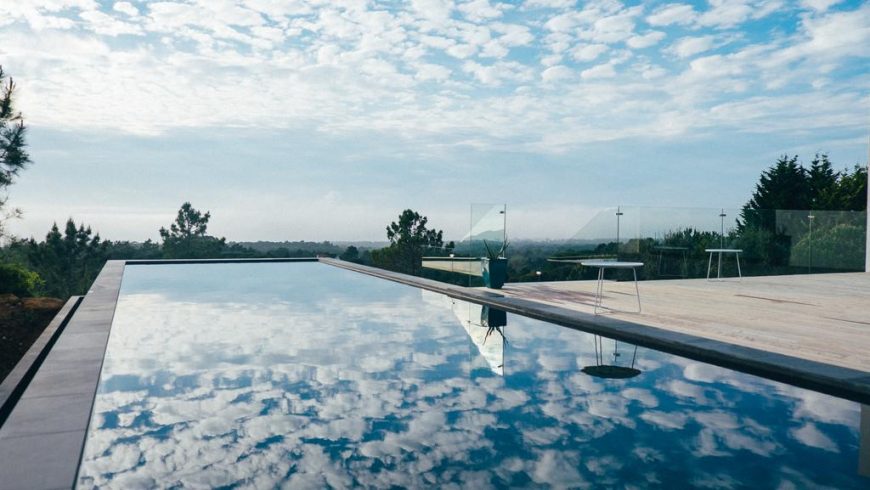 Why did you choose to start this activity? Why the focus was on sustainability?
Because it is my way of being. It is nice to do something that reflects you, trying not to have a double standard, like for business I do one thing, and I do another for my private life. So, I prefer to do the same on both sides. For example, my place is vegetarian, yet I still eat fish. Maybe in a couple of years I will not be eating fish anymore, but I am not like hiding or something. It is just like pescatarian, like they say here, I am living in Portugal with lots of  local fish, local fisherman deliver it at all the time like an all time. At the moment I do not see this as a big deal for me now, Maybe in a couple of years I will say no to the fish as well.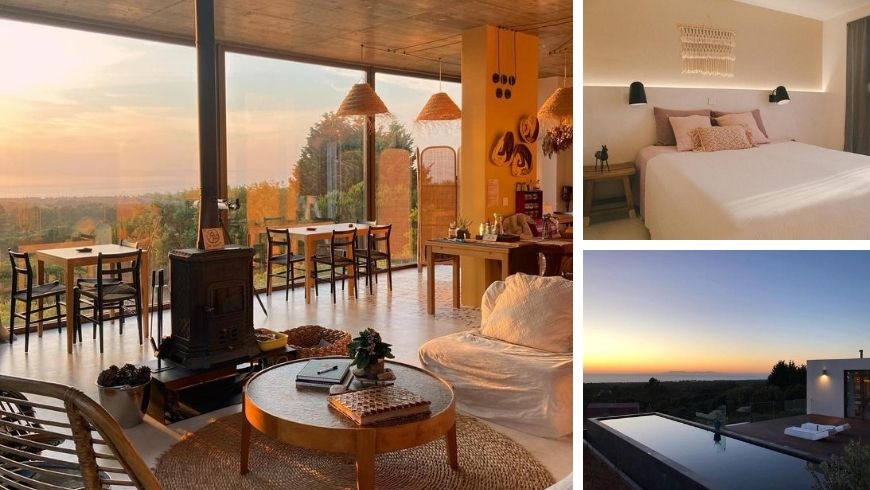 About your accommodation, which are the main activities that you offer?
In the wintertime, it is mostly working like a yoga retreat. We have many guests arriving from France, Germany, even Australia, and Portuguese as well. Usually, it is a teacher who organizes everything, like renting the place and providing food and some are on the spot. So, in wintertime it is mostly that, and then in summertime, it is mostly working as a hotel. We offer a list of activities like walking tours, hiking, climbing and kayaking. We also collaborate with local companies that provide other services, like massages,workshops of natural cosmetic and cooking classes of vegetarian, alternative and vegan cuisine.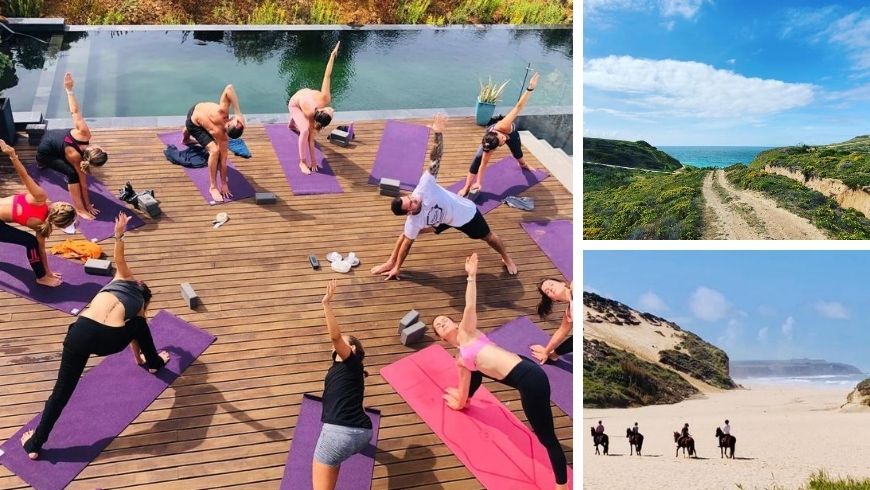 Which are the sustainable practices that you offer?
Our swimming pool is biological: algae like small bacteria keep the pool clean. It is an English patent from a company from Bristol. It is actually the first one of this type in Portugal. That is why we installed a particular system with nearly zero water waste.
We also have solar panels for heating the water. We are talking at the moment to a company of electric cars to put here electric chargers as well.
There is not iron bedding, and check-in is all digital with no use of paper.
Also, we change towels only every three days.
Two Eco Villas are constructed mainly from wood. They are more much more sustainable than the main house because it is mostly wood and then rocks, acting as a mix of wood and concrete while providing a charming decoration.
All the goods we use are mostly locally produced: we have local bread, local cheese and fruits.
For example, all the cups and dishes are produced in Portugal. We use the ones that are not for sale because of small production flaws. So, we keep them all, and we provide them to our guests. I think nothing is perfect. Every object can have its beauty, and we do not mind if they are all different. They are like people, people are not perfect.
All bed linen is 100% linen, we try to use the local production mostly. We have here cork, which is really a Portuguese thing.
Also, we promote here a lot of Natural walks to the ocean. We attempt to encourage our guests no to use cars. There is homemade gel for the shower that we prepare
We do not have grass, so we do not need extra water to make the grass grow. Instead, we put river stones. We offer some fruits that people buy from us other ecological products. It is a Portuguese company called Eco X. They are bringing us the products. We try to promote a sustainable way of living.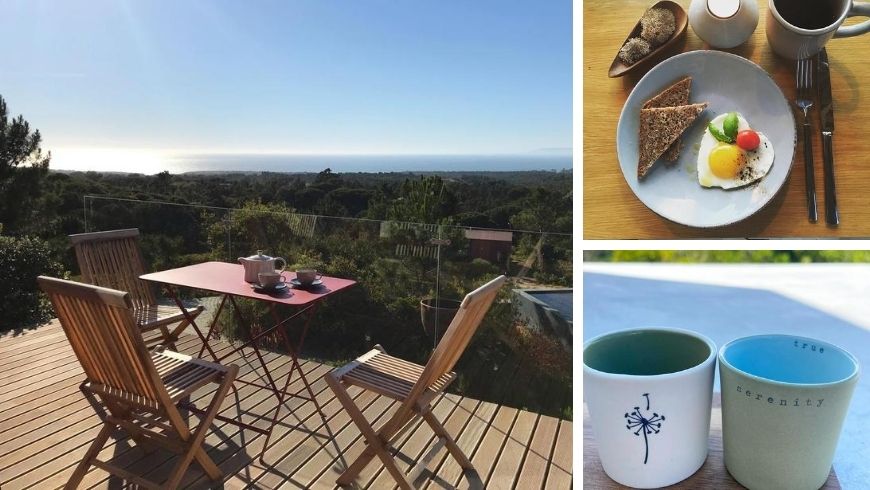 What does sustainability mean to you?
It is caring about where you live, about our planet. Focusing not just on you, but also on what lies around you. Thinking a little bit ahead.
It is also about future generations because it is an investment in our kids' future. I have a four-year-old daughter, and I genuinely care about what world she is going to live in.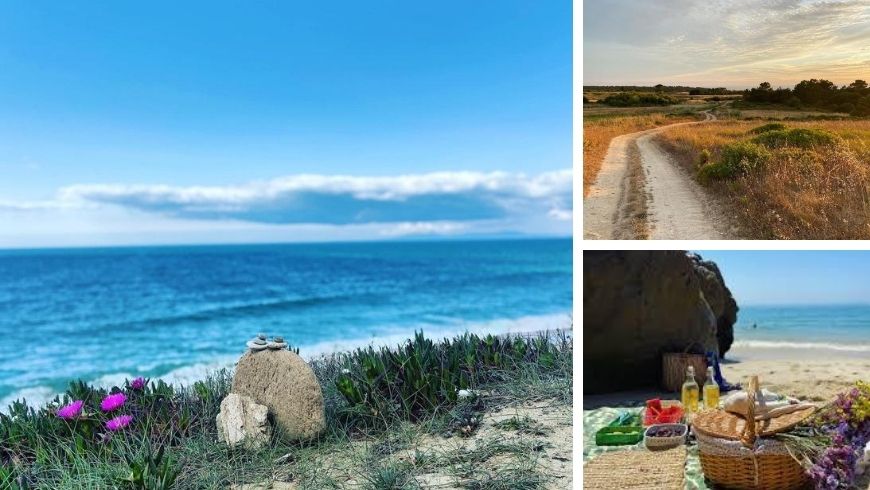 What does sustainable tourism mean to you?
It is producing less waste. Like less waste possible and like empowering people, if you can, buy simple things, and if you can do it by yourself, like all practices we use for the hotel can apply in their own lives. It is also like to show an example that people can do differently, and it does not cost that much time, money.
What does sustainable accommodation represent for you?
For me, it will be nice if every place will have a solar panel for producing energy, having your water and a house is built entirely from organic material like wood. Some people are building homes from stones, like doing the maximum you can to have a smart place, to have many windows, so you do not need to use a lot of lights. It is mostly about how it is built, how you deal with the energy, how you deal with the waste.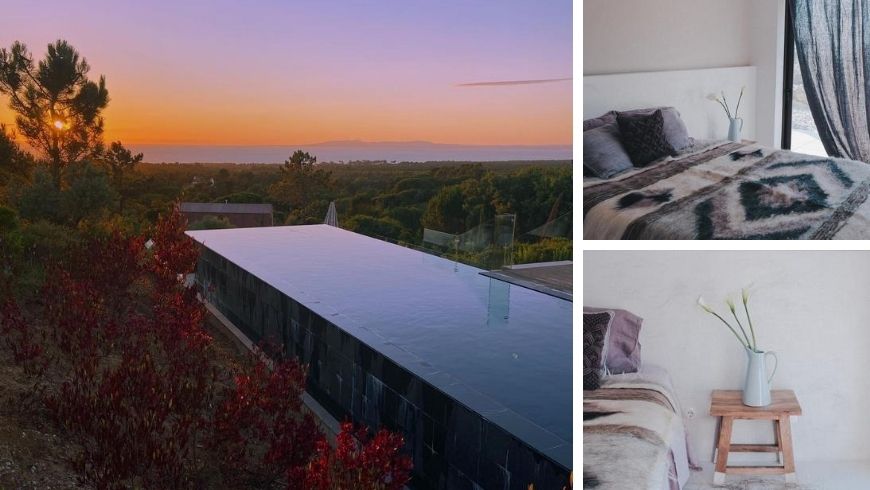 Which is the typical traveller who stays at your place? Why do they come, and what are they looking for?
A lot of people are now appearing the be vegetarian or vegan. They have really few options when they travel, and people are quite a foodie, they think first about what they are going to eat. Maybe they think about where they are going to stay first and then second what they are going to eat.
So, first, they go for beauty of the place, its nature, then they check about the food, and there is, for example, some people who appreciate having a biological pool because being allergic to chlorine.
People coming from booking.com for example if they just say "okay, I like this place, then let's go", and they do not care if we are sustainable or not. But I really like clients coming through Ecobnb. They care about all our efforts to improve sustainability aspects here.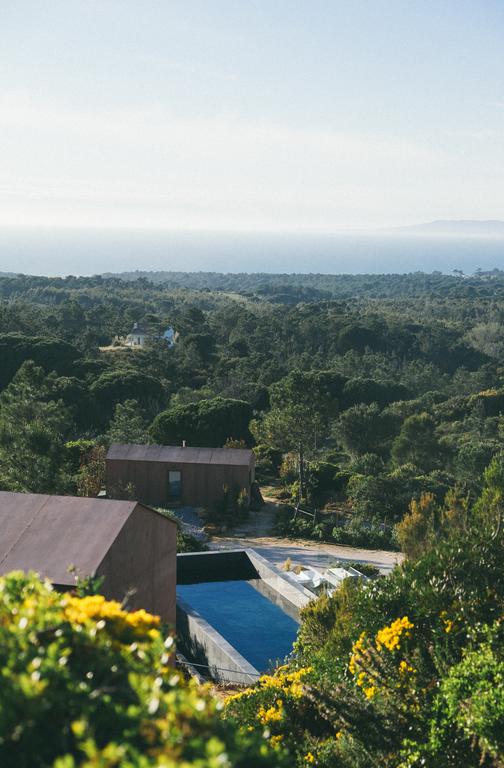 Do you know which experiences your guests highlighted about the experience at Villa Epicurea?
Some people I think they like the fact that it is nice decorated and has a really organic look. Also, because of the location, the ocean view, and also because we are small, we only have like five units. These things are the most attracting. And then comes the rest, all depends on the person. Some people like that they can come with a family with bring the kids and have a quality time and some just want to have a romantic escape and walk to the beach and then ride the horse.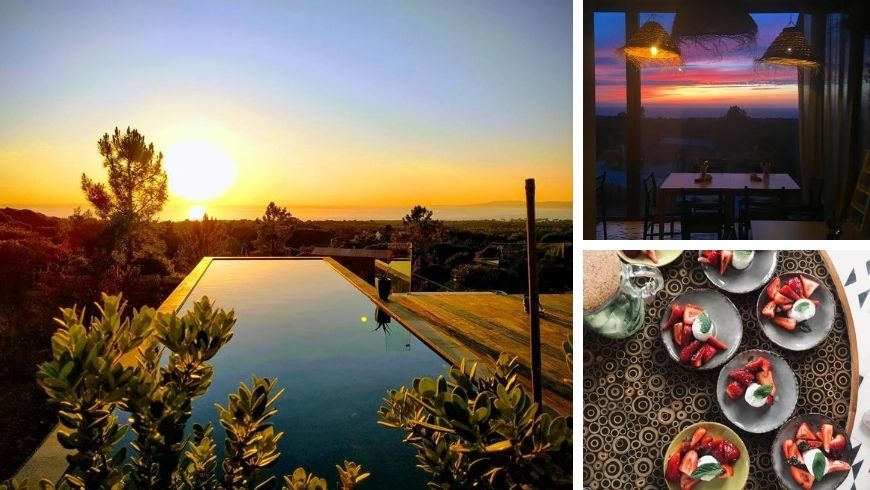 How do you feel after having made this choice like the fact that you managed to open a sustainable accommodation? Which are your feelings?
It is nice! I feel that I can make a difference for some people, at least for the guests here.
Conclusion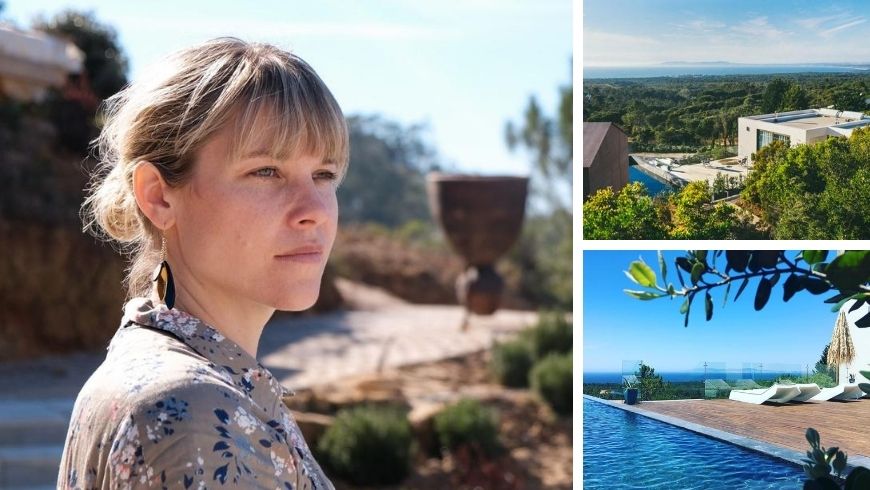 Marianna is trying to do her best every day. She tries to represent what she believes in, and her Eco-lodge reflects her personality.
"It's important to show your actions and then people will pick from you something good that you do. I believe in this passage of information".
Let your passions overwhelm yourself, like Marianna did, and discover Villa Epicurea!