Who would not love to stay in an authentic environment? Decorated with inlaid wood, wrought iron, mosaics, and colorful ancient Moroccan elements. Riad Jaune Safran welcomes you in Marrakesh for a truly relaxing and enchanting holiday.
An entire riad exclusively for you, your family, and friends? With an all-inclusive staff, Riad Jaune Safran offers you five-bedrooms, a living room, where you can enjoy the fireplace and some board games, and a patio that is a vital and elegant part of every riad. Here, you can find a small but comfortable swimming pool, where you can cool down after a long day in town.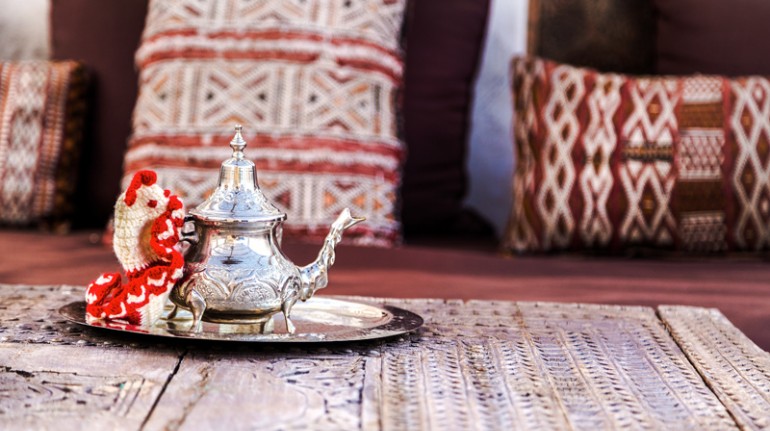 I had an engaging discussion with Jaune Safran's owner, Veronica. She fell in love with Morocco, the first time she visited the country in 2013. I got to know even more about the country's secret wonders and how she became a riad owner in Marrakesh as an Italian. When she had the opportunity to buy a riad from the 19th century, she did not hesitate and jumped into an unknown world. A world of a whole lot of renovating and managing a Home & Breakfast in a different country. After a successful few years, now she is working on her second riad project and shares her inspiration and experience with me:
Can you tell us something about Riad Jaune Safran, and how did your project of your eco-stay start?
"As I told you, I live in Italy, and for years, I had the intention to open a bnb there. The problem was the costs. In the same period, I visited Marrakesh for the first time and fell absolutely in love with it. I saw that many of the Riads here were managed by foreign people, and especially a lot of them are women. After that, something in my mind just started to work, and I just went with my instincts. I had concerns in the beginning, as I knew that I cannot move here and I have to manage everything from Italy. But it worked out."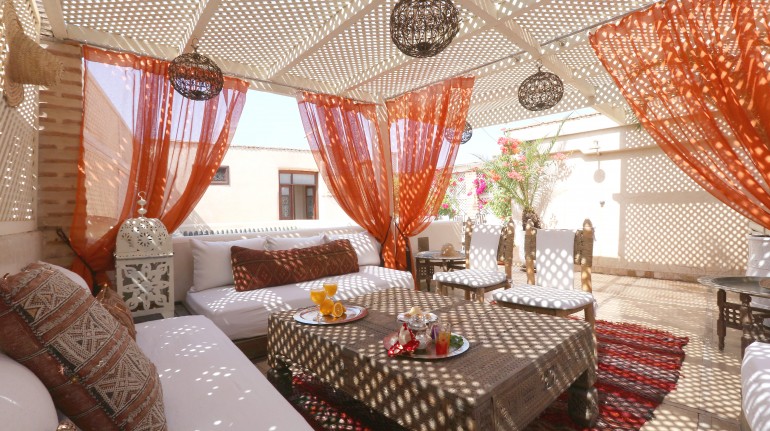 "It was not easy, but I decided to buy a riad. It had some work to be done, and I had a hard time to find the right people for the job. For around a year, I was trying to manage everything from Italy, flying to Morocco from time to time just to see nothing has happened at the renovation site. From one day to another (sometimes things happen like that), I found the right person who said: "forget what happened in the past and trust me with the work." He had finished the renovation in 1 month, so I was ready to open my riad. In a few weeks, with my newfound right-hand person, we found suitable staff, so finally, in 2014, I could start my ecobnb."
"It's important to me that my guests enjoy and understand the philosophy of Morocco, and they are welcomed from all over the world."
In Veronica's riad, the five rooms are decorated in perfect Moroccan style, and each one characterized by a specific color. Four of them overlooks the beautiful interior patio and one the picturesque terrace. You can find traditional Moroccan interior solutions all over the riad. Mosaic-tiled bathrooms and walls and floors in tadelakt, which is a conventional water-proof plaster technique.
What practices of sustainability have you undertaken when you were working on the Riad?
At Riad Jaune Safran, the traditional Moroccan lifestyle is mixed together with modern solutions for sustainability.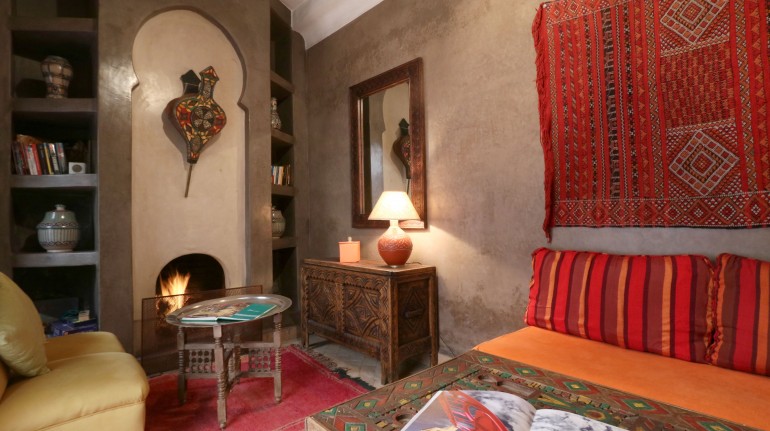 "To maintain the authentic feeling of the riad, we have used a lot of furniture that was initially part of the riad. I also got to know the secrets of the old markets. The rest of the original Moroccan pieces are coming from there. The people in Morocco are great at reusing items. A lot of (design) elements of the riad come from "waste." It is fantastic to see what a craftsman can create. They are great with creative solutions, such as creating a table from a door, for example."
"Back in Italy, in my personal life, I am always cautious about my own environment as well. I do everything possible to avoid waste. Unfortunately, here it is not that easy. The first I did was to put solar panels on the roof. Typically, they have enough sun here to support that. Unfortunately, there is no possibility to collect the different kinds of waste here, no one takes care of that. However, I have suggested to the staff not to use plastic whenever it is possible. I also provided them tote bags that they could use for shopping. It was quite surprising to see that 3 years ago, they banned plastic bags all around Morocco. You cannot even find them at street vendors or souks. This was way before they have introduced the same ban in Italy."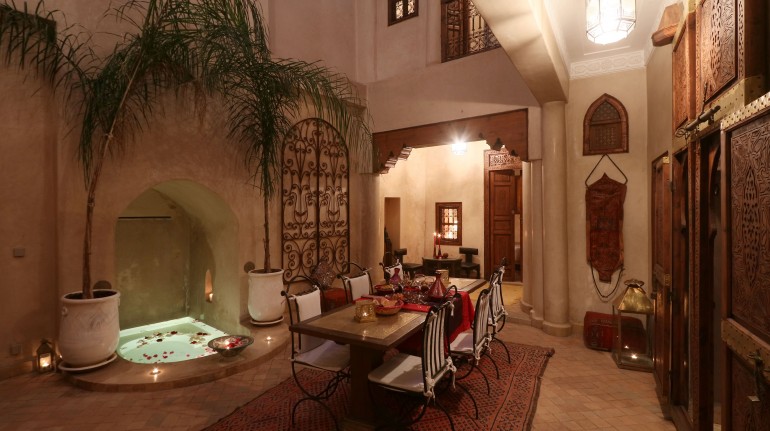 "I preferred not to sacrifice authentic pieces and solutions in the Riad, like water taps in the bathrooms. I have to admit that there would be a place for improvement in the sustainable side. However, I am trying to compensate this by educating the staff and teach them how to be more mindful about sustainability. For example, how to minimize water waste during their work. Hopefully, they will find it inspiring and carry that on in their personal life. It is sometimes not easy to change the mindset of the local people, as they have more crucial problems in Africa. However, I still hope that they will slowly recognize the importance of similar issues and think ahead of the problem whenever they can."
Which green itinerates would you recommend to your guest?
" Well… Looking around in this part of Marrakesh, you can see there several fascinating monuments. They are inspiring to visit and get to know their history. However, what I would say that is genuinely intriguing is the Medina tour. You can learn a lot about how local people live in their neighborhoods."
I learned that each district has to accommodate at least one of the followings: a public school, a fountain, a hammam a mosque, and a public bakery. A few of them, like the fountains, are losing their importance in our modern world. However,  can still see women leaving their houses early morning to head to the public bakery with their dough ready to be baked in large, stone ovens.
"It is fascinating to see how organized and efficient they are. I love to spend time there in the mornings, and just see how the community is working together. I would say, getting to know the local community, their lifestyle and culture is one thing I would really recommend my guests to do."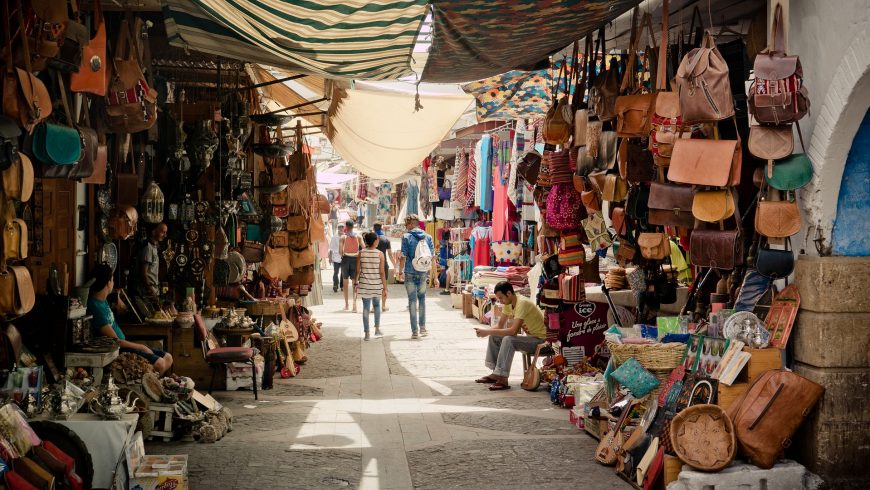 Also, do not be afraid to visit a public hammam, it's a great way to meet the locals and adopt their culture. Of course, you can find smaller scale, private hammams, like the one that they have at Jaune Safran. You should let yourself be enchanted by this charming and centuries-old tradition, which is useful to regain your well-being.
Tanjia, (not to be mixed with tagine), is a pot, where they mix all the ingredients meat, vegetable, spices. They traditionally cook it for several hours at the same temperature. The best way is to put these pots in the ashes of a hammam.
"Our riad is so fortunate that it is located just beside a hammam. When guests of ours order tanjia, we just have to walk to our next-door neighbor, place the food in between the ashes. After that, wait around 6 hours to prepare it the most authentic way possible. Most of our guests find this process quite surprising."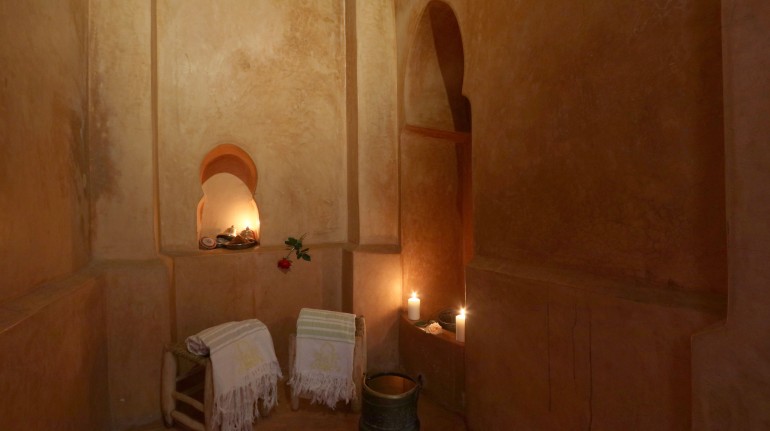 You can learn about it more at the cooking classes that guests can book in Jaune Safran. It is not only a sustainable solution but an exciting and authentic Moroccan method.
What aspects do your guests enjoy the most in Riad Jaune Safran?
"When we rent out the entire house, and not the 5 rooms separately, guests can 100 % feel like they are at home."
A traditional riad is usually a home of one family in Morocco. Several generations live at these multi-leveled houses that almost always built around the central courtyard. To take care of you in Jaune Safran, Abdou is looking out for the home and for all your needs, like dinner and excursion bookings. In the kitchen, you will find Noura, who will pamper you with culinary delights.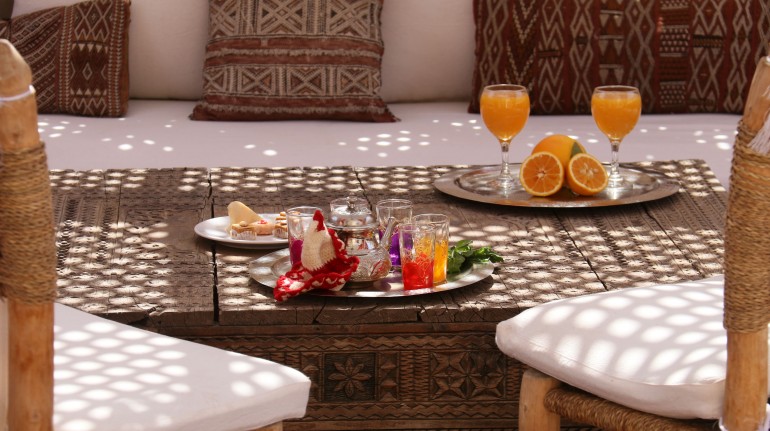 "The staff is part of our home. Moroccan people are really kind and welcoming. Most of the reviews are praising the helpfulness and generosity of these people. I think that is the true selling point."
Would you say that according to your experience, the guests are booking your hotel because of your eco-characteristics?
"Not really. As I said before, unfortunately, here in Morocco, being sustainable is a concept that needs to further develop. In my experience, guests are not choosing Jaune Safran just because we have a solar panel. Most of them are positively surprised when they find out. Other guests with great environmental sensibility, it means more significant value. However, generally, tourists in Marrakesh choose based on different standards."
What does it mean for you to be a part of the Ecobnb community?
"As I remember, I have been the first person to offer bnb in Marrakesh on Ecobnb's website. Now I can see more and more popping up. As I told you, in my personal life, I am quite conscious about sustainability and having minimal impact. So, when I found out about Ecobnb, I felt, "Why not?" It's a great channel to be represented on to reach people who are commited to the environment in the same way as I do."
Check the availability at Riad Jaune Safran, if you would like to experience everything above!
Cover image: Entrance details. Source: Riad Jaune Safran