Living and traveling eco-friendly is now our duty to the earth and to nature. And what way to get closer to nature and become part of it than living in a tree? Let's find out 10 wonderful tree houses and particular cottages in Europe for an unforgettable holiday with your family or friends.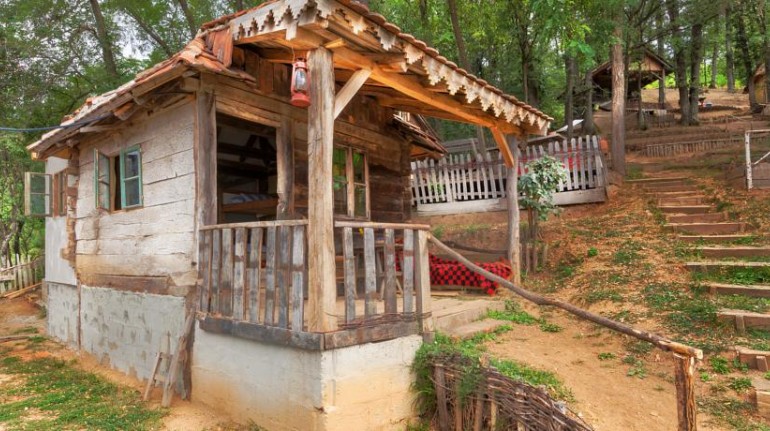 Unique cottage in the middle of nature!
In an uncontaminated area of ​​Serbia, the Veliki Grabovski wooden cottages offer rustic accommodation, decorated in a simple manner with a private terrace. Guests have access to the garden and the restaurant, and at the time of booking, you can also request free parking.
The cottages offer a magnificent view of the surrounding mountains, a comfortable living room and 3 shared bathrooms. Linens and towels are included and there are laundry facilities and a vending machine available.
Every day they serve breakfast and you can dine in the restaurant with a la carte menu. In addition, guests have access to a shared and well-equipped kitchen. For guests looking to relax, the hotel offers a hot tub; while sports lovers can rent a bike to explore the area.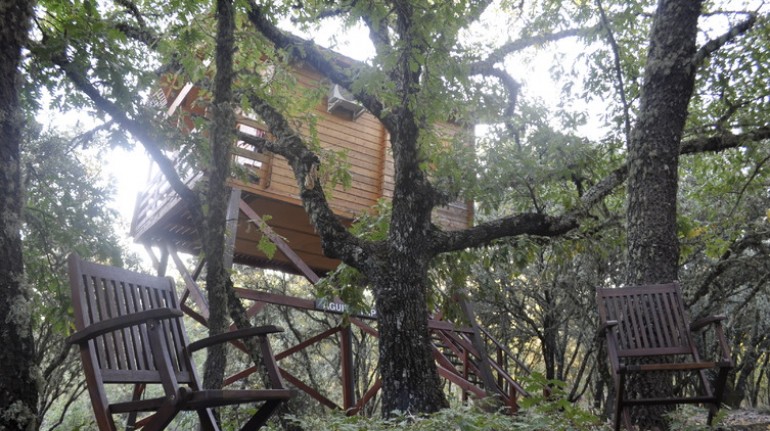 The first eco-lodge in a national park in Spain!
In the heart of the Cabañeros National Park, wonderful tree houses are waiting for you! You too can live the experience of sleeping surrounded by 15000m2 of Mediterranean forest in sustainable accommodation. The tree houses, of varying sizes, have a small kitchenette, air conditioning, heating, and a private bathroom. Inside the ecolodge, you will find a reading room where you can plan your routes within the park, a nice saltwater pool, and a solarium with hammocks.
The Cabañeros National Park offers visitors attractions and different paths to explore. You can admire the breathtaking scenery formed by mountain ranges, forests, and maquis, ideal habitat for many animal species. You can often see deer and directly from the tree houses you can watch the winter migration of cranes.
3. Cabane perchée Normandie – France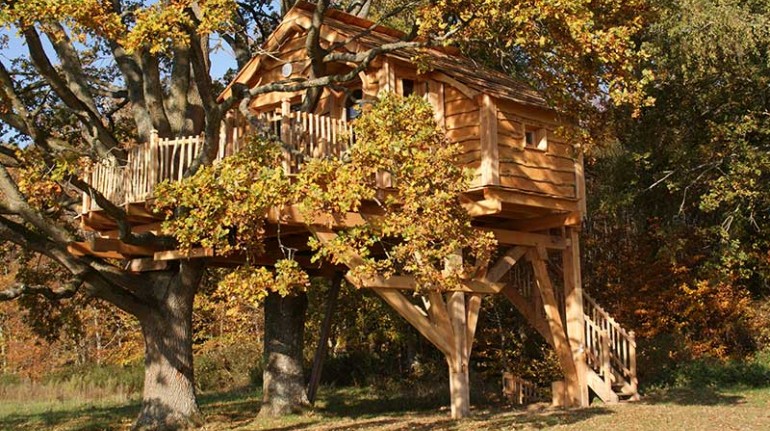 Wooden cabins for a family vacation!
In Normandy, 115 kilometers from Paris, you can rediscover the child in you. The tree houses of this accommodation offer friendly staff and high attention to the environment. The wooden stairs will lead you to the first floor where there is the living room, with access to the balcony, a dining room, a small stove, and a kitchen. One of the tree houses has its own sauna. The cabins are also ideal for children and it is possible to request a cot or crib. Bed linen and towels bamboo and eucalyptus are biodegradable, such as cleaning products. A few steps from the houses you will find a forest of oak and hornbeam trees, a playground, and so much to discover and explore.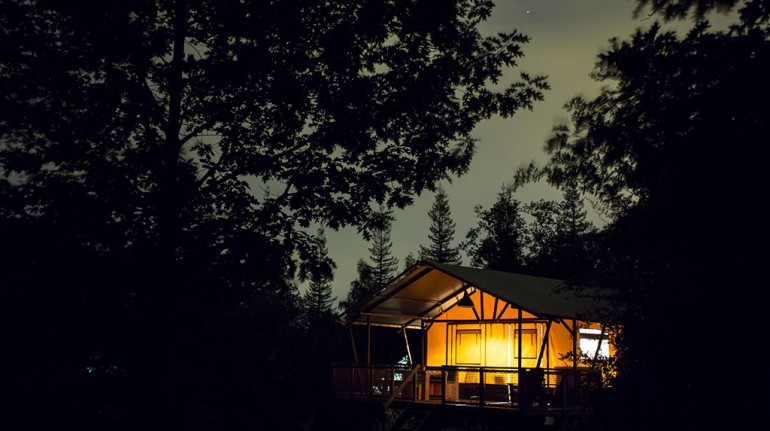 Ecological camping for the whole family in the French Pyrenees!
Camping La Serre is located in a small French village, 450 m above sea level, overlooking the Pyrenees and Montsegur Castle. It has 48 sites for tents, caravans, and houses, large terraces, 8 chalets, six mobile homes, and a tree house surrounded by beautiful nature.
A playground, a soccer field, a volleyball court, badminton, wooden toys for all ages, a covered courtyard, a swimming pool, and a solarium will enrich your family holiday. The accommodation also features a grocery store and a bar. Around the campsite, there are opportunities for beautiful hiking or biking.
5. Hackspett Hotell – Sweden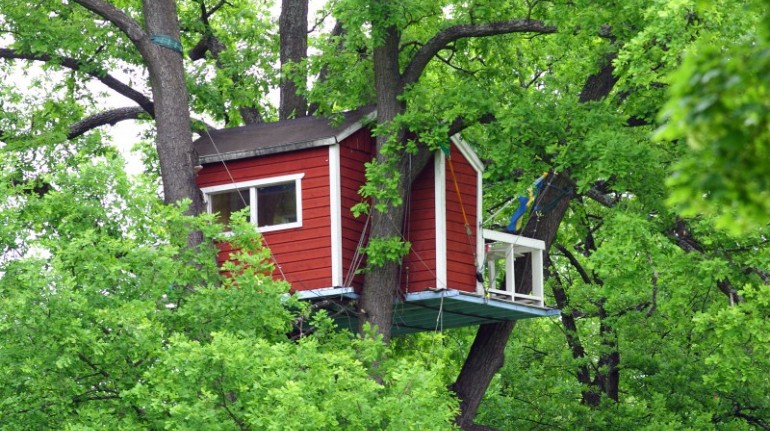 An unforgettable holiday in Sweden at 13m above the ground!
This tree house is a work of art by the Swedish artist Mikael Denberg. Hackspeet hotel is located in Vasteras, and a single nail was not used to anchor the building to the tree and is instead suspended by wires.
The room is simply furnished with a bed of 120 cm, cutlery, 10 liters of water, and a dry toilet, but without heating and electricity.
Enjoy your breakfast and your meals on the terrace, where you can enjoy a magnificent view over Vasaparken park.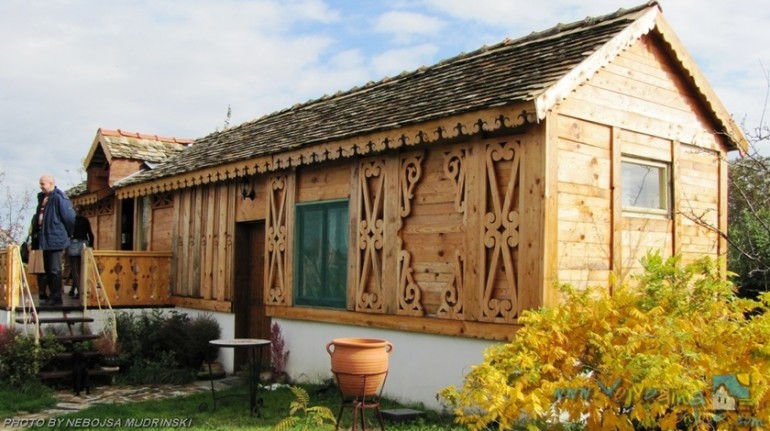 Art and ancient atmosphere in a rural village!
We are on the bank of the Danube, in a typical village in Serbia.
The decorative art and the spirit of old times around the accommodation are a true source of inspiration for the guests, who can relax and give in to the magic of this village. Make the most of the charm of nature and quaint traditions of this place.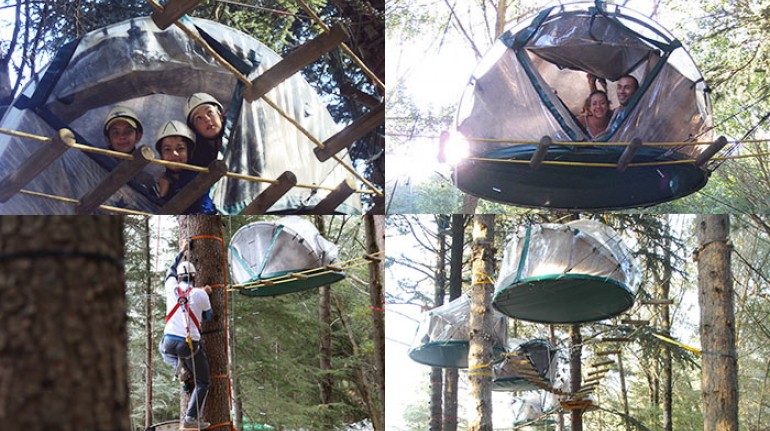 A unique experience, suspended at 7 meters above the ground!
For several years in Sicily you can enjoy a unique experience in its kind, an adventure holiday, staying overnight in a tent suspended between the trees at seven meters above the ground, with transparent cover for star gazing.
During the day, children and adults can enjoy themselves, within the picturesque forest of Gorgonero, in the adventure with 80 adventure games! Both children and the more adventurous can play in climbing trees and snow walking.
Do not miss this wonderful experience in Sicily,  book now your next vacation in eco-friendly family in Italy!
8. Les Nids – Switzerland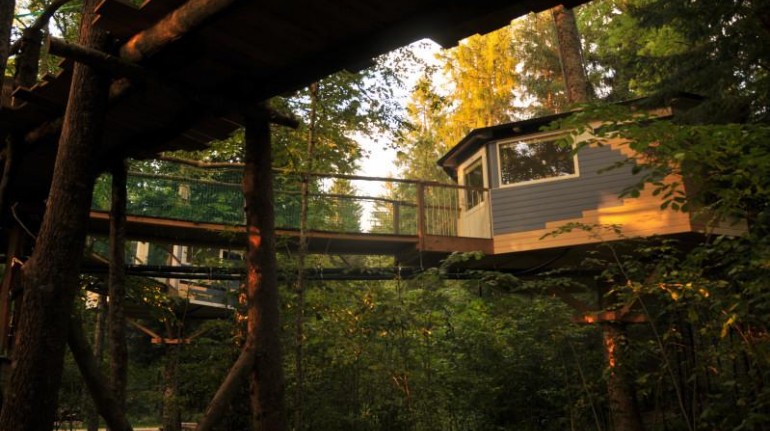 Four magical tree houses surrounded by pine forests and meadows in beautiful Switzerland!
Les Nids offers accommodation made of glass and wood. Here the visitor has the chance to sleep 8 m above the ground in one of 4 beautiful tree houses.
Surrounded by a pine forest and meadows you can spend an unforgettable holiday in Le Locle with the whole family immersed in nature. Each tree house, which can accommodate two to four people, has its own kitchen, shower and toilet, as well as a wood stove!
Nearby you can make many walking or cycling.
9. La Maison dans Arbre – France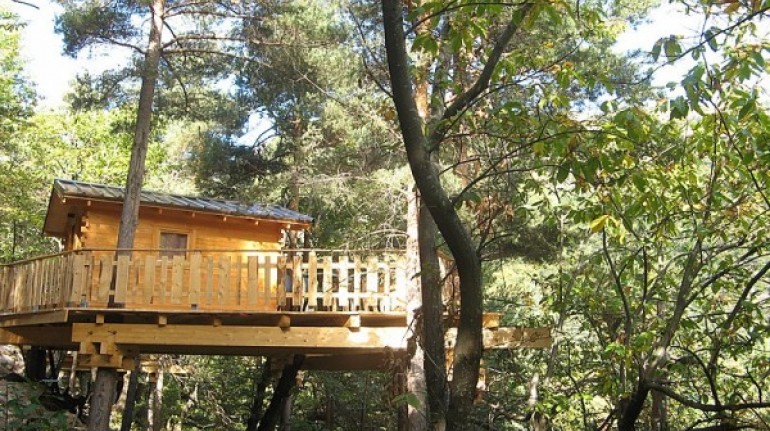 Your personal nest in the French Maritime Alps!
These tree houses are a haven for lovers, an adventure for children, and an idyllic place for adults!
Here are four available tree houses nestled in woods, and accessible all year. Each tree house is able to accommodate a couple or a family (4 people).
Escape the bustle of the city and spend a weekend or a few days in the woods and live extraordinary moments among over 600 km of marked trails.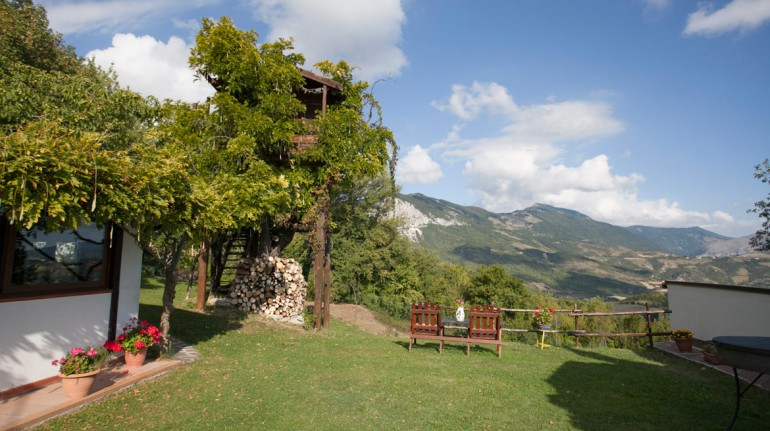 A tree house perfect for two, between the Abruzzo National Parks
Aperegina is a beautiful organic farm, surrounded by greenery, in the middle of the three parks of Abruzzo. Here you can spend unforgettable days in contact with the land and the countryside: there is a vegetable garden, farm animals, and an orchard. Among its three accommodations, there is also a tree house, a unique accommodation designed for couples, all in wood and with a wonderful panoramic view.
Immerse yourself in nature in an unforgettable adventure in the most beautiful tree houses of Europe, and forget the daily stress!