Welcome to Ecobnb! Here are useful tips to update your listing, insert special offers, improve your visibility on the platform, and much more.
a. How can I change my listing?
To edit your listing on Ecobnb.com, go to  https://ecobnb.com/login and enter your email and password.
Once logged in, if you click on the name at the top right of your accommodation, you can enter in your Accommodation page. To be able to make the changes you need, please click on the "edit" button located at the top right.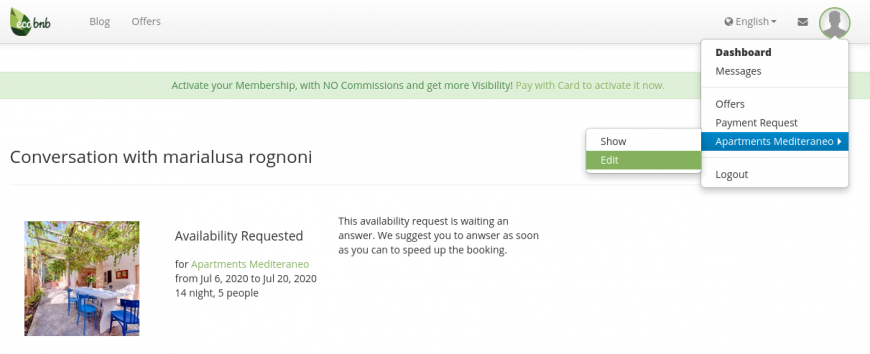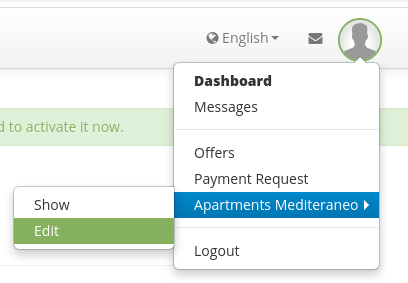 Once activated the 'Edit' mode enter the edit page. On the left of the page you can find the main menu to change your information:
General Info: here you can change the general information (name of the accommodation, contacts, teaser, etc.). Please DO NOT change the name of the accommodation and the type if not really necessary.
Location: here you can change the position of your accommodation on the map or update the address. You should not change the field "Province or District" if not really necessary.
Properties: here you can set the closing periods of the accommodation and specify the payment and cancellation terms. Also, in this section you can update the general services of your hospitality.
Rental Spaces: here you can list the rooms, apartments or other spaces that travelers can book, updating prices, descriptions and services of each space. In this section you should insert at least 1 image for each space and specify the number and type of beds.
Calendar: here you choose if you want to use a calendar or not to manage your availability.

If you select "yes": you can synchronize your channel manager or google calendar and the booking is done in 2 steps:

1. the traveler sends the booking request
2. the accommodation confirms the booking

If you select "no": the traveler cannot see your availability and the booking takes place in 3 steps:

1. the traveler sends the request for availability
2. the accommodation gives availability and indicates the total price
3. the traveler confirms the booking.

Images: Here you can upload the pictures of your accommodation (at least 5).
Long Description: Here you can enter the detailed description of your eco-hospitality.
Billing info: here enter your billing info.
Preview: Here you can see your page as it's visible on Ecobnb website.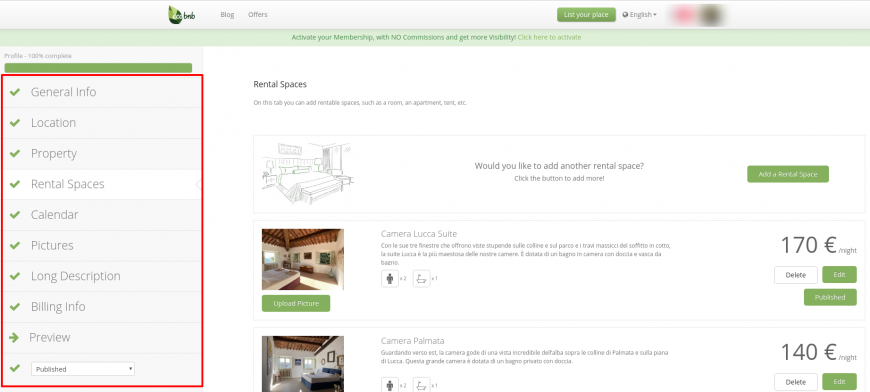 b. How can I improve my listing?
1. add more images:
Our travelers love pictures! Add how many images you can, and update images often. Details of the rooms, but also the outdoor spaces, breakfasts, things to do and see around your location.
2. Be clear on prices:
Upgrade pricing and try to be precise as accurately as possible how they vary in different seasons and for different types of rooms.
3. Add details in the description:
Add more details you can. For example: how far is the accommodation from the main points of interest? What can be discovered in the surroundings? How arrive (even by public transport?) What is the breakfast menu? How did your idea of ​​hospitality? Etc.
c. How can I promote my eco-friendly accommodation?
Communicate your attention to the environment to your guests.
Below you can download some Ecobnb images and logos that you can also use on your site!
Here you can find other useful material to communicate to your guests the sustainability of your ecobnb.
If you are an eco-excellence you can communicate it to your contacts by inserting one of our badges on your site:
If you wish to receive an award sticker to display in your location, tell us the address where we can send it, filling out this form.
d. How can I publish a Special Offer?
In order to meet the demand of eco-travelers, we created the Special Offers section, where you can find special offers (discounts, promotions, etc.), but also the eco-friendly initiatives (tours, trekking, courses, meetings of vegan cuisine, etc.).
Every week Ecobnb selects and publish on the home page the most interesting offers and communicate some of them on social media. So you can have even more free visibility!
How can you publish your Special Offer? Watch the video:
e. How can I suggest a Green Itinerary?
Is there a green itinerary (to walk, bike riding, etc.) close to your eco accommodation?
The eco-travelers will be happy to know it! You can report it by filling out this form.
We will publish the itinerary on our blog, to make it known to travelers!
f. How to host in a green, clean and safe way?
To deal with the global Coronavirus emergency, we asked the accommodation facilities to follow these guidelines for a "Green, Clean and Safe" stay.
g. How to connect Ecobnb to Channel Managers?
Do you use a channel manager system or a google calendar to manage the availability of your rooms? You can synchronize it with Ecobnb, following the instructions on this page. In this way, the availability calendar on Ecobnb will always be updated, and you can receive reservations more easily.
h. How can I have more information about hosting with Ecobnb?
Here you can find more info about Ecobnb.com and our Media Kit.