Ecobnb: the biggest community of Sustainable Tourism
Ecobnb is the meeting point between responsible travelers and eco-friendly accommodations, that are investing in a better future.
The ViaggiVerdi – Ecobnb blog was born in 2012, in order to tell travel stories that respect environment, places and local communities.
At the beginning of 2013, halfway between California and Italy, the ItalyGreenTravel Blog is born. In 2015 it becomes Ecobnb to collect all the sustainable tourism experiences in Europe and in the world.
We address travelers interested in sustainable tourism. We talk about experiences in contact with nature, routes to rediscover lesser-known corners of countries, slow journeys, on foot, by bicycle or on horseback, holidays to rediscover the traditions (including culinary) and the authentic life of the places we visit.
Ecobnb Blog: Media Kit
What is the mission of the Ecobnb Blog?
– Tell about green travel experiences, especially for lesser-known destinations
– Describe slow itineraries, on foot or by bicycle, by train or on horseback, or by any means that has a low environmental impact
– Share green tips to be implemented immediately to reduce the environmental impact of our travels and our holidays, to make our life greener and our way of thinking closer to nature
– To contribute to enhancing the small communities, tour operators and accommodation facilities that are investing in a better future.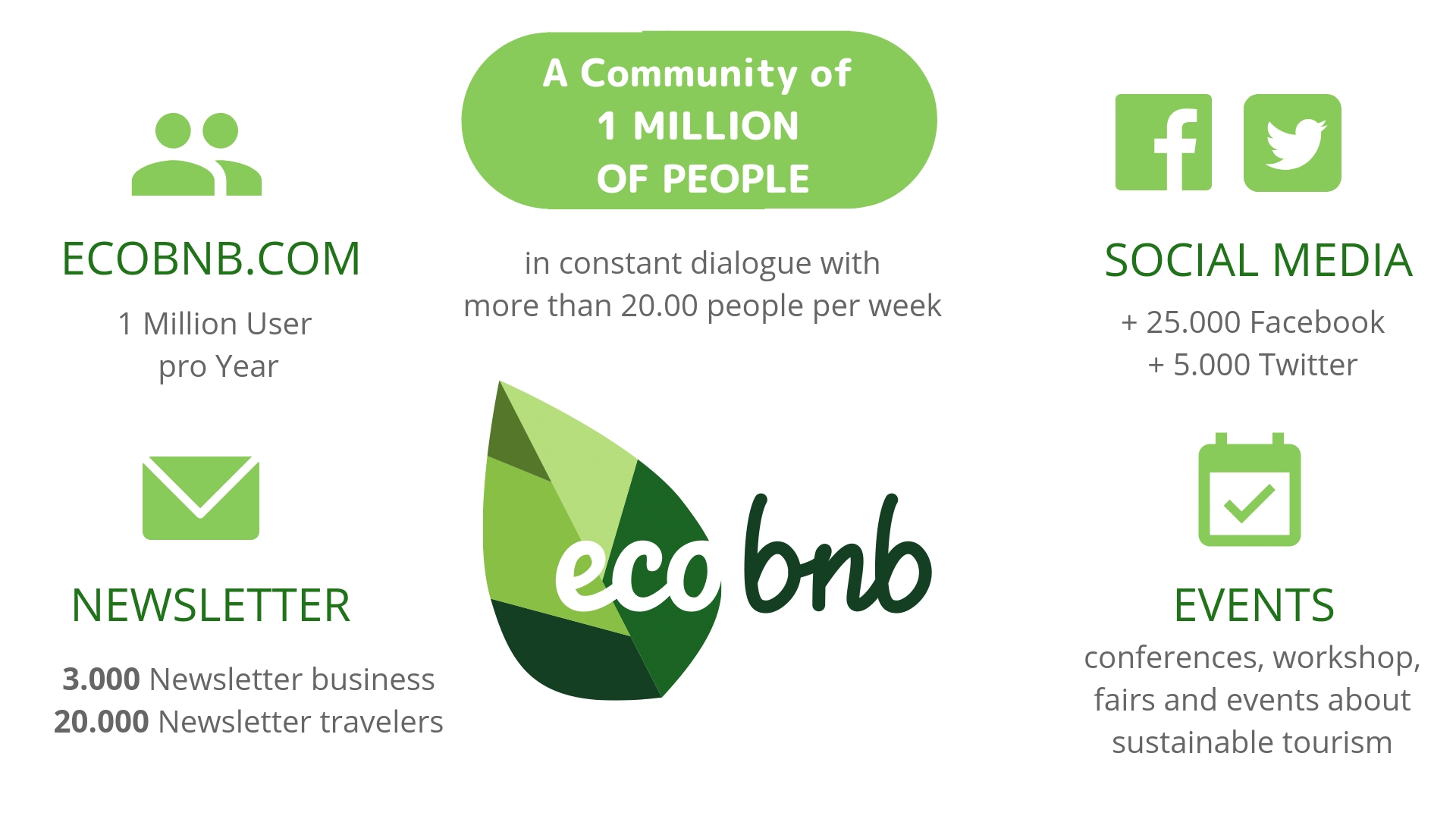 Media Kit: numbers of Ecobnb at March 2019:
PageViews: 350.000+ per month (+ 4,3 Million PageViews pro year)
Users: 80.000+ per month (+ 1 Million User pro year)
Average Session Duration: 1,43 min
% New Sessions: 80%
Audience: 64% Italy, 13% USA, 4% UK, 5% Spain, 4% Germany, 1% France
Acquisition: 84% organic, 11% direct, 2% referral, 2% social, 1% email
Socials:
Twitter 5.000+ follower
Facebook fan page 25.000+
Google+ 55.000+ views and 100+ followers
Pinterest 17.300+ unique users pro month
Instagram 1.200 + followers
As Seen on …
Correre Innovazione, «Ecobnb Dormire Ecologico»
Il Sole 24 Ore, «La casa sull'albero si prenota online»
Il Sole 24 Ore, «Ecobnb.com, il portale degli alloggi vacanza sostenibili. Certificati dagli utenti»
Donna Moderna, «Ora la vacanza è Eco Friendly»
L'Espresso, «Ecoturismo e Internet»
BuoneNotizie.it, «ViaggiVerdi: la tecnologia al servizio del turismo sostenibile»
LaStampa.it, «ViaggiVerdi, un modo virtuoso di fare turismo»
Millionaire, «Business a km0. Organizzo Viaggi Verdi»
Piu Turismo, «Nuovi modi di viaggiare. Concetto di vacanza democratica, intelligiente ed ecosostenibile»
Plein Air, «Emilia Romagna fa rima con rispettare.»
Agora News, «Viaggiare in Armonia con la Natura»
Style magazine (Corriere della Sera), «Dove WhatsApp vai?»
Repubblica.it «Dalla casetta sull'albero alle ecospiagge, turismo e benessere sono eco-friendly»
Viver Sani e Belli, «L'hotel in paglia per un bassissimo impatto»
F magazine, «Italia meravigliosa. Qui ti stendi al sole e sogni»
Il Messaggero, «A piedi o in mountain bike: gli itinerari più panoramici d'Italia»
Dove, «Risvegli di Primavera. Idee di Benessere per il weekend all'aperto»
Io e il mio Bambino, «Le stanze dei sogni»