Every day we receive requests from people interested in becoming part of Ecobnb, in order to promote their green accommodation or to start hosting eco-travelers.
Below we have collected the answers to your most frequently asked questions, hoping they can be helpful:
1. How can I host responsible travelers with Ecobnb?
Just follow this link: https://ecobnb.com/blog/join/
2. What requirements should I have?
Your accommodation must have at least 5 of the 10 environmental requirements we selected and that are internationally recognized by several brands that deal with ecotourism; they are:
100% renewable energy;
Organic or Local Food;
Car-free accessibility;
Ecological cleaning products;
More than 80% waste recycling;
Energy saving lights;
Green building;
Solar thermal panels for hot water production;
Water flow reducers;
Recovery & reuse of rainwater.
Your accommodation self-certify the sustainability requirements owned, which are verified (and reviewed) by eco-travelers.
3. What kind of services do you offer?
Mainly we sell overnights stay and special offers of eco-friendly hospitality. We do this by powering our search engine, by advertising promotions on google ads and facebook (aimed to specific areas such as provinces and regions);  we manage social networks, PR, and we publish articles on magazines and national newspapers through a news agency.
4. How do you manage reservations?
Reservations are made through an easy and intuitive online system. Guests will contact you via a message system, which is linked directly to your email.
You can reply to the guest's request either rejecting it (if you do not have availability) or confirming your availability and indicating the total price. If you do not have availability for the dates requested by the traveler, you can suggest an alternative solution, indicating the different dates and the total price.
When the guest receives your availability and price, he will accept confirming the booking. Once the guest has confirmed the reservation, you will receive a message with their contacts (email and phone number).
5. After the confirm of availability, for how long should I need to block the rooms?
Usually guests reply (confirming the booking or cancelling it) by 24/48 hours after your availability. If you do not receive messages from guests in 48 hours, we suggest to write them a message, or you can consider the offer cancelled and cancel it in the website (clicking on "Declined request").
6. How do payments work?
Currently payments are handled independently by the accommodation; Ecobnb sends guests' contact once that the booking is finalized. You can decide whether to ask for a deposit or ask guest to pay directly on arrival. In any case guests pay you directly.
After your guests leave, and in general towards the end of the year, Ecobnb invoices the 10% of the bookings made through the site. The accommodations that subscribe the PRO membership, as well as having more visibility on the website, do not pay for fees or any other charges on their bookings.
7. What are the costs of Ecobnb's service?
You can choose between these two possibilities:
1) PRO Membership 
€ 12.5 per month (annual payment)
with these benefits:
A month money back guarantee, if for any reason you're unhappy with our service, we'll refund the full amount without any question;
no fee, no commission, nor any other burden;
highlighted in our search for the whole year of membership (12 months from the date of the online registration);
ads to the accommodation on our Facebook page https://www.facebook.com/ecobnb.it Italian, English https://www.facebook.com/ecobnb and German
ads to the accommodation with articles on our Blog dedicated to sustainable tourism in https://ecobnb.it/blog/ (Italian), and https://ecobnb.com/blog/ (English).
or
2) BASIC Membership 
10% on bookings and other offers sold through our website.
8. How do I get in contact with a guest?
Here's what happens through the Ecobnb system, briefly:
1. The guest contacts you through our website checking for availability
2. you can reply with one of these four options:
accept availability and indicating a total price;
offer availability for a different date;
deny the request;
send a message (if you need more details).
3. the guest answers positively: you are sent their direct contacts, and you can ask for a deposit via bank transfer or Paypal.
4. the guest comes to your accommodation and pays their stay.
5. later, if you're not registered with the membership PRO, Ecobnb issues an invoice of 10% of the reservation.
9. What if a guest cancels their reservation?
The guest may cancel your reservation by sending an email to info@ecobnb.com and to the email address of the reserved accommodation. The return of the deposit is made on the basis of the terms of cancellation.
10. What are the terms of cancellation of bookings?
If you have not specified a different cancellation method (by indicating it on your profile, or in the message to the guest) these are the valid terms of cancellation of Ecobnb:
– For a full refund, cancellation must be made 5 full days prior to local check-in time (or 3:00 PM if not specified) on the day of check in.
– If the reservation is canceled less than 5 days in advance, the first night is non-refundable but the remaining nights will be 50% refunded.
11. Can I indicate different prices throughout the year?
Yes, after entering a basic price of the space (room, apartment, etc.), you can also enter different prices (higher or lower) throughout the year.
There is a calendar where you can enter different prices for different times of the year. To do this you should:
login to ecobnb, go on your profile and click on the button with the blue gear link at the top right of the page;
click "Rental Space" and click "Edit" to update the data;
click "Pricing Calendar" (the last item on the bottom of the page);
select dates, change prices and save.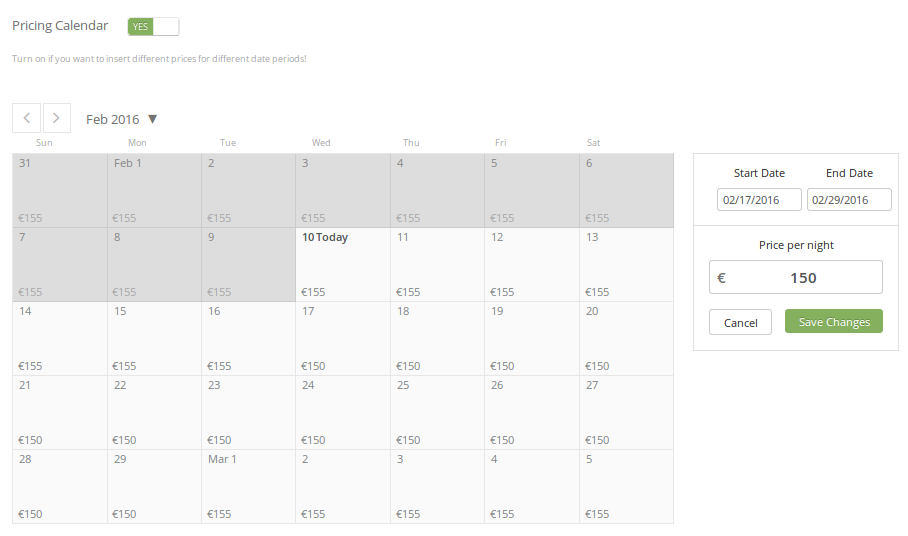 12. Is there a calendar of availability?
There's a timetable for each space so that you can enter the prices throughout the year, but there is still no availability calendar. The booking is not done directly, but only after you reply to an availability request sent by a guest.
However, you can insert the unavailability periods, corresponding to the closing periods of the accommodation.
For doing this, you must:
Please sign in Ecobnb with your email and password;
open your accommodation page in edit mode;
select "Property";
insert one or more unavailability periods of  your space;
save the changes.

13. Can I insert unavailability periods for a single space?
Currently you can enter the unavailability periods only for the entire accommodation (see previous question), but not for individual rental space. The booking is not immediate, it always requires your acceptance, so there is never the risk of overbooking.
14. Is there a section in my profile where I can manage the themes of my accommodations?
The "themes", which are found on the left in the search results (for example: https://ecobnb.com/liguria-italy), can only be changed by us and you should let us know which ones are most suitable for your accommodation. You can choose up to 3 themes, among:
Families
Groups
Trekking
Mountain
Natural Park
Gourmet vacation
Ski holidays
Romantic escape
Adventure & sleeping bag
Bicycle
Sea
Old Town
Spiritual escape
Tree house
Singles
Volunteering & free hospitality
Horse
Lake
Wellness holidays
Historical House
Glamping
Igloo
Albergo Diffuso
Chalet
Lighthouse
Castle
Holidays with animals
Organic food
Vegan
Unusual and Unique
Ecovillage
Garden
Clean energy
Recycling
15. How can I add a special offer?
To further promote your accommodation you can, whenever you like, create a  special offer such as cooking classes or other workshops, itineraries, discounts, free drinks, etc… Every week we publish the most interesting offers directly on our homepage. Creating an offer is easy: just log in with your credentials on our website, activate the changes and click "Create a new offer." Now just fill in the different fields.
16.  Can I enter a discount for one week-stays  or other type of discounts?
For your rental spaces you can enter different pricing detail (optional). To do so you have to:
Please sign in Ecobnb with your email and password;
open your accommodation page in edit mode;
select "Rental Space";
select Edit in space;
Activate the section "Optional Pricing Details"
Here you can enter discounts for children depending on their age and also Week Discount
save the changes.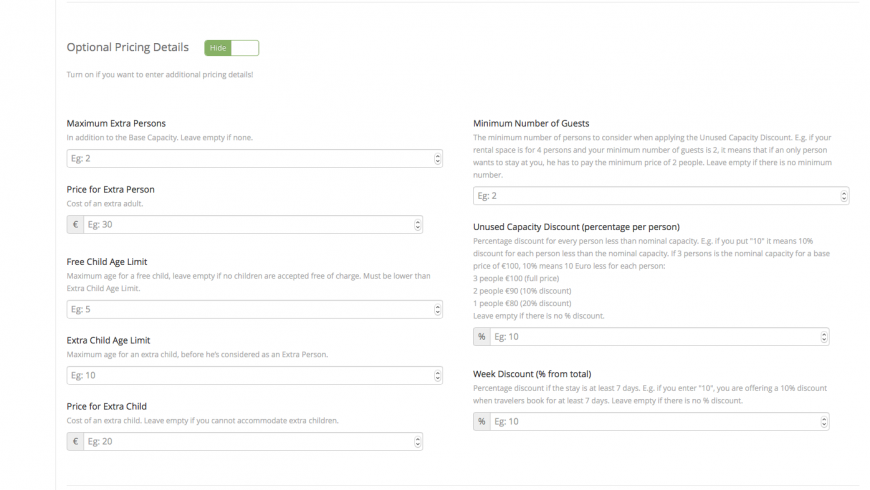 17. Can I request a minimum stay?
After you have logged into your accommodation page, in the Properties section, in the bottom of the page you will find: Minimum Stay Length (optional).
Here you can enter the minimum number of nights required. This number is always applied, not at particular times of the year. If you need to report a minimum number of nights required in a particular period, we suggest you to add it at the end of the description of your accommodation.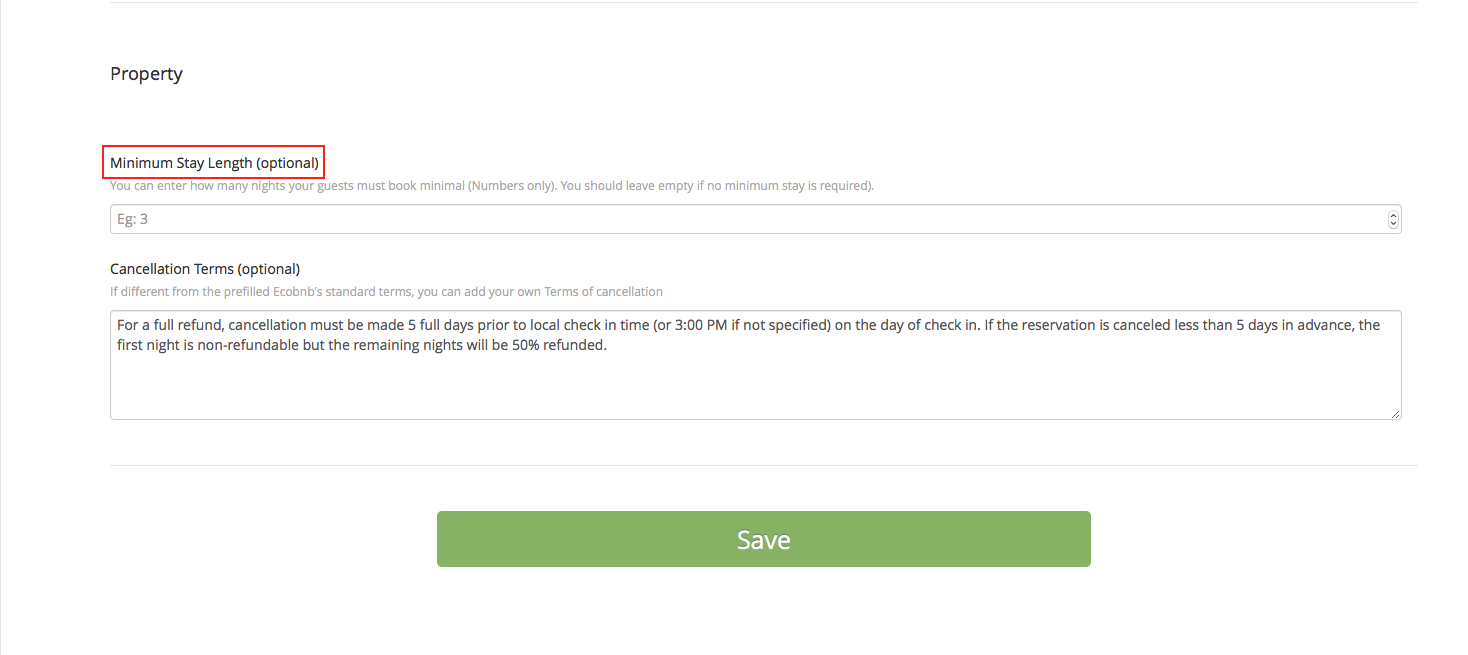 18. How can I suggest a slow itinerary?
If near your accommodation there's a slow route, to cross on foot, by bike, on horseback or by other eco-friendly ways, you can report it by filling out this online form (the form is in Italian but you may write in english). We will publish the itinerary on our blog, to make it known to travelers and also to advertise your accommodation.
19. To whom should I issue a receipt or invoice?
Your invoice or receipt must be issued to the guest and must indicate the data of their stay. If you're not registered with a PRO membership, once a year you'll receive an invoice by Ecobnb for the commissions of all the bookings made through the site.
20. How do I get paid by a guest?
You can choose the method of payment you prefer. For example you can ask the guest to pay a deposit via bank transfer or via paypal when booking, with the balance at check-in or check-out.
21. How can I unsubscribe or delete my page on Ecobnb?
If you want to cancel your page on Ecobnb you can do it simply by writing an email message to info@ecobnb.com, specifying in the subject "UNSCRIBE". You can ask to put offline your page for a short period or forever. When your page will be unlisted, users will no longer find your page in search results, and your accommodation will not receive anymore booking requests from eco-travelers.
You will be able to publish your page again by writing to info@ecobnb.com.
You didn't find the answer to your question?
Write to info@ecobnb.com, we will reply as soon as possible!