Plogging is ideal for those who want to combine sport with environmental protection. It is a new discipline that was born in Sweden and now has many "adepts" in Italy as in the rest of the world.
How was plogging born?! And what does it mean?
Plogging comes from the Swedish word "pluck" which means pick up (and in English it is said to pick up) with the union of the English word jogging and here is plogging.
The word "plogging" as well as this discipline was conceived in 2016 by the Swedish runner Erik Ahlstrom who had to move to another city before leaving and decided to clean up the area in which he had trained until then.
How to combine sport and environmental protection
Plogging is a discipline, as already mentioned, that is friendly to nature as it provides that while you practice sports (mostly it is running or walking) you also collect any dirt that is on your way.
The basic idea of plogging is to do two things in one because it optimizes the time we normally spend playing sports to do something useful to the environment around us.
What does it take to practice plogging?
In order to practice plogging you need to be first of all lovers of both sport and nature!!
However, you need to get a pair of comfortable sneakers, a suit and very important you need to have some bags (so you can do the differentiated) in which to put dirt and wear a pair of gloves (better if that anti-cutting) so as not to directly touch the garbage that is collected from the ground.
Possibly we recommend for the most scrupulous also the use of "dedicated" tongs for garbage collection. I point out that these pliers are found in any (a little 'big though) DIY store, do-it-yourself, and even in some hardware stores.
Where to practice plogging?
Plogging can be practiced anywhere because every place may need to be cleaned up.
So you can go both to the city center and the suburbs as well as to the mountain paths rather than along the beaches or on the rivers.
A couple of useful tips on how to "plogging"
When lowering to collect dirt it is important to crouch but it is also okay to lean on one leg (maybe, if possible, alternating) in this way you train the hip muscles without forgetting that these push-ups firm the legs and secondarily also the arms. Second, but certainly, not for importance, advice is to change often the arm with which you carry them so as not to always and only strain the same limb.
How is it spreading in Italy and in the rest of the world?
In Northern Europe, plogging is a discipline that has spread very quickly thanks to the media, and in doing so have born initiatives dedicated to it in which people meet to practice it.
An example: in France was also born an "ad hoc" foundation called "Trail Rail Fondation" that wants to teach how to properly practice waste collection during running.
In Italy, instead, they are being born alongside the classic races / city walks also races /walks dedicated exclusively to plogging and just to name a few in Bologna, Florence and Bari.
An all-Italian record
Our country also holds the record as the first nation in which the first World Championships of plogging were held from 1 to 3 October 2021 and were held in the Turin Alps of Val Pellice. On that occasion about 800 kg of garbage were collected on a route of about 1,780 km.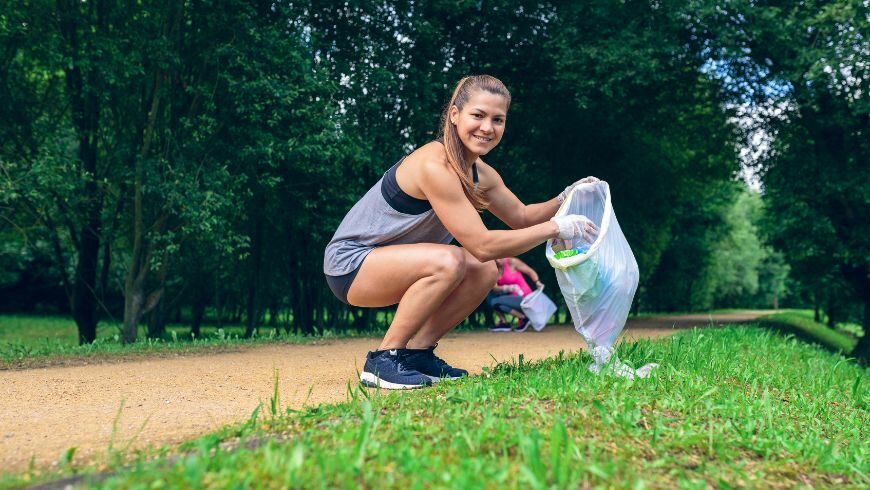 Some interesting facts about plogging
There is not only the plogging on foot (which however remains the most classic specialty and also the most practiced) but there is also the bicycle as well as the marine one and this second type is practiced standing on rowing boats and in doing so you have the opportunity to collect all the dirt that characterizes the rivers, lakes, and seas. Without forgetting the dog plogging is obvious our furry friend will not be able to collect the dirt but it will be a valid and nice company.
And do you know the name of the person who practices plogging?! The exact name is plogger and is good both for those who practice it at a competitive level and for those who do it at an amateur level.
For more information on plogging I recommend visiting the following websites:
Cover image: photo via Canva PRO