There's one for everything: one with a farm, for animal lovers, or one with a pool and a panoramic view, for who's looking for a relaxing escape in nature. Let's discover the most beautiful secluded farm holidays in Slovenia
Do you want to experience relaxing and secluded farm holidays but you don't know where to go? Find out the best organic farmhouses surrounded by nature in Slovenia.
Farm Holidays in the Heart of Slovenia
It's a farm built by 3 women and it's located in the center of Slovenia. Here you can find peace while being surrounded by nature and animals, like horses and donkeys. From this place you also have a panoramic view of the garden and the mountains.
The farm is powered by renewable energy and solar panels are used for hot water. You can sample organic food too. Moreover, rainwater is recovered and reused.
Here you can find more information about this beautiful place.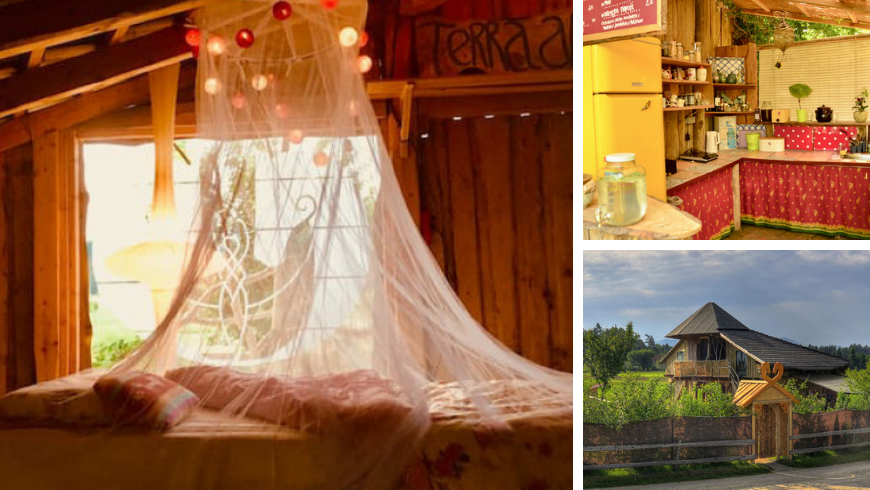 Farm Holidays to Admire Canyons in Slovenia
Located in the Carinthian highlands, at the foot of Uršlja Gora Mount, this farm has a beautiful view of the mountains and the Alps, as well as on the Kope ski slope and on the Pohorje mass. During winter you can use the sleigh, whereas during summer you can admire the torrential canyon and the watermill.
The farm is biological, so you can taste homegrown products.
This place is ideal both for people who want a slow holiday and for those who want an active holiday: there are many paths for bikers and hikers, you can practice different sports and there are secluded spots for picnics.
Near the facility, it's possible to go hiking on Uršlja and Pesa Mounts. You can also visit the green lake, Ivarčko Jezero.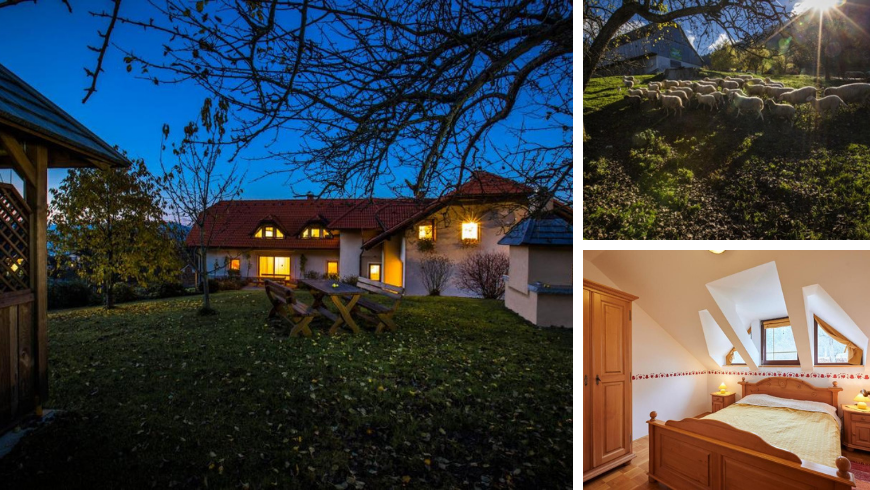 The perfect destination for families
What are the best destinations for family farm holidays in Slovenia? This farmhouse is located in the Zakojca village, above the Baška canyon, and offers organic and traditional products, such as wine and grappa, which also help to keep you warm when it's cold. It's the perfect destination for families with kids: you can take a walk, go by bike or ride a horse, and parents can relax while kids have fun. It is possible to make trips to the Kojca, Porezen, and Črna Prst mountains. If you want to spend some days in this place, you can book your stay here.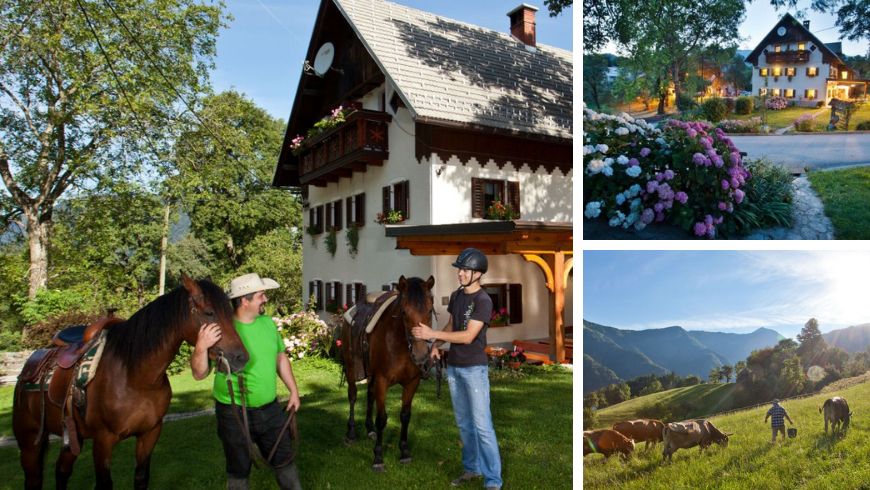 Farm Holidays near Predjama Castle
On this farm, you can be in contact with animals and sample the local food, with an amazing view of the mountains. Here the specialties are homebaked bread and Slovenian traditional desserts.
You will find horses, cows, sheep, and donkeys. If you want to get to know the local culture and tradition, you can visit the ancient mill and sawmill, which retain a collection of old tools for the farm and military equipment. Near this farmhouse, you can explore the Karst underground, visiting the Postojna Cave, the Predjama Castle, and the Škocjan Caves. If you like hiking, you can also get to Nanos, Vremščica, Slavnik or Snežnik.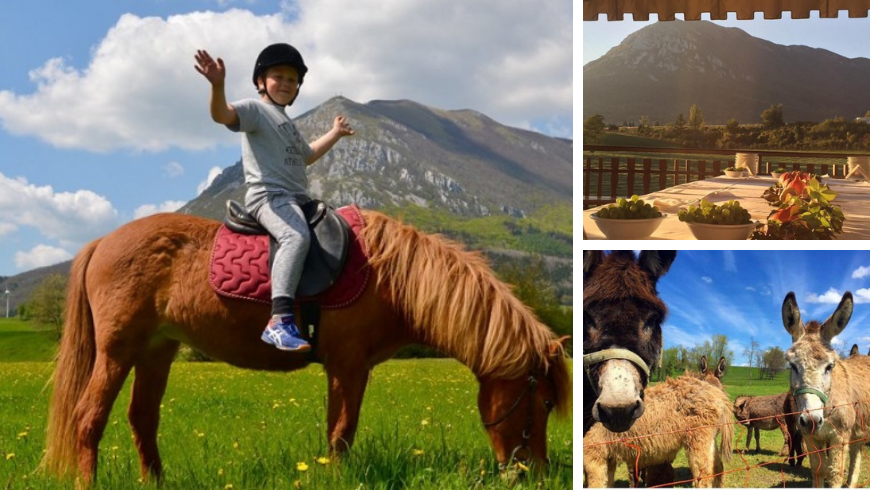 Ancient traditions, wellness, and special food
This place is perfect for those who love getting to know ancient traditions and spend some days being surrounded by trees and nature to relax. From the farm, you can admire the Ojstrica mountain and the Kamnik and Savinja Alps. In this farmhouse you will feel pampered and immersed in the Slovenian green. The hosts will talk about the history of the place and its traditions. Breakfast is the most important meal of the day: you will sample fresh ricotta, honey, ventresca savinjski, and other typical products, prepared following traditional recipes, which will give you energy for the day.
If you love animals, you will be pleased to know that here you will find dogs and little pigs you can play with, but also chickens, cows, and sheep.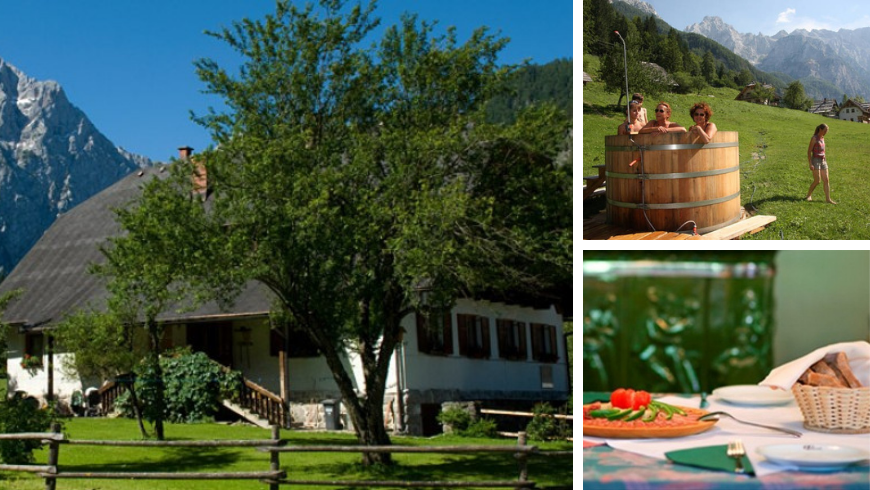 An organic farm surrounded by nature
If you want to escape from the chaos of the city, this farmhouse located in the Ter village is perfect for you. Here you will taste ancient traditional recipes handed down by grandmothers and typical products of the place, like savinjski želodec, Štrukelj, žlikrof and homemade desserts.
The Visočnik Vacation Farm is characterized by an ancient barn, now used to store tools. Moreover, is located in the vicinity of a 150 years old and 522 cm large sycamore maple, the biggest in Slovenia.
You can practice rafting and canoeing on the Savinja river, but it's also possible to go skydiving or fishing. During winter you can also ski. Then, there are numerous paths for hikers, like Smrekovec, Komen, Travnik, and Raduha. Finally, it's possible to visit the Mozirje Botanical Garden, the Robanov Kot Natural Park, the Logar Valley, and other wonderful places.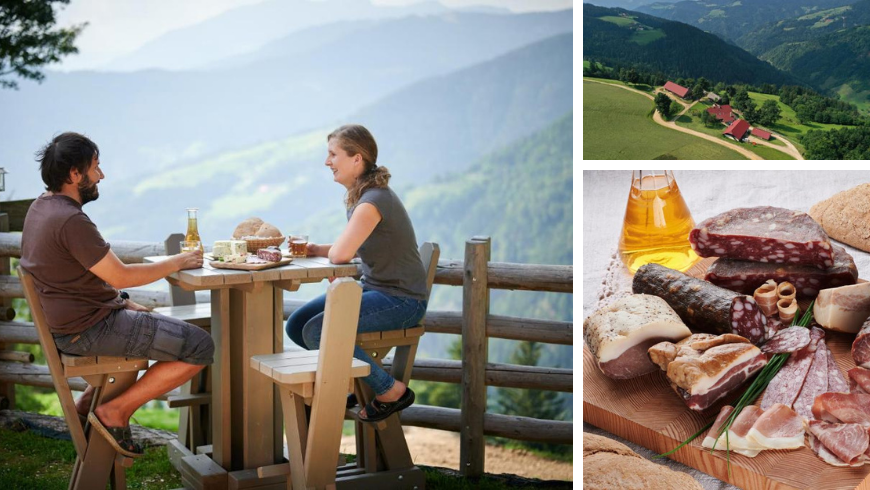 An organic farm near Metlika and the ski slopes
Situated in a cozy village, surrounded by white birches and the Kolpa river on the border with Croatia, this place is located at 350 m of altitude and is 8 km away from Metlika.
Here you can cook or sample typical products, such as homebaked bread, fresh meat, wine, and different vegetables.
This farmhouse is also suitable for families: there are basketball and soccer fields and a garden to let kids play.
During winter you can go to the ski area in Črmošnjice Bianca.
Here you can find more information to book your stay.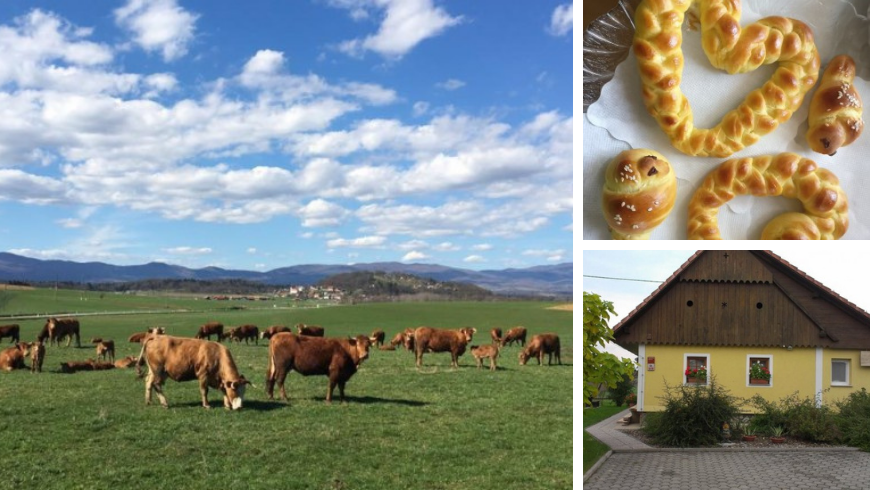 A sustainable farm in the Ljutomer countryside
This farmhouse rises in the Ljutomer countryside, 32 km away from Maribor, and is pet-friendly, so you can bring your pets with you during your holiday in the middle of nature.
It is possible to taste biological food produced on the farm. Moreover, at the Turistična Kmetija Vrbnjak you can rent bikes, ride a horse, go hiking, or fishing.
This farm follows different sustainable practices, like using ecological cleaning products and energy-saving lights.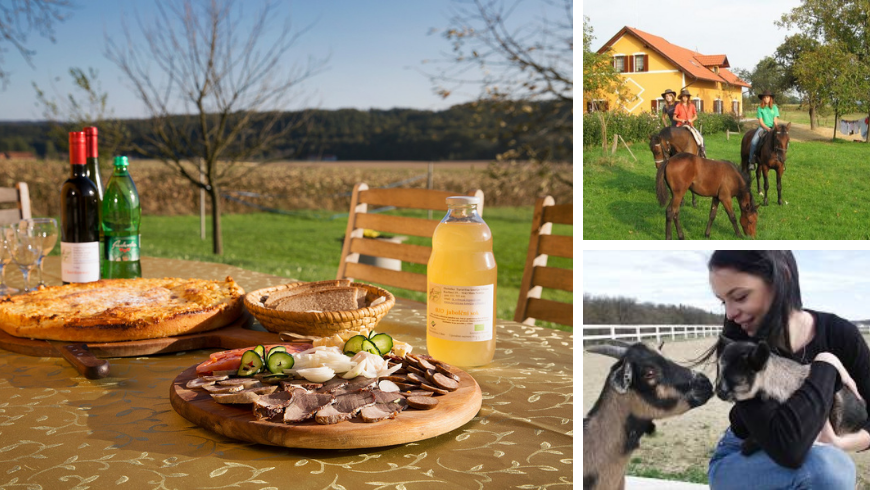 Secluded Farm Holidays in the Triglav National Park
It is located in the village of Studor and it's the perfect farmhouse for families. It is also in the vicinity of lake Bohinj, where you can swim in crystal clear water. You can also go hicking on the high Slovenian mountains, ride a horse and participate in processing hay.
This farmhouse is surrounded by the Triglav National Park, characterized by an alpine rural atmosphere.
Sustainable practices are followed here, such as recycling, organic food, and ecological cleaning products.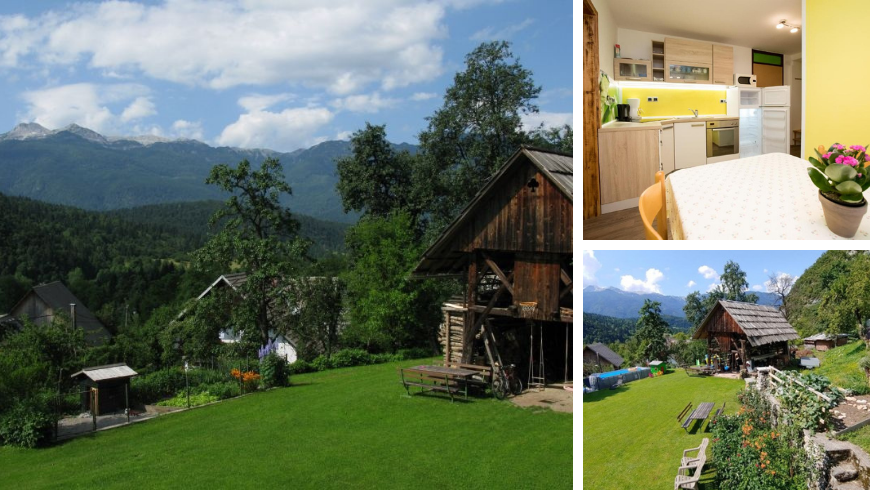 A healthy lifestyle on the Dolomites
This farm, at 650 m of altitude on the Polhov Gradec Dolomites, is specialized for people with a healthy lifestyle and offers homegrown food. Surrounded by green meadows, it offers a magnificent panoramic view of the Škofja Loka Hills and of the Karavanks and Julian Alps. The facility is 13 km away from the medieval town of Škofja Loka and 38 km away from Ljubljana.
The farm also received an eco-certification, meaning that their products are natural: here you can sample their milk and dairy products, vegetables, and meat. You will also find many animals, such as horses, cows, ducks, and rabbits.
You can practice numerous activities: walk in nature to reach the hills, play tennis, ski, go fishing or hunting and so on. Otherwise, if you enjoy making trips, you can visit Kranj, Bled, Bohinj, Jezersko, Ljubljana and Postojna.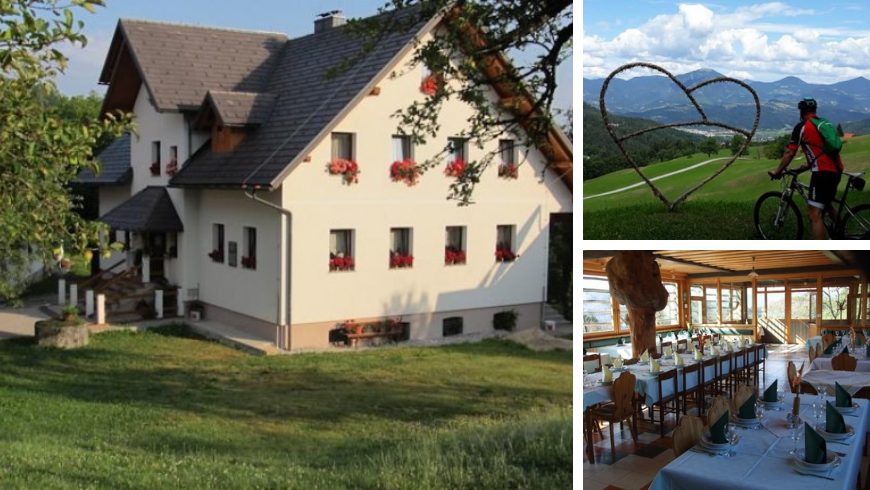 Have you found the perfect destination for your farm holidays in Slovenia? Choose your favorite farmhouse and experience a relaxing holiday surrounded by nature!