Experience a car-free holiday in Bohinj, in harmony with the intact nature of Slovenia.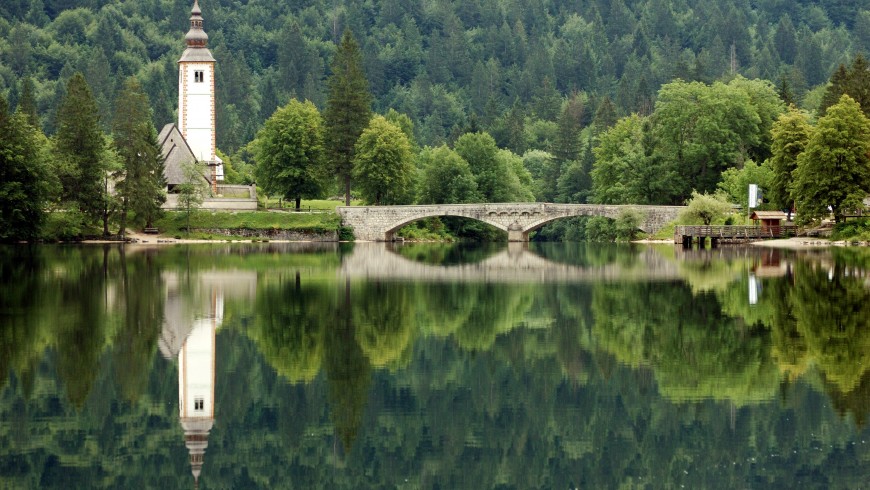 Bohinj is a valley in the heart of the Julian Alps, part of the Triglav Natural Park. It is the new Alpine Pearl of Slovenia. The valley is dotted by over twenty villages, where you can breathe ancient fragrances and where people live in harmony with nature: fresh woods, beautiful lakes and majestic peaks. Relaxation and fun are guaranteed in every season!
1. At a slow pace in Bohinj
Monika Hoinkis via Flickr
In summer the nature explodes in this valley! If you love hiking, do not miss the opportunity to visit the surroundings, walking along paths and dirt roads. To have a rest or to stop for the night you will find cozy alpine huts but also isolated shelters. Take a trip to the magnificent Savica Falls, famous all over Slovenia, with their 78m high: a must-see show! And of course mountain bike enthusiasts will not be disappointed: bike park, private trails and festivals await you!
2. Lake Bohinj and its wonders
This is the largest lake in Slovenia, located not far from Bled, but wilder and less inhabited indeed. This picturesque place, where motor boats are prohibited, is perfect to practice water sports: from rafting to canoeing, from fly fishing to diving! And to have a glimpse of the lake and its surroundings, take the cable car to Vogel and enjoy the panorama from above!
3. Skiing in Bohinj
From Lake Bohinj you can reach the ski slopes of the Vogel ski area, taking the cable car. Here you can enjoy some of the most beautiful natural snow slopes and snow parks. You will also find cross-country skiing trails with a wonderful view on mount Triglav. Even for your children, fun is guaranteed thanks to fun parks specially created for them in the snow!
4. The taste of Bohinj
Do not forget to taste the delicious typical dishes of this valley, created from local materials. Among them you will find the famous Mohant cheese, a DOP product, protected in the European Union, typical of these valleys, or the Zaseka, based on bacon accompanied by homemade sausages or the Zganci, a kind of porridge made with local wheat.
Cover image: ph, by pixabay.com
You may also like: