With environmental sustainability currently at the forefront of many minds, it's important to consider the impact of both our day-to-day activities and our little luxuries. So – what about travel? With local tourism on the rise – partly due to the COVID-19 pandemic, but also thanks to the thousands of people planning to reduce their carbon footprint – we thought we'd explore the top 10 eco tourist hotels throughout the UK.
In this article, the home buying firm (from the UK) Property Solvers selected a diverse range of top-performing "green" accommodation options throughout different regions – to help environmentally conscious travellers to make sensible choices when they consider their next booking.
Scotland: Saorsa 1875 Hotel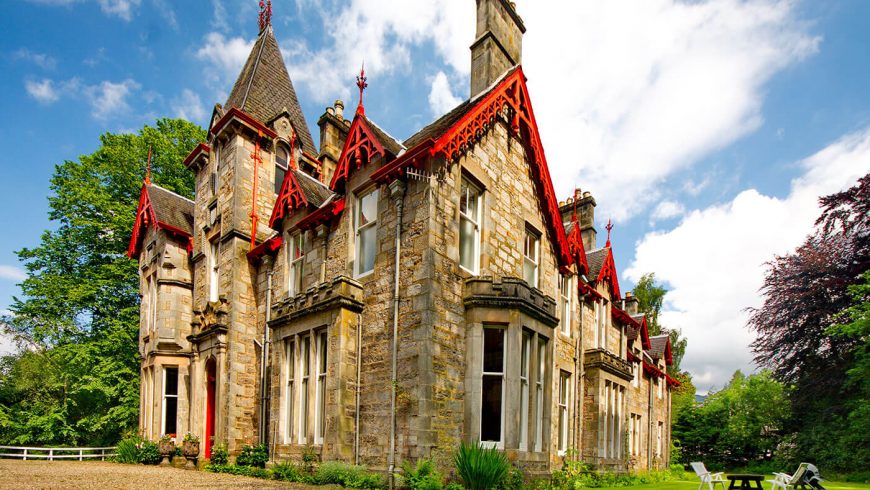 Our top green pick for Scotland is the Saorsa 1875 Hotel in Pitlochry, an entirely vegan destination.
You'll be hosted in a stunning 19th Century baronial property, where every element of decor has been ethically selected and the entire menu is plant-based, local – and sometimes even foraged!
In 2020, the hotel won the prestigious National Geographic "Good Egg" award for sustainability.
Info: www.saorsahotel.com
Northern Ireland: Blackwell House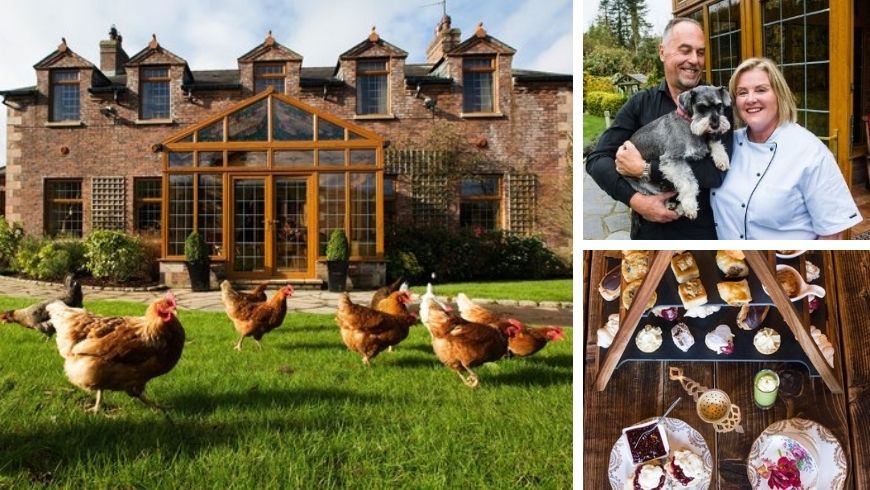 Blackwell House in Craigavon is a five star hotel located deep in the Northern Irish countryside. There, you'll enjoy exquisite meals expertly prepared using local produce. There are even free range hens on site to provide eggs – the vegetables and herbs are grown in the hotel's gardens.
Blackwell House achieved a Silver award with the Green Tourism Business scheme in 2015.
Info: www.blackwellhouse.co.uk
North West: Moss Grove Organic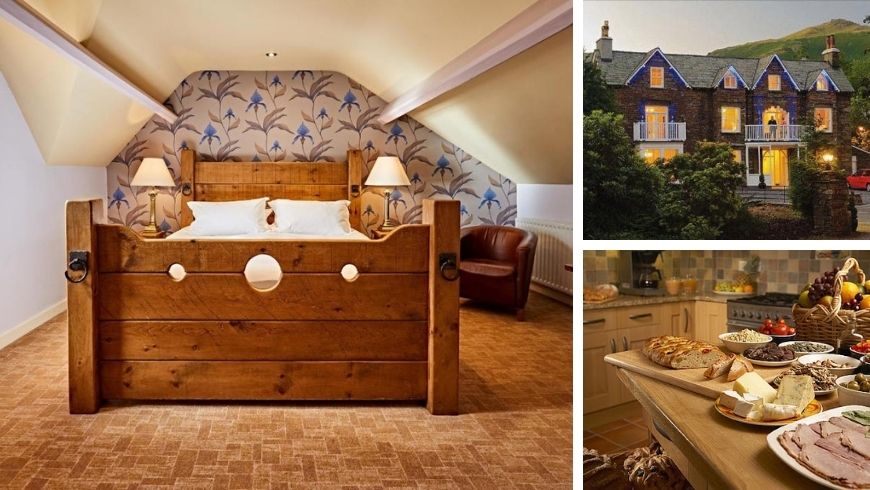 Right in the heart of the territory of the "Lake Poets", the awe-inspiring scenery surrounding Moss Grove Organic's opulent Victorian house hotel is an attraction in and of itself. However, the Cumbrian establishment's appeal doesn't stop there by any means.
Decorated with clay-based paint and screen printed wallpaper, insulated with sheep fleece, furnished with reclaimed timber and serving local or ethically sourced foods, you'll stay in guilt-free luxury when you select Moss Grove as your next destination.
Info: www.mossgrove.com
North East: Battlesteads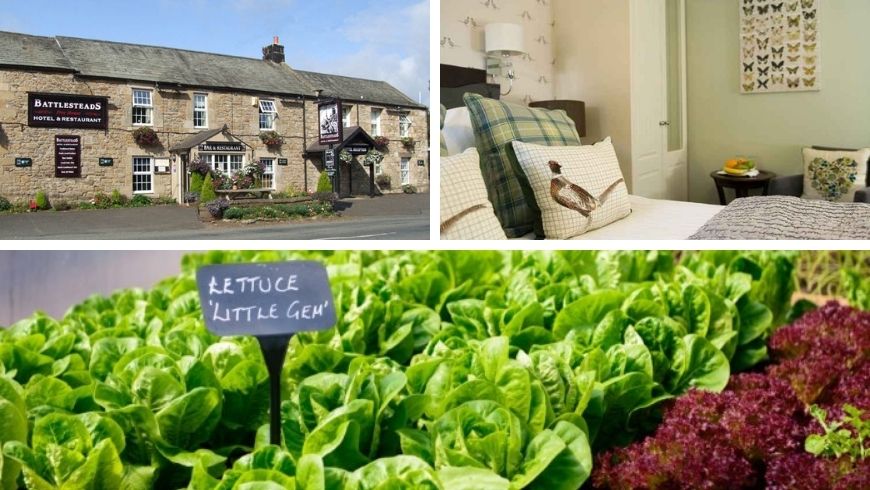 Northumberland's Battlesteads Hotel and Restaurant employs carbon neutral heating methods and serves produce from polytunnels on its grounds.
The Green Tourism Scheme Gold Award winner also provides organic toiletries sourced locally, recycles its food waste via composting wormeries and even offers sustainability tips to other businesses.
Not to mention, the hotel itself and its surrounding luxury eco lodges are stunning to behold – and you can even visit the on-site observatory to gaze into space!
Info: www.battlesteads.com
West Midlands: Cruckbarn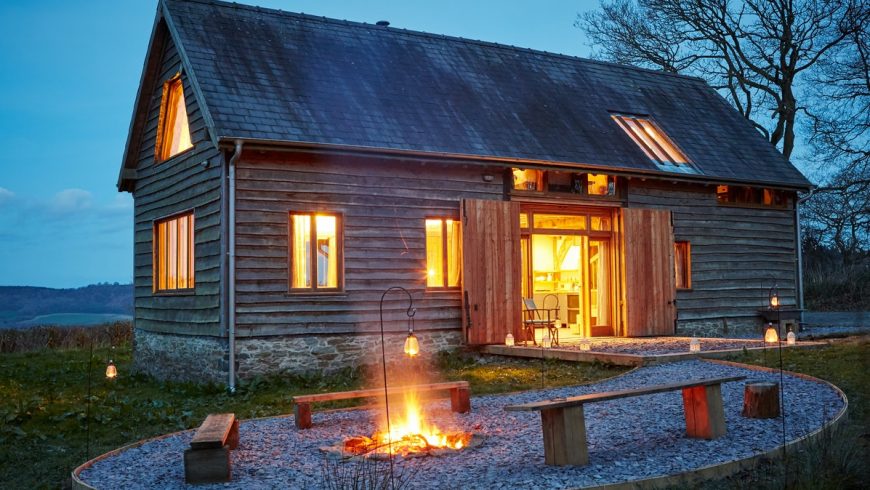 Cruckbarn in North Herefordshire is ideal for travellers who love a combination of luxury and rustic charm.
Surrounded by lush woodland and entirely hand built from one hundred local oak trees, the beautiful accommodation is self-catering – but there is provision for you to order local organic produce for your stay.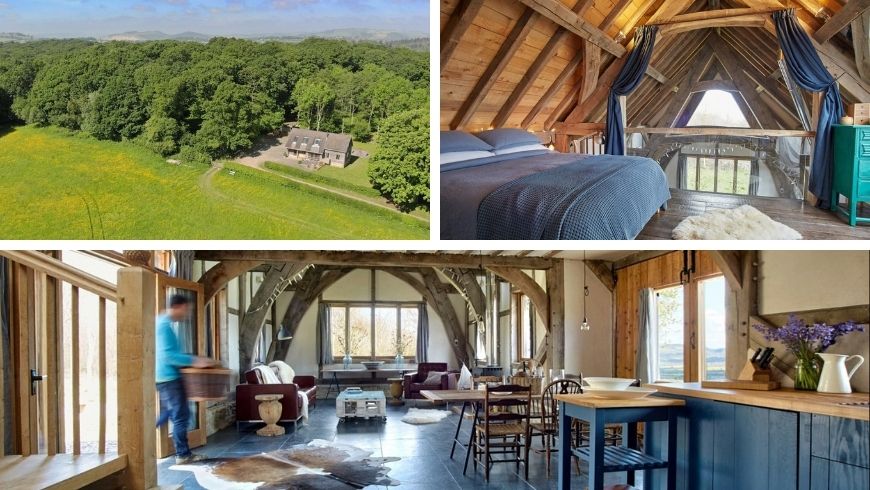 The building features:
Renewable sourced energy
A ground source heat pump
Structural elements created from reclaimed or eco-friendly materials such as lime concrete and locally sourced wood cladding
Wood from the surrounding forest for the burner
Info: www.cruckbarn.co.uk
East Midlands: De Vere Orchard Hotel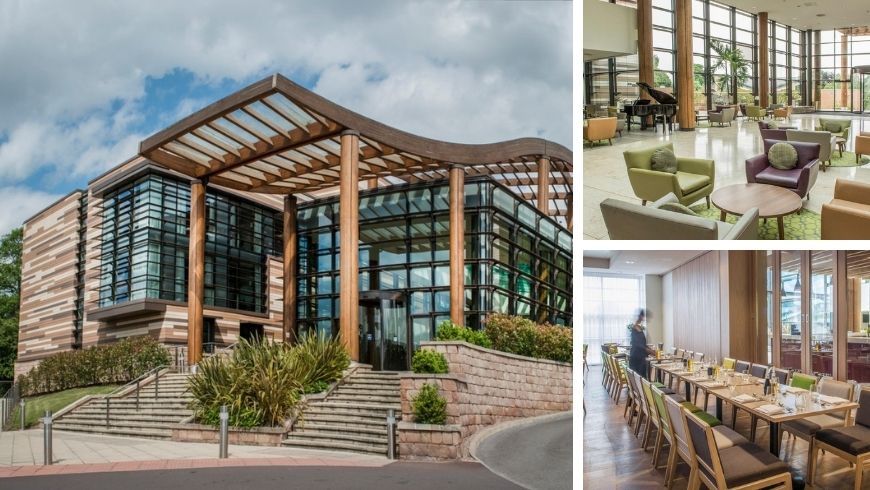 Located in Nottingham with easy access to local amenities, the De Vere Orchard Hotel combines chic modern architecture with sustainable practices.
Lit with natural light to the greatest extent possible, the hotel also features:
Water efficient toilets
Presence-sensing LED lights
Natural cleaning products
A waste-oil biofuel recycling system
Minimal single-use plastics
A focus on plant-based food
Sustainable tree management and meadow planting initiatives
The De Vere Orchard Hotel was named Best Sustainable Venue at the CHS 2017 and 2019 Awards
Info: www.devere.co.uk
Wales: Bryn Elltyd Eco House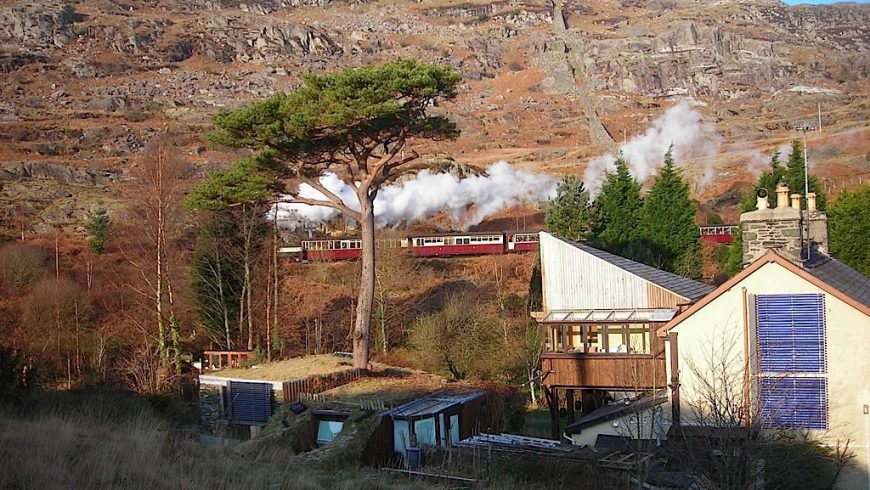 The Bryn Elltyd Eco House is located among the Moelwyn mountains and is ideal for hikers and nature lovers.
This eco-friendly self-catering guest house sits on the edge of Tanygrisiau Reservoir and has been carbon neutral since 2013 and solar powered since 1983!
With electric car charging, biomass central heating, 80% of produce sourced within 13 miles (fruit, vegetables and eggs are produced on site) and a policy of supporting local businesses and recycling rainwater, the main house and annex rooms are all beautifully appointed too.
Info: www.accommodation-snowdonia.com
London: Treehouse Hotel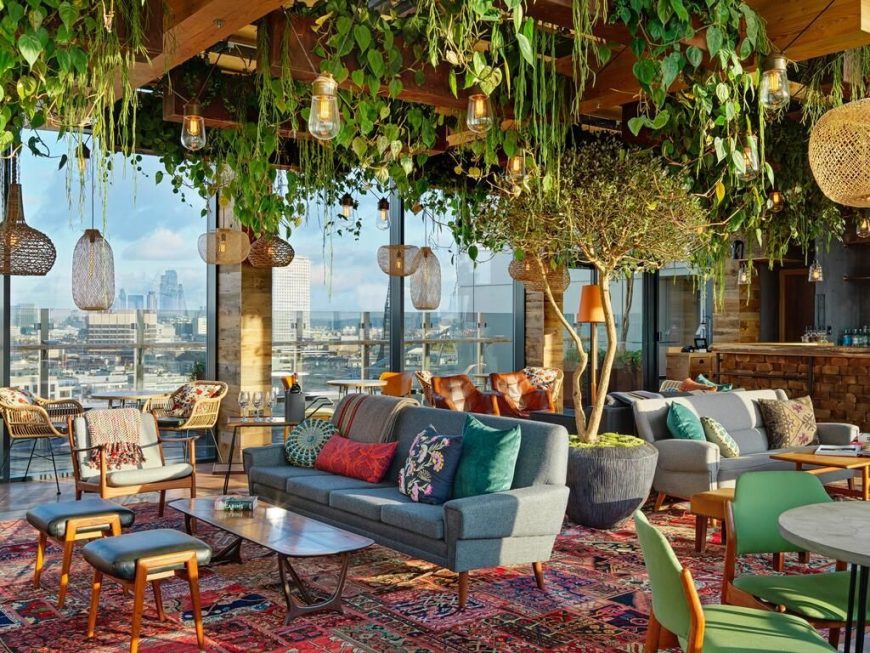 Yes, you can even find sustainable accommodation in the busiest UK city! The Treehouse Hotels chain has a stunning branch in Marylebone, London, right next to Regent Street and Bond Street.
Dedicated to eco-friendly solutions, the hotel features sustainable composting and recycling programmes, locally-sourced and ethical products – including organic cotton sheets – and a commitment to single-use plastics.
You can also attend their programme of "Tails and Trails" – activities that teach visitors more about sustainable living.
Info: www.treehousehotels.com
South West: The Pig Hotel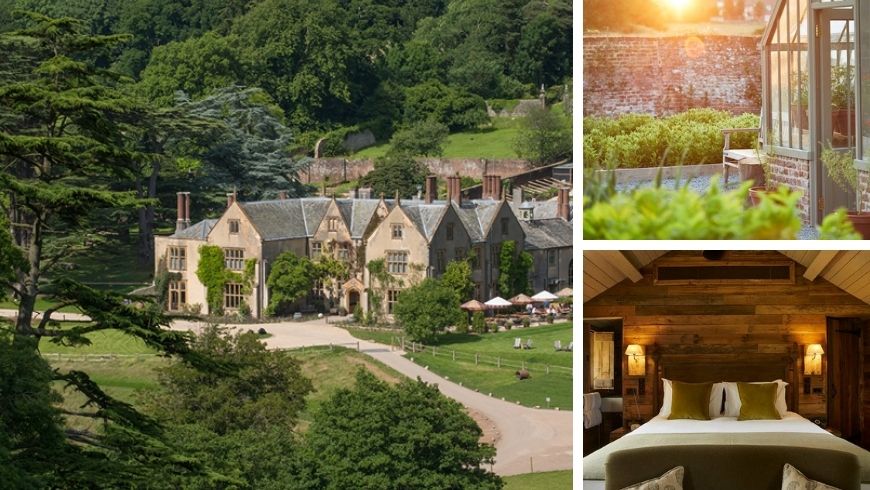 Located in Otter Valley, Combe, Devon, this hotel is actually part of a larger chain of sustainable accommodation offerings across the country.
The Pig Hotel chain focuses powerfully on food – with menus focusing on "micro-seasonality". They home-grow much of their produce and source the rest locally, and their staff even features a dedicated forager!
All garden waste and cooking oil is recycled, meat is cured onsite and they even manage their own beehives.
Single use plastics are a no-no here, and much of their building materials are reclaimed, recycled or natural.
Info: www.thepighotel.com
South East: Ashdown Park Hotel and Country Club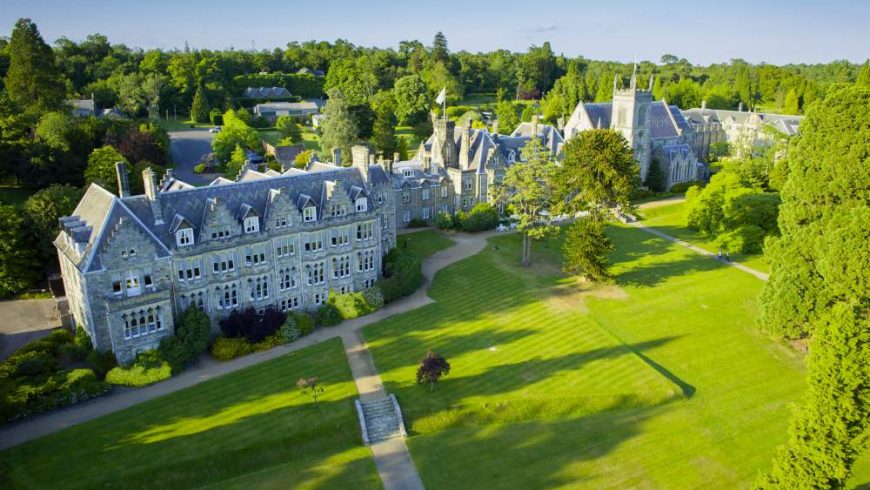 This gorgeous establishment seems to the naked eye like a classic manor house designed for total luxury – with a few rounds of golf thrown in.
However, the Ashdown Park Hotel is right at the cutting edge when it comes to sustainability. They have electric car charging, diligent waste recycling methods, in-house repair and re-use initiatives and a goal of recycling all cooking oil gathering steam.
All boilers and heating controls are energy efficient and the majority of food served is home grown or locally produced.
And it's dog-friendly!
Info: www.ashdownpark.com
Take a look at the above accommodation options to find the greenest place to stay wherever you happen to travel within the UK. A combination of top notch hospitality and guilt-free provisions will make this the staycation of a lifetime!
Cover Image: Image from https://depositphotos.com/, Image ID: 9001409, Copyright: JanMika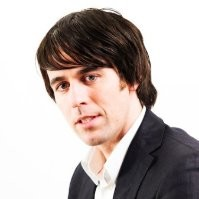 Author Bio: James Durr has been a property buyer and developer for almost 2 decades. As one of the co-founders of a leading UK home buying firm, he has accumulated a vast amount of knowledge in speaking effectively and empathetically with property owners and business owners to find genuine win-win solutions.