With the end of year 2 of COVID-19 looming on the horizon, everyone is itching to finally get out of the house, hop on a train and do something fun and different. Unfortunately, polls, travel experts, and common sense aren't giving us the nod yet. Until that happens and "normal" travel resumes, people continue to look into some safer routes. For instance, staying in separate lodging, spending time in the great outdoors, and embarking on the time-honored tradition of the driving road trip are the biggest trends right now. However, there's one travel trend that cuts across those above and hits all the sweet spots. Enter glamping – "glamorous camping" – a luxurious and comfort-focused camping trend that has taken the country by storm! Interested in finding out more? Here's your beginner's guide to glamping!
What is glamping?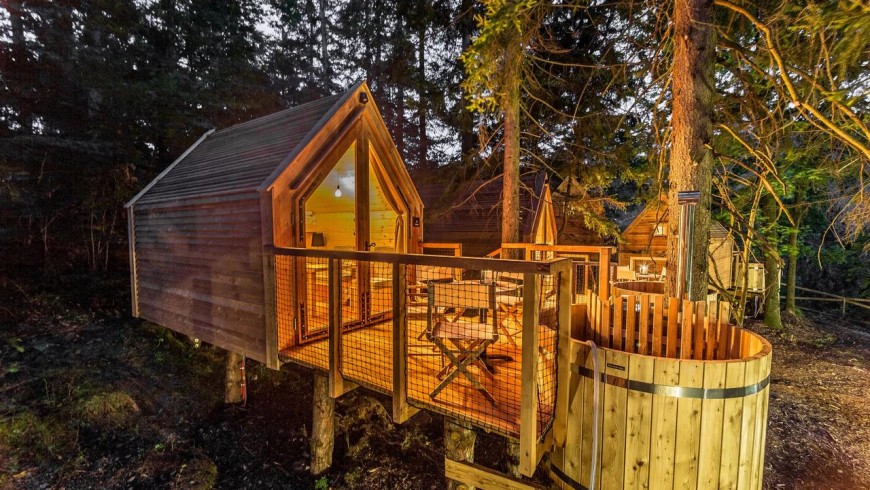 Although not a new concept, glamping – a portmanteau of "glamorous" and "camping" – is newer in this country, and it's managed to rewrite the rules of outdoor adventures. To get an idea of what we were talking about, simply swap sleeping bags for fine Egyptian cotton bedding, a far-flung farmer's field for a 'chic' set up at the back of an Elks Lodge. The lodging is still parked in the great outdoors – typically in the most coveted and beautiful natural destinations. However, instead of a camping tent on a patch of dirt, imagine anything from:
fully equipped enormous canvas structures,
yurts (round Mongolian-style tents that are typically whopping large single rooms),
fully-featured "tiny houses",
geometric mountainside pods,
fancy treehouses,
etc.
The variations on the paradigm are plentiful, and most include turnkey private accommodations, resort-like amenities, an abundance of activities, and access to fresh air and recreation.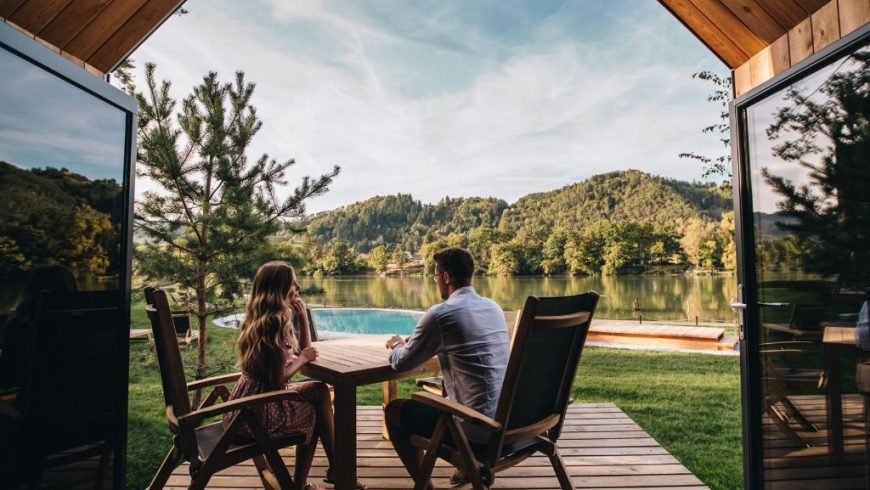 What do I need to know before going glamping?
So, before we start our glamping guide for beginners, let's figure out if this is for you. Raise your hand if you love the outdoors and the idea of traveling sustainably, but you've never been a "camper". Perhaps you don't own camping gear, or you balk at the thought of pitching a real camping tent (we get it – taking a chance on Mother Nature is, without a doubt, serious business.)! If, instead of roughing it in the woods for a weekend, you prefer sipping your glass of wine in a comfy Adirondack chair outside of a yurt campsite, glamping may just be your cup of tea. It allows travelers to "be one" with nature without forgoing comfort.
What are the main reasons to go glamping?
Comfort. When you glamp, you are "roughing it", minus the "rough" part. Glamping is camping in style, meaning it's got all of the kinks you can think of worked out already, and all you've got to do is show up.
Convenience. Being cramped in a tent, rough cooking, less-than-ideal bathrooms, and those little critters buzzing, swarming, creeping, crawling – these things are a complete no-go for some people. When glamping, you get to spread out in a real bed and cook in a full-size kitchen and use power showers and en suite bathrooms. Some even have Wi-Fi, air conditioning, and hot tubs.
Locations. Resorts and hotels can't bring you to places that glamping can. Glampsites could offer waking up just steps from a beach on a private island or watching the sun go down behind peaks from your "room" deep in a mountain range. Just walk outside, and you'll be immersed in nature.
Eco-friendly. Besides immersing you in nature, glamping also helps you protect it. For one thing, you will gain a heightened appreciation for nature. Second, glamping is a low-impact green activity in itself. Lodges are all low construction, mostly reused or upcycled living arrangements. The heating and electricity costs are lower than that of modern construction, which is mostly because they run on solar or wind power. As ecotourism rises in demand, glamping has a shot at skyrocketing in popularity – even more than it already has.
No expertise. You may think camping is as simple as venturing out into the woods with your tent and a sleeping bag – but it's hard work, cold, filthy, and it's not for everybody. Glamping requires no additional equipment – only a travel bag and perhaps this short beginner's guide for glamping.
How can I make the most out of my glamping holiday?
Making the most of your glamping experience starts with a bit of pre-planning. Figuring out how to select the right campsite and making sure you've got the list of some of the must-brings will, among other things, ensure your trip goes off without a hitch.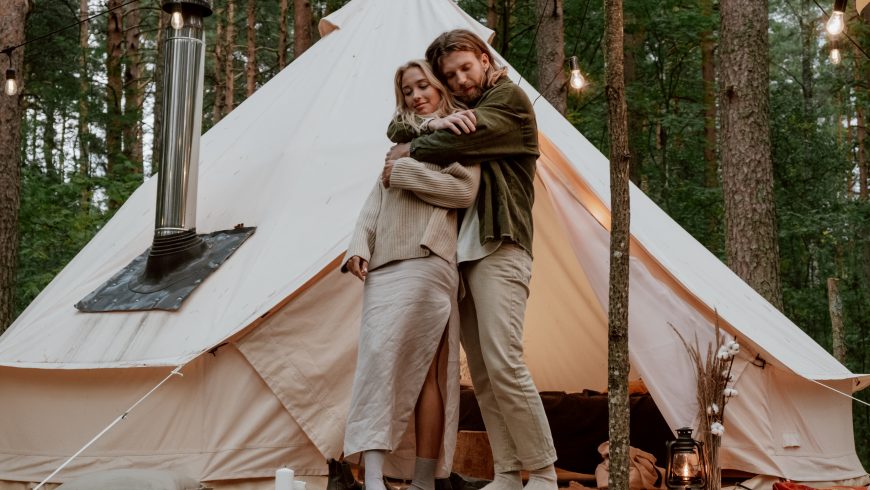 Select the right campsite
The location can make or break your entire glamping holiday. Yet, you can now find Glampsites all over the world, ranging from a few 'glamping-style' lodges clustered together on a campsite to a spread-out, natural site offering a private and secluded glamping experience. The question is, then, how do you find the perfect one?
Check the outdoor space. After all, the key to glamping is establishing that genuine connection to the outdoors and enjoying all those exhilarating natural experiences typically associated with traditional camping: campfires, roaming and exploring, and star-gazing. The site you choose should offer a mix of great views, things you'd like to do, space to roam, and peace and quiet you need to enjoy yourself in nature.
Get to know your accommodation. Yurt, bell-tent, or safari tent? Or perhaps you'd like something more unusual and memorable such as a treehouse or roundhouse? Where you choose to stay can provide a definite sense of adventure, as well as a classic camping vibe. Consider how the place makes you feel and make practicality, comfort, warmth, and protection from the elements your top priorities.
Define your level of comfort. What's considered a perfectly comfortable "room" will vary from one person to the next, so it's important to define what's important for you. Do you want a private bathroom, or you'd settle for communally shared showers and toilets? Do you need basic creature comforts or luxuries such as a hot tub that up the luxury camping factor?
What are the must-brings for glamping?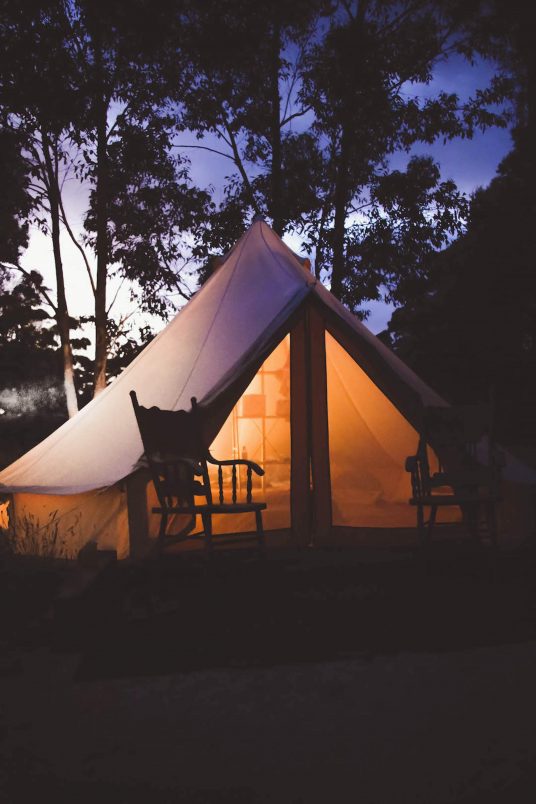 The items you ought to put on your packing list for your next glamping trip will depend on whether you decide on a fully-furnished, fully-stocked glampsite or do-it-yourself approach. The first option is perfect for a hands-off approach, meaning you'll only need to bring bare essentials such as toiletries, clothing, shoes, and accessories. Also, if you're not someone who typically leans toward more luxury glamping where the lodgings have virtually everything you need, you might want to bring a flashlight, water bottle, first aid kit, bug spray, cooler, any additional food or drinks you might want, and blankets. If, on the other hand, you choose the DIY option, you'd need everything from a glamping tent, camping chairs, and air mattress to blankets, pillows, and hammocks.
Let's wrap it up
So, there you have it! As you can see, today, glamping is readily doable and requires no experience to get out there and appreciate Mother Nature in style. Hopefully, this beginner's guide for glamping has helped you to start planning your next outing!
Cover image: Photo by Lucija Ros on Unsplash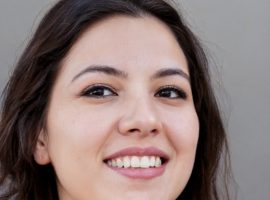 Author's bio: My name is Rachel Harrington, and I'm a former journalist and travel blogger from Cincinnati, Ohio. As an eternal rolling stone who's on a mission to see and learn about every single country in the world, I've been sharing my stories, photographs, and tips for anyone who can't wait to start trotting across the globe, both on my personal blog, and through guest-posting for websites such as Verified Movers. My wish is to inspire people to be curious about the world, fall in love with every place they've never been to and people they haven't met, meet themselves along the way, and, most of all, appreciate our beautiful planet and everything it so selflessly gives.