Trees are the key to slowing down climate change and ensuring life on Planet Earth. Tree of Life is the tribute work by the artist Flavio Kampah for Ecobnb.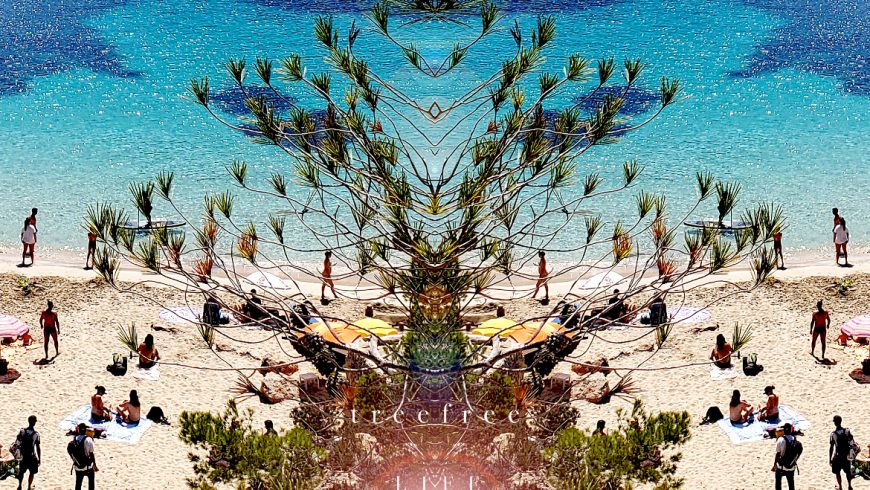 We were immediately enchanted by this photographic work by Kampah which seems to tell the power of nature, the ability of plants to communicate, make us feel better, and make us happy. And then, we know, trees are the main tool we have at our disposal to stop global warming.
Tree of Life inspires us to imagine a possible future where men and nature can live in harmony.
We decided to interview the author, Flavio Kampa, in order to find out his history and how his work came up.
Flavio Kampah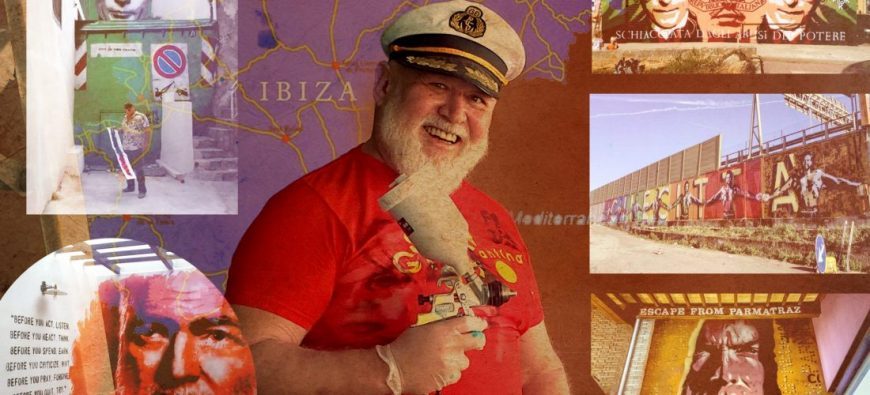 Street artist, painter, illustrator, photographer, but also designer, and director, Flavio Kampah is one of the most cosmopolitan and interesting artists on the Italian and international scene.
Travel is one of the fundamental themes of his life. Born in Parma, he has in fact lived all over the world, from London to Los Angeles, from San Francisco to Sydney, from Nice to Bali.
He is currently in Ibiza, Spain, where he has just finished his latest work: the mural for the "Marytierra" restaurant in the port of Santa Eulalia which depicts Frida Kahlo and "Samo" Basquiat, both symbols of creativity and diversity.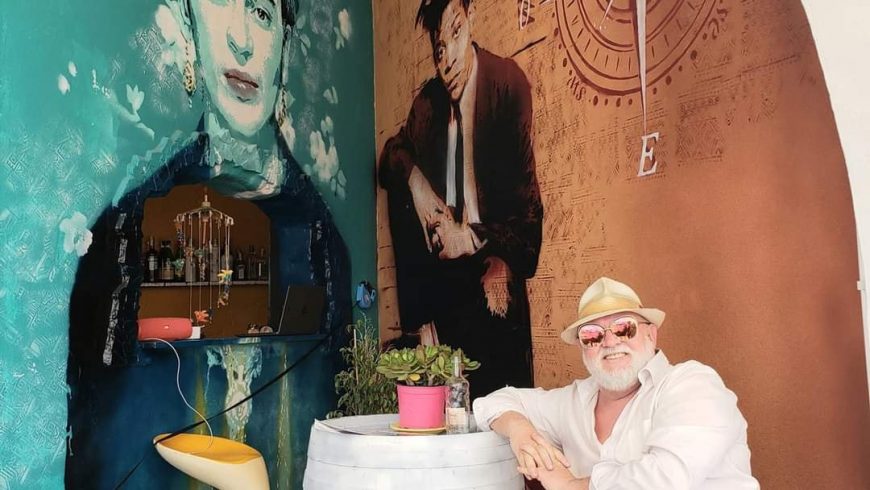 From there, Kampah replies to our interview:
Where and when was the photo at the base of the work taken?
On Easter Monday this year, on the stroke of the first month since my arrival on the island of Ibiza, for the second time in my life, accompanied by new friends from Parma who have lived here for several years, (Teo and Paola) and who they wanted to show me one of their favorite beaches, with pride.
This is Cala Salada or better Cala Saladeta saw from above. A beautiful and unforgettable day, in good company that accompanied me to different corners of the island to help me get to know it. During this terrible pandemic period, we were also able to take a quick bath, the water was frozen, it was all so beautiful and perfect.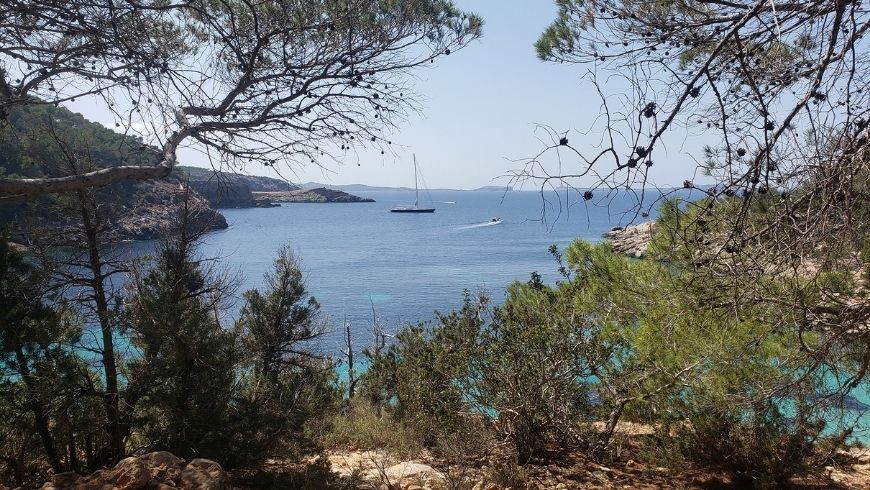 What inspired the work "Tree of Life"?
The Tree of Life artwork is inspired by the contrast between the shapes of the leaves and those of bathers/tourists, which made it special for me and gave me the opportunity to unite the two worlds, that of nature and that of humans, the main inspiration for my work.
Their coexistence and belonging to the same magical universe that surrounds us and in which we live, and where we should do it in the greatest possible harmony.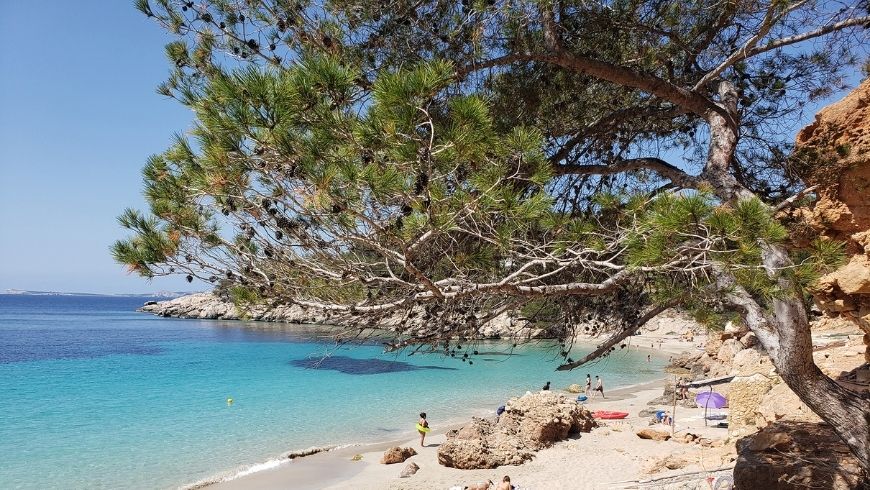 What does travel mean to you?
For me, traveling as I always say is the best thing in life, because it includes everything. Traveling is adventures and experiences that lead us to fully appreciate the miracle of life and to be part of this world. When you travel there is everything that is part of life: nature, encounters, friendships, cultural exchanges, etc.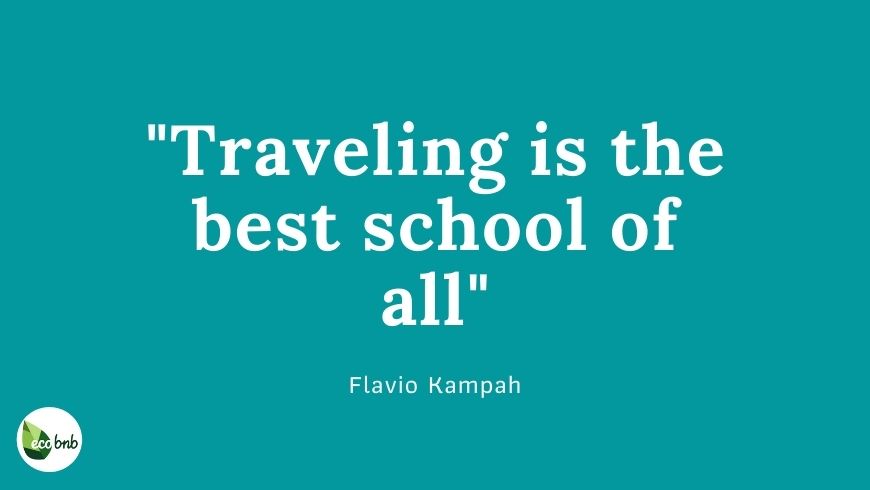 It is the best school of all, much more than the one where they force us to sit at the desks of a building within a classroom to forced to mechanically memorize … On a journey, things are learned through experience and touching them by hand. There are things that are impossible to explain verbally or with concepts. The word is an extension of man's mind but also a limit to him because he tries to enclose concepts that are infinitesimal in a rather limited number of words. During the while you travel, you learn to listen to your senses and your experience and many concepts cannot be transferred through thought but take shape and become concrete in our consciousness even more than written words.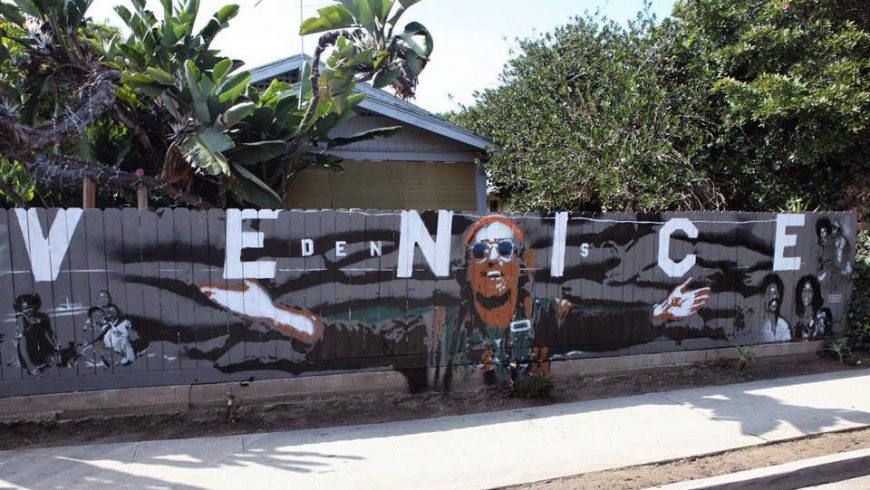 These experiences are a stimulus to improve one's life and make it even more special. This happens above all through meeting people who live in cultures other than those in which we grew up and who therefore stimulate us to see the world from another point of view and from another perspective.
Among the many places where you have lived, which one has remained the most in your heart? And why?
I think I can say without mistake Cuba. It is a magical place where time seems to have stopped in the 1950s and where it seems to perceive the moment in a different and total way, every second I lived there belonged to that moment as never before and nothing before, I felt I was living the moment fully and better than anywhere else in the world before.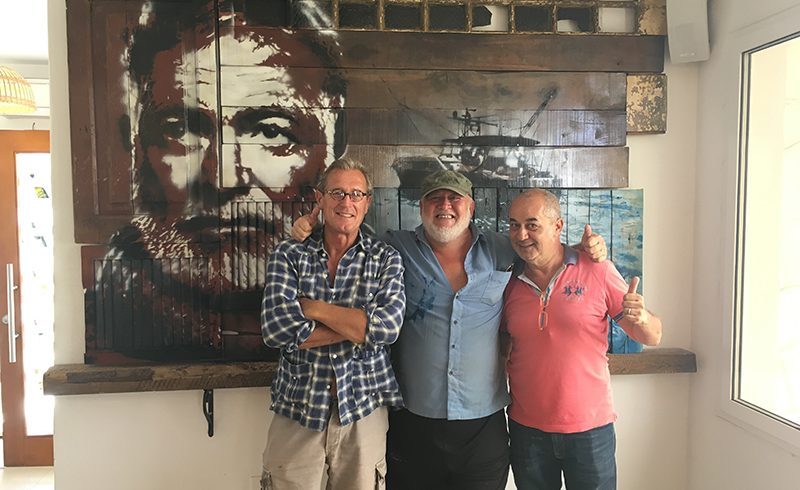 I went back 3 times in a year in 2002 and again for 3 months in 2017, again for work and for artistic experiences. The warmth of the people is unique and helps you a lot to make you feel welcomed and involved in their life without any effort. A unique and unforgettable sensation.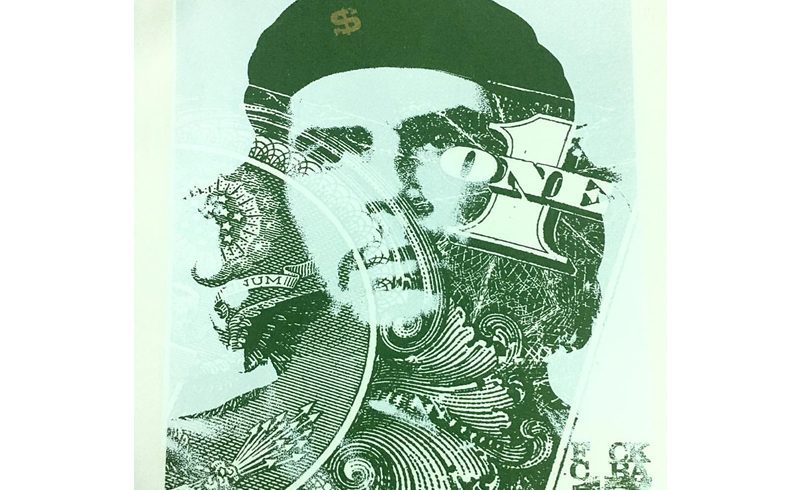 What will your next destination be?
I have not the faintest idea and I don't even want to know or plan it. For many years now I have been following the flows of my life mainly dictated by my work and where I am required for my performance.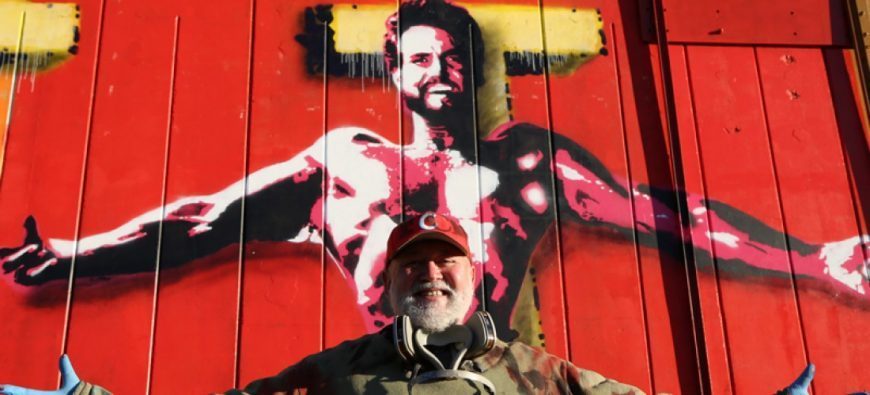 I have been doing street art full time for 10 years now and with my stencil technique and spray cans, I have given myself the mission to color the walls of the world … one wall at a time!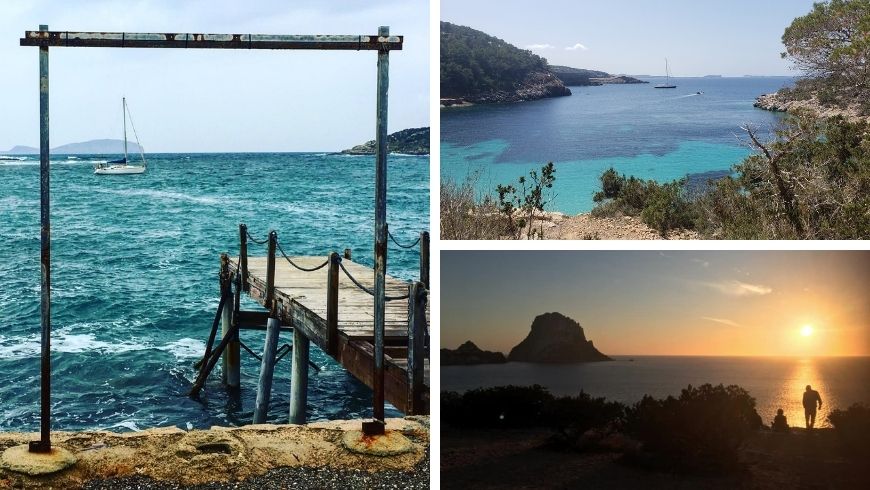 I have recently arrived on this wonderful island (Ibiza) and as always, I do not want to visit it as a tourist but to live it as one who works there, and therefore I hope to stay for a long time to have the opportunity to enter its DNA and experience it. and treasure everything I will learn by staying here as long as possible, then we will see where my next work will take me, but at the moment I have no idea where it will be, and this is even better for me.
What does " Tree of Life" represent?
It represents the harmony between human beings and nature, or at least the eternal search for this. A symbiosis between the small human ants, and the planet they are guests of and the attempt to preserve it and not destroy it. A utopia that I hope can be achieved, a peaceful coexistence between men and nature in total respect for both parties.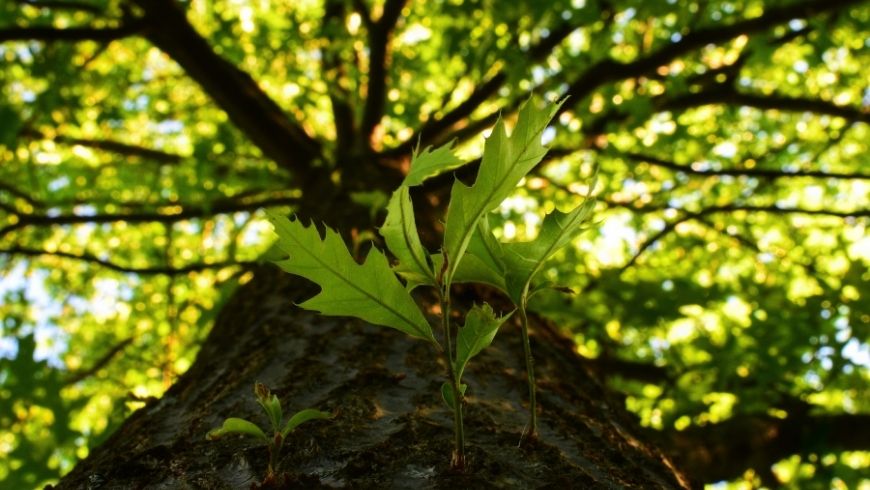 Did nature inspire your other works? If so, which ones?
So many and countless times. One of the best experiences of these kinds of my life was when in 1999, tired of directing TV advertising campaigns in America for important brands like Toyota but selling cars that helped destroy the environment, I happened to be in Bali and be invited from the famous interior designer Linda Garland who had a wonderful resort in the center of the island, in Ubud, in the back of the monkey forest, and who had created the EBF Environmental Bamboo Foundation and asked to host me as a resident artist to help her promote bamboo as an alternative to wood and prevent the destruction of the Amazon rainforest.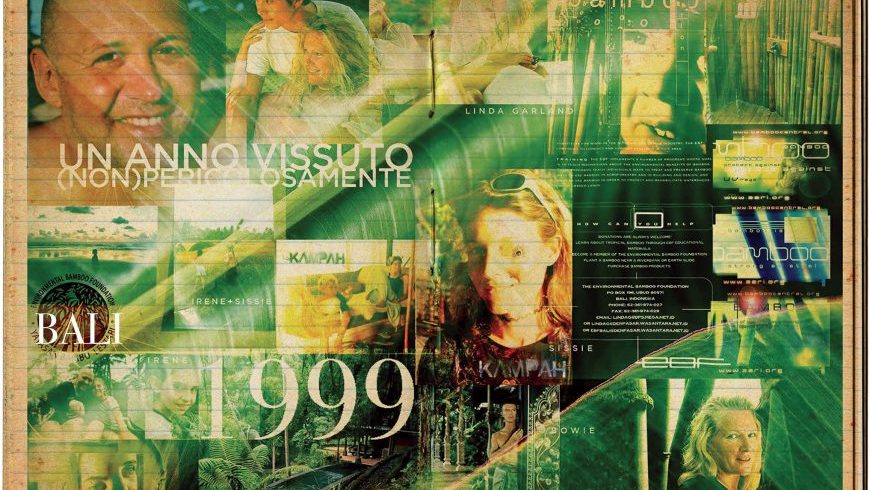 It was a great experience that made me learn a lot about this extraordinary plant that grows spontaneously and mostly in the hottest but also the poorest area of the planet and that could be like gold for these poor populations if they only knew how to make the most of it.
I produced a video that was looped on large screens at Expo 2000 in Hanover in the Indonesian pavilion and silkscreen printed materials to promote the qualities of this miraculous plant, bamboo. But there are also countless other cases where I felt inspired by nature, but this one seems be (to me)  the most… complete.
Explain your art in one sentence, or even better in one word
INSPIRE
I would like my art and my works to be inspirations for change, necessary and important for our peaceful evolution and growth, but also for the lifestyle and positive energies that I try to bring into my works and transmit to others, as much as possible.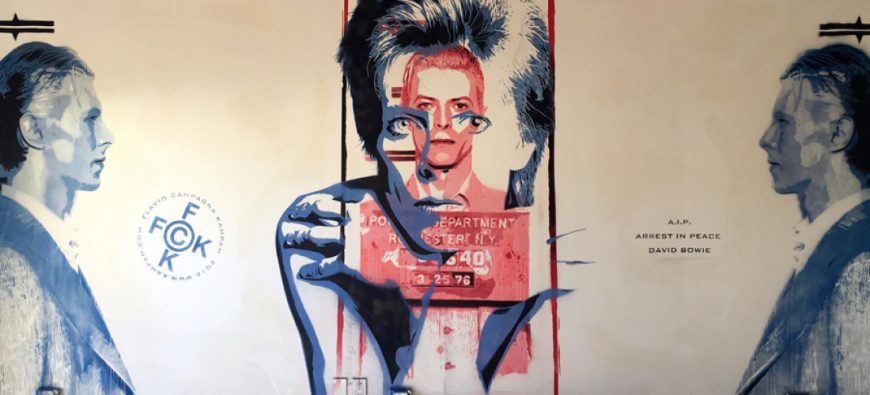 Who inspired you in your career?
First mainly my father, who was a humble house painter, but with artistic ambitions abandoned to work and provide for his children and his wife, but seeing him work and also paint the signs of the shops in the neighborhood, was a great artistic influence for me.
But then also my second-grade teacher Andrea Nieddu, who taught me to see the world with eyes different from those that were common to everyone and launched me with a mission in the world, that of improving it and making it more liveable for all, and through my art is what I always try to these day.
Then there are the greats of the past for me like Picasso, Moebius, and Leonardo… to name a few.
The mentors I found on my way growing up as Augusto Vignali Art Director of Fiorucci with whom I took my first steps in the world of graphics in Parma at the age of 18.
Mario Convertino, the inventor of the term Video Graphics with whom I worked in Rome in the 1980s, making animated opening titles for Italian television.
Harry Marks, in Los Angeles, introduced me to the world of Mac and Apple for which I produced some of my works …
Pierluca De Carlo, also in Los Angeles, an TV commercials director friend from Verona who worked for Herb Ritts, the most famous photographer of the century and with whom I made my best video works.
Last but not least, Ridley Scott, for whom I worked 6 months on the titles of his film "Black Hawk Down".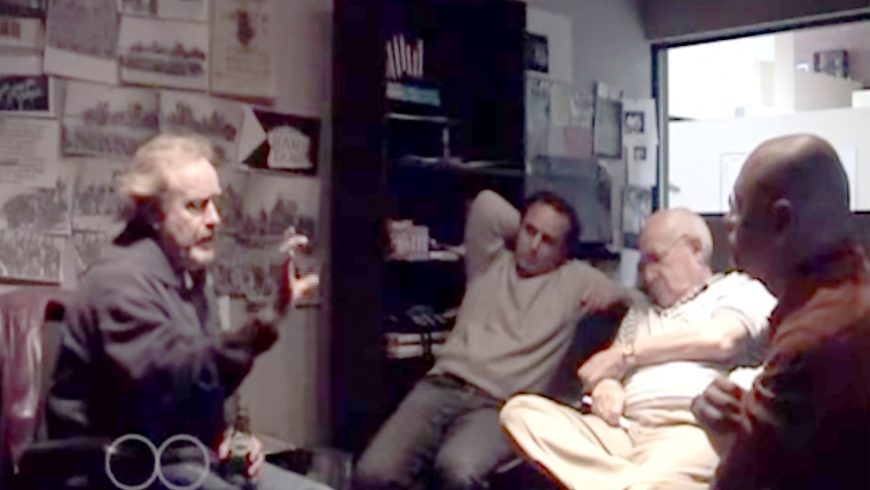 If you could spend a day with a dead or alive artist who would you choose?
Definitely Picasso, I'm a big fan of him not only for his powerful painting but also for his lifestyle, which was a great source of inspiration for me on how to live mine.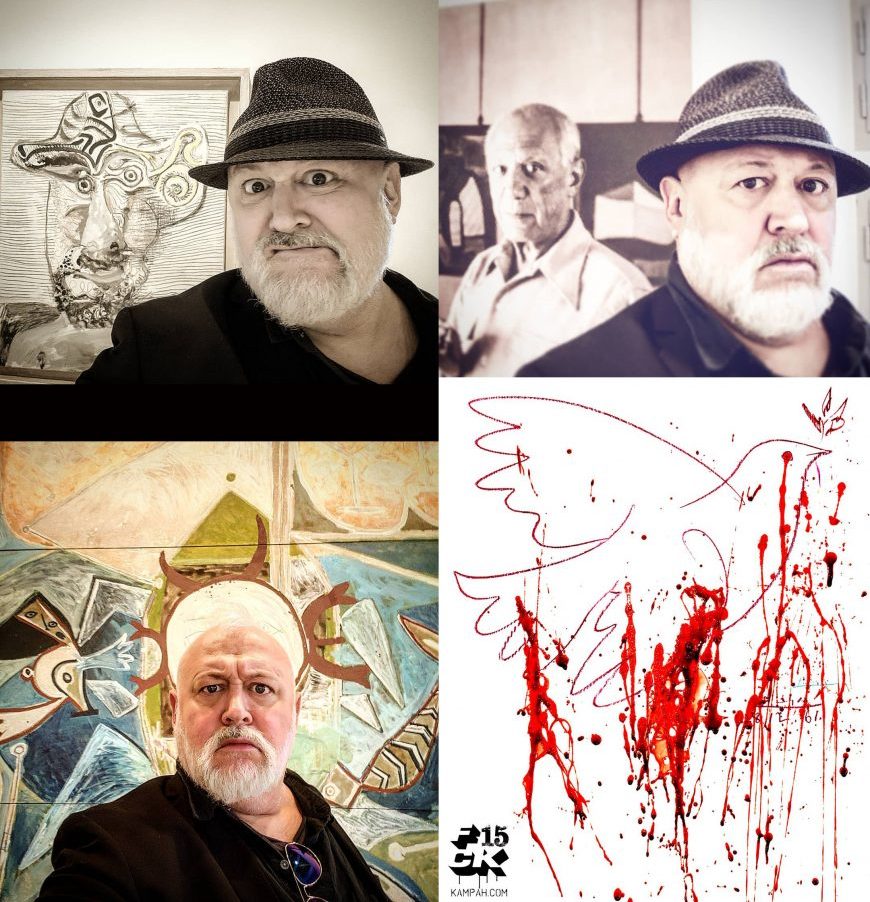 I have read many of his biographies and I would like to spend a day with him in Paris or in one of the places on the Côte d'Azur where he always spent his summers painting, be next to him in his studio when he created his paintings and then have dinner. together in some in local restaurants and bars, toasting and singing to the beauty and joy of life.
A phrase or a quote that you will never forget?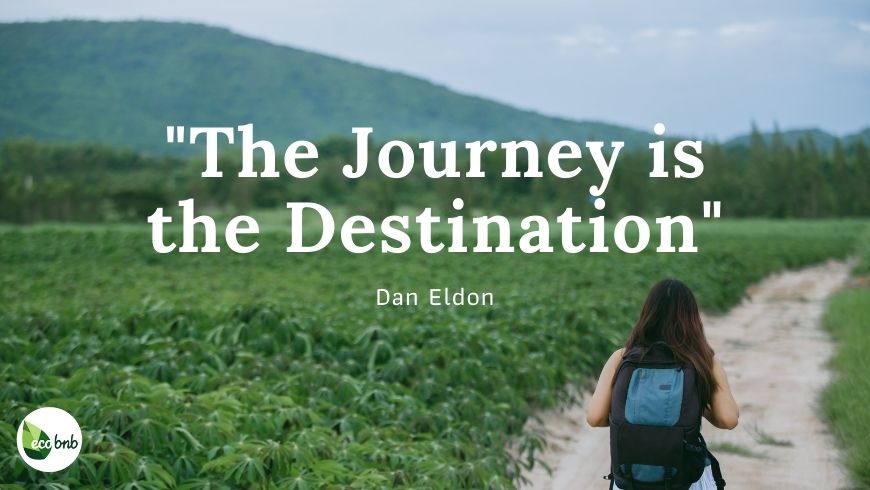 The Journey is the Destination. The title of the book by Dan Eldon, a young war correspondent photographer who died during his first mission in Somalia, which his mother Kathy Eldon had published after his death and which inspired many artists.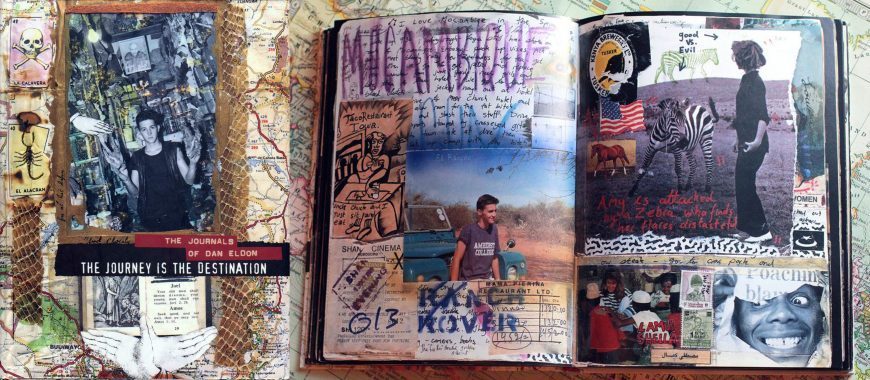 Intense collages that he made on the pages of his diaries and that led his mother to call me to do a pilot a TV show for CNN because my style of motion graphics was so similar to that of his diaries, and that led me to visit Lebanon in 3 weeks with his sister as a presenter in another magical travel experience where my work took me.
If you hadn't been an artist what do you think you would have done in life?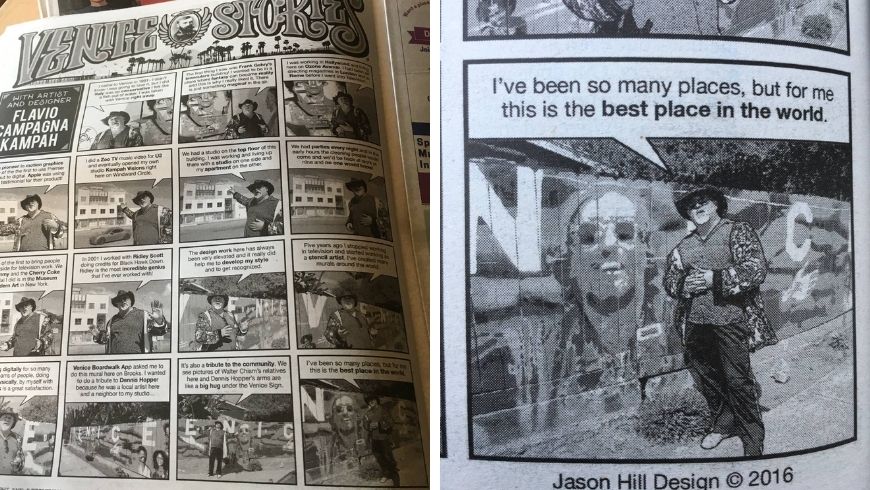 Many things, as a child perhaps I would have said the teacher because I wanted to be like Andrea Nieddu and inspire my students as he had done so well with me …
But then also the comic artist, my first passion diverted to graphic design, directing, and now street art.
Or the actor, a discipline that I don't mind and that I admire a lot and in which I feel at ease, in those few brief cases in which I have practiced it and which has given me great personal satisfaction.
What are you working on? Can you tell us something about your next projects?
I have recently finished writing my book biography The Pope of Venice Beach written together with my friend Emiliano Aimi in Nice. The material for a docu-fiction film with the narrating voice and music by Marco Castoldi, in art Morgan, will be drawn from the publication. For this project, I am working on finding editorial and television distribution channels.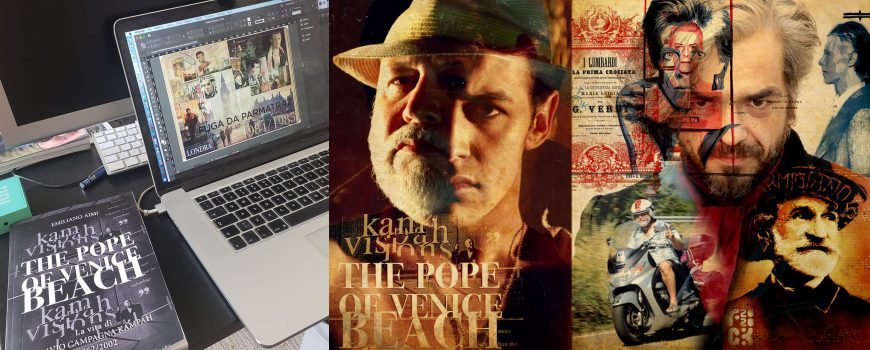 While waiting to read Kampah's biography, we thank him for inspiring and guiding us on this wonderful journey, from the nature of Ibiza to the bamboo forests of Bali, to California.
Were you also intrigued and fascinated? Follow this link to discover all his works
Cover image: by Flavio Kampah