It is just one of the many consequences of climate change but it is definitely one of the most dangerous. We are talking about the sea level rise, something which is directly connected with global warming and which is seriously putting at risk some of the most vulnerable places in the world, like Venice.
Indeed, despite being one of the most beautiful urban pearls of the world, Venice also shares something negative: it is one of the most obvious examples of cities which are most likely to be swamped by the rising sea. Nowadays there are already many squared kilometers under water and the fact that the coast is flat and the houses on it do not have the adequate and proper defenses is definitely not helping defeating the sea level rise.
But how much do we actually know about this? Sometimes, not even people living in Venice know exactly what is going on, or better, what might be going on. Then someone decided to speak out using one of the most powerful means of communication in the world, which is art.
The mural about climate changes in Venice
Walking down Canal Grande, in Venice, you can now admire the work of art of Andreco, an engineer and artist, who designed and created a 6 m high and 100 m long mural to show the risks that the rise in sea level might bring to the picturesque city of Venice.
That's right, Andreco is not only an artist but also an engineer: after his PhD in environment and territory engineering, he has always tried to combine his two passions in his work and in 2015, after the Cop21 in Paris, he managed to do it when he started working on a project called Climate. The project wants to create some pieces of art which focus on the problem of climate change and its consequences.
An example from the project is the mural in Venice: Climate 04 Sea Level Rise, a painting which runs horizontally on some yellow walls in Canal Grande, full of data and scientific forecasts which appear right in front of the eyes of the observer, together with a series of blue lines, which represent the waves of the sea.
What does Climate 04 Sea Level Rise tell us about climate changes?
Andreco collected data from different scientific sources, such as: the Ipcc (Intergovernmental Panel on Climate Change), the Delta Committee or Wgbu and Stefan Rahmstorf, a German climatologist. These values represent an average, nevertheless we can understand that the situation is not very promising. The straight blue lines indicate that the rise can reach 2 meters of height, whereas the other ones represent the sea's extreme waves.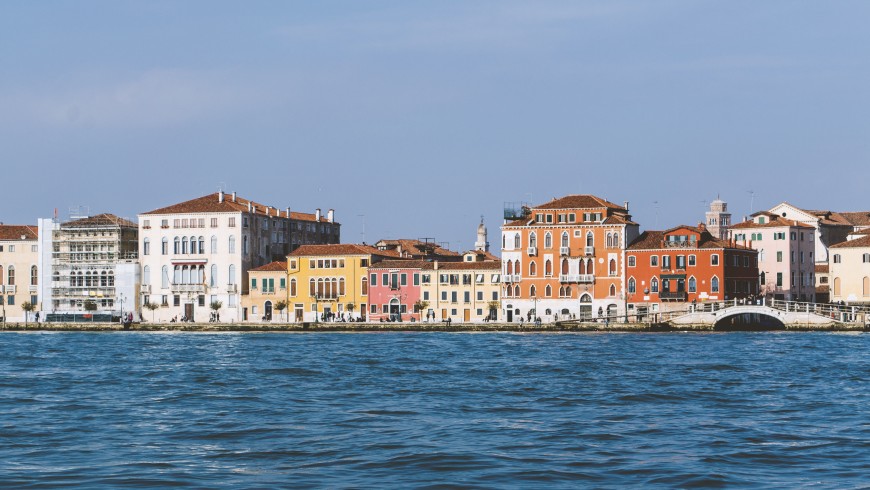 However, the values are not only negative: the artist show us an favorable scenario due to a possible reduction of emissions and the changes that it would bring, putting the observer in front of a crossroad. Can we really choose what is going to happen to the planet? The answer is yes, there are many things we can do to make things better. Just like other works of art, this one teaches us that we have to become more aware and put ourselves out there to save the most fragile gems of our planet, like Venice.
In short, Andreco's mural tells us a story that could have tragic consequences, but it is also full of information to help us going on living more responsibly. Global warming and the rise of sea waters are extremely delicate topics, but they are a current problem, and for this reason we should talk about it more. Now that art has played its part, it is time for us to open our eyes!
You could also like: