How do you imagine a trip into nature? With Eco-glamping you can combine comfort and ecology. Find out where to get away from the usual routine and sleep in a tent surrounded by the green of the Tuscan Maremma.
Sometimes life in big cities can feel overwhelming and you just looking for a little peace and quiet. So take a break from the daily routine and discover a wonderful Eco-Glamping in the Tuscan Maremma.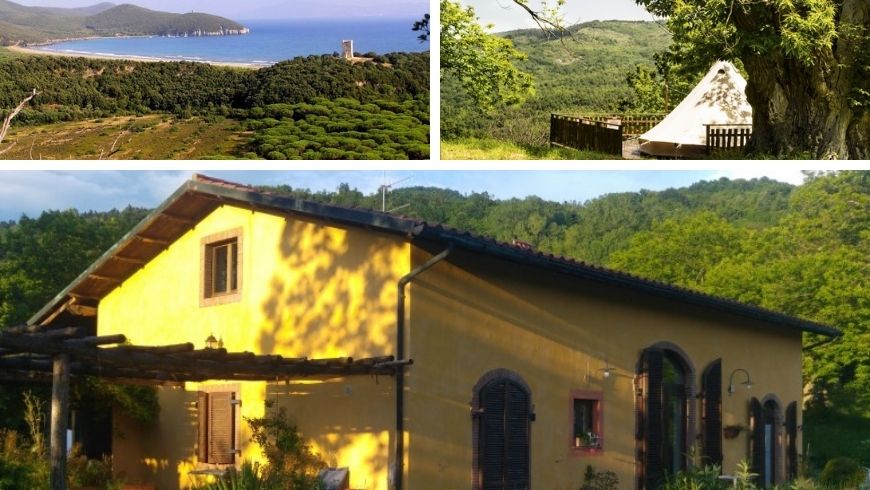 In short, it's like going camping, but with the comforts of a hotel.  In addition, these are ecological accommodations totally immersed in nature. But let's see together the Podere di Maggio, ideal for an evocative experience of life in the Tuscan countryside.
What is Eco-Glamping?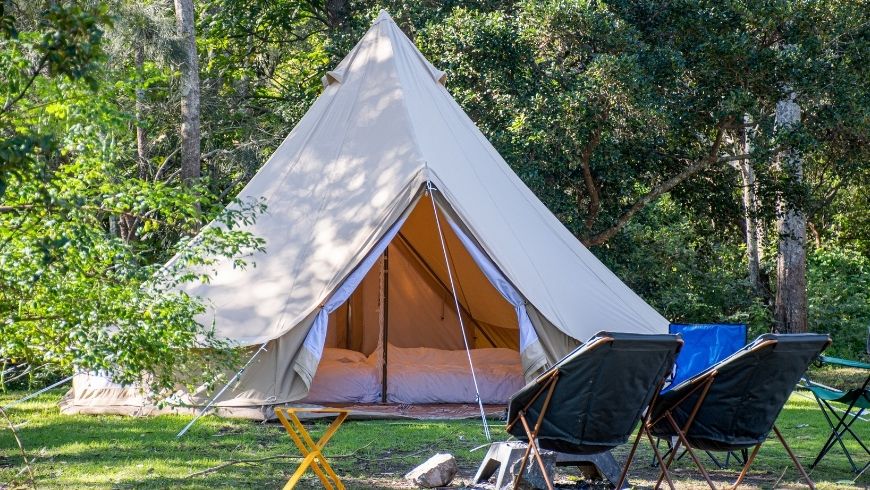 Nowadays, the proposals of Glamping are getting more and more curious, attracting the attention of every kind of traveler, even those who try the camping experience for the first time.
Setting up a tent with related accessories? It is not required in glamping! In fact, you have the possibility to stay in a structure already mounted.
It is said that around the sixteenth century some royals met in camps set upbringing with them every kind of comfort. Moreover, this way of conceiving camping was also used in France and Scotland, for the organization of particular events.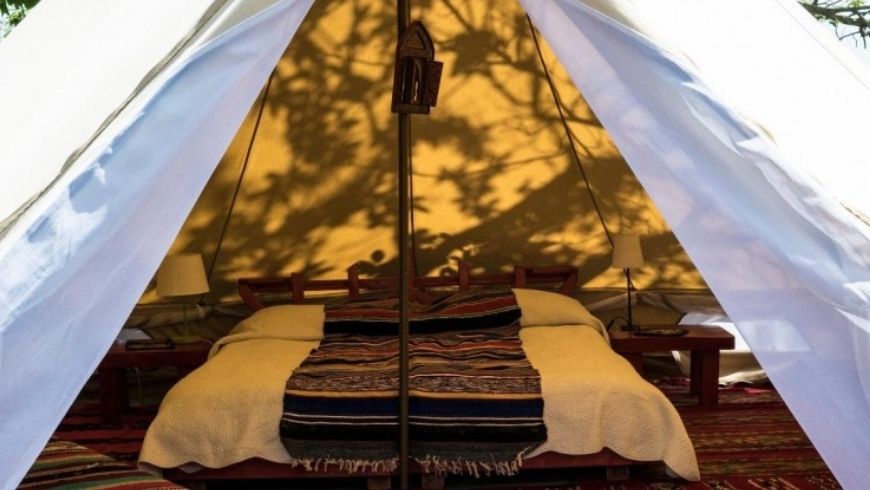 But why we talk about Eco-Glamping? Because the object of this experience will be also the respect for nature. Moreover, the tents are built in perfect harmony with the environment and are ideal for relaxing at the rhythm of nature.
Taking a trip into nature where you can combine comfort and ecology: a good choice can be Eco-glamping.
Podere di Maggio

Podere di Maggio
Are you already traveling with your mind? Ecobnb recommends the perfect place for you to experience the new idea of camping. So let's go on a trip to the Tuscany countryside because sleeping in a tent has never been more comfortable.
A Naturalistic Stay at the Feet of Mount Amiata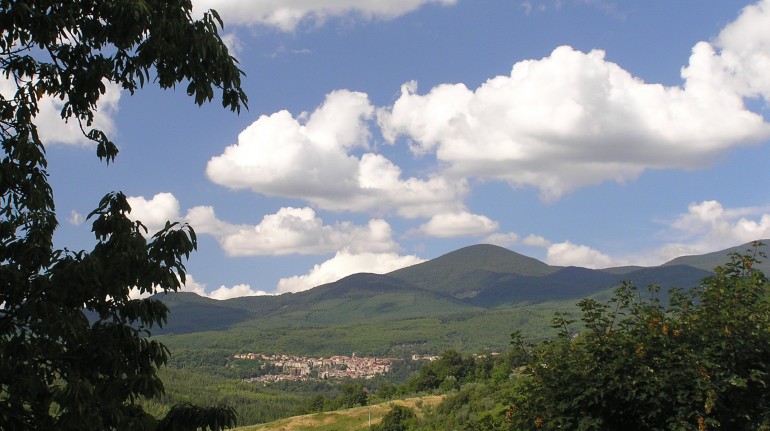 In the middle of the Tuscan Maremma, we found Podere di Maggio, an organic farm located in an area rich in naturalistic and cultural treasures. Then it is easily accessible and once you arrive you will immediately appreciate the tranquility offered by the surrounding nature. Also, you can choose from a variety of wonderful walks through the nature reserves of Monte Amiata, an ancient volcano that enriches the entire area with hot springs.
Yoga. Podere di Maggio
Medieval Village
Panoramic view of Podere di Maggio tent
You can also visit the nearby medieval villages, almost untouched, the Etruscan sites, and the magnificent tuff villages that surround the area. Besides, you will have the opportunity to use the swimming pool with spring water or to reach the beautiful beaches of the Tyrrhenian coast, just one hour from Podere di Maggio.
Podere di Maggio: between Nature and Relax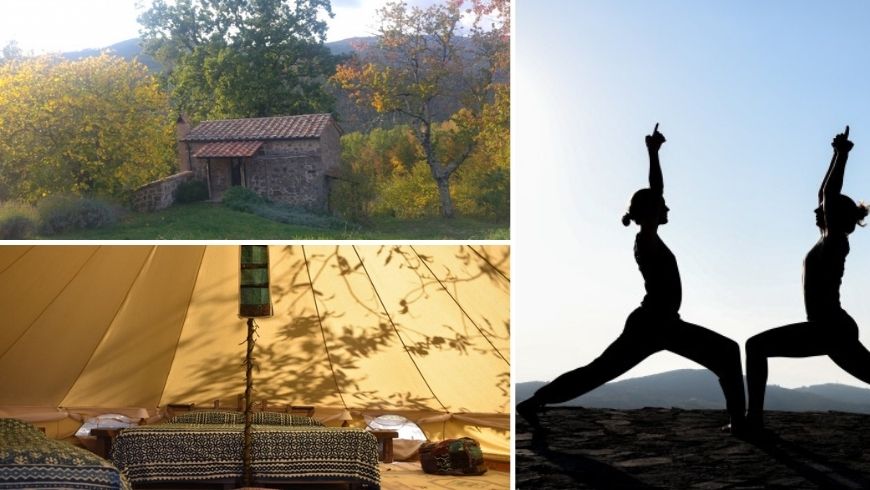 A corner of paradise that offers the possibility to stay in a tent or in eco-friendly apartments in the old rural buildings. The latter have been restored and are equipped with 1 or 2 bedrooms, a bathroom, a well-equipped kitchen, and a shaded terrace with panoramic views.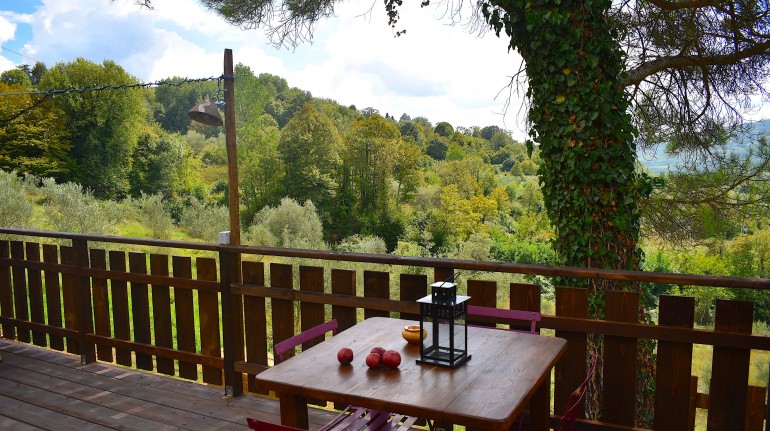 If you are curious to discover and try Eco-Glamping you can also stay in their tents, without sacrificing the comforts of a hotel room. In fact inside the tent, you will be welcomed by a comfortable environment with comfortable beds, carpets on the floor, electricity, and much more. So try to live a different vacation, trying to be more sustainable and responsible.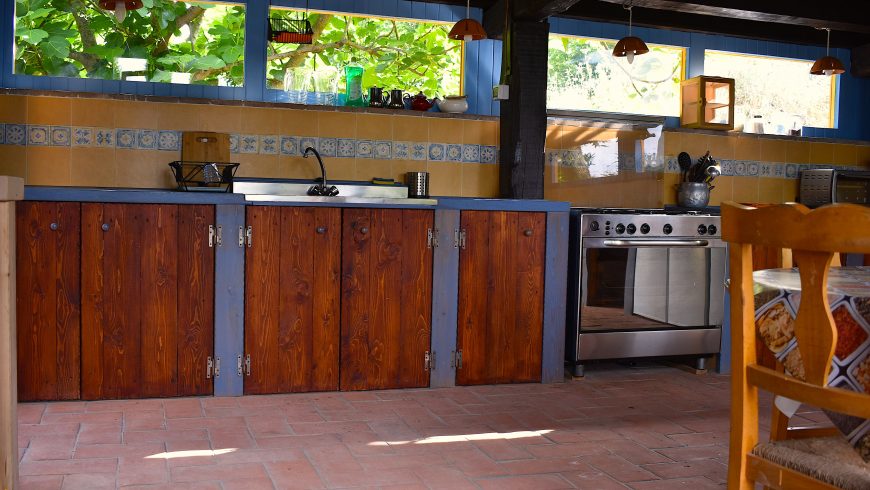 In this interview with Rita and Peter, the owners of Podere di Maggio, you can discover their story and learn in detail all the good practices of sustainability that they have adopted in their accommodation: from the synergistic garden, to clean energy from solar panels, from the separate collection of rubbish to the bio-pool …
What are you waiting for? Other travelers have already spent their unforgettable stay here, read some reviews…