A German reader, whom we thank, has written to us to organize her next trip to Italy, this is what she wrote:
Hello,
I will arrive by plane in Rome and I would like to get to the hot springs with close accommodation without a car. Can you help me?
Actually reaching the many natural hot springs near Rome without a car is not easy, but here's some useful information for all those who dream to dive into the warm waters of the natural pools in central Italy.
Natural hot springs of Viterbo
The closest hot springs to the Eternal City can be found in the province of Viterbo, which we have already discussed in this article. The city is easily accessible by train or bus. Once you get to the city center, the easiest baths to reach without a car are those of Bullicame, thanks to the bus stop located 200 meters from the source.
Just 5 minutes from the center of Viterbo, you can stay at the B&B La Gioia dei Sensi, immersed in the nature of Tuscia (from 55 €); or you can stay at the B&B Casale Hortensiae (from 60 €), along the route of Via Amerina that you can do on foot or by bike, just 37 minutes from Rome.
Saturnia's hot springs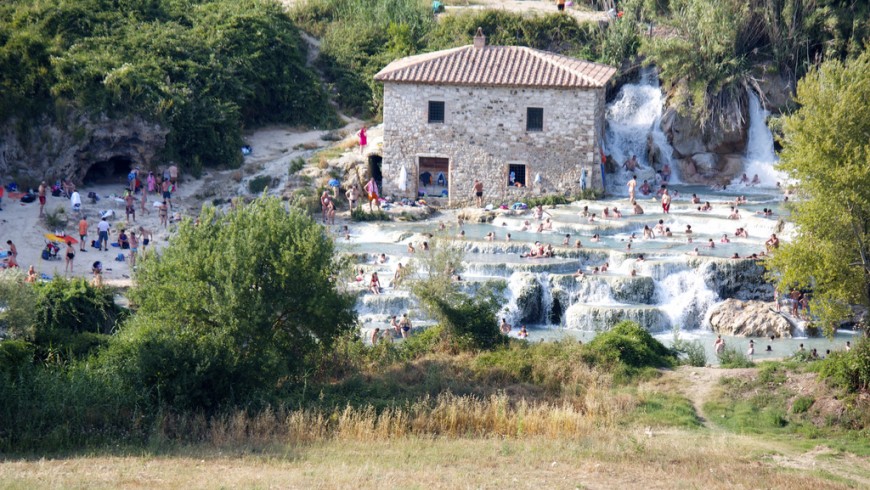 As an alternative to the thermal baths in Viterbo, you can also reach the famous natural hot springs of Saturnia, in Tuscany, although more distant.
You must first reach Manciano, before taking the train to Grosseto, Florence and Siena, and then the bus with Tiemme service (about 3 hours of travel). From Manciano, the baths are within easy reach, even with a beautiful cycle route of 11 km.
The possibilities to sleep in an eco-friendly way in Manciano and surroundings are many:
The natural hot springs of Petriolo
The last advice to our reader and all those interested is to reach Petriolo. At 20 minutes from this beautiful natural hot springs there's the lovely B&B Pietra Serena (from 55 €), from which it is easy to reach the thermal bath by bus or by shuttle service of the B&B itself.
Cover photo by Jarle Refsnes via Flickr
You might also like: