Piedmont is located in North of Italy and is characterized by amazing mountains and enormous green fields. Valle Maira looks out France, and hides little, old towns and lodges.
For those who visit this place, nothing is important anymore. The only things that matter here, are the pure air and the incredible nature that welcome tourists all over the world. Valle Maira with all its trekking hikes and breathtaking landscapes, is a worth discovering place for all the family.
What does Valle Maira hide between its mountains?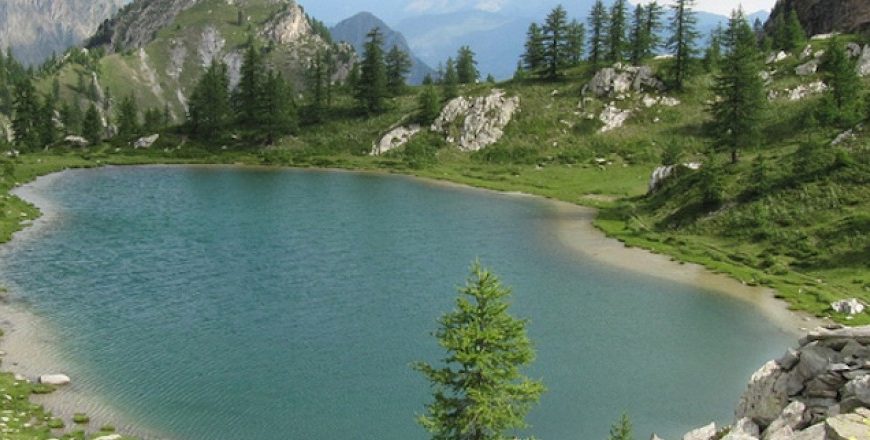 One of the treasures in Valle Maira is the Lago Nero near Cuneo. It is possible to visit it thanks to a ring hike, famous for its incredible landscapes.
If you want a new and unique experience you may try the snowshoeing hike. The path winds through larch woods and meadows covered with white snow that thrills with its magnificent scenery.
5 Eco-Friendly Huts and Eco-Lodges in Valle Maira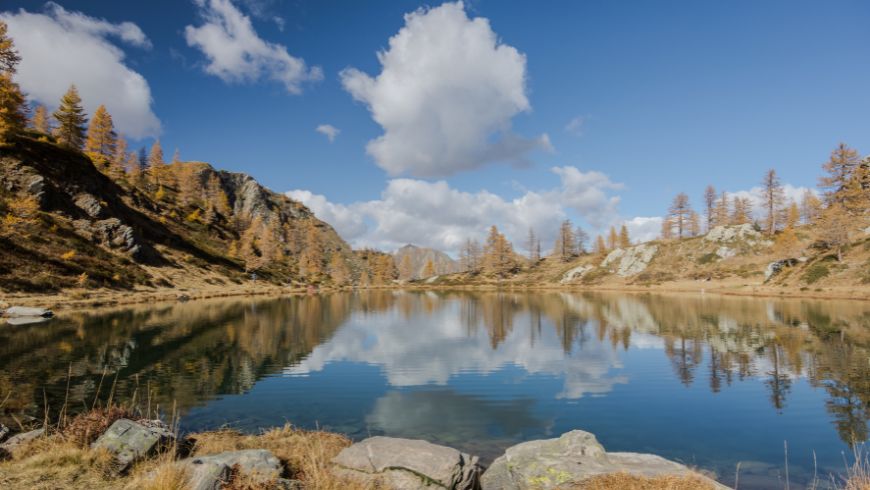 For the perfect slow travel you have to trust of mountains' professional. Here, we introduce four of the best lodges in Valle Maira.
1. A high-altitude history: Borgata Sagna Rotonda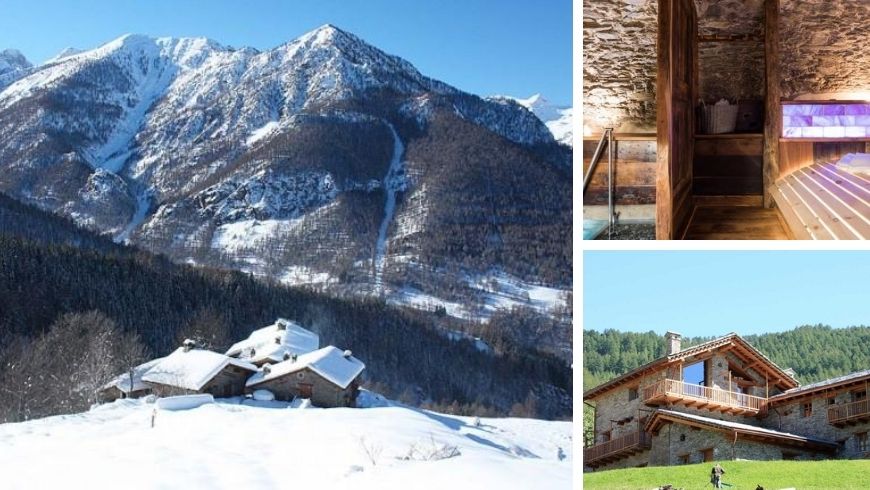 In the past, the little town of Sagna Rotonda was located at 1.644 meters. Now, at the same place, arises an eco-hotel, reconstructed according to sustainability's rules, but it keeps its historical beauty.
Why green: the photovoltaic system generates 100% pure electricity; the products used in restaurant are km 0; a smart light and led system.
Why we like it: an eco-sustainable choice in a natural landscape. The story of an ancient abandoned town reborn thanks to Giovanni and Teresina.
Starting from: 67€ per night in a chalet with kitchen.
2. Discover the most beautiful trails of the Maira Valley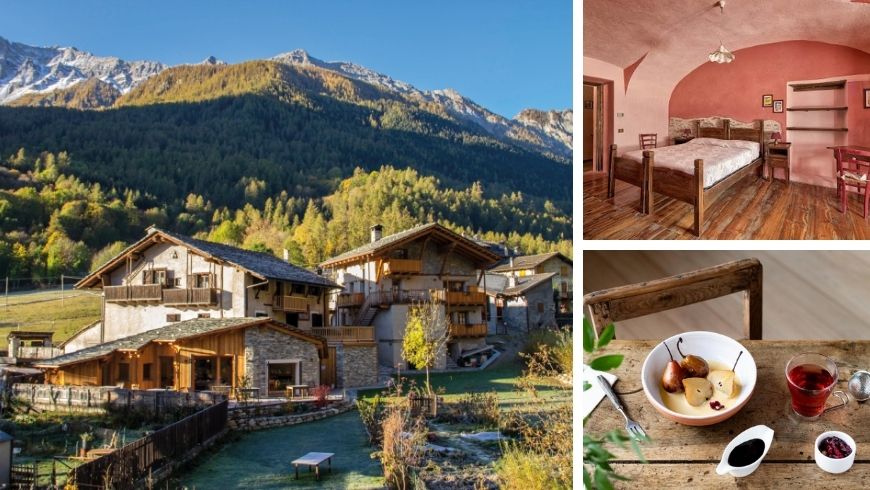 When men and mountains meet great things happen (William Blake). Manuela and Renato ofLocanda Mistral offer an experience of true immersion in the nature and history of this Occitan valley. Renato. who is an alpine guide and author of books on the Maira valley, will guide you to discover the most beautiful trails at high altitudes.
Why green: the products are organic and local; the furniture is with natural and traditional materials; a transfer service is available for those arriving by train.
Why we like it: for the warmth of family hospitality, for the refined and local cuisine.
Starting from: € 168 for two people in a traditional suite with breakfast and dinner included.
3. Pretend to forget the routine and just relax in Valle Maira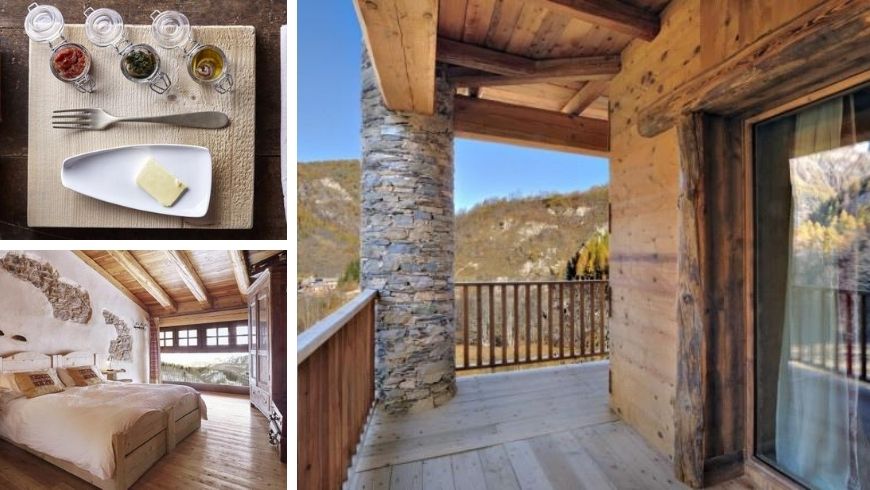 Try to find something better than a window overlooking mountains, to forget the delirious city life. Locanda Lou Pitavin welcomes all its guests with an eco-friendly charme.
Why green: the products used in restaurant are km 0; electricity from 100% renewables; shared rooms opportunity.
Why we like it: the authenticity of cuisine respects the mountains' magic.
Starting from: 56€ per night shared room/hut, breakfast included
4. The Sport view: La Locanda degli Elfi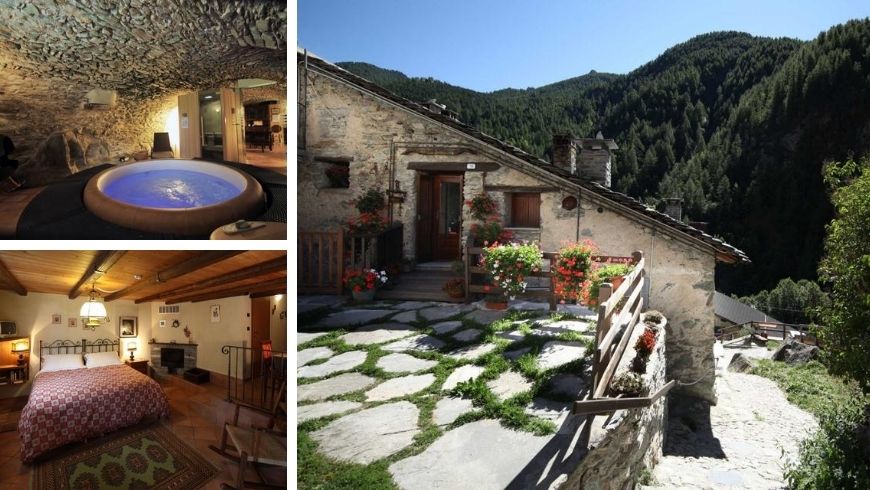 If you are not a relax person only, you can play some sports between these mountains. In Locanda degli Elfi you can have both sport and healthy food. In this place, are often organized some yoga events and bikes' excursions. If you are brave enough you can try ski slopes.
Why green: controlled heating system; organic and local cuisine.
Why we like it: the perfect place where have a glass of wine after a sport day.
Starting from: 95€ per night private room, breakfast included.
5. Wellness in the snow-capped mountains: Relais Alpino Brieis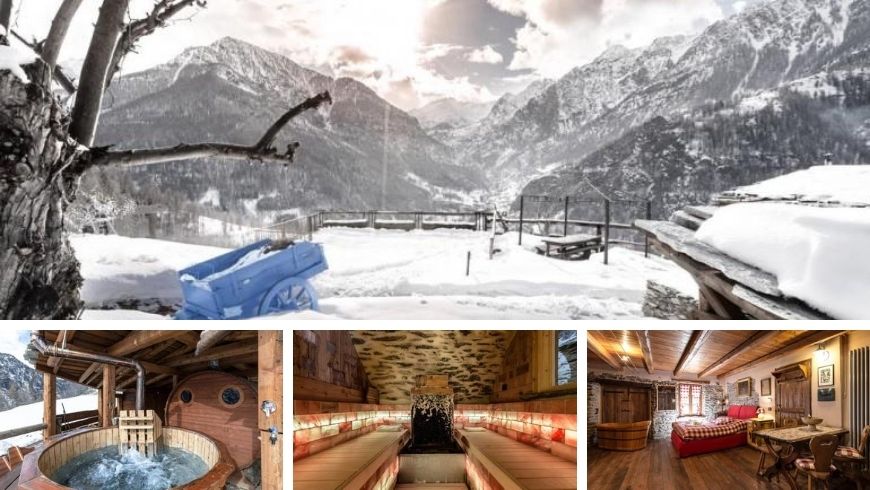 Relais Alpino Brieis is located in the unique Piedmontese mountains. It is an eco-friendly B&B, famous for its salt cave and open-air hydromassage overlooking the valley.
Why green: local or organic products only; furniture created by natural materials.
Why we like it: wellness with a breathtaking view has another flavor.
Starting from: 90€ per night private room with view, breakfast included.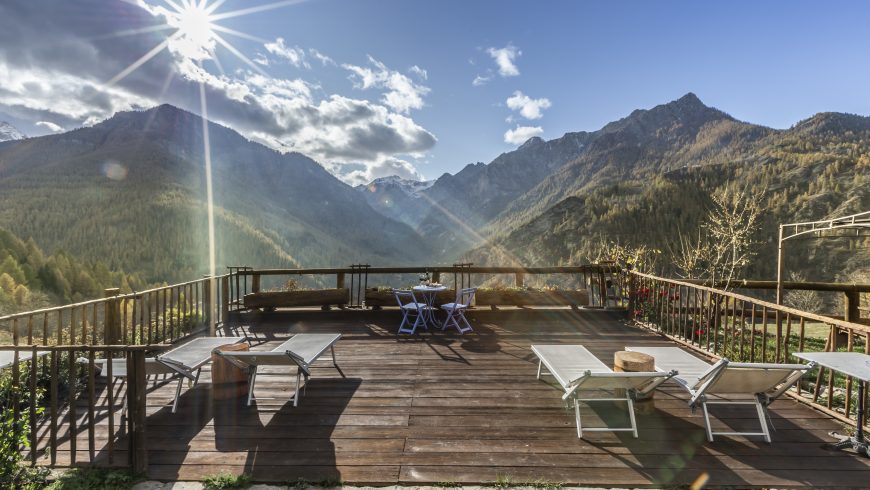 If you are a family, a couple, or you are alone, Valle Maira is an incredible place worth discovering.