Caves enclose an inestimable natural treasure. Through their stalactites, stalagmites and other karstic formations, caves are clear evidence of geologic era. And they are not just this: many caves hide secrets, surprises and even legends.
Caves are a fascinating attraction and Italy boasts an incredible number of them, from the north to the south. Magic surroundings, underground rivers, lakes, enormous caves, navigable caves and even theater caves! Unique experiences for every cave.
We have selected for you the 10 most suggestive caves in Italy. A hidden world where feeling new and extraordinary emotions. Come experience them with us!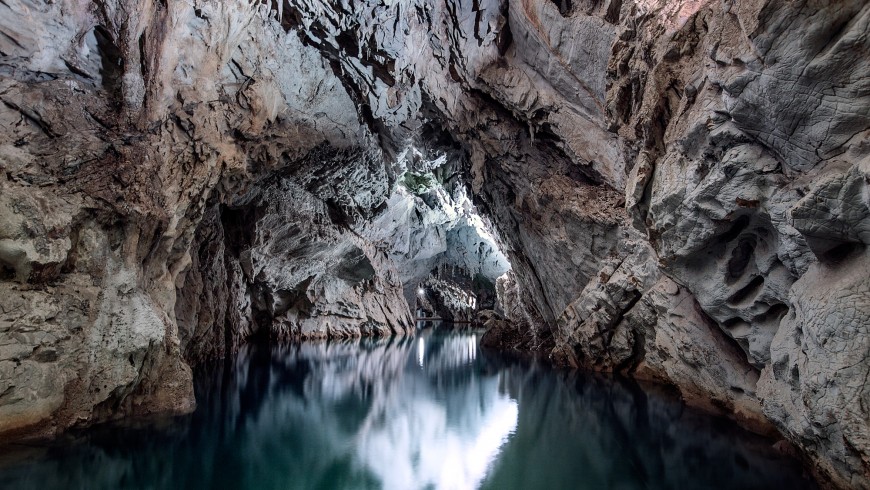 Grotte di Petrosa-Auletta: the unique navigable caves in Europe
Petrosa-Auletta Caves are 263 m above sea level and represent an extraordinary natural heritage in Europe. It is the unique speleological site where it is possible to navigate its underground waters.
Inside these wonderful caves, which are 45 minutes away from Salerno (in Campania), you can find stalactites and stalagmites that have developed so much that created even real columns. These caves are a great underground monument existing from over a million years and one of the safest places in the world.
Its magic atmosphere has also inspired the theater, making the visit to the cave become a real unique experience in Italy. Indeed, many theatrical performances are held in Petrosa Caves.
Buying a ticket, you can visit some parts of the cave on foot and others by boat. Click here if you want further information.
Our "green" advice: Casale il Sughero is just a hour away by car and it is surrounded by sea and mountains. This is the ideal place if you want to spend a silent and relaxing night! Casale il Sughero is renowned for its rural hospitality and the wonderful view over the sea. Moreover, the food is local and cultivated in the organic garden. The accommodation offers various itineraries of ecotourism to whoever willing to explore its surroundings.
Not to miss: in the nearby there are the Soil Museum and the Speleological and Archeological Museum, which show the proofs of the very ancient passage of men in the caves. Whoever loves the open air has so many opportunities of trips and itineraries that will be spoilt for choice, thanks to the really close Parco Nazionale Cilento, Vallo di Diano e Alburni, which is a UNESCO Worldwide Geopark.
Grotta Azzurra: a majestic picture with vivid blue colours
Grotta Azzurra is in the north-west side of Capri Island. It is well-knowned since 1826, when it was visited by the german artist August Kopisch, who immediately pointed it out. This discovery has certainly helped Capri to become even more famous.
You have to bend down a little to enter Grotta Azzurra by boat. This wonderful door overlooking the sea is indeed half submersed by water.
At the entrance of this magic door, the rays of the sun create an intense and wonderful shade of blue: it is from this characteristic that Grotta Azzurra takes its name.
You can visit Grotta Azzurra by paying a ticket. Click here for further information.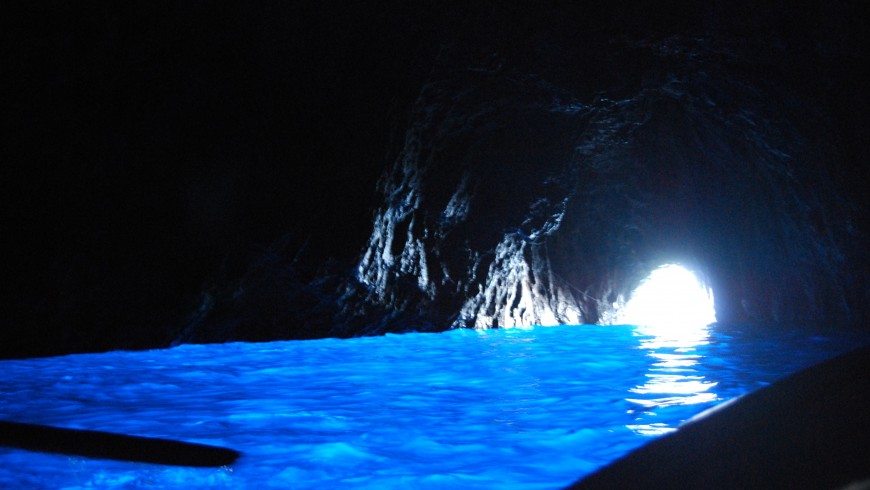 Our "green" advice: if you want to go on discovering the wonders of Campania after visiting Capri, Sorrento offers you a great place to overnight. At Casa Gaia your holiday will be in good hands. Surrounded by an organic garden and located between Sorrento hills, it is the perfect starting point to explore everything around you: Positano, Ercolano, Pompei, Ravello and Amalfi. What are you waiting for?
Not to miss: if you love having long (but not too much) walks, we suggest you should visit Scala della Fenice. With 921 steps, this cliff-sided street links Marina Grande to Anacapri. Along this way you will also see many chapels: that of St. Michele is the most important one.
Grotta Zinzulusa: an extraordinary beauty of Salento
Grotta Zinzulusa is one of the most famous and important caves dug in the water. It is in the Salento coastline (Apulia) between Castro and Santa Cesarea Terme. Besides sea water, inside the cave there are also springs of fresh water. The name of this majestic cave on the Ionian Sea comes from the dialectal word "zinzuli", which means shreds. Indeed, the stalactites hung from the ceiling look like hanging shreds.
Grotta Zinzulusa shields some incredible natural creations. On the entrance you can find the long so-called passageway of the Wonders, which ends in a wonderful fresh water lake: Trabocchetto Lake. Moving farther you will see "Il Duomo", a wide cavern of smooth walls that are up to 25 meters high. 160 meters from the entrance you can lastly find a small lagoon, the Cocito.
Grotta Zinzulusa is a natural heritage that you can visit only by paying the entrance. Click here to know more.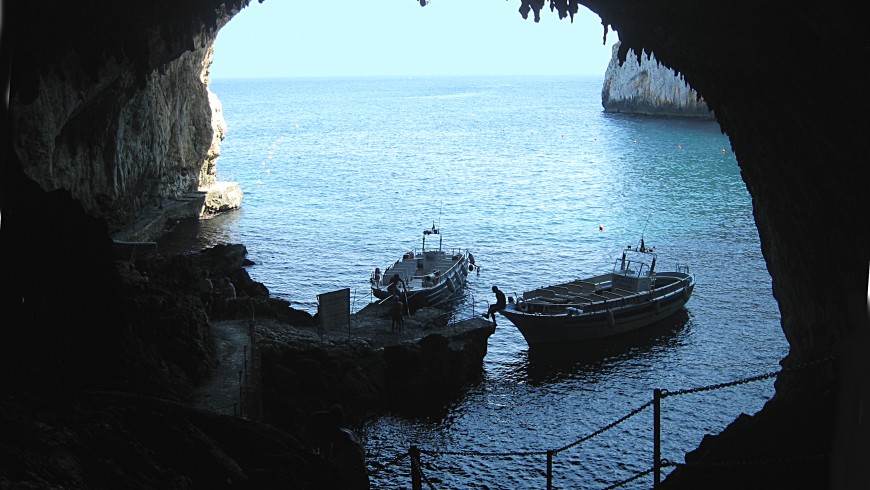 Our "green" advice: if you want to overnight in the nearby, Masseria Uccio will be perfect for you! Deep in one of the most unspoilt natural parks of Salento and Apulia, this farm is just 3 km away from the Adriatic Sea. Entirely built using local stones and tuffs, Masseria Uccio is an evidence of the ancient agricultural people of Apulia.
Not to miss: we suggest you should totally have a walk along the bauxite lakes, which are in a place of irresistible charm and close to the cave. A magic area, dominated by the contrast of colors. The path is easily accessible by bike, too!
Grotte del Bue Marino: a magic in the Gulf of Orosei
Bue Marino Caves are on the west coast of Sardinia. They take their name from the monk seal, which is also well-knowned by the name of "Bue Marino". This is the ideal place for whoever in love with nature, being between sea and mountains.
The caves inside it are 15 km long, but not all of them are accessible. In the enormous cavern there is not just sea water, but also springs of fresh water coming from underground rivers and separated by sandy beaches.
The way between stalactites and stalagmites offer an extraordinary chromatic view, thanks to the rays of sun that slowly come inside the cave. This is another reason why Grotte del Bue Marino are a pearl you cannot absolutely miss.
You can arrive to the cave only by motor vessel and you have to pay for the visit. Click here for further information.
Our "green" advice: we suggest you should overnight at Agripaules farmhouse, which is really close to the Gulf of Orosei. It is a place of peace and relaxation inside a wonderful natural area. The accommodation offers agricamping and many trekking routes. In the shade of olive groves and mastic trees, Agripaules stands up for its local and organic products.
Not to miss: while visiting the Gulf of Orosei, do not miss the chance to know the magic world of Dorgali: history, archeology, manufacturing arts and a 225 km2 wide natural heritage. Moreover, just 3 km away from Bue Marino Caves there is the wonderful Cala Luna.
Grotta Gigante: the biggest natural hall of the world
Grotta Gigante is a breath-taking view. Inside it there is the biggest natural hall of the world: 114 meters high, 280 meters long and 76.3 meters wide. This is a really big formation that has been having a place between the Guinness World Records since 1995. It is not casualty the fact that is popular under the name of "Gigante".
Just 10 km away from Trieste, you can easily reach it even by bus. You can enter the cave only by booking a guided tour (here you can find further information) and it offers an incredible sight. Its stalagmites are famous for looking like piles of dishes, due to the sensational height from which the drops fall.
Grotta Gigante has more the 10 million years and is also a place of important scientific researches. Inside it are held many educational and sport activities. Indeed, you can climb on its wonderful walls made out of calcareous stones in total safety.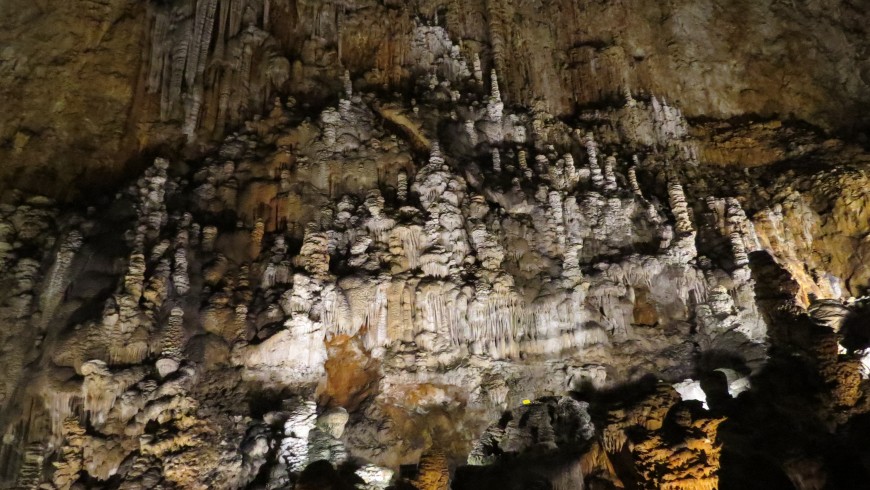 Our "green" advice: if you are looking for the perfect place to start your adventure in Friuli Venezia Giulia, we recommend you to find accommodation at B&B Alla Casetta. Away from smog and only 15 minutes away from the beautiful Trieste promenade, this B&B offers organic food and organizes a lot of itineraries of ecotourism. It is ideal for enogastronomic tourism, too.
Not to miss: Before entering the cave, a stop at the Speleological Scientific Museum about Grotta Gigante is a must. It is an important archeological and biological evidence of the caves of the territory. A few km away from the cave you can find a pearl of Trieste: Miramare Castle.
Grotte di Frasassi: one of the most impressive caves in Italy
Grotte di Frasassi are a natural wonder and they are found in the Regional Natural Park of Gola della Rossa and Frasassi, near Fabriano and one hour away from Ancona (Marche). This caves have a lot of natural sculptures, which developed through calcareous layers over 190 million years!
Some parts of this caves reach impressive dimensions. The cavern named "Abisso Ancona", for example, is so big that could enclose the Duomo di Milano. Frasassi Caves are also a place of incredible biodiversity. You can find more than 60 different animal species inside them, such as bats.
You have to pay if you want to visit these caves: click here for further information.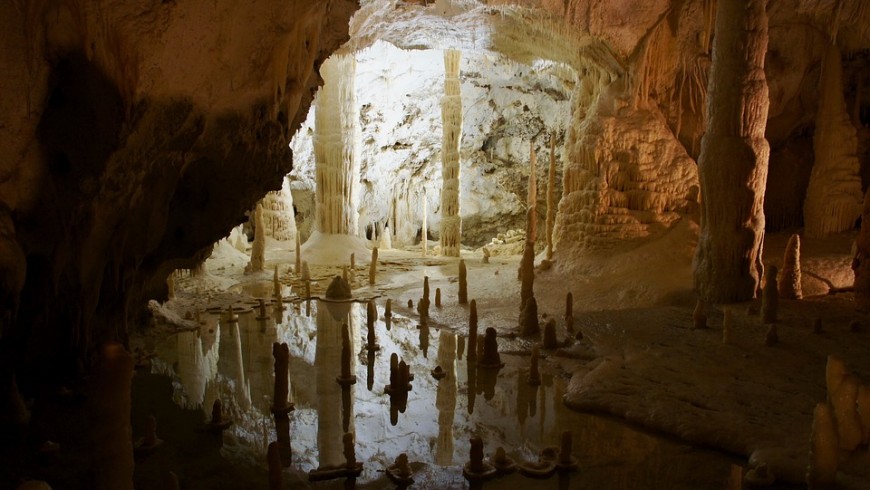 Our "green" advice: if you are looking for eco-friendly accommodation, we suggest Acanto Country House. A magic place that was built in order to be eco-friendly. Close to the sea, it offers organic recipes and a wellness center. An old farmhouse that will surprise you!
Not to miss: Marche is a natural attraction full of sites to visit, a real must for everyone fond of nature and breath-taking landscapes. Walking between sea and mountains in Conero Park is a unique experience. The park is crossed by cliff-sided paths and lavender fields. In other words: incredible views.
Grotta Su Marmuri: one of the natural pearls of Sardinia
A few km away from the picturesque village of Ulassai, in Ogliastra, Grotta Su Marmuri is a precious natural gift. The fascinating insides make it one of the most beautiful and visited places in Sardinia.
This cave, 850 m long, is one of the most impressive caves in Italy. The stalactites and stalagmites create wonderful natural works of art. But the wonders to discover are not ended: like every proper cave, you will find two special fresh-water lakes here, too.
The immense Grotta Su Marmuri (marble in Sardinian) is accessible from April to October. The fact that it hosts the most numerous community of bats in Italy makes it also a place of great scientific interest.
You can reach the cave on foot and you have to pay to enter. Click here for further information.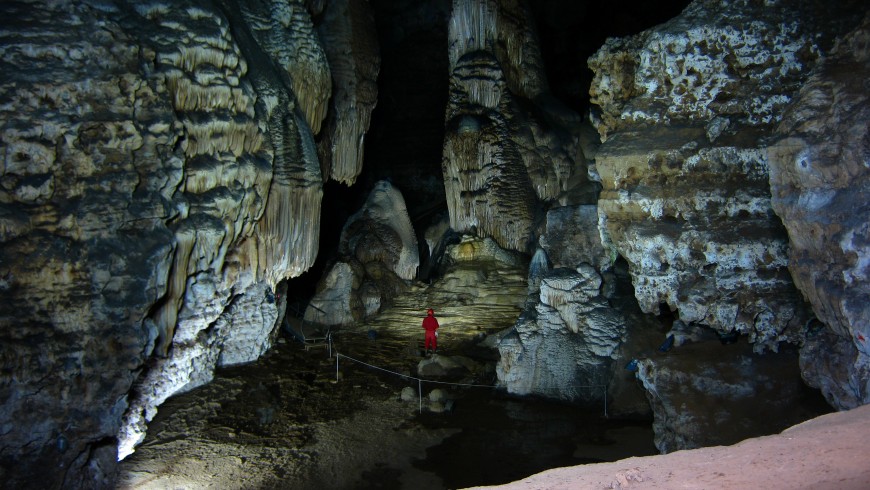 Our "green" advice: Hotel Domus de Janas is the place we suggest for an overnight here. It is just some km away from the crystal-clear water of Ogliastra beaches. Hotel Domus de Janas is an eco-friendly resort surrounded by a still wild nature.
Not to miss: Ulassai has become a point of interest for whoever fond of outdoor sports in Sardinia. There are many itineraries where you can start your adventure. The territory boasts also some of the most exciting climbs in Sardinia: a place suggested by anyone in love with nature.
Grotta di Sataria: amazing cave with thermal and healing water
Grotta di Sataria is on Pantelleria Island (Sicily) and it is well-known under the name of healing cave. Inside it there are two pools with thermal water, whose temperature reaches the 40°C. The thermal water of Sataria has been famous for its incredible curative properties since ancient times. Most of all for healing arthrosis and rheumatic pain.
Sataria Cave is really suggestive and its historic roots come from mythes. This is indeed the cave believed to be the one where Ulysses met Goddess Calypso!
If you want to get to this legendary place, which is on the south-west side of the island, between Cimillia and Punta Tre Pietre, you have to go through a stair leading to the bay. The entrance is free of charge.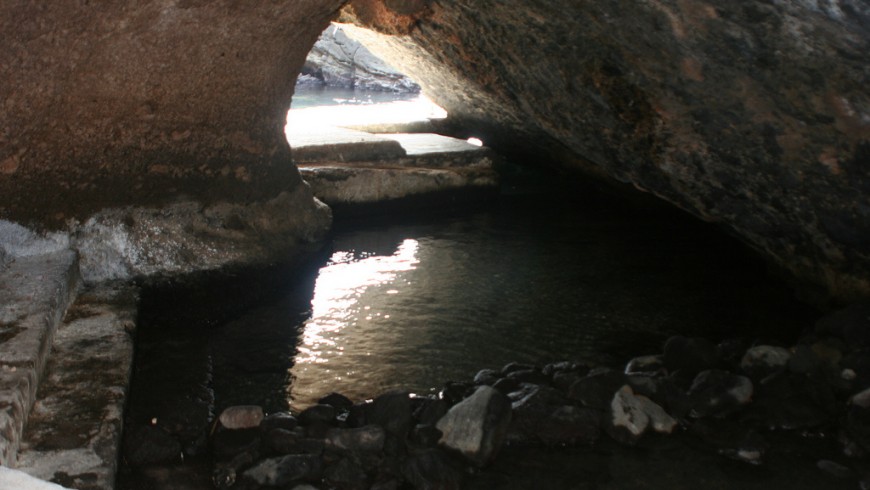 Our "green" advice: choose Tenuta Borgia on Pantelleria Island. This magnificent accommodation is on the side of the coast rich in caves, lava sculptures and charming emerald inlets. The scent of the unspoilt nature and the spectacular sunsets will leave you speechless!
Not to miss: for its unique flora and fauna, we suggest you should see also another beauty of Pantelleria: Lago Specchio di Venere, which is famous for its thermal mud. There are also pools with springs of over 50°C water. Cover your body with this thermal mud and you will live an authentic wellness experience. The lake is perfect also for birdwatching: you can see a lot of different bird species, such as the flamingoes of Pantelleria.
Grotta del Turco: something magic along Lazio coastline
One of the most suggestive places of Gaeta (south Lazio) is Grotta del Turco. Visitors are attracted by the magic atmosphere given by the 3 fissures of the promontory.
In order to get to the cave you have just to go down a few steps on the left side of SS. Trinità di Gaeta shrine, where a small terrace overlooks the fissure in the rocks with its wonderful colors. The entrance to the cave has a free payment.
After an earthquake in 1434, a big rock got stuck in one of the fissures of the mountain. Over this one a chapel was built: from here you can admire the sea and the more than 150 m high cliff!
Grotta del Turco takes its name from the ancient popular believes. The legend says that one of the walls of the cave shows the print of the hand of an ancient Turkish sailor man. Fascinating, isn't it?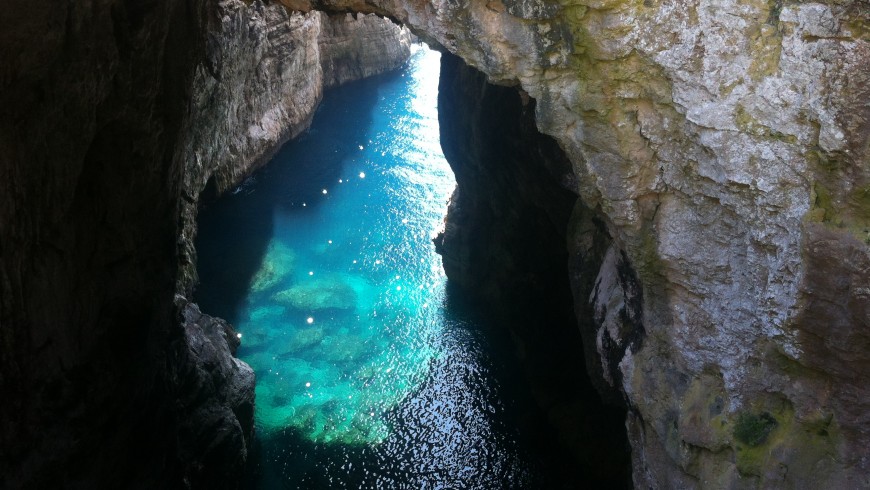 Our "green" advice: if you are looking for a peaceful and isolated place for your accommodation here, Agriturismo La Starza will be perfect. Not so far away from the natural beauties of Gaeta, La Starza is deep in centuries-old forests of oaks and Turkey ones. The accommodation is certified to be Bio Ecological.
Not to miss: once at Grotta del Turco, we suggest you should visit Montagna Spaccata shrine. Just a stone's throw away from the cave, this Shrine was built on a rock and offers a breath-taking view of the sea. This architectonic work of art comes from the XI century.
Grotta Mangiapane: one of the most important caves in Trapani
Grotta Mangiapane is the biggest cave of a complex of 9 caves, which are all at short distance. It is in the municipality of Custonaci, Trapani (Sicily). Inside the cave there are some abandoned houses from the 1819: just like a village!
The high quantity of caves in this area is not a surprise. The area is rich in marble, which makes it a great place to extract marbles. The second in Italy.
A place surprisingly wonderful and characteristic. A chance to enjoy the amazing and colorful view of the sea.
To visit the cave, which is 18 km away from Trapani, you are expected to pay a fee of 3 euros. Here you can have further information.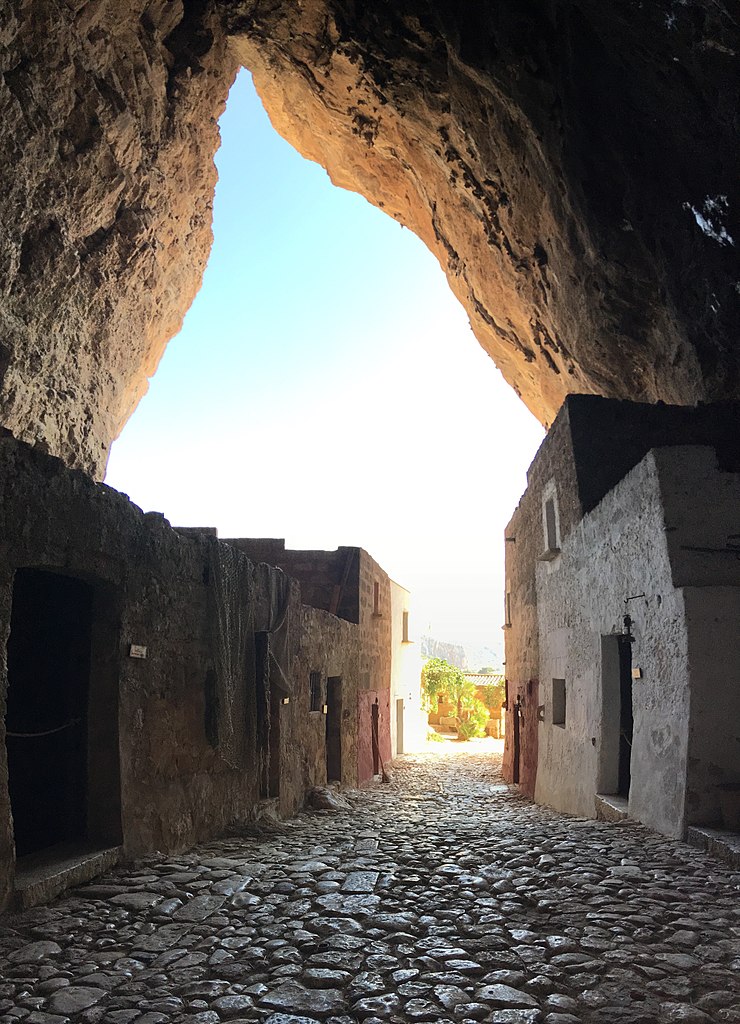 Our "green" advice: Some km away from Custonaci there is a residence with a wonderful view of the seaside. Its name is Baialuce and it offers beautiful rooms in the green surroundings of Riserva dello Zingaro. The wonderful view on the Gulf of Castellamare will give you unique emotions.
Not to miss: this side of Sicily is rich in fabulous natural attractions. Real natural paradises such as Riserva del Monte Cofano, deep in the green nature. Between olive groves and centuries-old carob trees, you will discover a wonderful seaside! 20 minutes away you will also get to the amazing crystal-clear water of San Vito lo Capo beach.
Cover Image: Grotta Azzurra, Capri, via pxhere