Immerse yourself into the abundance of unspoilt nature, to be soothed and healed, and to have your senses put in order. Natural parks in Istria are unique due to the environment in which they are located.
Istria is taking great efforts in becoming the most sustainable county in Croatia. It may come as no surprise that there are more than 67 ecological network Natura 2000 areas, covering a total of 174,575.18 ha. Istrian wetland habitat is home to more than half of Croatian ornitofauna.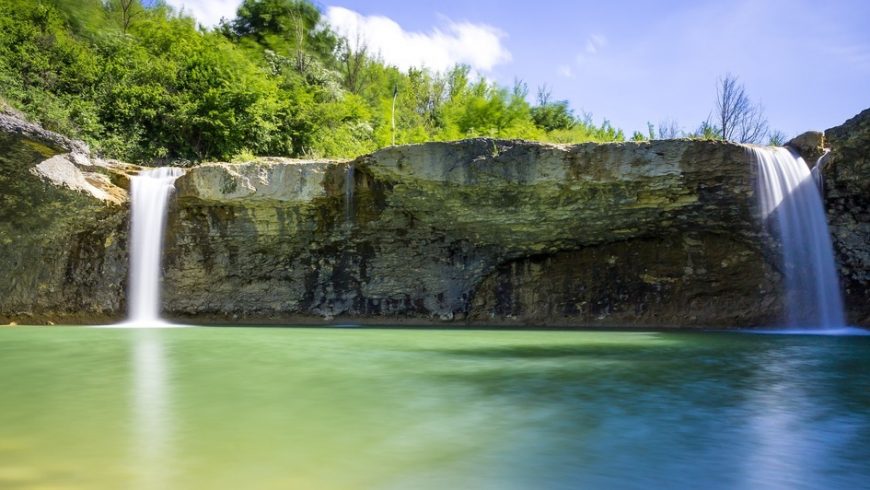 Numerous natural protected areas here are abundant with incredible plant and tree species in all seasons. Explore them all and you will be rewarded with their majestic beauty.
1. Brijuni National Park – 14 green jewels immersed in the blue sea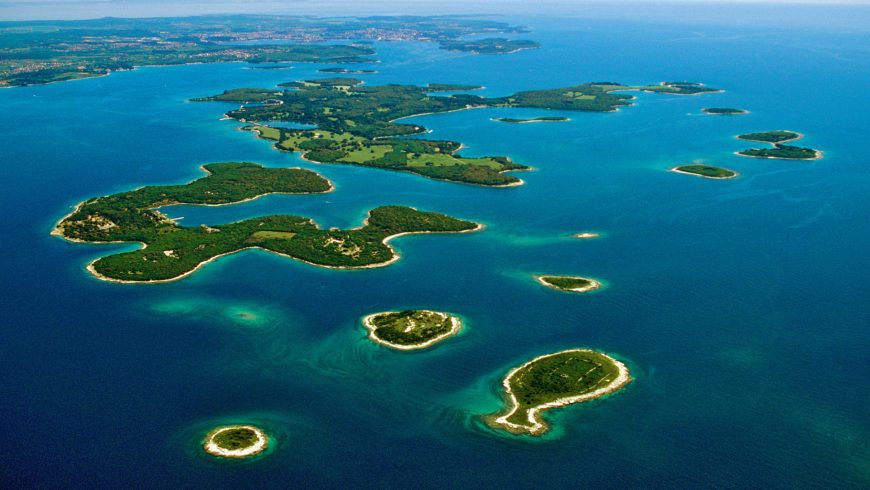 There is no other place in the world with so much holm oak and bay laurel in one single place or so much shade under the crowns of trees up to twenty meters wide. Brijuni is the most popular among the Natural Parks in Istria, truly a world-class attraction and a wonderful image of nature cultivated by man in the splendor of green vegetation, remarkably cultivated landscape, and scent of the sea.
Source: Brijuni National Park
Source: Brijuni National Park
Here you can find about 100 sites and structures with archeological, cultural, and historical value. Brijuni has always been and remain associated with the joy of leisure and pleasure. 
Top eco things to do in Brijuni National Park?
Sungazing over Kastrum, cycling through the gentle wilderness, a guided tour on tourist train or on foot, soulful sailing, dive to the educational underwater trail, or take a ride in Tito's Cadillac! You can also apply for volunteering programs – as the guardian of plant biodiversity or assistant educator at Brijuni bat nights.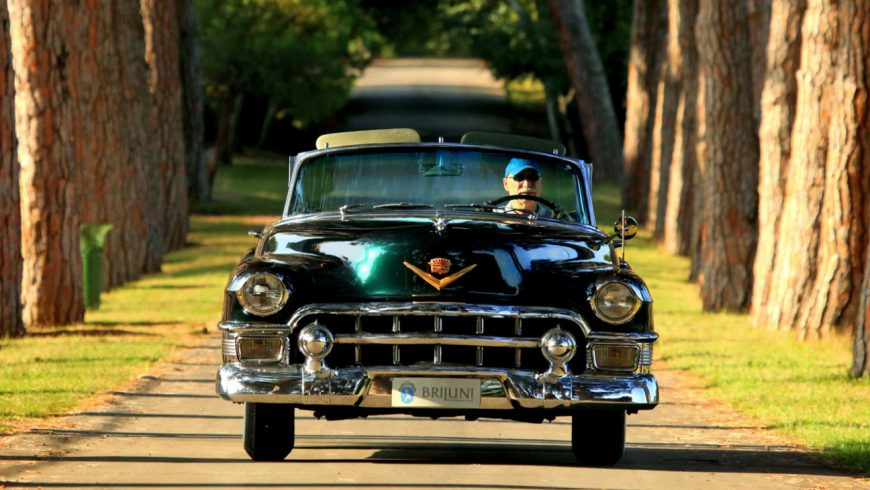 2. Cape Kamenjak – the southernmost of the Natural Parks in Istria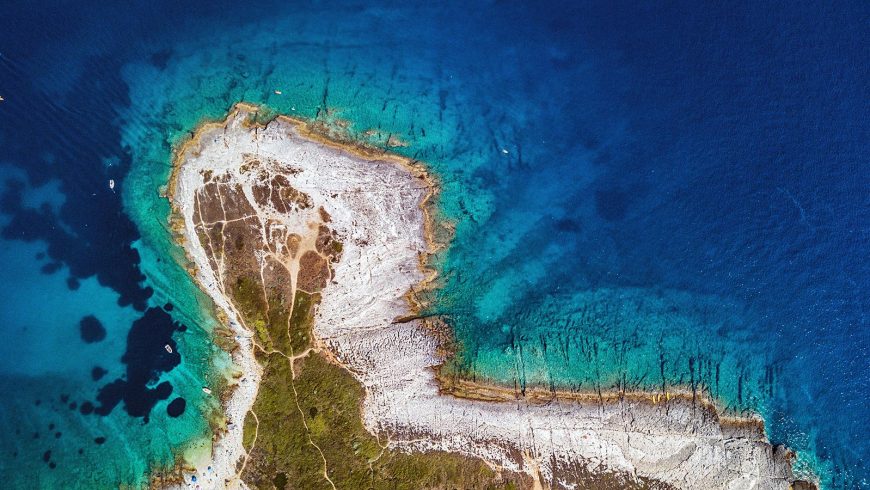 The Kamenjak Peninsula – a small nature reserve with large plant diversity. It is home to many indigenous plant species, especially orchids thanks to the fact that there are no campgrounds, hotels, or buildings and the flora and fauna can thus be undisturbed.
Top eco things to do in Kamenjak Peninsula?
the coast is incredibly rugged and offers many places to swim and cliff jumping. The entire Kamenjak area is covered with trails for running, trekking, and cycling. Full Moon Bike Ride is a gorgeous event not to be missed during the summer months.
3. Učka Nature park – incredible biodiversity at high altitude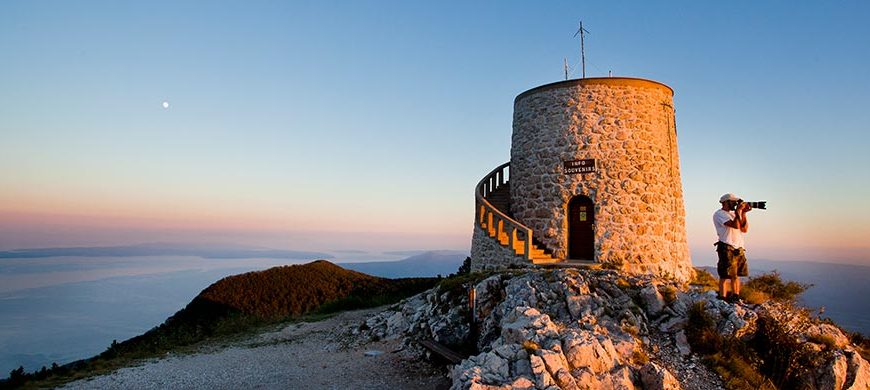 Učka is the highest Istrian mountain. For centuries, people survived here by tending to domestic animals, cultivating land, and using the forest. Dry stone walls, shepherd's huts, and field shelters are silent witnesses of harmonious coexistence between man and nature, but biodiversity of the mountain remained fully preserved.
Top eco things to do in Učka Nature park?
Walking, hiking, cycling, rock & free climbing, paragliding, and hang-gliding.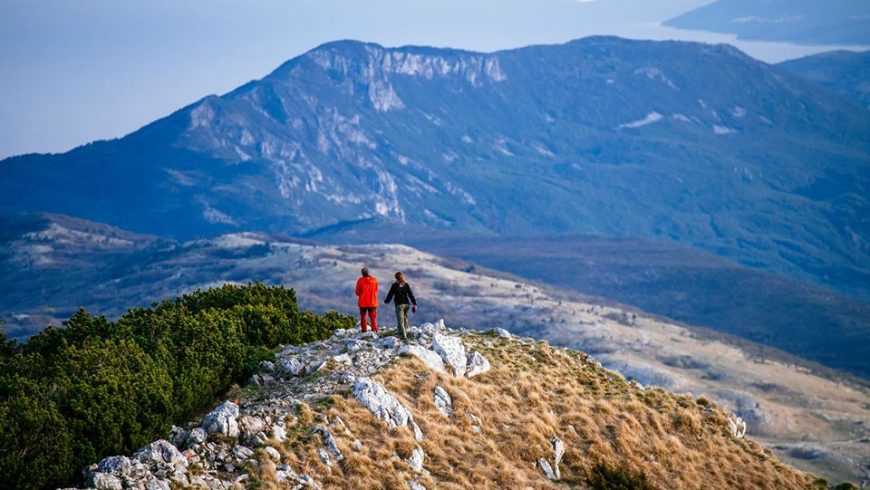 4. Lim Fjord – unique fusion of the blue sea and enchanting greenery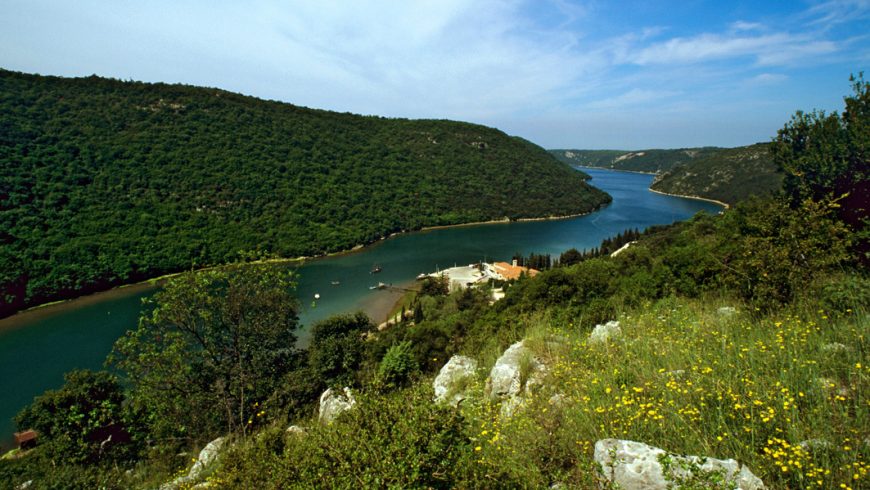 Lim is a flooded canyon-shaped karst valley and one of Istria's most stunning features.  This protected landscape cuts into the west coast of Istria between Vrsar and Rovinj.  The walls of the drowned valley become steeper as the water curves inland, reaching a height of 100m.
Due to the combination of fresh and seawater, the waters of the canal are rich in fish and ideal for shell growing. Lim fjord is a rare landscape with valuable vegetation diversity and several historical monuments can be found in the forest that embraces the channel.
Top eco things to do at the Lim fjord?
Enjoy the boat excursion, indulge in hiking, cycling, sea kayaking, SUP, free climbing, visit Romuald cave, or simply stroll around the forest paths. Lim Bay is also great for scientific research.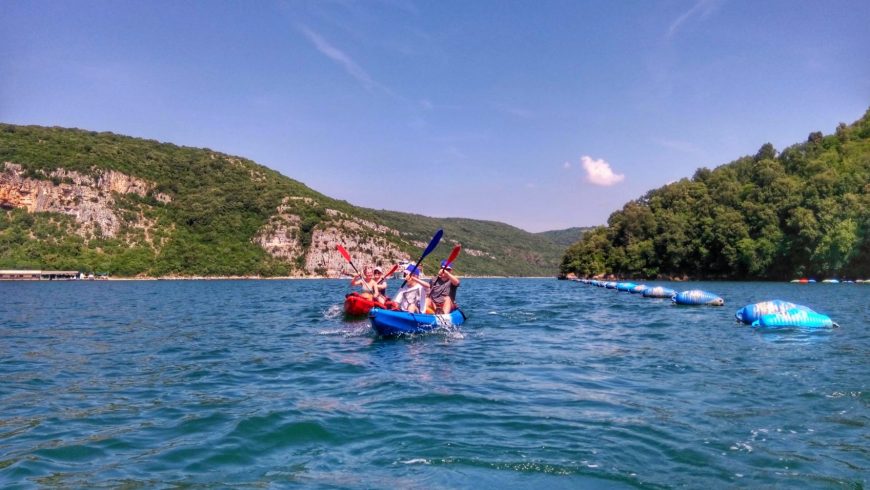 5. Motovun forest – a mystical land of a giant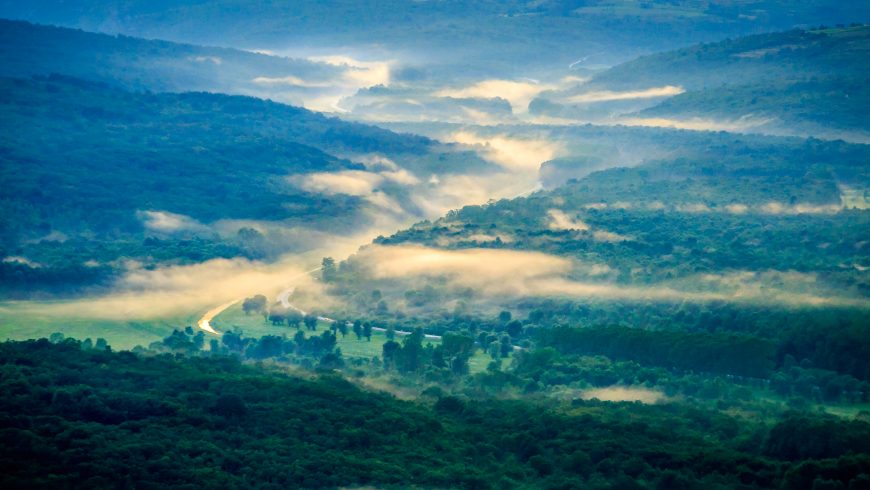 Motovun Forest is an extraordinary cultural and historical monument. This area represents the last preserved lowland Mediterranean autochthonous forest of common oak, narrow-leafed ash, and elm.
The legend says that Veli Jože – an Istrian giant once lived in this forest and used the oak trees as brooms to sweep away the enemy in a battle against knights. The Austro-Hungarian navy used these trees for building its ships and there are only three such forests preserved on the Mediterranean.
Top eco things to do in the forest of Motovun?
Forest bathing and white truffle hunting.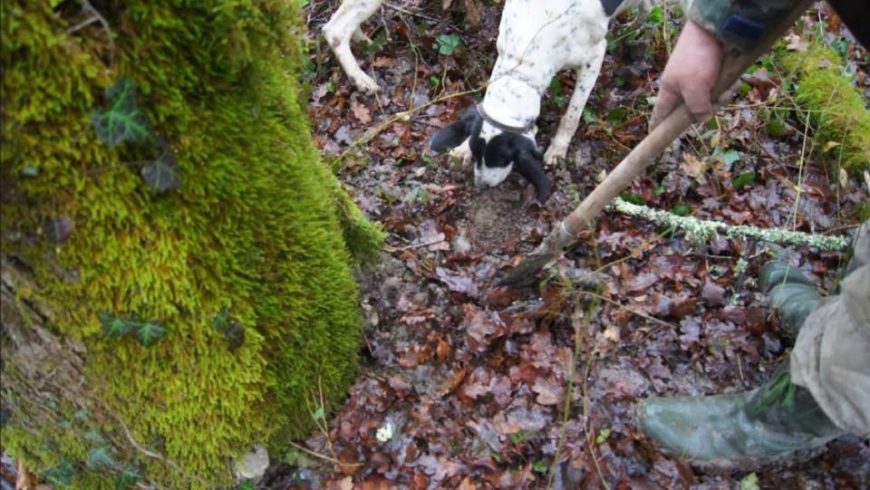 6. Pazin Abyss -a breathtaking masterpiece of nature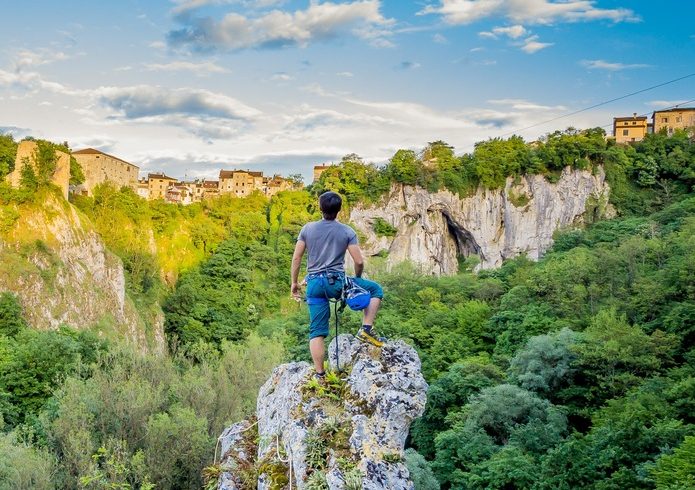 The Pazin Abyss is legally protected as a significant landscape. The protected area comprises the canyon and the abyss of the Pazinčica, about 500 meters long and about 100 meters deep, and the Pazin Cave. Pazin Cave, which is actually the gorge of the river Pazinčica, the largest subterranean river in Istria. The cave is located in central Istria, and the well-known Pazin Castle was built above it.
Top adrenaline eco things to do at the Pazin Abyss?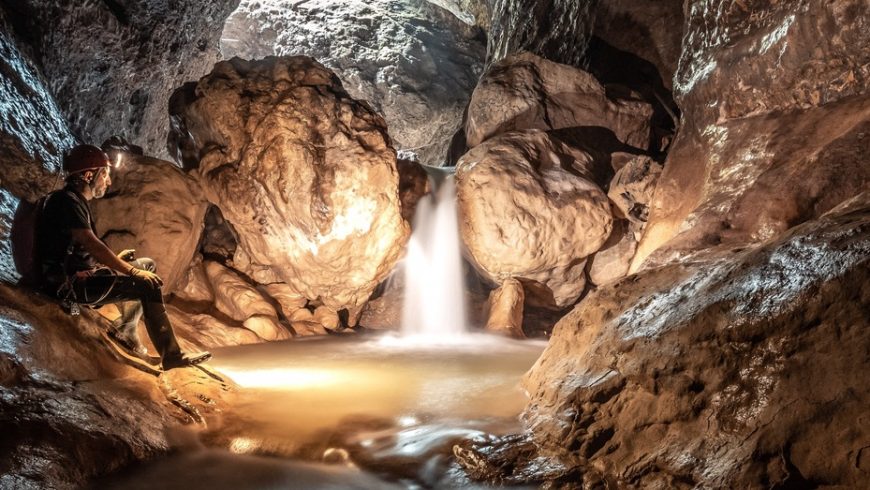 Enter the cave accompanied by experienced speleologists and explore the underground world. Visits are nature and eco-friendly and offer a unique experience of the subterranean world, a hundred meters underground, beneath medieval castle walls.
Unaccompanied children and individuals with impaired motor skills, unfortunately, can not visit the cave due to safety reasons.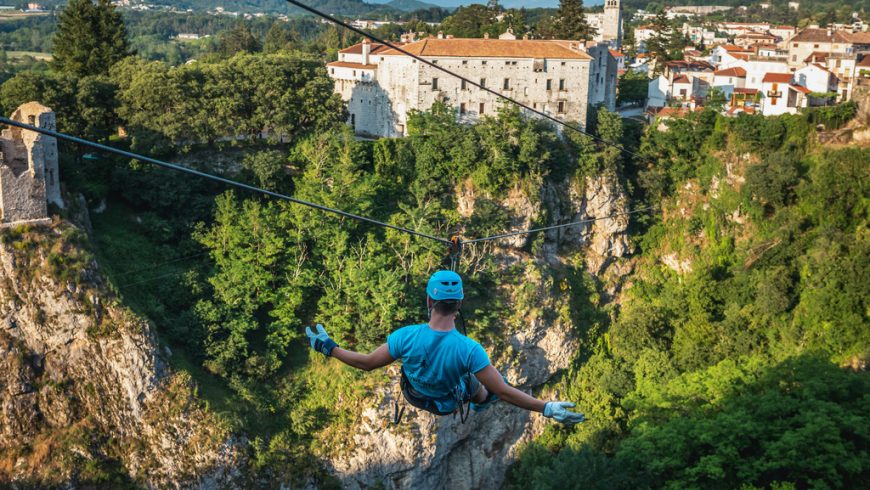 The adventure consists of two steel cables above 100 m ground level. The first steel cable is 220 m long, and it can reach a speed of 40 km/h and the maximum height of 100 m, just above the sinkhole. The second line (280 m) can reach the speed of 50 km/h, and it provides enough time to enjoy the unusual view on a grandiose abyss and a medieval castle on its cliffs.
7. Feštini Kingdom Cave – a magnificent underground world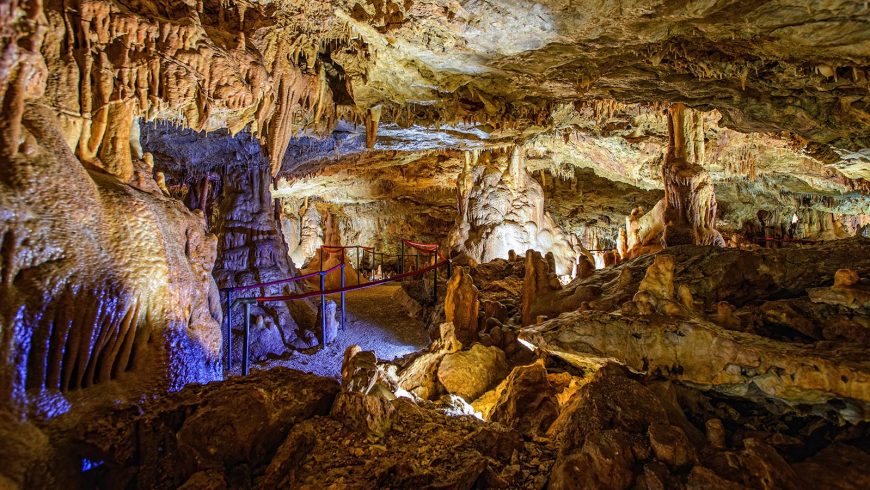 In the heart of Istria, near the village Feštini, close to Žminj, the cave Kingdom of Feštini will amaze you for its natural beauties. When entering the cave, you will hear the harmonious sound of drops that have been creating magnificent underground jewelry reflected in the reservoir lakes below.
The cave is filled with gorgeous drip water including easily recognizable shapes of the Magician's Hat, the Tower of Babel, and the enormous Bat's Wings.
8. Datule Barbariga – best place with dinosaur fossils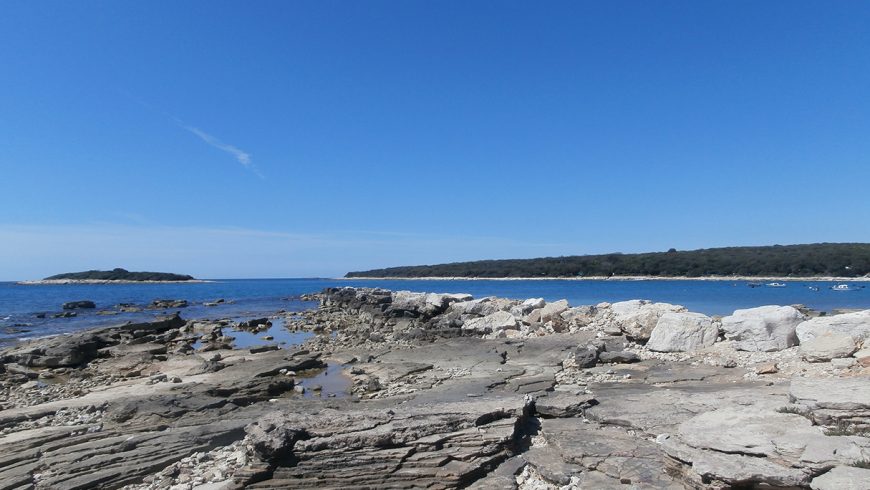 Special paleontological reserve Datule-Barbariga is the most important site with dinosaur remains. Even though there were several dinosaur footprints found in the Istrian Peninsula, these are the only remains in the whole Mediterranean area. The remains of the bones from a time period before 130 – 120 million years suggest that they belonged to a brachiosaur, one of the largest dinosaurs that populated the Earth.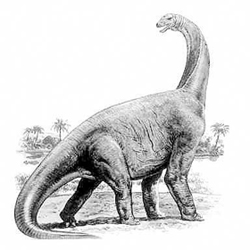 Top eco things to do at the paleontological reserve Datule-Barbariga?
Hiking, swimming, sungazing, meditating, taking selfies, indulging in scientific research, and education.
9. Digital detox in Kontija forest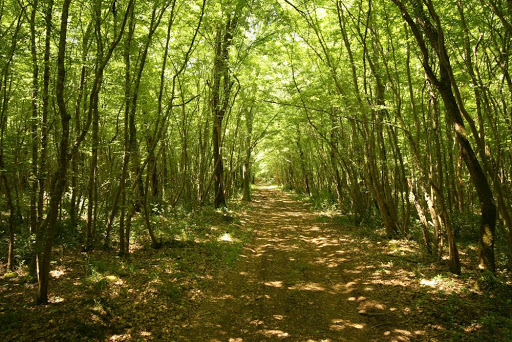 One of the special features of the significant Kontija forest area is an almost 150-year-old oriental hornbeam forest.  The forest is full of maintained Macadam paths and here you can also observe the remains of a prehistoric settlement from the Bronze Age, built with the drywall technique.
Top eco things to do in Kontija forest?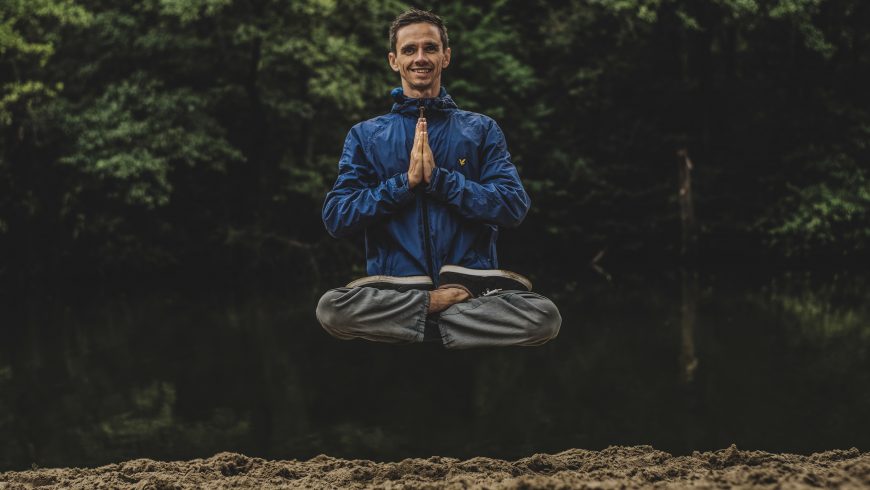 The Kontija forest is an oasis of peace, quiet and natural ambiance, ideal for hiking, cycling (there are shorter, longer and circular cycling trails), forest bathing, grounding, and relaxing meditation. It is also great for an enchanting forest picnic.   
10. Baredine Cave – ancient love legend of the Istrian underground world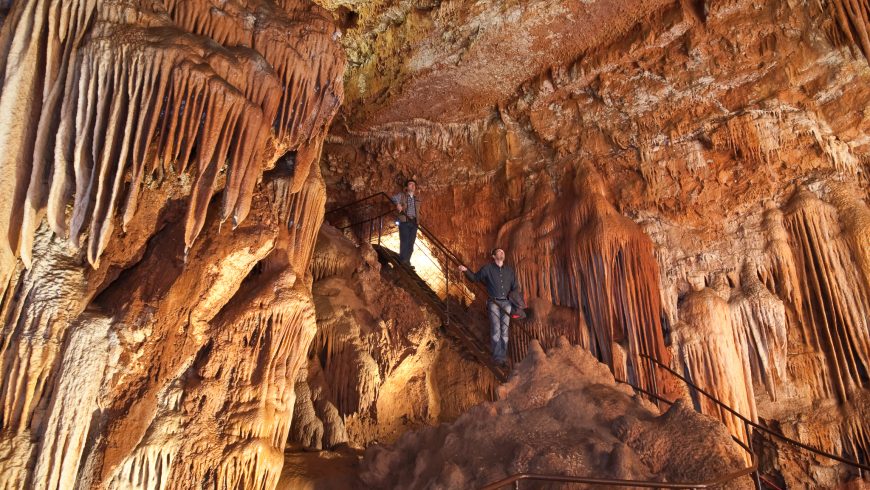 Persistent water flows created spectacular crystalline forms and Baredine cave is a treasury of underground sculptures. Visit this geomorphological monument of nature, known by the touching and tragic love story dating back to the 13th century, of a nobleman and a beautiful shepherdess remaining united for good in this underground world.
Cover photo: Cape Kamenjak by Aleksandar Gospic. Source: Croatia.hr