Salento is one of the most fascinating areas of the Italian peninsula. Sun, hospitality, and crystal-clear sea are just some of the characteristics that distinguish this area. Salento is also dotted with entrepreneurial realities that promote sustainability and tourism that respects nature, with a strong commitment to supporting the local community. To delve into the Apulian culture and tradition, between organic farming and eco-sustainability, let's set off to discover the Piccapane Farmhouse!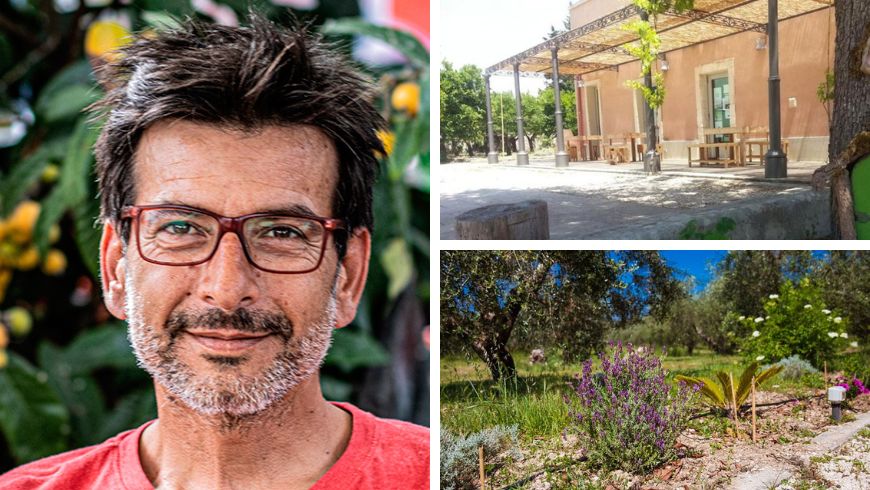 We interviewed Giuseppe Pellegrino, founder of Piccapane, who told us how this special project of organic farming and eco-friendly hospitality was born.
How did the Piccapane Farmhouse come about?
The farm project was born with the idea of doing organic farming. I chose to change my life, leave my managerial career in the city, to devote myself completely to nature and to the production of healthy foods that are good for both humans and the environment. From this project, the part of eco-sustainable hospitality and vegan catering was born.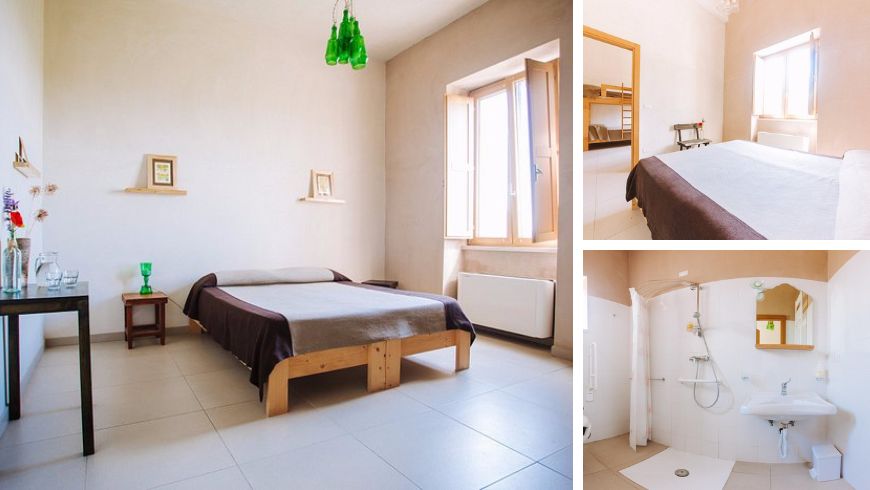 The seven rooms of the eco-B&B are furnished with natural materials and pay attention to water and energy saving, thanks to the solar thermal system to produce hot water, and the photovoltaic system to produce electricity from the sun power. The rich breakfast buffet allows guests to taste genuine products based on local and organic ingredients and freshly picked fruit. Tea, coffee, and cocoa are fair trade products.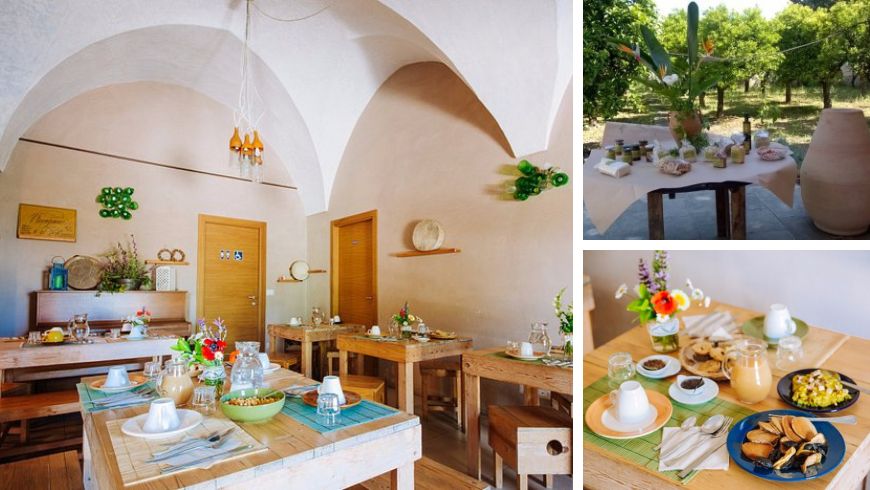 The Biosteria can host up to 35 people and offers organic and zero km food, with vegan cuisine based on products harvested in the garden. Guests can taste our local wine without sulphites and refresh themselves with traditional Salento dishes, revisited in a vegan and green key.
Why vegan hospitality?
We decided to offer a vegan option because it is truly absurd that human beings consume more than half of the agricultural land to feed industrial animal farms. The excessive meat consumption, as well as being harmful to the planet, is also harmful to humans. Therefore, we have a double paradox: we consume useful land that could feed many more people more efficiently. On the other hand, by eating all these animal proteins and fats, we get sick, and we become a cost to our society.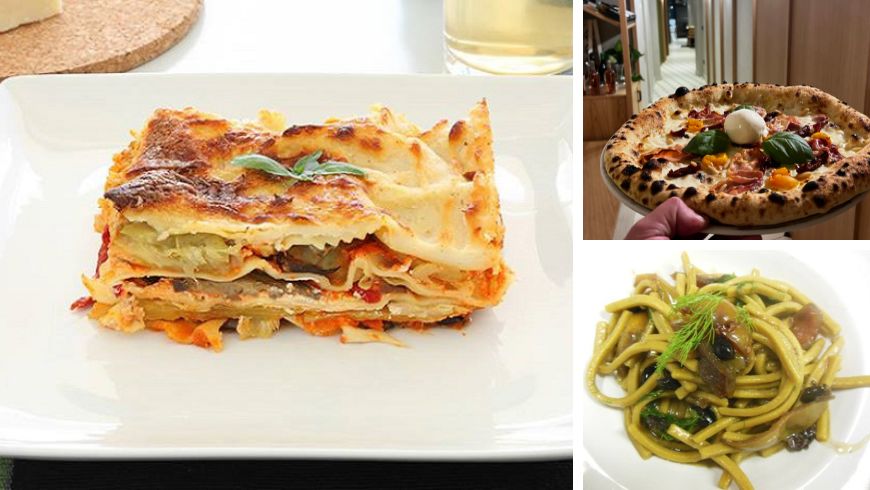 This is why we started cooking and preparing food using only vegetables (including cereals and legumes). We want to let people discover how to eat healthy and tasty every day.
As far as the garden is concerned, we only use manure, and no products deriving from animals such as leather, blood, or any other type of fertilizer of this type. We use macerated herbs such as nettle, and we are also experimenting with effective microorganisms, that is to say, good bacteria that help plants and ward off diseases.
Which are the other green initiatives you have adopted?
As for food, in addition to offering a vegan diet, we obviously offer all organic or km0 food, deriving from our gardens.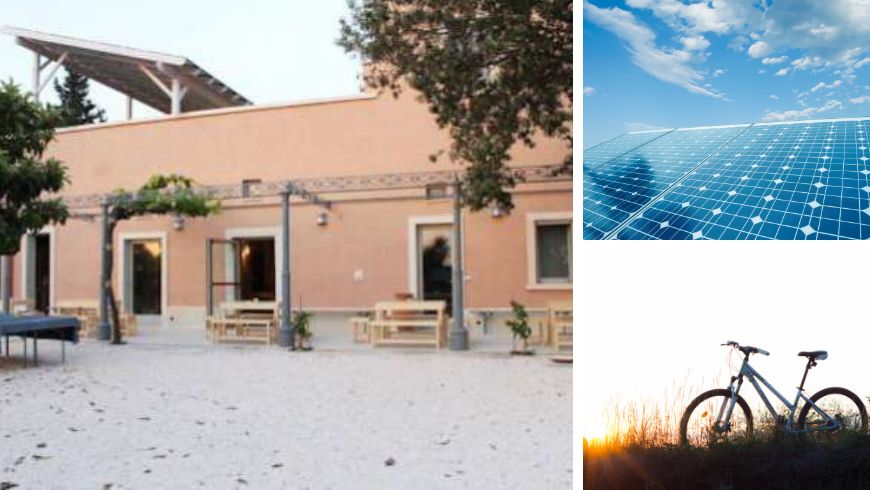 Our structure is the result of a project of bio–architecture and, as I already said, it employs electricity from 100% renewable sources, as well as using low-consumption light bulbs and solar panels to heat the water.
The Piccapane Farmhouse is accessible even without a car. Furthermore, we offer a bike rental service to visit the surrounding area with the wind in your hair and without polluting.
What does the farm produce?
We do not give any type of treatment to our olive trees, not even biological ones, so we can define it as "synergistic olive cultivation". The cut grass and the remains of pruning are left on the ground and thus generate fertile humus. This creates, in the long run, a natural balance.
Here in the Piccapane Farmhouse, we produce table olives, extra virgin olive oil, some varieties of ancient cereals, such as Cappelli wheat, barley and a vegetable garden from which we take out some vegetables to make preserves, pâté, aubergines in oil and another dozen products, as well as jams we make with seasonal fruit.
What is a CSA and how does it work?
We are proud to have created the first CSA in Puglia. The CSA (acronym from English: Community Supported Agriculture) is a community that supports farmers. It is a long-term solidarity agreement between a group of consumers and the farm, thanks to which people undertake to collect a box of vegetables every week for a long period (six months or a year).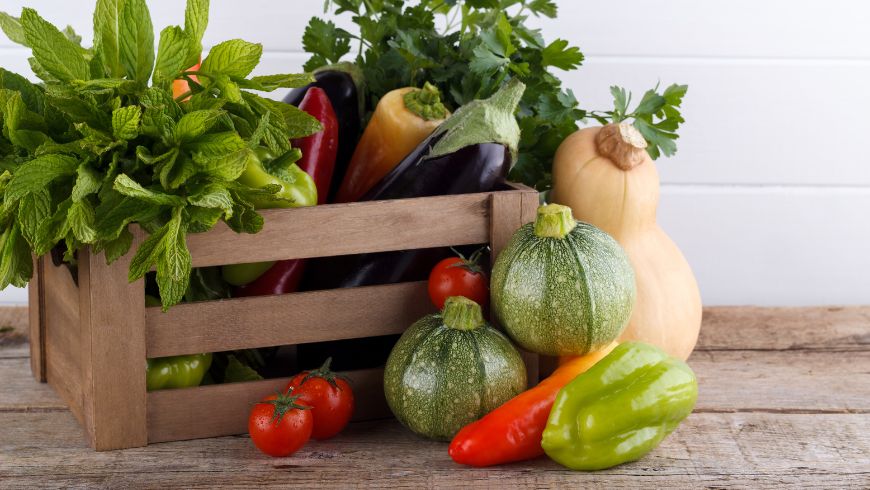 By doing so, the farmhouse has the possibility to plant and cultivate knowing that the products will already be sold.
What are the experiences offered in your "Masseria Didattica"?
In the past three years, we have become an educational farm. We are especially dedicated to children because they are our only hope for a more sustainable future. So, we welcome visits from schools, organize summer camps and try to introduce children to rural life.
In our synergistic educational garden, children can, within two or three months, go from seed to seedling and perhaps even to fruits. We create many artistic works with plants, vegetable colours and workshops with aromatic herbs to create flavoured salts and flavoured vinegar.
The structure organizes yoga sessions with children, and we cook with them once a week. We pick vegetables and then we prepare meals, including homemade pasta.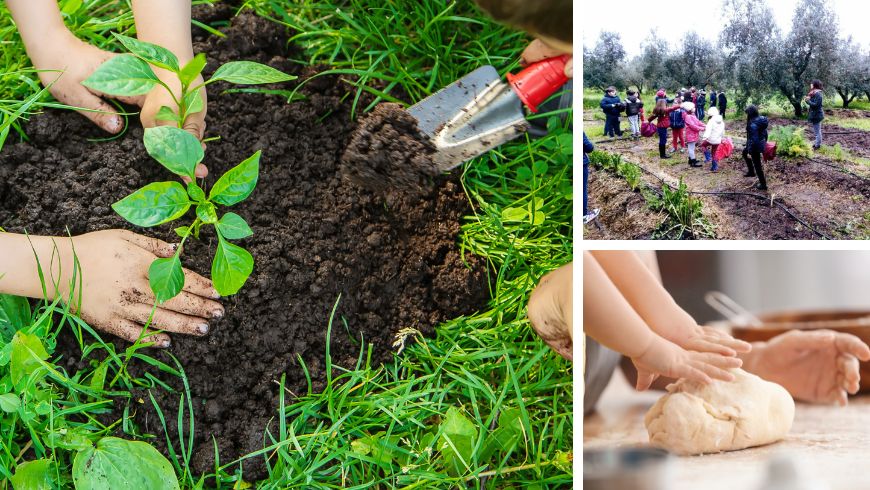 We try to offer a different way of bringing children closer to the countryside, which is not simply to go on a tourist tour of a zoo but employs more active participation.
The farmhouse also organizes workshops for adults: for example, bread–making, homemade pasta, or the creation of artisan soap.
What do your guests appreciate the most?
Over the years we have noticed that guests particularly appreciate the genuineness of who we are and what we do. In fact, we have no problem demonstrating how we work: few frills, no lawn, TV, and swimming pool.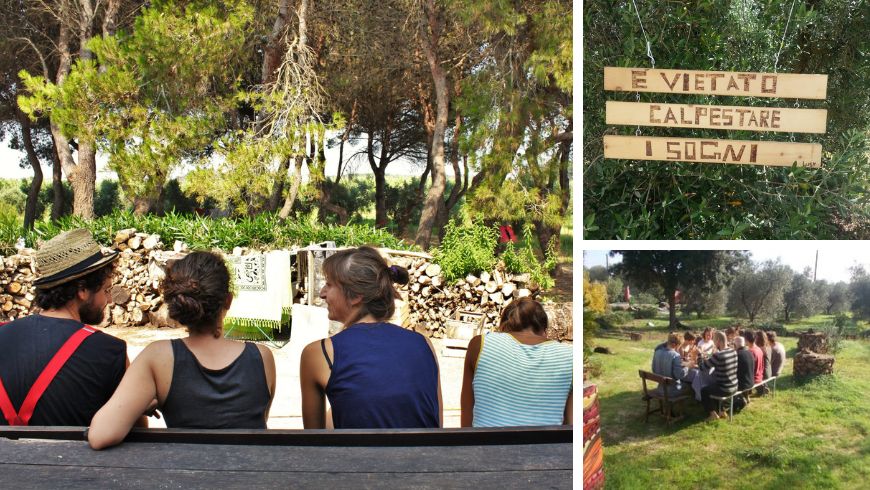 Ours is an idea of a sustainable farmhouse. We therefore hope that more and more guests want to immerse themselves in our philosophy and our lifestyle, coming to visit us for a weekend, to taste our cuisine and take a tour of the aromatic herb garden.
Which green itineraries do you recommend in the surrounding area?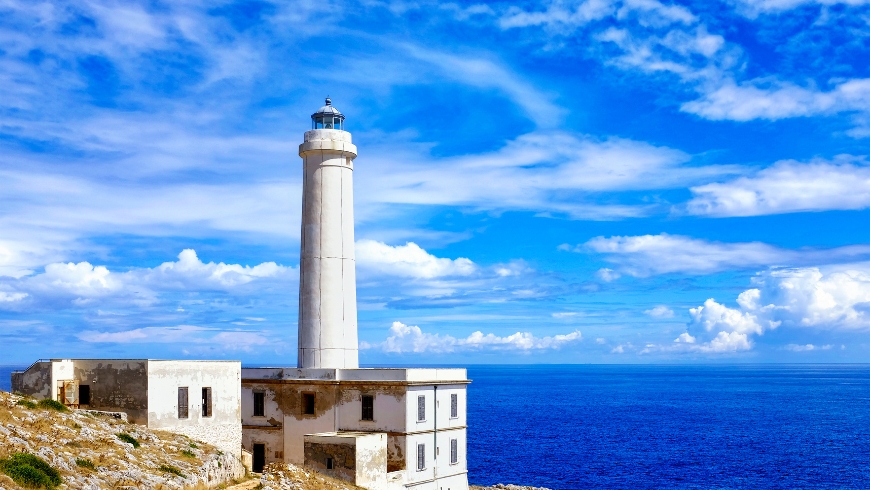 We want to propose slow itineraries, easily reachable and that can be covered entirely on foot or with the bicycle that we make available as a structure.
Some examples are:
Otranto offers breathtaking natural landscapes, a few kilometres away from the centre. We recommend visiting the Lake of Bauxite, with its small caves and inlets, up to Torre del Serpe, the symbol of Otranto.
Walking routes along the Otranto–Leuca coast: starting from Otranto, passing by the Punta Palascia lighthouse, you can walk along the ancient Via Appia Salentina to reach Santa Cesarea Terme. From there the itinerary continues towards Castro Marina and then ends in Santa Maria di Leuca, in the extreme south-east of Puglia.
A tour of the historic centres of Salento towns: in this area, we find some villages that represent the gem of Puglia. Starting from Santa Cesarea and its thermal baths, Porto Badisco and its bay, and Specchia and its artistic heritage.
What does being part of Ecobnb mean to you?
Becoming part of Ecobnb was an important step for the Piccapane Farmhouse. It has allowed us to gain visibility, as we now have a showcase available that has expanded our range of customers. Above all, we want to address guests in harmony with nature and sobriety, and we know that Ecobnb and its readers are very attentive to these ideals.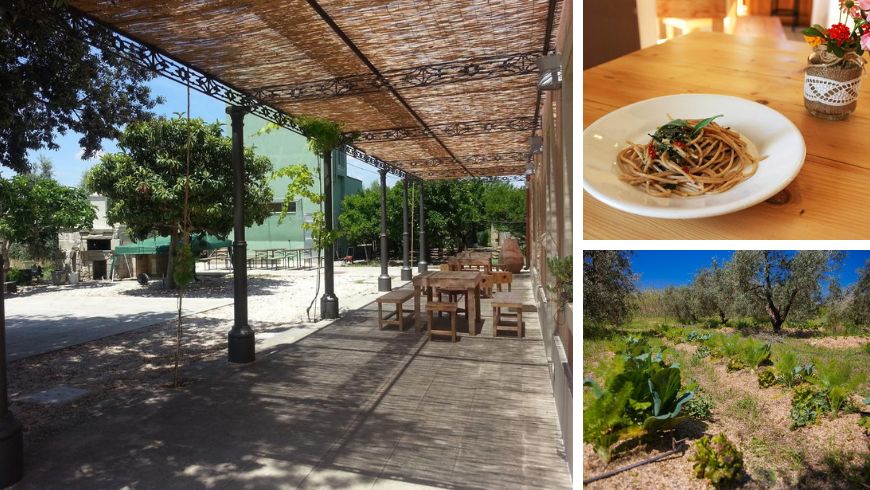 If you decide to spend some days in Puglia, don't hesitate to visit the Piccapane Farmhouse, to discover the marvellous link between organic farming, genuine food, and sustainable hospitality. It combines an offer organized with particular attention to the environment, and a program to educate children and adults. We would therefore like to thank Giuseppe for his availability and wish him the best of luck in all his present and future projects!