A natural paradise surrounded by Sarzana hills (Liguria, Italy). Campo di Luna organic agritourism is the result of Pinuccia and Alberto's dream. They have changed their lives and took a green direction. This is their story
Next to Cinque Terre, but far from touristic areas, there is an amazing place with a wonderful view of the sea. Campo di Luna is an organic agritourism surrounded by olives tree, located in Falcinello, Sarzana. The location is very quiet and isolated, submerged in unspoiled nature. Here, the sea and the hills live together as one and create a unique atmosphere, that makes your spirit part of this piece of this world. In addition, from this place, you can reach Pisa, Lucca, or Pietrasanta in only one hour by car. And we are about 20 minutes by walk far from the sea.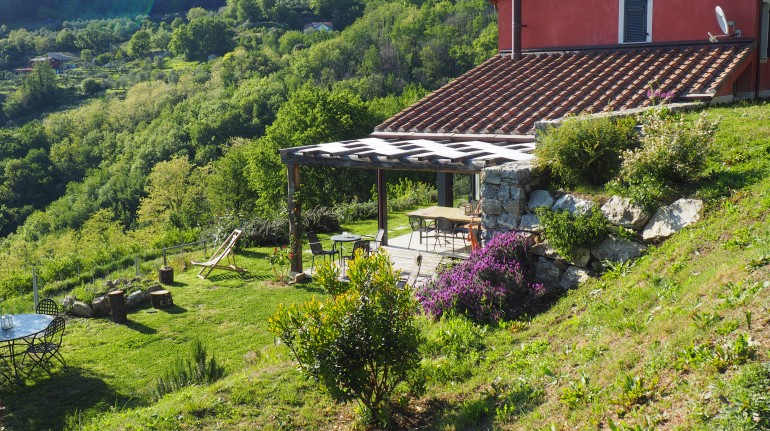 What's more surprising about this place, is the tale of rebirth and life change that it communicates.
We interviewed Pinuccia, who is the owner of the organic agritourism Campo di Luna, along with her husband Alberto. Here's their story:
How and when was Campo di Luna agritourism born?
The agritourism was born about ten years ago. My husband and I have dreamed for years to change our lives by creating an eco-friendly agritourism. We have always cared about nature and the environment, so we have decided to embrace a sustainable and off-grid lifestyle. We wanted to spread our love for nature to visitors and guests, and that's what we do here.
Of course, to be able to change our lives, we had to leave something. That was our textile firm. In this firm about 15 people used to work for us, so we had to find a new job for all of them. Then we moved from Brianza to the hills of Lunigiana. Now we own and work in Campo di Luna agritourism, a little paradise submerged in nature between Cinque Terre and Sarzana.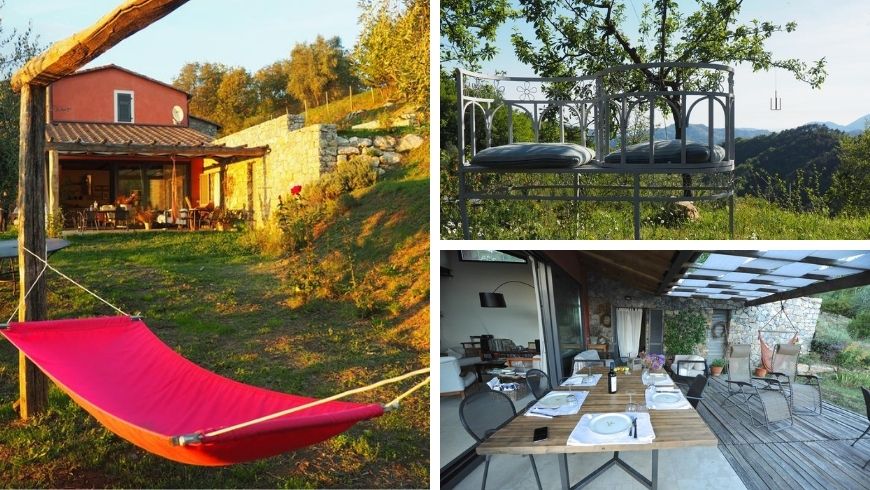 What makes your agritourism sustainable?
We have worked very hard to find a sustainable way to live. The electricity of the structure comes from photovoltaic panels. On the other hand, the water comes from a local spring, that is periodically analyzed to ensure its drinkability. The heating is provided by a woodburning stove. We collect the wood every week from the woods. These expedients allow us to be almost completely self-sufficient, and this was our main goal. Moreover, thanks to our vegetable garden, we can always offer organic and km zero products, such as our extra-virgin olive oil.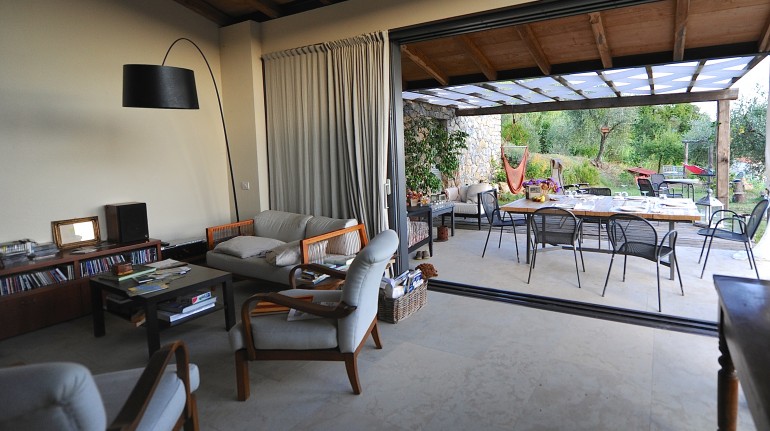 What do your guests appreciate the most about the agritourism?
Surely, our location offers our guests something special they're not used to: the silence.
The house is very appreciated for being very comfortable and, in addition, its energy class is A+. The interior is well-lit because of its many windows, which offer a beautiful sight of the sea. Being surrounded by nature gives a sensation of calm and quiet which is difficult to find in other places.
Each room has natural materials furniture and some pieces of art, which make them welcoming to everyone. But what probably our guests appreciate the most is the warm hospitality. Whoever comes to Campo di Luna enters our Home.
We are happy to share dinner with our guest while knowing them and having fun. We eat what I cooked during the day, usually coming directly from our vegetable garden. In fact, every morning Alberto and I work in the garden, picking up the goods that we will serve for dinner.
Which km zero speciality ca be tasted in your in the agritourism?
In our vegetable garden, we grow several delicious vegetables. Tomatoes, artichokes, aubergines, asparagus, chilly peppers and peppers are some of them. In addition, we have many fruit trees such as apple tree, pear tree, cherry tree, peach tree and some berries like blackberry, raspberry and strawberry. With the olives of the area, we produce our extra virgin olive oil, which is always our favourite dressing.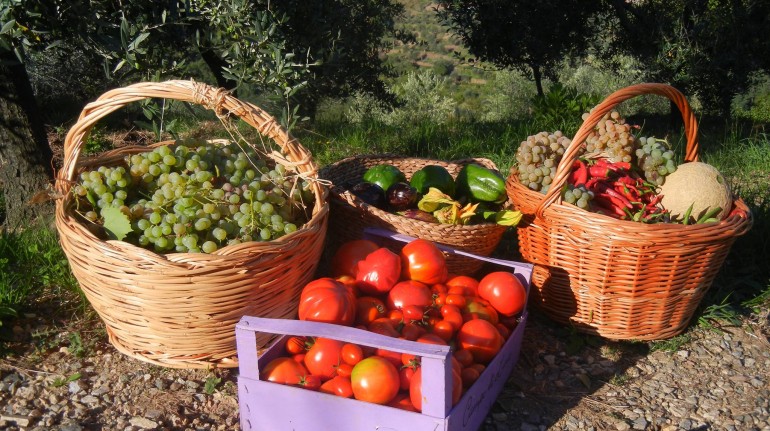 Which green paths would you recommend?
By walk, you can reach Castello Della Brina ruins on the hill. On the opposite direction, you can go to Sarzana through a beautiful path. Over the hill in front of the agritourism, you can enjoy a wonderful sight of Tuscany, which is very close to our location. This area is a real paradise for those who love long strolls and adventurous hikes in nature.
What does it mean to you, to be an Ecobnb?
We have always dreamed of building an eco-sustainable structure. So we choose to renovate an old building, in order to not waste some precious piece of natural ground. We want to offer our guests the genuine warmth of our home, the organic flavours of our garden and the enchanting nature of this place. We do our best to enhance continuously our structure and we try, as anyone else in the touristic field does, to be welcoming and helpful for our guests. Who comes here, is looking for something more than a vacation, something that respects nature all-around.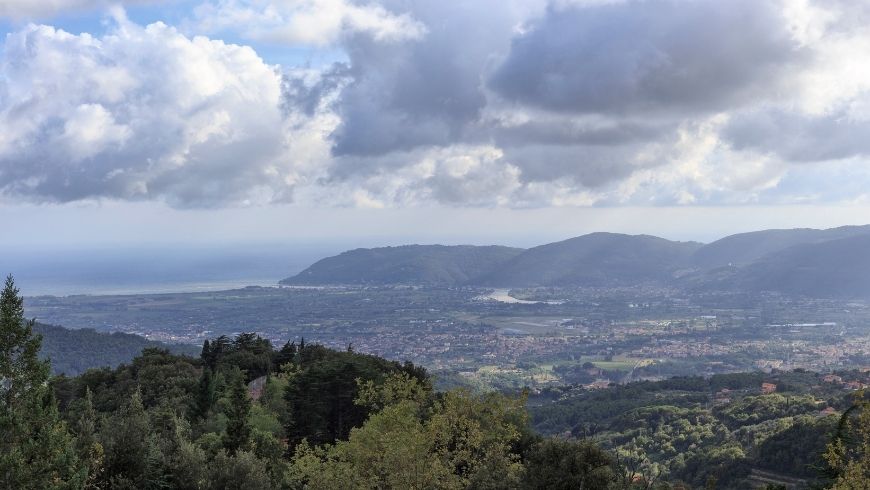 We thank Pinuccia and Alberto for sharing with us the experience of a dream that came true.
Campo di Luna is a magic place, where you can find your harmony with nature. Here you can switch off and relax, living every day in a new and sustainable way. Their dream came true, so what are you waiting for? Don't stop dreaming a visit this enchanting organic agritourism on the hills of Lunigiana.