Ecobnb Gift Cards and Weekend Coupons are ideal Gift Vouchers for those who want to make their loved ones live an eco-friendly experience. Discover our offers with us.
Benedetta, a green traveler, wrote us why she would like to give her boyfriend an eco-sustainable travel experience using Ecobnb gift vouchers:
"Dear Ecobnb Staff, I'd like to give my boyfriend a coupon of 1 night for two people or 2 nights for two people (is there an offer for this solution?). Can I use the voucher for all your facilities? "
If like Benedetta you want to give a green experience, come and discover our unmissable offers!
1. Ecobnb Gift Card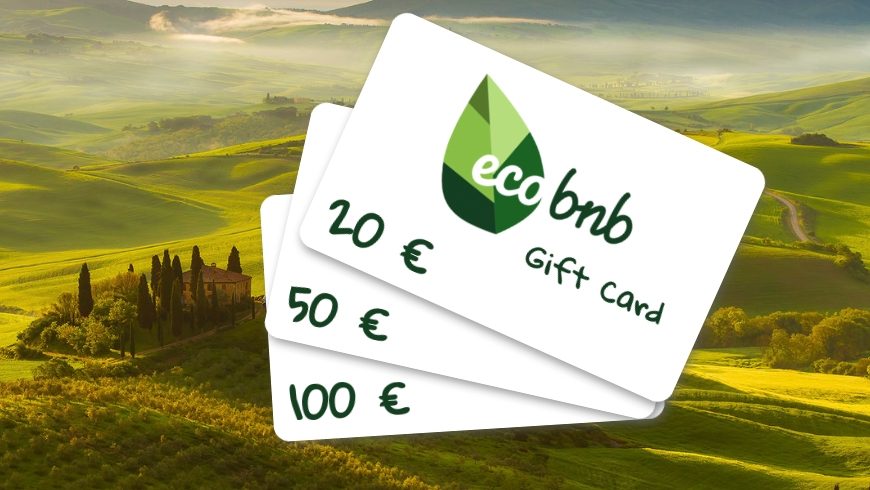 Do you want to give those you love the opportunity to live an experience in harmony with nature? Ecobnb Gift Cards are the most flexible solution. It is a prepaid gift card, of the amount you prefer. Those who receive it can use it to book a green stay of their choice among thousands of destinations in Italy and worldwide. The gift card lasts 12 months from the date of purchase. Gift cards can be combined: this means that if you have two or more gift cards you can use them for the same booking. Furthermore, if the amount of the purchased travel is lower than that of the gift card, a new digital gift card of the remaining amount is automatically issued.
The main advantages of Ecobnb gift cards are:
You can use them freely to book one among more than 3000 accommodations on Ecobnb
They are also valid in high season, during long weekends and holidays, subject to availability of the accommodation
You can also use them to book special discounted offers and green initiatives

When the value of the Gift Card is higher than that of the booking, you receive a new gift card with the remaining amount, which can be spent on other stays.
You can buy your Gift Card here, choosing the amount you prefer and adding a dedication or a personalized message.
Those who receive the Ecobnb digital Gift Card have 12 months to use it on the platform by choosing from thousands of eco-sustainable accommodations (you can see them on Ecobnb official website), which also offer unique and unforgettable experiences.
2. Ecobnb Weekend Coupons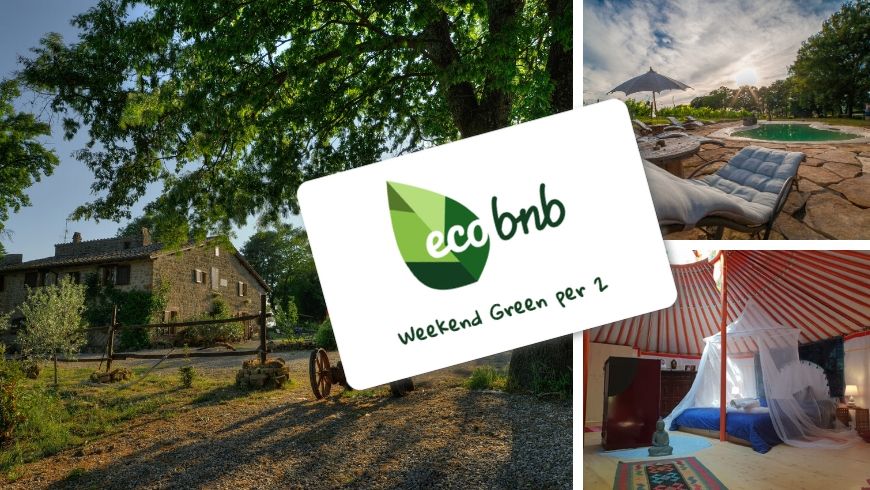 Do you want to give those you love a unique and eco-friendly weekend in Italy? The Ecobnb Weekend Coupon allows you to give 1 night in one of our eco-friendly structures. In this case, the cost of the coupon varies according to the number of people who choose the green weekend: 2, 3, or 4 people.
Those who receive the Ecobnb green weekend coupon have 12 months to spend a weekend in harmony with nature, choosing from hundreds of eco-friendly accommodations in Italy.
You can buy your Weekend Coupon here, choosing a theme, an amount and a dedication to insert.
How you help the planet traveling with Ecobnb
By choosing to travel sustainably with Ecobnb, you promote eco-friendly hospitality, reduce water and energy consumption and save an important amount of CO2, the carbon dioxide emitted into the atmosphere. With a simple click you can support those who invest in a greener planet.
Our facilities meet at least 5 of the 10 sustainability requirements. If you book a room in one of the greenest Ecobnb accommodations, i.e. those that have all the 10 main sustainability requirements, you save up to 8085 g of CO2 and 302 liters of water per person per day.
An act that is equivalent to planting 295 trees!