Parco Cinque Terre is a group of five small villages that are spread along a rocky coastline that sits above the Mediterranean Sea in Liguria, Italy. It is also one of the 50 UNESCO sites in Italy.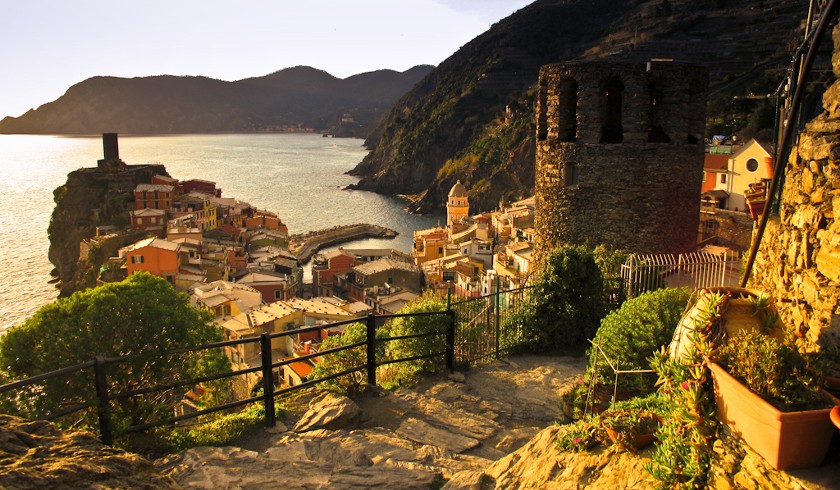 If you want a full day's adventure these 5 villages can be reached by train. Trains leaves from each village station every 25 min in summer. If you begin your day early, you can definitely visit all 5 in a day. It will be e a long day but worth it.
If you'd rather take your time and enjoy the breathtaking views , just follow the tracks that connect the villages. Here is our suggestion for a day of walking.
Monterosso
Monterosso is the largest village and the oldest part (Borgo vecchio) is the most popular with tourists. Fegina, the newest part of the village, houses some lesser known gems like
"Villa Montale", the summer home of Nobel awarded poet Eugenio Montale.
"The Giant", which is the bomb-ravaged remains of a colossal Neptune statue once holding a shell shaped terrace.
Stop in a café and have one "biscotto del Lagaccio", a local pastry specialty.
As you leave Fegina and follow the red street signs you can easily reach Vernazza.
Please, keep in mind:you will enter the Parco delle Cinque Terre area and be required to buy the access ticket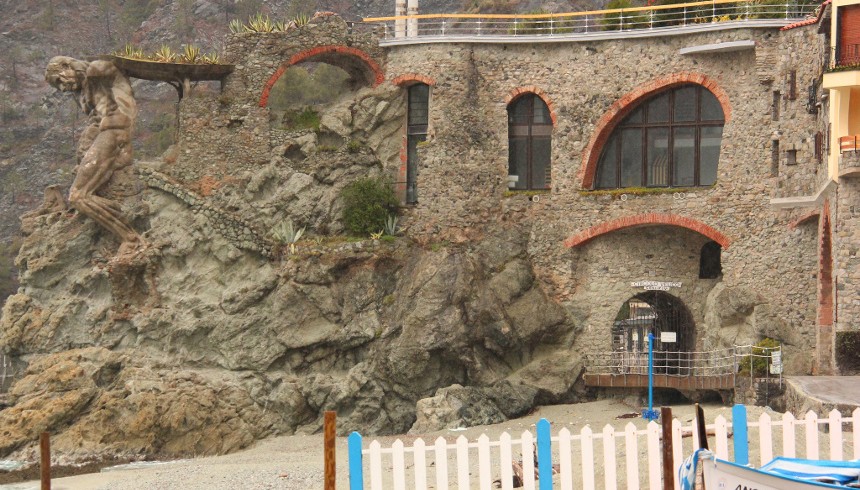 Vernazza
The inhabitants of Vernazza have ensured the village keep the original atmosphere of a fishermen's port. It's beautiful.
There you will find a 14th century church called Santa Margherita di Antiochia which is the most visited monument of this little village. If you are not too exhausted, you can reach Santuario della Madonna di Reggio by walking up the hill for approx. 45 minutes.
You will see the reproductions of some Stations of the Holy Cross, the trail Christian Catholics believe Jesus walked along his way to the Mount Gologota where he was crucified.
Then you if you leave Vernazza and want to head for Corniglia, it will take just one and a half hours. The track will take you through the typical Mediterranean vegetation: myrtle, olive trees, lemon trees, holms all whilst taking in the incredible ocean views.
Note: when reaching the small block of Prevo you will be at the highest point of the track that connects the five villages.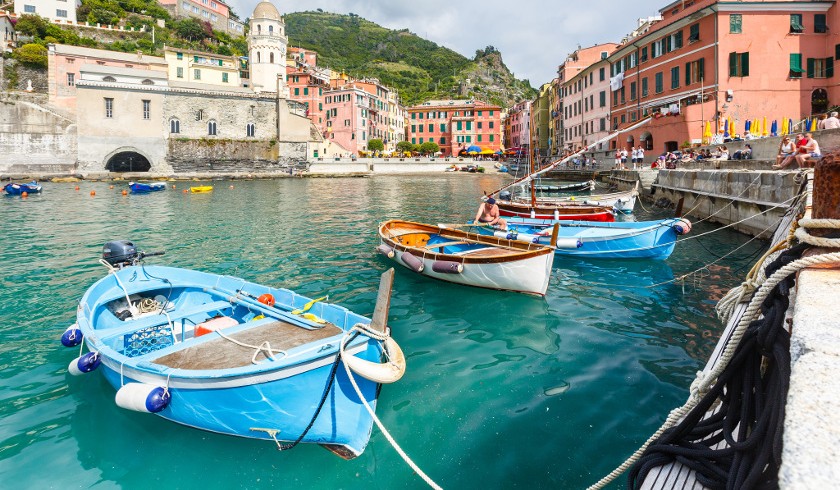 Corniglia
The village of Corniglia dates back to the 14th century. You really must stop here a minute and let your eyes gaze over the other four villages of Le Cinque Terre.
Have a pause to taste te original "Focaccia di Recco", the focaccia filled with melting cheese which is famous worldwide.
Then from Corniglia head to Volastra and from there Manarola.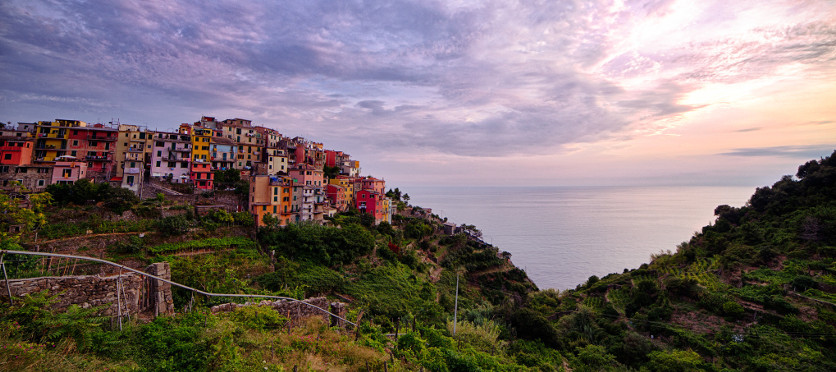 Manarola
The Senterio Azzurro that takes you from Corniglia to Manarola is closed due to the landslide that occurred some years ago, therefore you will be forced to go through the little borough of Volastra.
Manarola is a tiny port and its main charm can be found in the little tracks that lead from the back of the village to some of the best panoramic points. If you are an avid photographer you cannot miss the great photo opportunity from just beneath the little cemetery in this port village.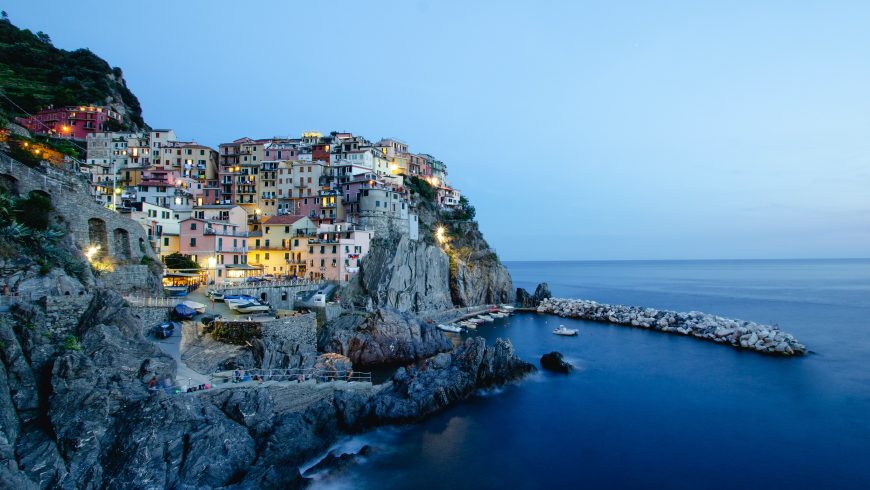 Riomaggiore
From there you can get to Riomaggiore by walking along via Beccara.
This village is tiny and colourful!!
Our tip? Have an iced coffee in one of the little cafés that opens onto the little road going up to the castle then browse in the small shops for some typical souvenirs.
If you are at sunset, find a lovely corner, sit and order a glass of Sciachetrà, a local sweet wine, to admire the colours and light of Cinque Terre.
Where to sleep: Affittacamere Dai Baracca
Once an old tower, Dai Baracca is now a lovely place for a short stay in Cinque Terre.
3 good reasons to stay in Dai Baracca Guesthouse:
it is an ancient tower converted into a guest house. I never slept in a medieval tower? Here's your chance
it's an eco-friendly hospitality because waste and energy consumes are minimized, cleaning products are natural, and provides an excellent breakfast with organic foods and kmzero.
there is a roof terrace on Riomaggiore village from which to admire the houses of fishermen and let your eyes wander over the sea. Perfect!
Good to know:
The Sentiero Azzurro is closed in many points.
You can walk fro one village to the other coosing the tracks at the back of the coastal line: tracks are free and the view is not less charming
If you prefer to reach the vilages by train, have a look at the different proposals of the local park authority
Cinque Terre Card
Cinque Tette Train Card
Cover Image: Manarola, Cinque Terre, ph. by Bastien M, via flickr