Pietrasanta, a city of many facets. At the foot of the Apuan Alps, on the slopes of the hill of Sala, it represents a meeting point between ancient history and modern art. Why don't you try to discover it in an eco-sustainable way?
An ancient village in the province of Lucca, Pietrasanta has earned the title of the world capital of sculpture. As a matter of fact, one of the highlights of the city is the link with marble working. An ancient vocation, which started with the great Michelangelo, and then spread during the nineteenth century, thanks to the constitution of the first craft workshops (today gathered in the Artigianart association).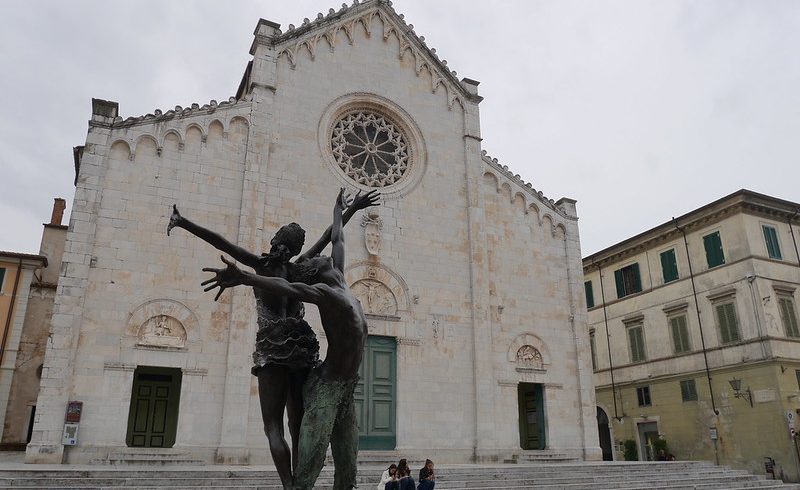 Currently, the art Institute Stagio Stagi engages in keeping alive the tradition by handing on to young artists the best techniques of marble working. Not surprisingly, a large number of people consider Pietrasanta a world hub for contemporary sculpture. For this reason, it attracts artists from all over the world.
Art under a blue sky
One thing is certain, in Pietrasanta the common thread is the art! This charming village offers several possibilities to discover it. And maybe that's the beauty of the city. In addition to the numerous galleries, almost 30, you can attend festivals, exhibitions, and antique markets. Besides, in the various buildings of the city, you can admire the artists at work.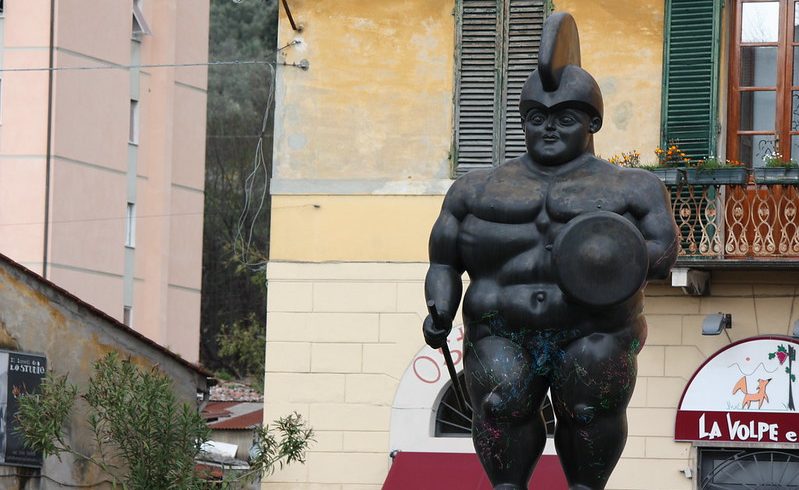 A must for lovers of the sculpture is undoubtedly the Museo Dei Bozzetti. The most particular attraction, however, is the Sculpture Park, a gigantic open-air museum. Here, over 60 works that can be admired. These include Il Guerriero by Botero in Piazza Matteotti, the boxer by Messina in Via Garibaldi, La chiave del Sogno by Yasuda and the Annunciation by Mitoraj.
From Pietrasanta to Lucca, a place of border and passage
Pietrasanta, an ancient medieval town, is located on the Via Francigena. This stage, number 26, has its starting point in Piazza Duomo in Pietrasanta. This 33 km-long path winds through the hills of Lucca, passing through Pieve di S. Giovanni, Camaiore, Badia, and Monte Magno. Its arrival point is in San Michele (Lucca). If this experience intrigues you, arm yourself with technical shoes and a lot of diligence; it takes about 7 hours to walk it entirely on foot!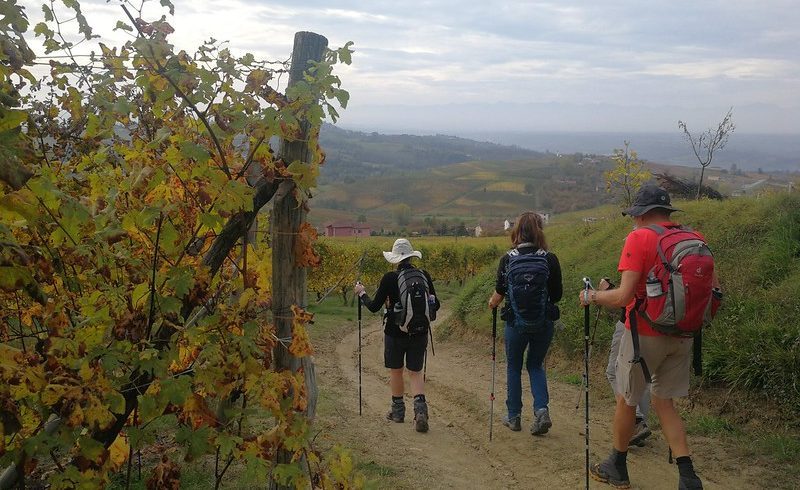 Pietrasanta's delicacies
Besides possessing an invaluable artistic heritage, let us not forget that Tuscany is a land of wines and above all, of good food. In Pietrasanta in fact, you can enjoy excellent dishes based on genuine local products.  Do you already have your mouth watering at the thought of tasting the delicious Tuscan bread? Then order the pancrocino maremmano. A soft and crunchy appetizer at the same time, it's garnished with fresh tomato, onions, and parsley.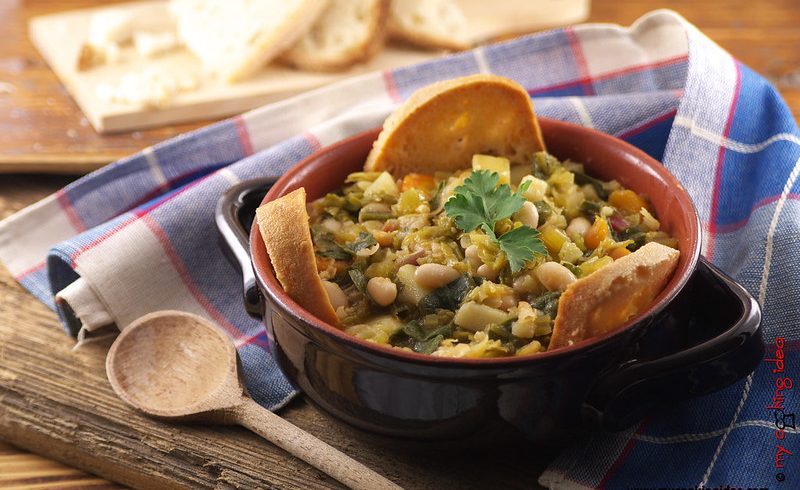 If you plan to visit Pietrasanta in winter, try the Ribollita, one of the most famous typical dishes of the Tuscan tradition. Of peasant origin, people cook this dish with a large variety of vegetables. Simple but tasty!
And now, desserts! In addition to the well-known Cantucci, often accompanied by Cavallucci (rich in walnuts and scented spices), we propose something different. Have you ever tried torta co' bischeri? This is a shortcrust pastry tart with a mixture of rice, chocolate, pine nuts, and raisins. All flavored with nutmeg and liquor! So, what do you think?
Green accommodations in Pietrasanta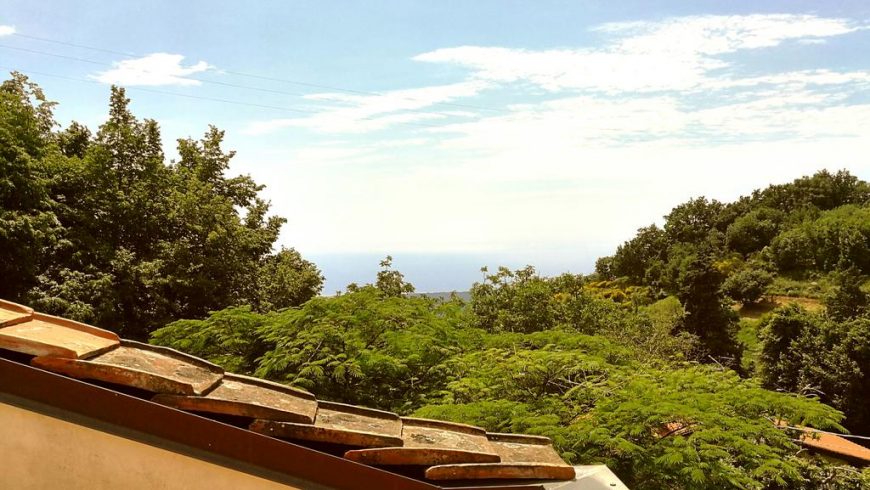 If you are looking for eco-sustainable accommodation in Pietrasanta, here are some interesting proposals.
La Dama del Bosco is an old restored farmhouse, in perfect harmony with the environment, which can accommodate up to 8 guests. So, if you're thinking about a family holiday or a holiday with friends, this is a good alternative. Surrounded by greenery, in Capriglia location, this charming farmhouse is spread over three floors, has a beautiful private garden and even a relaxation room!
From 295€ per night for 8 people, with Internet included.



If you prefer a cheaper solution, B&B Miami is just five minutes from the center of Pietrasanta and 1 km from the sea of Marina di Pietrasanta. In other words, a quiet place to relax and enjoy the view of the magnificent Apuan Alps.
With the internet and breakfast with local products included, starting from 60€ per night.



And you, have you ever been to Pietrasanta? Do you have some more advice for us? Share it by commenting on the article!
Cover image by marra_gennaro, via Flickr