In the heart of the Val d'Orcia there is a charming village in the province of Siena: San Quirico d'Orcia. This place has the peculiarity of perfectly combining the main characteristics for which Tuscany is famous: incredible landscapes, involving spirituality, fascinating history and good taste.
We have selected for you 7 must-see places to explore to enjoy this 360 degree experience. In addition, two bonuses await you to make sure you don't miss out on anything! Let's discover San Quirico d'Orcia together.
1. Collegiata of the Saints Quirico and Giuditta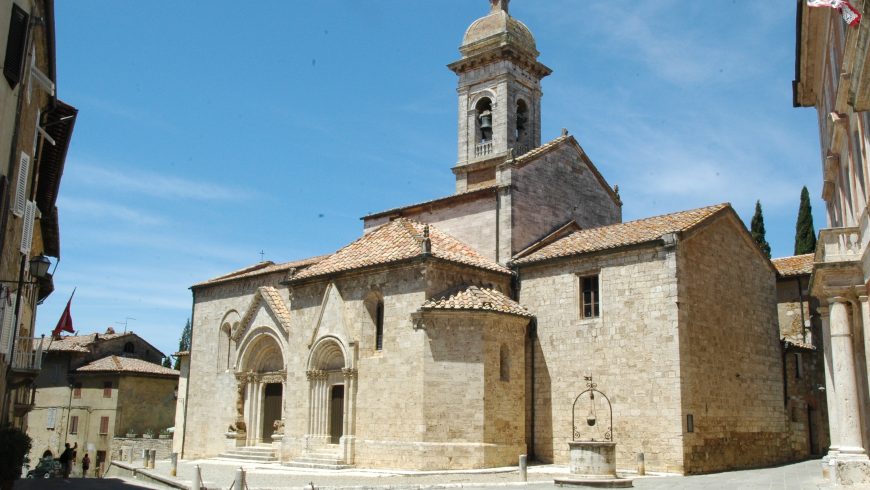 The Collegiata of the Saints Quirico and Giuditta is an enchanting Romanesque church with a fusion of Gothic and Baroque elements. Its decorations, including the lion sculptures in its three doorways, are an exceptional example of Lombard style throughout the region. Inside there are admirable works, including an altarpiece painted by Sano di Pietro, a painter of the Sienese school of the 15th century.
2. Church of San Francesco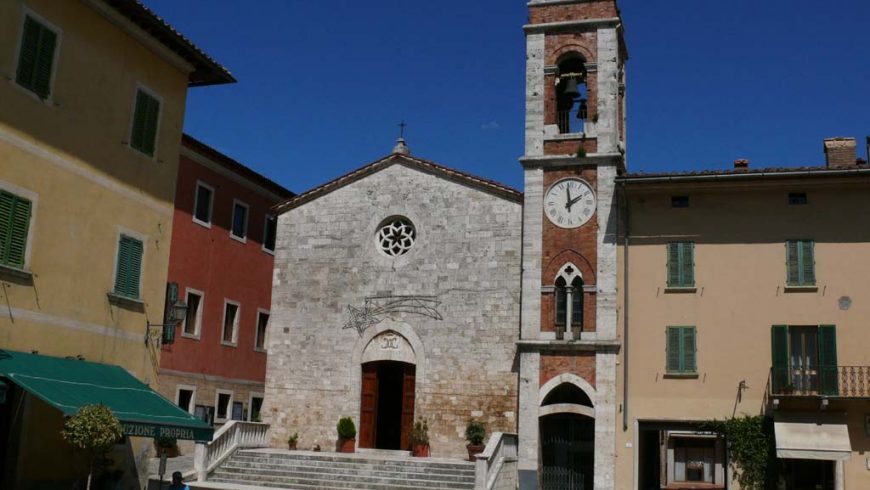 The Church of San Francesco, also known as the Church of the Madonna, is characterized by several Gothic elements. Inside this sacred building you can admire an enchanting Virgin attributed to Andrea della Robbia, a renowned Italian sculptor and ceramist at the turn of the 15th and 16th centuries.
3. Horti Leonini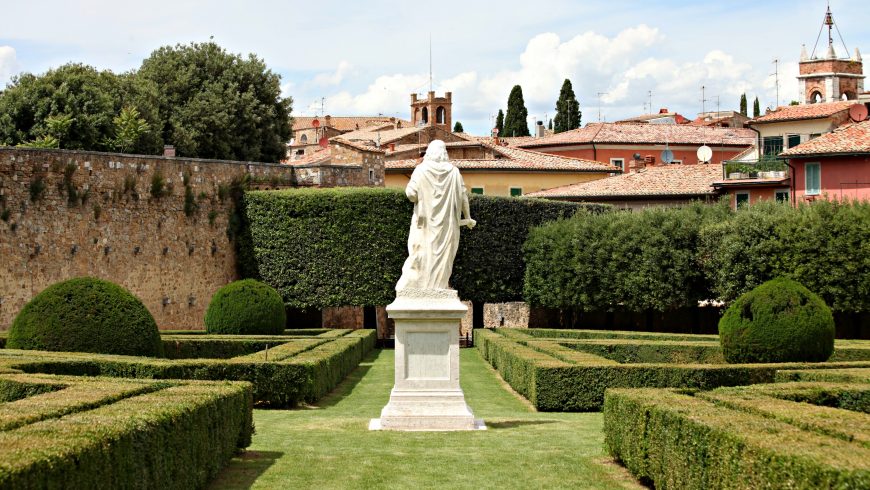 The Horti Leonini are a wonderful Italian garden dating back to 1581, in the heart of San Quirico d'Orcia. The lower area is composed by flowerbeds, at the center of which there is a statue of Cosimo III dei Medici, sculpted by Bartolomeo Mazzuoli (1688). The boulevard crossing the garden leads to a peaceful meadow in the middle of a wood of centuries-old oak trees. This space is ideal for relaxing moments in the green.
4. Via Francigena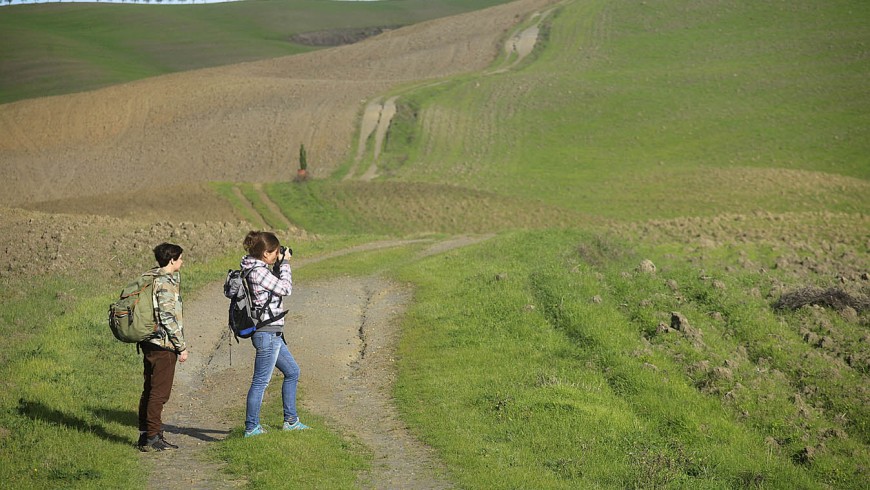 San Quirico d'Orcia is located along the Via Francigena route, where pilgrims on their way to Rome could find welcome and rest points. This path is part of a series of routes that from France led to the Eternal City and continued to Puglia, where pilgrims would embark to reach the Holy Land. The village itself is crossed by stage 35, which leads from Ponte d'Arba to San Quirico, and by stage 36, which leads from San Quirico to Radicofani.
5. Val d'Orcia Artistic, Natural and Cultural Park

The Val d'Orcia Artistic, Natural and Cultural Park, declared a World Heritage Site by UNESCO, was created to enhance this unique landscape with low environmental impact tourism. In fact, it offers several itineraries to discover the territory on feet, enjoying a breathtaking hill panorama, rich with cultivated fields and vineyards. Moreover, the painters of the Sienese School of Renaissance celebrated this fascinating place.
6. Bagno Vagnoni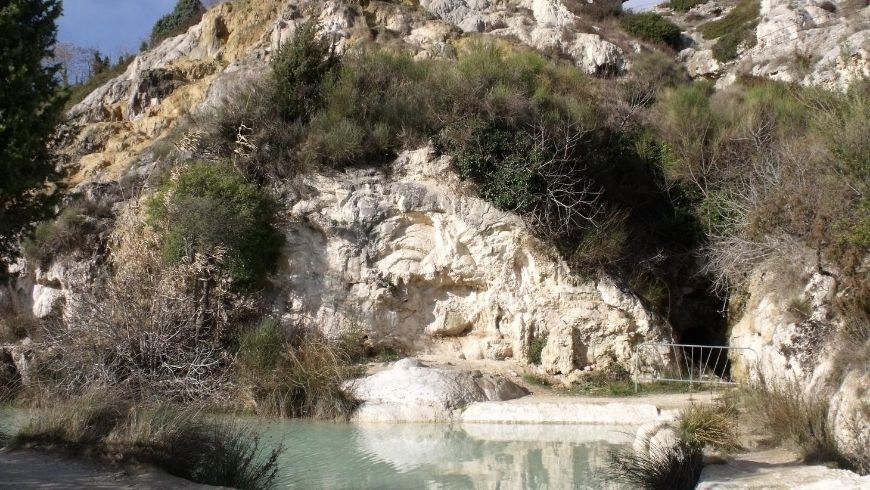 The miraculous thermal baths of Bagno Vignoni, a small village in the middle of the Val d'Orcia Park, were already known and appreciated by the ancient Romans. In 1170, with Emperor Frederick I, they were used for mud-balneotherapeutic treatments. Now it is no longer possible to dive into the warm waters of the pool, but you can admire the water vapours that slowly cloud the view of the stone edges of this very ancient pool.
7. Chapel of the Madonna di Vitaleta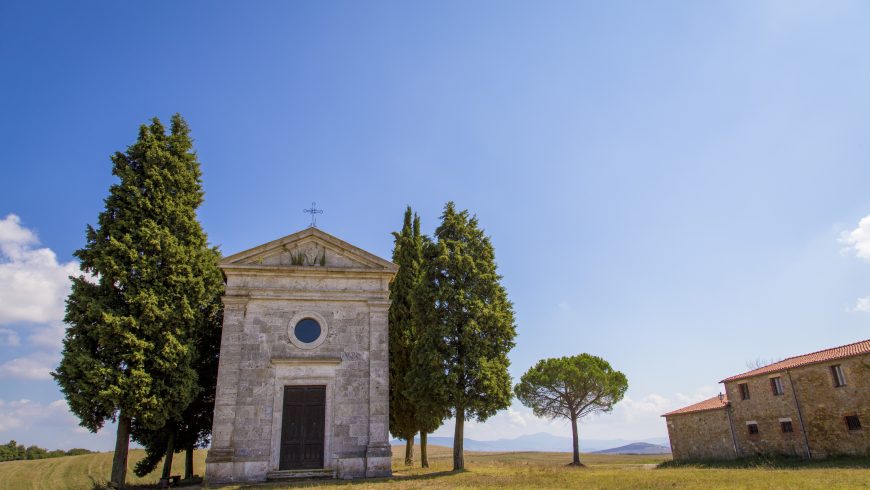 The Chapel of the Madonna di Vitaleta stands on the road from San Quirico d'Orcia to Pienza, and is one of the most photographed sites in Tuscany. According to tradition, this chapel was built on the spot where the Virgin Mary appeared to a young shepherdess. Surrounded by cypress trees, this simple and clean looking church is one of the most evocative places in this area protected by UNESCO as a World Heritage Site.
BONUSES:
1. Zero km food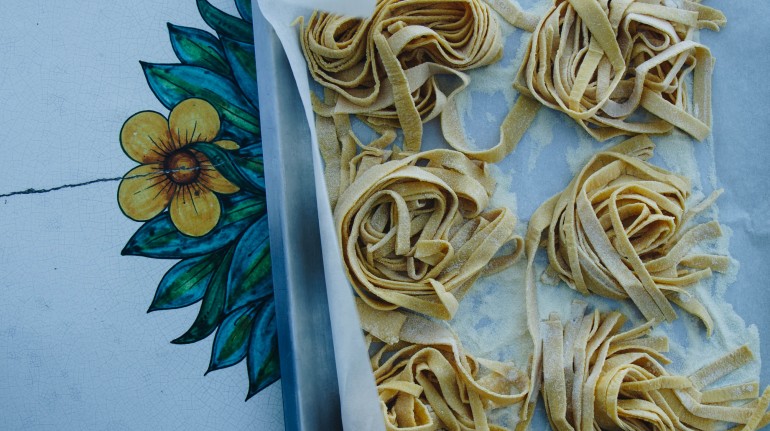 Strolling through San Quirico d'Orcia, you'll come across plenty of eco-friendly restaurants and trattorias. In fact, you can easily find menus with genuine ingredients from organic farming at km 0. You will also enjoy local products directly from shops that offer specialties of their own production. A perfect opportunity to combine an excellent home-made wine with good cuisine.
2. Green hospitality
Last but not least, we suggest you two eco-sustainable structures where you can stay and experience peace and quiet in this wonderful location.
Agriturismo Il Rigo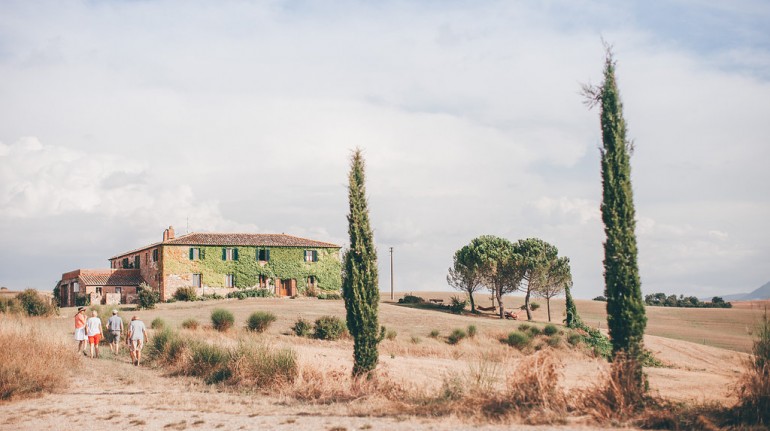 Nestled in the rolling hills of the Val d'Orcia, Il Rigo is the ideal place for couples seeking romance and peace. An ideal starting point for numerous cultural and eno-gastronomic itineraries, it is located less than 20 minutes from Pienza, Montalcino and Montepulciano and from the Bagno Vignoni thermal baths. For lovers of walking and cycling, there are maps with many rings that start directly from the Rigo.
Sarna Residence San Quirico d'Orcia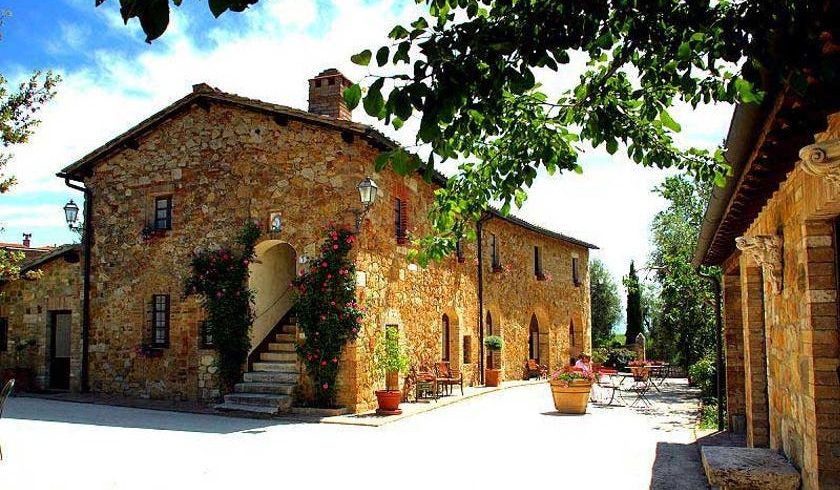 "SARNA RESIDENCE" is an antique Tuscan farmhouse in the heart of Val d'Orcia, a dream that comes true for those who are looking for a holiday dedicated to silence and the tranquil passing of time, days spent in the relaxing and regenerating atmosphere of the typical lifestyle in Val d'Orcia.
This structure is the result of a careful and accurate renovation keeping the historical and original features; its unique peculiarity is the location: just a few steps from the historical center of San Quirico d'Orcia and only 100 meters from the Supermarket and the Cafeteria, is the ideal place for an "old-fashioned" holiday, combined with all modern comforts.
Let yourself be inspired by the incredible uniqueness that characterizes San Quirico d'Orcia. Your green holiday is waiting for you in Tuscany!
Cover photo by Franco Vannini, CC BY-SA 2.0 via Flickr