Straw Bale House Felcerossa was born from the desire to lead a healthy lifestyle in harmony with nature. Let's discover together the journey that turned this dream into one of the most significant ecological and self-sufficient realities in Sicily.
Straw Bale House Felcerossa is a family-run farm suitable for eco-tourists travelling to Eastern Sicily. Here you can stay in a climate of absolute tranquility, taste seasonal fruit, vegetables, wild and aromatic plants grown according to the principles of permaculture. You also have the opportunity to attend courses and cultural events, admiring the extraordinary view of Mount Etna and the sea.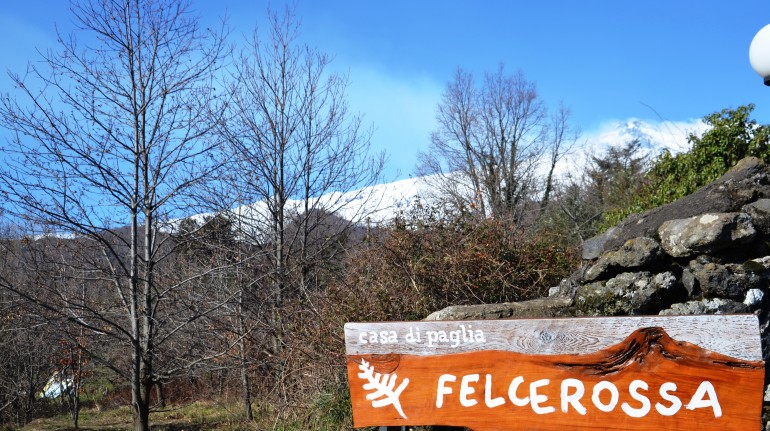 Simple hospitality and sustainable living: the story of Tiziana and Toti
Tiziana Cicero and Toti Domina's desire to live in the countryside has become something more: the creation of a sustainable environment. They learn daily new ways to respect and facilitate the natural processes of the ecosystem.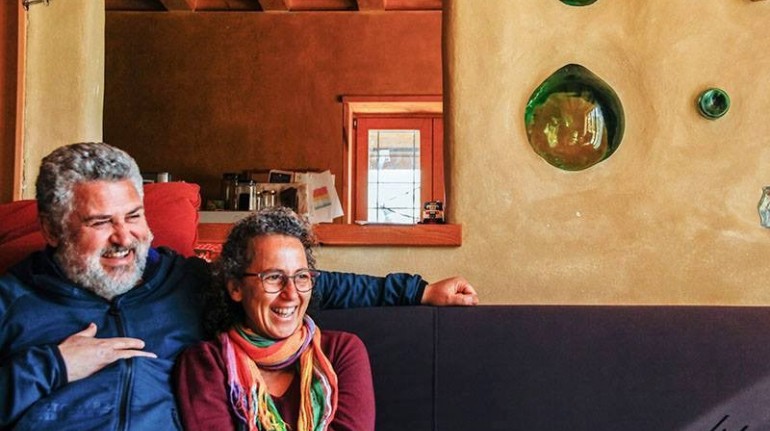 In Straw Bale House Felcerossa you can feel an atmosphere of familiarity. Every space inside this structure spreads a sense of simplicity, in perfect natural style. In this dimension where everything follows the rhythm of nature, we interviewed the owners to learn more about their history and share it with green travellers.
How did Straw Bale House Felcerossa come about?
«Straw Bale House Felcerossa was born around 2010. We started the construction of our entirely ecological house made of straw bales with clay plasters and to improve the two lava stone houses in an ecological light. Straw Bale House Felcerossa has also gradually become a project that focuses not only on green building, but also on taking care of a small piece of land, by improving the quality of the soil and creating a small ecosystem. In addition, we aim to offer sustainable hospitality that pays attention to the environment and people, to become more self-sufficient by increasing and diversifying agricultural production, self-production and the use of renewable energy. Lastly, we create a place of shared and participated learning through workshops and training courses.»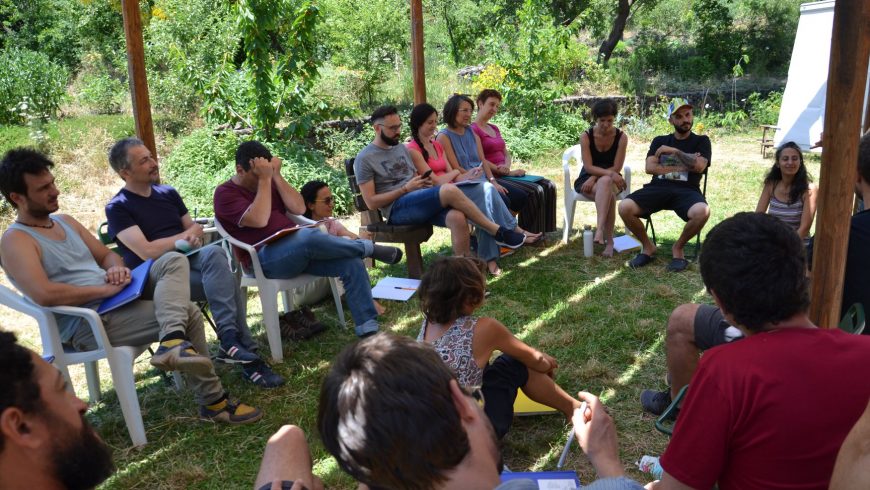 Which good sustainability practices have you adopted?
«The land design, including the small houses, is guided by the principles of Permaculture and thus to "contribute to life in all its forms". Each house is equipped with tanks for rainwater collection from the rooftops, recycling bins, the taps are all provided with flow reducers. We use LED bulbs, the flushing cisterns have a reduced use of water, the body soaps and home detergents are all biodegradables and almost all self-produced. We also have photovoltaic and solar panels, the walls of the houses are thick (stone or straw) and the windows and doors are of good quality so as to reduce the need for heating in winter, which is done anyway with wood or pellets.»
Outdoor kitchen
Bedroom
«The soil is terraced to conserve rainwater, then we let wild plants reproduce and diversify so as to expand the presence of useful insects in our soil, which is why we avoid the use of the motor hoe.  In addition, we have planted several melliferous plants for birds and in general with the aim of creating an edible forest. We are in the process of building a plant for the phyto-purification of the house water in straw bales. Finally, in the ground there are two compost toilets, a vernmenting bin, a small garden for the reproduction of plants.»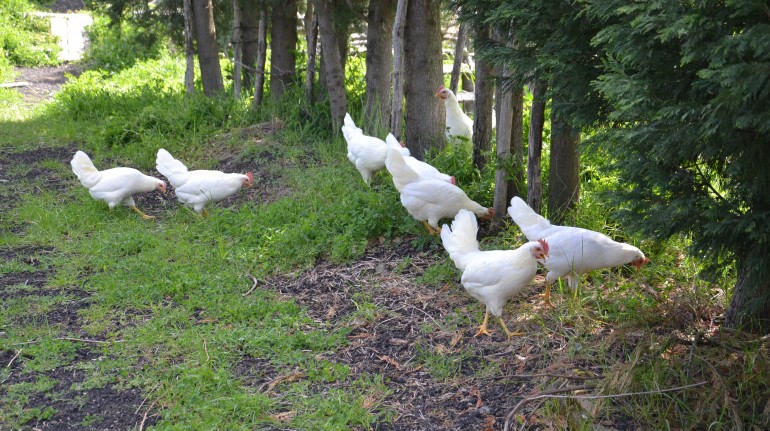 Which are the main challenges for building a straw bale house?
«Building our house in bales of straw was a truly enriching experience, full of joy and new learning. It was not easy to find people able to work with natural and ecological materials. Since it was the first construction of its kind in Sicily, we had some difficulties due to lack of experience and comparisons with other similar constructions.»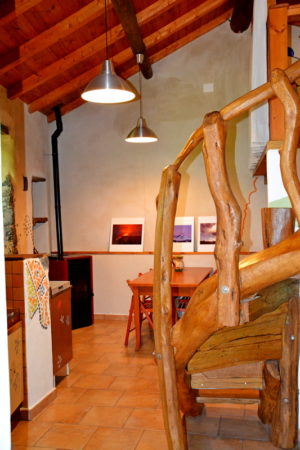 Which aspects are appreciated the most by your guests?
«Our guests appreciate the simplicity and the familiar climate that you can breathe in our reality: the presence of many aromatic and fruit plants, the use of simple materials and in many cases of recycling, the fresh air in summer inside the houses (since we are at 900 m above sea level) and the cool temperatures in the evening. In addition, each guest finds in the houses the basis for the first days of stay such as salt, sugar, toilet paper etc..»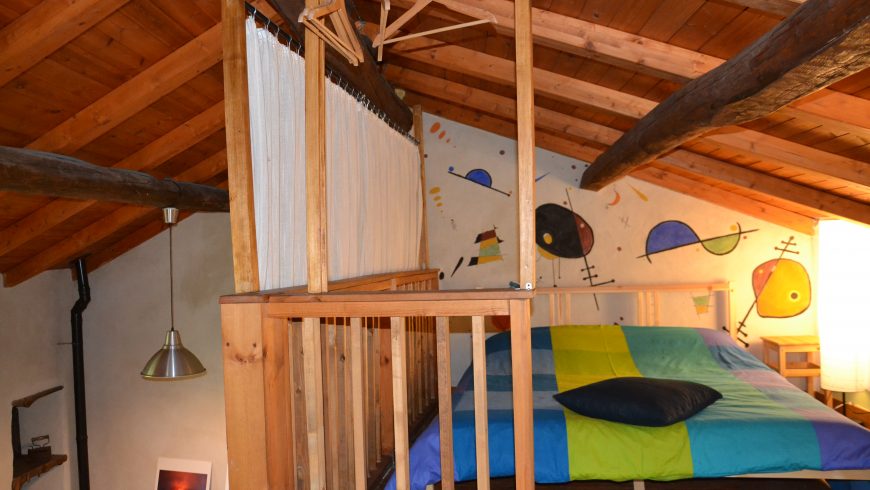 «Finally they appreciate the silence, the strategic proximity to several beautiful places in Eastern Sicily, first of all Mount Etna with the variety of routes and landscapes it offers.»
What green itineraries do you recommend not to be missed in the surroundings?
«We are located close to the Etna Park which can be reached in a few minutes by car or even on foot, we believe that a walk to "overlook" the Bove Valley is a must. Then, we are quite close to the sea where you can go to the natural reserve of Marina di Cottone, the river park of Alcantara, the park of Nebrodi. It takes a moment to reach the beautiful sea and inland destinations of the province of Syracuse and Ragusa.»
Nebrodi mountains photography by Giovanni Sonino via Flickr
Noto Cathedral, pic via Wikipedia
What does being an Ecobnb mean to you?
«It means sending people a message of quality and authenticity, and thinking about tourism with an attentive gaze towards their own needs. It also implies the environment and the people who are committed, with a forward-looking attitude, creating a cleaner and healthier world. Finally, it means feeling part of a community of people and reality that cares about the environment as a whole.»
If you want to know more, book your stay in Straw Bale House Felcerossa. They will be happy to host you in one of the stone houses and tell you about their constant journey towards permaculture!