Do you dream of discovering the wonders of Trentino by e-bike or gravel bike? This is now possible thanks to the Dolomiti-Garda Alpine Cycling Route (DoGa).
The Dolomiti-Garda Alpine Cycling Route (DoGa) is a 110 km long itinerary that will allow you to cross breathtaking territories on two wheels, from the magnificent Brenta Dolomites to the Mediterranean landscape of Lake Garda. You can choose between trekking by e-bike with pedal assistance and sporty trekking by gravel bike or mountain bike.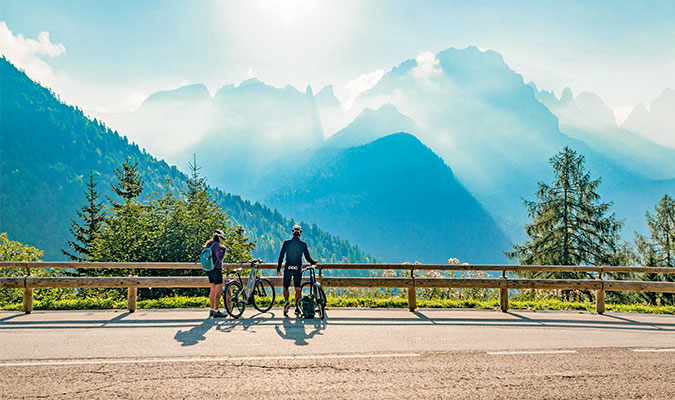 Must-see
Along the route, you will be enchanted by the breathtaking landscapes all around you. Among the many wonders to see we have selected some unmissable experiences and attractions:
Val Genova, at the foot of the Adamello group, is a wild area rich in glaciers, enchanting forests, and waterfalls. And it is precisely the waterfalls that make Val Genova so unique and suggestive. Nardis, Lares, and Folgorida are just some of the wonderful waterfalls that we find in this fairytale place.

The Stenico Castle, located in the homonymous village, is really worth a visit. Dating back to the 13th century, the castle dominates the Outer Giudicarie and its majestic figure can be observed from afar.

After the Passo Ballino, at 775 m, you will come across the blue waters of Lake Tenno, the cleanest freshwater lake in Italy. The particular shades of blue and green that characterize the lake make it a very popular attraction, to the point that many forget that even the characteristic village of Tenno is a jewel that deserves to be visited. In fact, it is one of the most beautiful villages in Italy, dating back to the Bronze Age.
How to get there
The itinerary can be covered in one day or over several days and the routes are very varied: 51 km on secondary roads, 25 on cycle paths, 20 on forest/dirt roads and 14 on the main road.
The starting point of the route is Malè, easily reachable also by train. Furthermore, several cycle paths from Trento or Mezzocorona connect to Malè. You can take shuttle buses with bicycle transport traveling daily from Riva del Garda to Rovereto, but you can also choose the Riva-Rovereto cycle path (20 km). Rovereto and Trento offer international rail connections.
Where to stay along the itinerary
After a day on the bike, there is nothing better than a good rest in a welcoming and familiar place.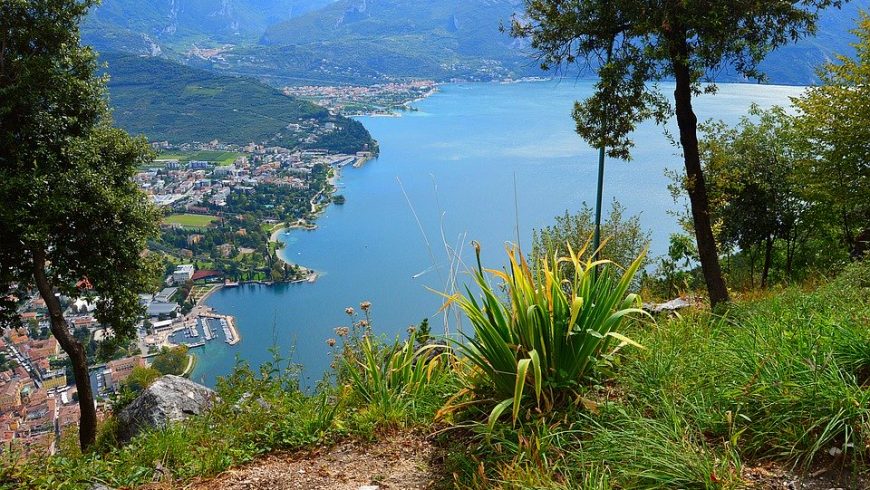 Here are some eco-friendly structures surrounded by nature and not far from the cycle path:
Dolomiti-Garda Alpine Cycling Route: a holiday to reconnect with nature
What are you waiting for? Saddle up and set off to discover magnificent territories cycling on two wheels among the Dolomites, lakes and other enchanting places that the Dolomiti-Garda Alpine Cycling Route has to offer.
Cover Image: Brenta Dolomites, photo of Michal Kmet via Unsplash