Solar energy, water reservoirs, renovated furniture and bio-pool. These are the ingredients of ISTRA AUTENTICA. an eco-friendly accommodation deep in a hectare of nature. Restored by Bojan, his owner, to be fully eco-sustainable, zero waste and off-grid. Then add the wonders of Istria, its ancient villages and the amazing Slovenian nature… and your green holiday is ready. See how Bojan describes his paradise.
Completely renovate an old house, make it self-sufficient and sustainable, by your own? Yes, you can! This is what Bojan Vogrinčič did in his property, in the heart of Istria. A region in the middle between two countries (Slovenia and Croatia), rich in cities and villages to visit, as in untouched nature.
Exploring it is easy, starting from Istra Autentica, the Ecobnb we're here presenting.
Bojan told us about his experience. It proves how you don't need specific competences nor compromises to make a house – or guest accommodation – cozy to live in and totally off-grid remaining also in harmony with nature.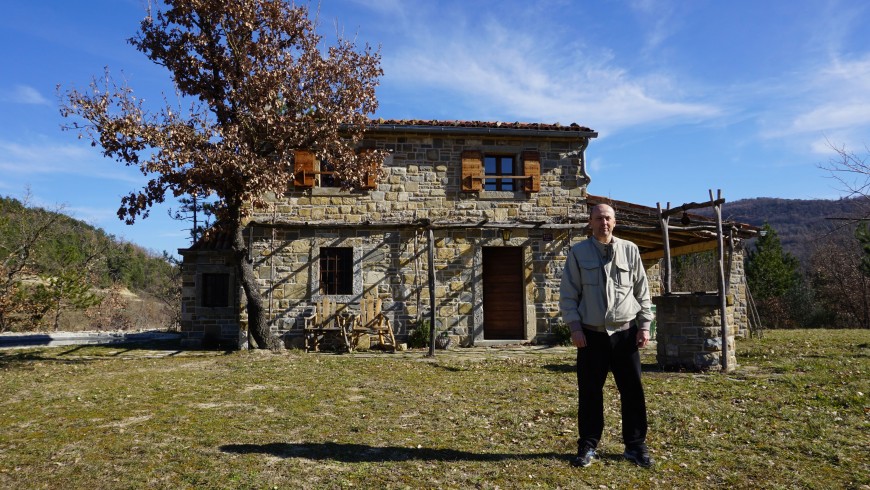 How was Istra Autentica born?
Five years ago, I found myself on this land of 10 thousand square meters, with an almost ruined old house. There weren't electricity nor water. I could have split it, but it would have required a lot of paperwork. So I thought that I could become completely independent and self-sufficient, but without polluting the environment. Now technology allows it. I installed a photo-voltaic plant on the roof, dug two rainwater reservoirs into the earth, and that's it. I must not forget about my "bio pool", which I myself made last year. The basement consists of a swimsuit and a plant-cleaning part in which a plant purifies water. Thanks to this system there's no need of chlorine. The only thing that helps us is a low-energy pump (100 W) for water circulation.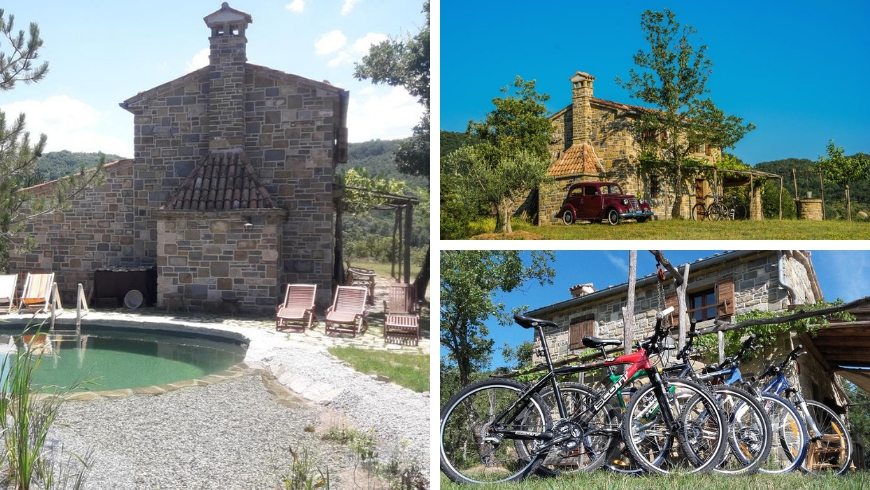 The "bio-pool"
The porch
What eco-friendly actions have you undertaken?
Besides the solar panels and the water reservoirs, I haven't bought anything new. I recouped old wooden beams and roof tiles. All the furniture were second-hand but I've carefully restored it. The wooden pergola in front of the house is made of old acacia pits, which I got when I grubbed up the 60-years-old vineyard. The sink in the kitchen has the same age. The toilet bowl and water fittings are new, since the old ones are no longer sealed. The window and the doors are new and made by a local carpenter from the Slovenian larch. They're not coloured (as it's typical here), but they are only protected by ordinary linseed oil. In the summer, you can use an outdoor shower that heats up with the sun. We also have a separate collection of glass, paper, plastics and organic waste.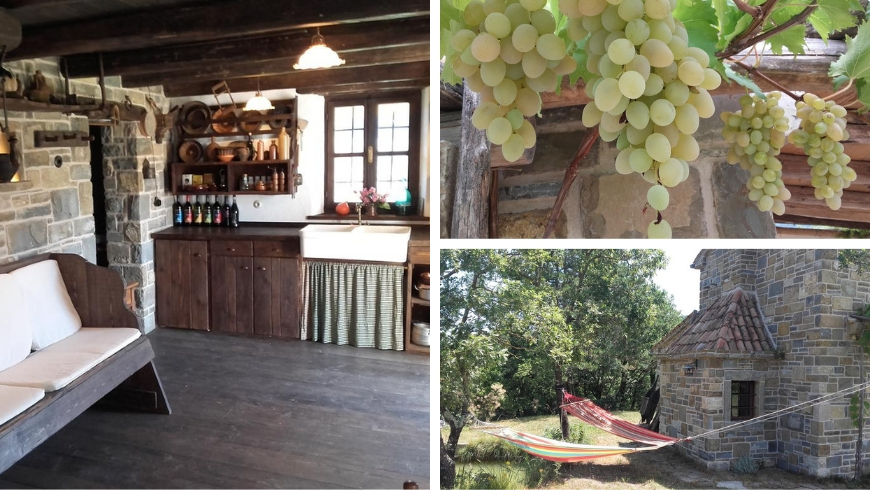 bedroom
Local wine
"Natural" furniture
What are the beauties and experiences not to be missed near Krkavče?
As for me, the house itself is not to miss, because it's absolutely authentic. And it is in a micro-ecosystem of its own. The house is surrounded by a hectare of land and no neighbours. The property provides parking just next to the house and complete privacy. You step out of the house and you're already fully connected with nature. My guests are always outdoors! Last year, a guest from Switzerland told me he couldn't sit at the table for more than 5 minutes, those were enough to get rest. Wild rabbits are almost everyday on the property and also deer and foxes are no rarity.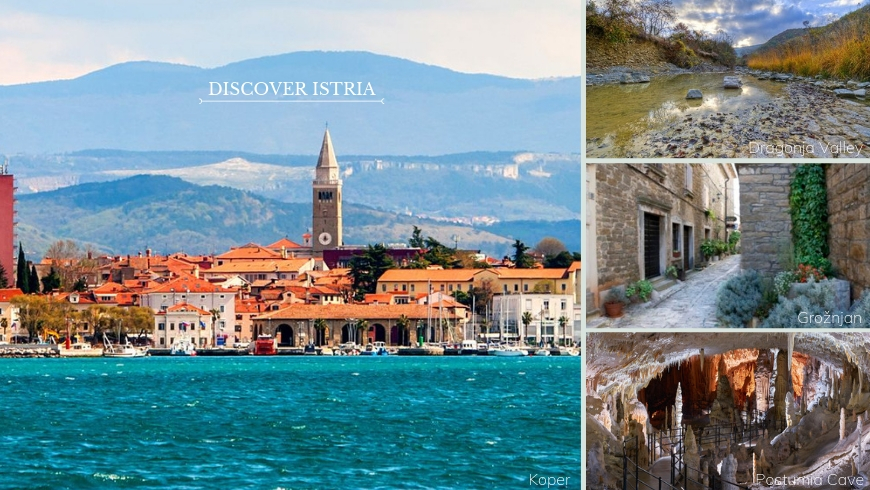 More, you can visit Istria, which is also spoken by "the Slovenian and Croatian Tuscany". The house is in the Valley of the Dragonja River National Park. It's a short river, it doesn't cross villages nor cities. So it's completely untouched and unpolluted. The villages are on the nearby hills and many are worth a visit. On the Croatian side, at a distance of 15 km, there's Grožnjan, small but very interesting, 1000 years old. On the Slovenian coast there are the cities of Piran, Izola and Koper.
You can also find the famous Lipica Stud Farm and the Postojna Cave nearby. A little further, there is Ljubljana, the Slovenian capital (small Prague), and the world famous lake Bled. In the end, you did not even give up on Italy, with its nearby Trieste (20 km away), and Venice (2-hours driving).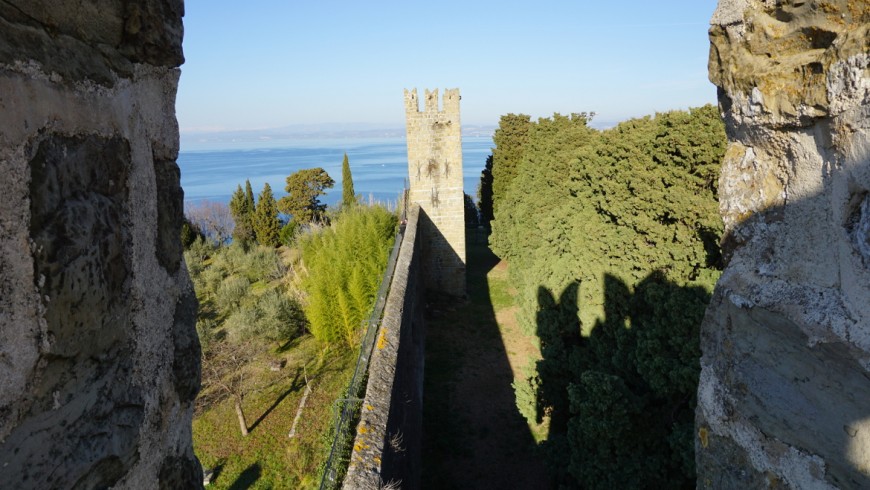 Bojan's experience proves how anyone can realize a fully eco-friendly home just with a few instruments and tricks. Without giving up on any comfort (even a bio-pool) and to appearance. A region full of places to explore is also an additional incentive to give yourself an escape from routine. Why not then? Go discovering Istria, getting benefit from the position and the unique features of this touristic accommodation.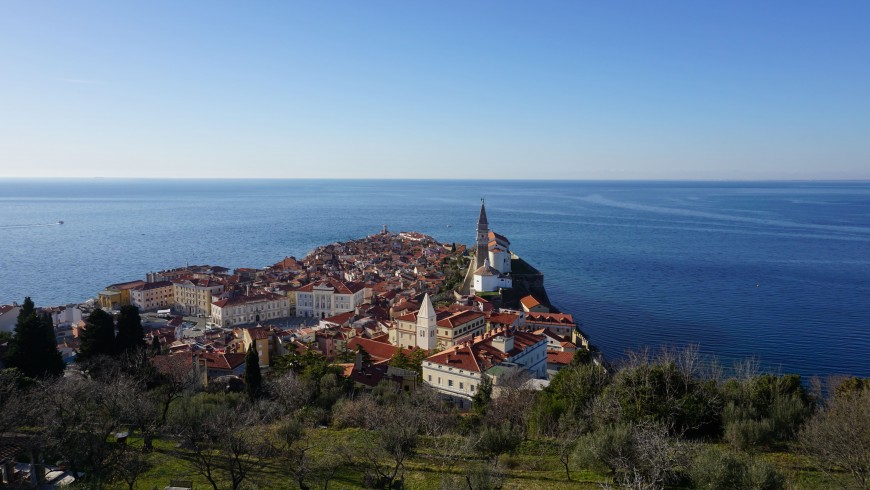 Cover image Bojan Vogrinčič. Made by Lucia Anastasi, with Canva.