Some sustainable ideas for a dreamy holistic retreat, for a full immersion of wellness for your body and mind, surrounded by nature.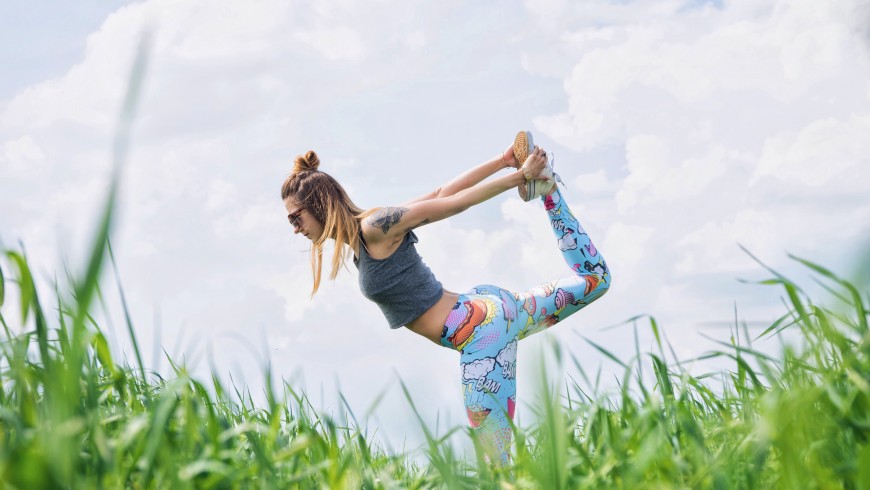 We traveled around Italy to seek sustainable answers to those looking for the perfect place for a seminar or residential course of yoga and meditation.
This post will reveal you the most beautiful tourist accommodations that offer a holistic space that are environmentally conscious, and beautiful natural environment. These are the accommodations that we consider perfect to your holistic retreat in Italy!
1. Your holistic space in Maremma
In Sorano (Tuscany), a charming old customs has been transformed into an elegant organic farm. Among the fields of saffron and truffle, Sant'Egle has a maximum capacity of 18 beds and offers several outdoor spaces with couches, chaise long and hammocks. The new holistic space in green building is available for free for all those who rent the whole house for a retreat or a workshop.
Prices: from € 125 per double room
2. A few steps away from Florence, a green  holistic space
Surrounded by the green hills of Tuscany, Casa Cares is a country house, perfect for groups. There are 19 bedrooms (single, double or triple) but also wide areas for workshops and seminars: the perfect place for a holistic training session! There's plenty of space also outside the house where you can relax walking through the woods around Casa Cares.
Prices: from 55€ per person, 78€ in a double room
3. Rediscovering the genuineness of Tuscany
Agriturismo La Fontaccia is an ancient colonial, renovated following the bio-architecture rules, where you can enjoy anew the essence, the heart of authentic Tuscany. It has three bedrooms, two flats and several common areas that all guests can use: the wide terrace, for example, is perfect for yoga and meditation with an amazing view!
Prices: from 90€  in a double room, from 110€ in a flat
4. Yoga along the Adige river
The Tirtha Farm is surrounded by greenery and has direct access to the Adige river. The building, in green architecture, has 7 double bedrooms (which can have an extra bed) and is designed to accommodate residential groups. There are two rooms of 50 square meters overlooking the countryside and a large living room of 130 square meters overlooking the park. Also in the park, near the river,there's a clearing made perfect to practice yoga and meditation. The restaurant offers specialties of the regional, vegetarian cuisine.
Prices: from 80 € per double room
5. Tai Chi, yoga and authentic flavors in Basilicata
At the gates of the Apennine Lucano National Park, Il Querceto offers hospitality in the name of ecology and spiritual rebirth. Along with the holistic space and Oriental disciplines, the farm pays close attention to healthy food: the restaurant offers specialties of the regional, vegetarian, vegan and macrobiotic cuisine. The beds available are 28.
Prices: from 90 € per double room
6. A holistic space between the olive trees
A few steps from the sea, in the heart of the old village of Diano San Pietro, DianoGreen was born as a rural hospitality project to enhance the Ligurian hinterland. For small groups there is also a small shala, occupying the old chicken coop. The breakfast is organic and local, and made mostly by vegetarian and vegan ingredients.
Prices: from 90 € per double room
7. In the green heart of Italy
Tribewanted Monestevole is a community born in a Umbrian village of the fifteenth century focused on sustainability and self-production. It is the perfect place to learn about local traditions and for a group holiday. The facility can accommodate up to 20 people and you can participate in the life of the farm, helping in the vegetable garden, in the kitchen or with animals. Among other facilities, there is also a room suitable for holistic disciplines that you can also enjoy poolside.
Prices: from 70 € in dormitory
8. A huge private wood and organic food
We move a few kilometers, staying in Umbria, 22 kilometers from Gubbio. Here is Alcatraz, a wonderful holiday resort created by Jacopo Fo. In a huge forest with a creek, olive groves and hills the property features a series of stone houses and bungalows for a total of 60 beds. Among the many services offered, a great organic restaurant, two swimming pools and a function room that can become the holistic space for your lessons.
Prices: Starting from 55 € per double room
9. A holistic space in a rural park
In the hinterland of the Ligurian Riviera an eco-village awaits you . It consists of wooden houses and cozy rooms surrounded by endless woods, hills and clear streams. In the large marquee of 200 square meters, with a beautiful floor in wooden slats, you can do any type of sports and meditative activity. Also available for those who want to organize a retreat another space of 50 square meters in the heart of the park, which will give you the intimacy needed to play a more personal work and in close contact with the elements of nature.
Prices: starting from 58 € per double room
10. In the unpolluted nature near Parma
Small groups can also retire to Albareto, at the farmhouse Casolare Bioenergetico, a rural building of '700, recovered in an environmentally sustainable way. The holistic space of the accommodation has natural wood roof and heated parquet floors. The morning starts with a delicious breakfast of organic and local ingredients.
Prices: from 58 € per double room
11. A hut in the Natural Park of Lessinia
At 800 meters above sea level, surrounded by meadows and woods, the farm Malga Riondera invites you to spend a natural holiday, to discover the wonders of Trentino. The property has three rustic apartments, with large kitchens where you can cook for yourself, with a total of 12 beds. The decor is simple and typical of an alpine meadow. Guests can also enjoy 2 large heated space for relaxation and meditation activities.
Prices: from 60 € per double room
12. A paradise surrounded by silence
Let's go back in Liguria, in the woods of chestnut and hazelnut trees that surround the B&B Semi di Crescita and its holistic space, fully equipped for yoga and with a large window over the valley that offers a glimpse of the blue Ligurian Sea. The accommodation is open to groups of up to 20 people plus 2 teachers.
Prices: from 80 € per double room
13. Open-air yoga (and lots more)
At the gates of Bologna, Agriturismo Arcadia is waiting for you in its wide farmstead (over seven hectares) with orchards, vineyards, vegetable gardens … and lots more. The main facility, once a typical farm, has five bedrooms and a large courtyard well equipped for yoga or other spiritual disciplines.
Prices: double room – from 60€ per night
14. The magic of sounds for your holistic retreat
In this beautiful B&B Casa dei Suoni, you'll spend the days completely dedicated to yoga. There are two bedrooms, a large common room where many events related to spiritual disciplines are held. Everything is combined with sound: gongs, harmonious instruments and more!
Prices: from 45€ per person
15. An agricultural holding with plenty of space
Agriturismo Ca del Rio is a bio agricultural holding with plenty of space in the heart of the Apennines separating Tuscany and Emilia, just 15 km from the San Lazzaro di Savena exit (Bologna). Here you'll find several wide rooms where spiritual, meditation and yoga retreats often take place. It's the perfect place for people looking for a holistic area. The facility can host max 32 guests, but up to 100 participants to courses!
Prices: from 95€ double room with breakfast and dinner. The meeting room is free.
16. A holistic world close to the sea
At Casa Upupa and its holistic space you'll find Yoga, Tai Chi and Qi Gong: near this typical Apulian trullo made of stone there is a facility where all guests are invited to join courses, workshops and events. You'll also have a chance to try holistic and cranium-sacral massage. Casa Upupa is really close to the sea and to Ostuni and it offers many walks and paths.
Prices: from 35€ for 4 people
17. Find your inner balance in this Marine Reserve
Are you looking for the perfect holistic place? In the Marine Sanctuary of Torre Guaceto, in Apulia, there's MATER Torre Guaceto. Everything here pivots on sustainability and the areas are perfect to find physical and mental balance. Experiencing yoga and other disciplines in this oasis full of unique flora and fauna is definitely unmatched.
Prices: from 30 € per person
18. On the hills around Bologna
Agriturismo Casa la Lodola, near Bologna, welcomes groups up to 30 people for seminars, courses and different types of workshops. There are five large rooms and a big kitchen for a retreat in the name of sharing.
Prices: from 11€ per person.
19. A green spot near Rome
Casacoco' will welcome you in two double rooms in a facility surrounded by green areas: here you'll find a holistic space both inside and outside thanks to the wide areas around this Bed&Breakfast (with a swimming pool too!). It's perfect for a moment full of charme to devote to meditation.
Prices: form 40€ per person.
20. An "Albergo Diffuso" in the heart of the Dolomites
In this "albergo diffuso" Pineta Natural Chalet you can enjoy your stay in 6 different and luxurious chalets, which borrowed names from majestic trees, from hazelnut to beech tree and many others. Here yoga weekend are often organized (two or three nights): a unique experience to live the perfect holistic space and to meditate, to pratice yoga while the sun goes down and to walk around the woods!
Prices: from 140€ in a double room (2 nights yoga weekend: 200€ per person + half board).
What are you waiting for? Your PERFECT holistic retreat awaits you, here in Italy!
Cover image: ph. by Matthew Kane, via unsplash
You might also like: