The timeless charm of a mountain chalet surrounded by nature makes it the ideal place to spend winter holidays in order to recharge yourself.
Through snow and forests of high altitude, an holiday cottage is suitable for all, from families with children, who can play outdoor, to romantic couples in front of the atmosphere of a fireplace, while sports enthusiasts dispose of large snowy slopes and trails for wonderful excursions.
Mountain life is strongly linked to the respect for the environment and nature, here are 15 suggestions for a chalet vacation in the name of  sustainability, but with all modern conveniences.
1. Orse Rose Chalet, Val di Zoldo, Veneto, Italy
A small village of chalet in wood and stone, in the heart of the Dolomites, is what it takes to regenerate outdoor. Orse Rose Chalet allows a stay in complete autonomy, organizing outings and excursions as you like, and is able to convey stories and traditions of the place through the furnishing elements of the chalets. There's an organic garden and a dog sitting service, when you can't bring your four-legged friends on the ski slopes, while climbing or trying a game of tennis.
Info: Orse Rose Chalet
Chalet Orse e Rose, Val di Zoldo
Chalet Orse e Rose, Val di Zoldo
Chalet Orse e Rose, Val di Zoldo
2. Pineta Naturalmente Hotel, Tavon, Trentino, Italy
In the heart of the Dolomites you can find an amazing hotel, perfect for a wellness holiday in nature. Tthe Pineta Hotels provides mountain chalet or beautiful wooden furnished rooms, a spa with saunas, swimming pool and Jacuzzi and a restaurant where you can discover the flavors of Trentino. From the hotel you can discover the Val di Non, you can live the experience of a romantic carriage ride around the lakes of Coredo and Tavon or pick apples in the family's orchard.
Info: Pineta Naturalmente Hotels
The room of the chalet
Nearby the hotel
Pineta Naturalmente Hotels
3. Eco villaggio Sagna Rotonda, Marmora, Piedmont, Italy
An ancient mountain village in the province of Cuneo has been recovered in an eco-sustainable way and turned into an accommodation. This beautiful Albergo Diffuso is made up of 13 units, typical mountain chalets. The energy of the accommodation is 100% green and, among other things, offers a huge outdoor play area for children and a beautiful wood-burning oven. The location is breathtaking: the village is nestled in the Maira Valley, Piedmont area near the border with France still little known and far from mass tourism. In every corner romantic paths and signs of war trenches hide. Here you can discover the uncontaminated nature and the incredible scenery that only it can give us.
Info: Eco Villaggio Sagna Rotonda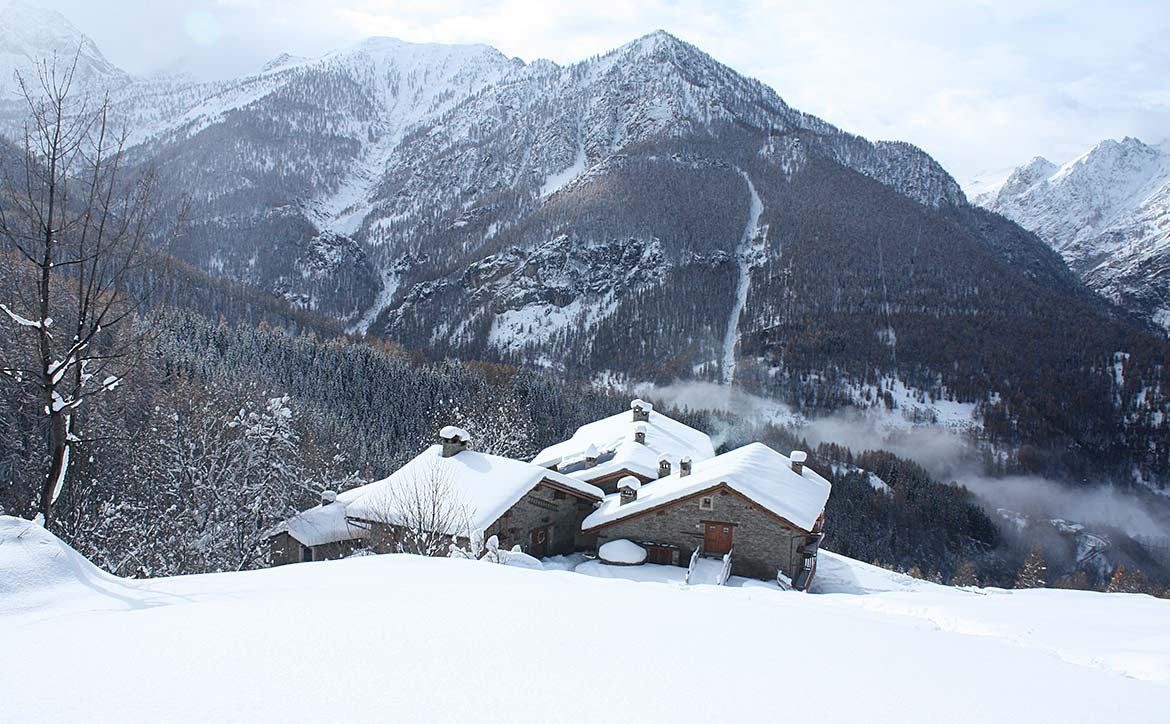 Eco-friendly chalet in Marmora Valley
A chalet's room
Snowshoeing nearby the accommodation
4. Relais du Paradis, Gran Paradiso Park, Aosta Valley, Italy
In the Gran Paradiso Park, Relais du Paradis is a quaint B & B in wood, a few km from the spa of Pré-Saint-Didier and from the ski resorts of Aosta Valley. Renovated in 2011 in full respect of nature, with renewable resource plants of low emissions of CO2, Relais du Paradis offers 6 bedrooms, one family-friendly that you can use as a residence, with kitchen staff, and one dedicated to couples for a romantic getaway, with spa bath and color therapy, infrared sauna in birch wood. The scenic locations, including pastures of goats, sheep, cows and horses, and a room used as a small library ensures moments of complete relaxation.
Info: Relais du Paradis
Relais du Paradis, Aosta Valley Italy
Relais du Paradis, Aosta Valley Italy
Relais du Paradis, Aosta Valley Italy
5. Odomi, an eco-chalet in the Mocheni Valley, Trentino
An ancient mountain Maso surrounded by 7 hectares of wood, in the unspoiled nature of Trentino (North Italy). This beautiful eco-chalet is located 1,200 meters high in the Valle dei Mocheni, 18 km from Levico Terme and 22 km from Trento. The rustic has been recovered with attention to the bio-architecture, preserving the original forms of the mountain farm. Odomi has wooden floors and stunning views of the surrounding landscape. A beautiful fireplace, a Jacuzzi, a flat-screen television, a large equipped kitchen, and a large outdoor garden are just some of the services available to guests.
Info: Odomi
6. Malga Riondera, Lessina, Trentino, Italy
Housed in an old stone cottage of Lessina, the farm holiday Malga Riondera was recently renovated according to the principles of green building, using environmentally friendly paints and energy supplied from renewable sources. The farm Malga Riondera is in the midst of the mountains of the Natural Park of Lessina and Small Dolomites, which you can see as you walk through the nearby woods of deciduous and coniferous trees. Three apartments available, simply furnished and cozy, with the opportunity to make your own meals, thanks to the large kitchens.
Info: Agriturismo Malga Riondera
Malga Riondera, Trentino, Italy
Malga Riondera, Trentino, Italy
Malga Riondera, Trentino, Italy
7. Chalet Maison de Grand Maman. Aosta Valley, Italy
At 1,260 meters in the small village of Verana, near Champorcher and the Monte Avic National Park, is located the Chalet Maison de Grand Maman. Housed in a nineteenth-century stone house, the eco-chalet offers romantic rooms, where the scent of wood meets the refinement of natural fabrics, antique furniture, and traditional Alpine objects. Ideal both for winter and summer holidays, Chalet Maison de Grand Maman is surrounded by woods, where it is common to see deer and squirrels and is a great starting point for Nordic walking, hiking, horseback riding, or mountain biking, and of course for the ski resorts of Champorcher. The organic breakfast, the decorations in natural wood, combined with innovation for energy consumption with low environmental impact, completes the magic of the stay.
Info: Chalet Maison de Grand Maman



8. Locanda Lou Pitavin, Maira Valley, Piedmont, Italy
In the pristine nature of the Maira Valley, the Locanda Lou Pitavin offers a spectacular view of the woods and the mountains. From here there are unmissable itineraries to follow on foot or by mountain bike. The romantic rooms, furnished in a traditional chalet style and covered with scented pine pine, provide moments of relax and privacy. In the restaurant you can taste typical dishes of the Occitan cuisine prepared according to ancient recipes, based on local products. Do not miss the handmade potato gnocchi with mountain herbs.
Info: Locanda Lou Pitavin
Locanda Lou Pitavin
Locanda Lou Pitavin
Locanda Lou Pitavin
9. Maso Azzurro, Trentino, Italy
Easily reachable from Trento, Maso Azzurro is in the Adamello Brenta Natural Park. The rooms in wood and stone are furnished with charm. In the large room, you can enjoy fresh herbal teas in front of the warmth of the fireplace. At Maso Azzurro, you can try unique experiences, such as discovering the Stenico Castle or exploring the unspoiled nature of the Brenta Dolomites, a Unesco heritage site, on foot (or sledges). You will be able to observe footprints and wild animals: roe deer, deer, fox, … and with a little luck even the bear.
Info: Maso Azzurro



10. Markovic Chalets, Divčibare, Serbia
At 1050 m above sea level, in the heart of Serbia, there are two small and rustic chalets that offer an incredible view of Divčibare. The winter sports enthusiasts will find numerous ski slopes near the Markovic Chalet, including some lit for night skiing experience. The area is rich in rivers and streams and there are trails and nature walks.
Info: Markovic Chalets
Chalet covered with snow
Divčibare
Markovic Chalet
11. The Koren Eco Chalets,Kobarid, Slovenia
Nestled in the beautiful forest above the Soca River, the Koren campground with a long tradition in ecotourism offers to its guests 6 beautiful chalet built entirely of wood. With their 100m2 on two levels are the perfect solution to live a  luxurious stay without losing touch with nature. Perfect for a family holiday, each chalet can accommodate up to 6 people, and two of them are also allowed pets. The camping has many climbing walls and an adventure park, around activities abound: canoeing, paragliding and bike rides await you!
Info: The Koren Eco Chalets
Chalet with photovoltaic panels
Saca river
Chalet's bedroom
12. Glamping Gozdne Vile, Bled, Slovenia
A short walk from the idyllic Lake Bled, The Glamping Gozdne Vile offers beautiful mini chalets and mobile homes. The camp became glamorous and the tent are replaced by these particular ecological construction in larch. Some have a hot tub outside, also in wood, perfect for a romantic evening. The beautiful surroundings invite you to walking and cycling.
Info: Glamping Gozdne Vile
Mini chalet
Lake Bled
Hot tub
13. Le Case Selvatiche, Barge, Cuneo, Italy
Le Case Selvatiche chalets are located near Barge, surrounded by unspoiled nature, among woods, the mountains, and the meadows of Montebracco, about fifty kilometers from Turin. The ancient abandoned village has been recovered in an eco-sustainable way, and here you can stay in a beautiful wooden house with natural fir rooms, kitchen, balcony and enchanting view of the Monviso mountain.
Info: Le Case Selvatiche
14. Nuit a Pleiney – Natura e Relax, Saint Rhemy, Aosta Valley, Italy
An ancient architecture made of wood and stone, typical of the Aosta Valley. The evocative interiors and charming details, will let you live an unforgettable adventure. All around the unspoiled nature of Saint Rhemy: fir forests and the sound of a stream. In the large garden with mountain view, a romantic eco-chalet made of old wood houses the wellness area with Scandinavian tub and Finnish sauna.
Info: Nuit a Pleiney



15. Plan de La Tour,  Cogne, Aosta Valley, Italy
Among the majestic peaks of the Gran Paradiso National Park, in the Alpine Pearl of Cogne, you can experience the authentic life of the mountain by staying in an eco chalet and organic farmhouse. The rooms smell of wood and every detail tells the local tradition. Here time seems to have stopped, hospitality is familiar and a holiday is immersed in nature.
Info: Plan de La Tour



Are you ready for a romantic mountain holiday? Which of these eco chalets do you prefer?
Cover image: Baita Passo Feudo, by Chee-pow via Flickr