Naturopatic healing point
Hruševica 1b - 6222 Štanjel - Štanjel - Slovenia
The holistic philosophy of life is crucial in that we fulfill all aspects of our lives. Our lives, much like nature itself, demand balance. We are intuitive and natural beings.
There occurs a wondrous, spontaneous change within us when we provide our bodies, our minds and our souls with the primary elements: a clean and quiet environment, nature, light, alkaline water, natural and organic and homemade food, rest, sleep, and natural cosmetics. When we remove all of the physically toxic factors from our environment (allergens, intolerances, imbalanced hormones, toxins…), when we promote the flow of meridians and activate our chakras, a primal urge wakes deep within us – harmony.
In naturopathic healing point we are specialized for the body balance (allergies, intolerance, holistic nutrition, hormones), divine harmony (crystal healing, chakra balance, sound healing, pendulum), sacred vibration (meridian treatment, bioresonance method, earthing) and magical protection (orgonite, energy water, organic cosmetics and sacred herbs).
Vita Nova naturopathic healing point is available for guests in Bio Hotel St. Daniel and for others searching for the way to reforge the connection with the Universal energy – with Qi.
By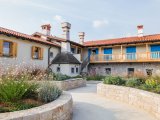 Štanjel (Sežana)
Starting from 83,00 €