Collect the olives and produce your own oil in the day
via Bugiana 11 - 52048 Monte San Savino - Italy
How does a truly extra virgin olive oil really produce?
We invite you to discover it together with us, step by step, picking the olives directly at the warmth of the autumn sun, then, at dusk, attend to grinding them in our own oil mill.
From the olive tree to the tasting of freshly produced oil, an unforgettable stay!
For those who stay by booking with Ecobnb it's free this incredible experience, along with a new oil tasting.
stay from 65 € free new oil tasting
stay from 65 € free new oil tasting
By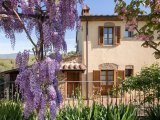 Monte San Savino (Toscana)
Starting from 65,00 €