1. Best things to do in Massa-Carrara
On the coast you can find Carrara, with its "lunar" Duomo entirely built with marble, and then you will find the beautiful Massa, dominated by the fortress Malaspina: two towns steeped in history and culture.
Carrara has always been the city of marble, controlled from the White Alps where this stone is extracted and worked. The Museum of Marble and art workshops in the city are a must even for those who want to sea...
Massa extends slightly over the green hills at the foot of the Apuan Alps. The old town has a beautiful medieval dress with narrow, winding streets and a sumptuous sixteenth area. Visit it all and do not miss the Cathedral and the Ducal Palace.
2. Lunigiana and surroundings
In the heart of the Apuan Alps the famous white marble quarries stand out between two natural parks (the Alps and Tosco Emiliano Apennines); after that you will find the Lunigiana, introducing food and wine tours and beautiful farmhouses. The small village Groppodalosio is located in Valdantena, along the ancient route of the Via Francigena. Do not miss the beautiful "Tibet" bridge on the Via Francigena of lunigiana, you can find it along the stretch running from Pontremoli.
The strip between Liguria and Tuscany is full of olive and cypress trees, here you will find the village-castle Bibola and the Parish of St. Andrew in Sarzana.
Cinquale, in Versilia, has always attracted artists and enchanted people with its harbor and views on the Apuan Alps.
3. Tastes and local foods
Massa is rich and tasty in its food: let's try the delicious noodles with beans, stuffed tortellini and lasagna larded. Yes, the product of excellence is the lard, rested in Carrara marble basins with many spices. Literally it melts in your mouth. Combine it in every way: with crustaceans and fish, with tigelle or bread.
The famous "testaroli" lunigiani, made of thin dough, topped with pesto and pecorino are another delicacy not to be missed.
4. Nature, sport and green itineraries
A nice ride can begin from the train station of Carrara-Avenza moving to Via Petacchi to reach Viale XX Settembre, in Carrara direction.
Once in Carrara, turn right in via Don Minzoni and after the village of Codena bends right until Bedizzano. From here a nice climb leads to Colonnata and reach Ponti di Vara, built to withstand a steam train that until the 60 was carrying marble to the port. A succession of white and bright green not to forget.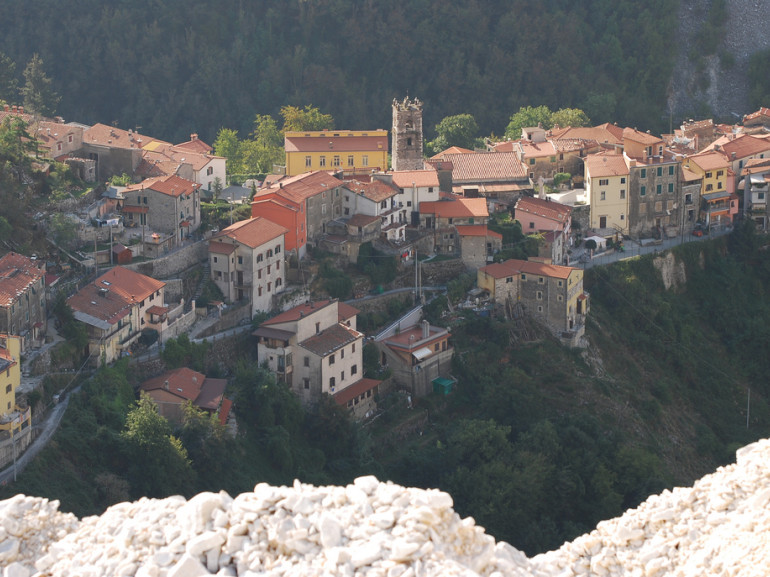 5. Where to stay in the city and surrounding
Discover all ecofriendly accommodations in the province of Massa-Carrara: in the footsteps of the Via Francigena you will find organic farm immersed in the heart of Lunigiana that counterbalance to small ecological B&B overlooking the Versilia.
Discover all eco-friendly accommodations in Massa-Carrara
Author: Angela Sebastianelli
Cover photo: Versilia coast, photo by Michael Bertulatvia via Flickr