Travelling time: Half day
Difficulty: Easy
Why we love it: A not to miss bike route for the wonderful visit to Torrechiara Castle, one of the best preserved italian castles.
Length: 36 km
Total Elevation Gain: 10 m
Way to travel: By bike
Cost: 0 €
Our Advice: Autumn is the best season to visit the castle, maybe with a stop to taste the excellent Malvasia wine of the local wineries.
If you look for a quiet day trip on country roads, visiting a castle full of history, built for a great love, this green route is for you!
The green itinerary starts from Parma. We take the Via Langhirano road and, at the roundabout of the Campus, we continue to the left for Strada Martinella.
Once in Vigatto, we suggest a short stop at the Church of San Pietro, where you can admire paintings of the XVII, XVIII and XIX. In front of the church you can discover the ancient Villa Meli Lupi surrounded by its beautiful park.
Further along the way you can admire other interesting villas, such as Mutti Palace, Villa Ghia, which dates from the late sixteenth century and, in Pannocchia village, Villa Rognoni.
Continuing straight on the road, you reach the Benedictine Abbey of Torrechiara.
1 km from the abbey you will find the beautiful Torrechiara castle, set in the ancient medieval village.
The castle stands out for its majesty on a hill from which you can enjoy a truly picturesque view.
The castle, which is definitely worth a visit, its perfectly preserved from late medieval era and it is shaped square, between the four towers and its curtain wall wit turrets.
It was rebuilt between 1448 and 1460 by Pier Maria Rossi in honor of his beloved Bianca Pellegrini, becoming her luxurious residence. Special attention deserves the Camera D'Oro, whose name is derived from the leaves of gold that once lined the tiles on the walls. The room still has a rare cycle of frescoes attributed to Benedetto Bembo depicting scenes of the ritual of love chivalry and the celebration of the link between Bianca and Pier Maria Rossi.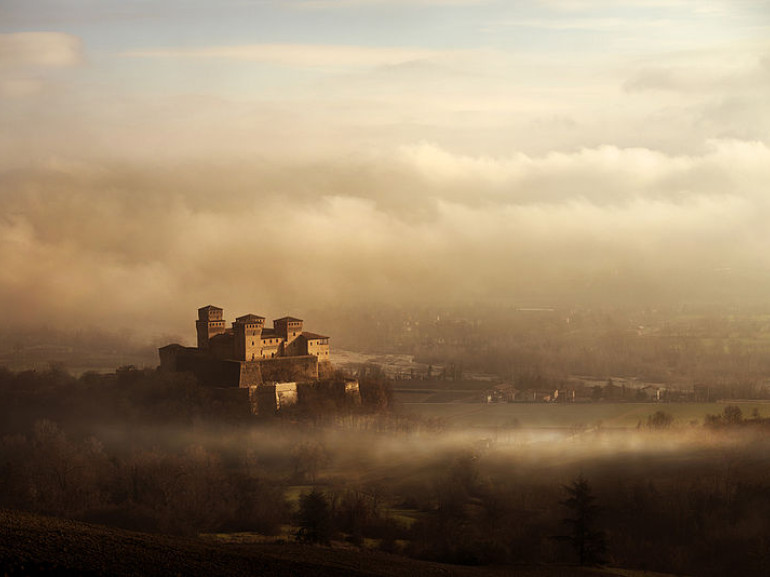 An ancient legend tells that during the nights of the full moon, when the fog envelops the Torrechiara castle, appears the ghost of the beautiful duchess, Bianca Pellegrini, who had been locked in the castle by her jealous husband.
After a stop at the castle you can go back to Parma retracing the same route.
Through Vigatto village you can stop to savour a delicious specialty: the 'fried cake' that is tasted hot and crispy accompanied by Parma ham or other cured meat.
A green stay near the trek:
B&B Cancabaia Parma is set in a courtyard dated from the Seventeen Century, situated in the foothills, 15 minutes from Parma but immersed in total rurality. Guests can enjoy a warm but discreet family atmosphere in a quiet and relaxing environment immersed in the surrounding countryside.
Cover photo: Castello di Torrechiara, Parma, Italy