Travelling time: 2. 15 hours
Difficulty: Family
Why we love it: Walking along this way you will go through centuries-old chestnut trees, olive groves, trachyte rocks and suggestive landscapes.
Length: 5 km
Total Elevation Gain: 100 m
Way to travel: On foot
Cost: 0
Our Advice: It is better to walk through this path between March and November.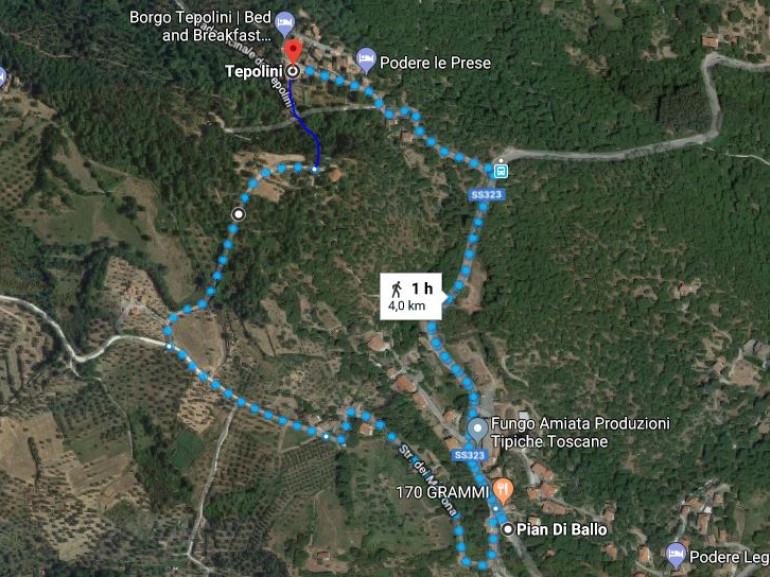 The chestnut way, starting from Borgo Tepolini
From Castel del Piano along the Way of the Chestnuts
Being renowned for its centuries-old chestnut trees and olive groves, Castel del Piano is the perfect place for an itinerary full of suggestive landscapes and a rather raw nature.
Start your way with an unforgettable stay at Borgo Tepolini, which is an ancient residence set in the beautiful Tuscan hills. Here the genuine flavours of the traditional Tuscan dishes, comfort and an atmosphere celebrating the harmony with the natural world meet. Panoramic swimming-pool, wide garden, wellness centre and library: there is everything you need to start your journey in the best way and restore your energies. Hence, Borgo Tepolini is the perfect place to relax and find your peace of mind.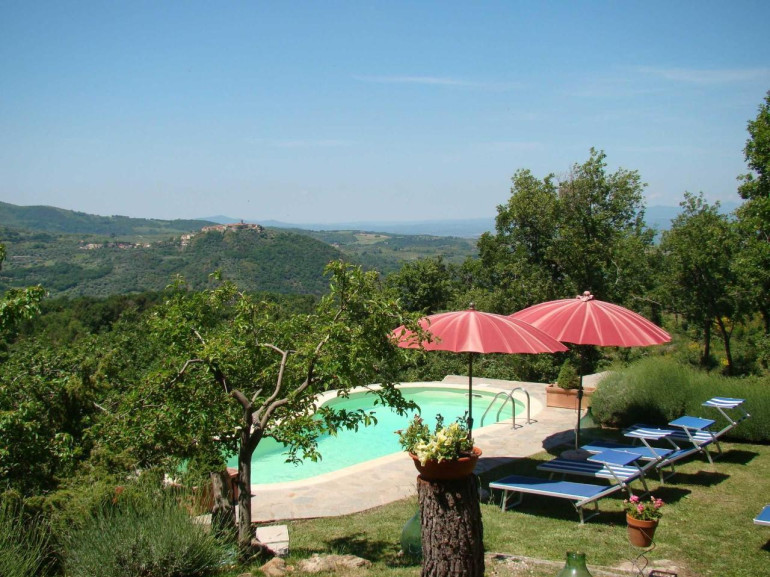 Panoramic swimming-pool at Borgo Tepolini B&B
From Borgo Tepolini begin 3 beautiful paths that pass through the valleys in the nearby, such as Val d'Orcia and the way towards Monte Amiata. The three itineraries are that of the Little Valley, which surrounds Borgo Tepolini; that of the Great Valley, namely "the Way of the Chestnuts"; and that of the Long Valley, which goes from Borgo Tepolini to Castel del Piano.
Choose "the Way of the Chestnuts" itinerary to the slopes of Monte Amiata and you will walk through white roads where you will see grapevines alternating with chestnut trees and centuries-old olive groves.
Together, they are the distinctive feature of the territory, making the area around Castel del Piano famous for its excellent wine and olive oil production.
After walking along a dirt road where you will be surrounded by fruit trees, olive trees, chestnut trees and grapevines, you will step into a pine forest.
Follow the road signs marked with "the Way of the Chestnuts" and, after walking along a path in the forest that encloses the Burlana spring, you will finally reach an area full of chestnut trees.
Keep going on and you will pass through wonderful natural landscapes, typical of the Tuscan Maremma: luxuriant vegetation, stunning trachyte rocks (which give a hint of rawness to the landscape) and typical villages, like Pian di Ballo.
When you get to this village, you will see the signs indicating the direction for Tepolini. Follow them and you will have ended the cyrcular "Way of the Chestnuts"!
Author: Antonino De Pasquale