In the heart of Apulia, Salento welcomes us with its unique atmosphere, with its scents and flavors, with its wild nature and its villages, and with indescribable natural pools.
Let's dive into the crystal clear waters of Salento, in the deep south of Apulia, between the gorges and sea, where true natural pools are hidden, jewelry set among the rocks. Here are the 4 pools not to be missed this summer (and 5 beautiful green accommodations)!
1. Grotta della Poesia (Cave of Poetry)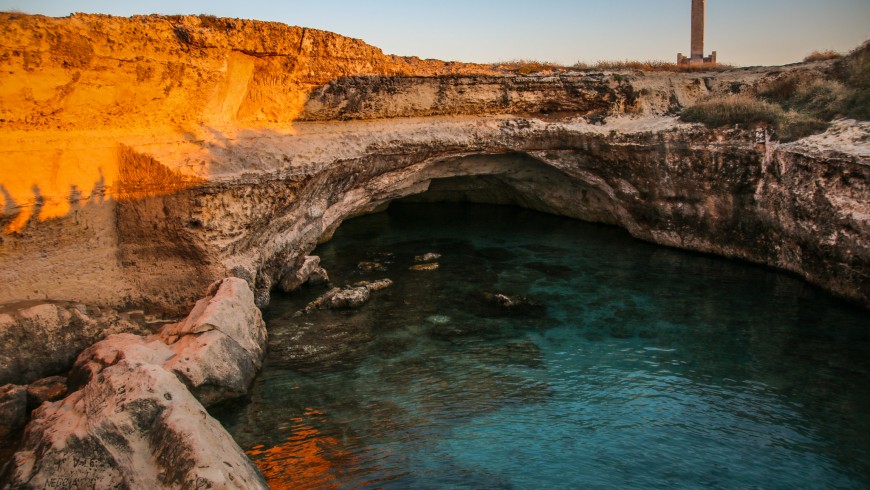 At Roca Vecchia, on the Adriatic side of Salento, in the marina of Melendugno, there's an archaeological site where there is a sighting tower of the '500, a sanctuary dedicated to the Madonna of Roca, a castle, of which remains overlook the sea. In this beautiful location there's the Cave of Poetry, one of the ten most beautiful natural pools in the world, a spectacular place that will leave you breathless.
2. Marina Serra's natural pool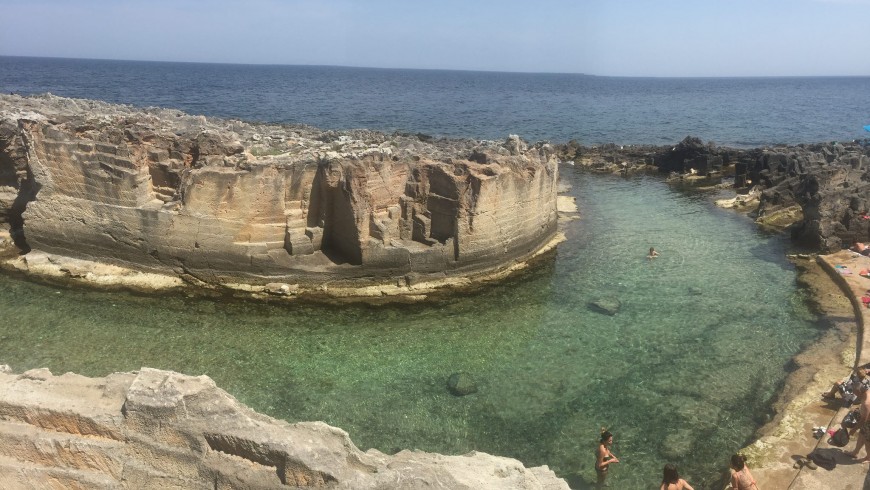 We stay on the Adriatic side to discover this creek between the rocks, dug by the sea and the wind. Marina Serra is a small town in Salento, still not known by mass tourism. But its natural pool is worth the whole trip.
3. The mouth of Idume River
We are in Torre Chianca, a hamlet of Lecce. We follow the course of Idume River to reach its mouth, where a small natural swimming pool is created, rich in vegetation and characterized by fresh and crystalline waters. And so we are in front of a pristine natural paradise.
4. Monaca Cave
Legend has it that many years ago a monk seal lived here. This natural swimming pool is just 2 kilometers from Otranto and although it is not easy to reach it, we recommend that you try it. It is a pearl that leaves you speechless, where you can spend a day of total relax, lulled by the wind, the sun and the sea.
Best green stays in Salento
There are plenty of environmentally friendly accommodation in this corner of Puglia. Staying in one of these structures will help you discover the true and authentic Salento, enjoy local produce and not harm the environment.
Vegan holiday in Salento
Piccapane Organic Farm is a natural and relaxing place in the heart of Salento, suitable for those who love an environmentally friendly holiday. The vegan restaurant offers excellent dishes made with 100% organic ingredients, produced on the farm.
In the historic center of Tricase
Campacavallo is the ideal bed and breakfast for those looking for a cozy, quaint and cheap place to stay for a few days without sacrificing hospitality and a great breakfast.
A farmhouse with sea view
Masseria Bellolio Farmhouse is surrounded by centuries-old olive trees and is located on the last hill of Salento, in the countryside of Carovigno, a small medieval village, 6 km from the Torre Guaceto Nature Reserve.
Natural and healthy luxury
Manfios Country Houses is a beautiful farmhouse offering its guests four villas immersed in a beautiful olive grove where you can relax and let yourself be inebriated by the scents of the countryside. You can also pick fruits and vegetables directly from the garden.
Between a thousand olive trees
At This farmhouse you can enjoy green, sea, tranquility and relax. At 2 km from the Salento sea you will be welcomed in a family and simple setting. The rooms have been restructured with the philosophy of creative reuse, energy comes from sun and vegetables and oil are organic.