Have you ever thought about going into a forest and hugging a tree trunk?! Perhaps, it may sound a little weird, but this action is becoming always more fashionable all along the world.
The Shinrin-Yoku is a Japanese technique that was invented about forty years ago. It is used as a therapy for the inner balance.
The Shinrin-Yoku, the experience of forest bathing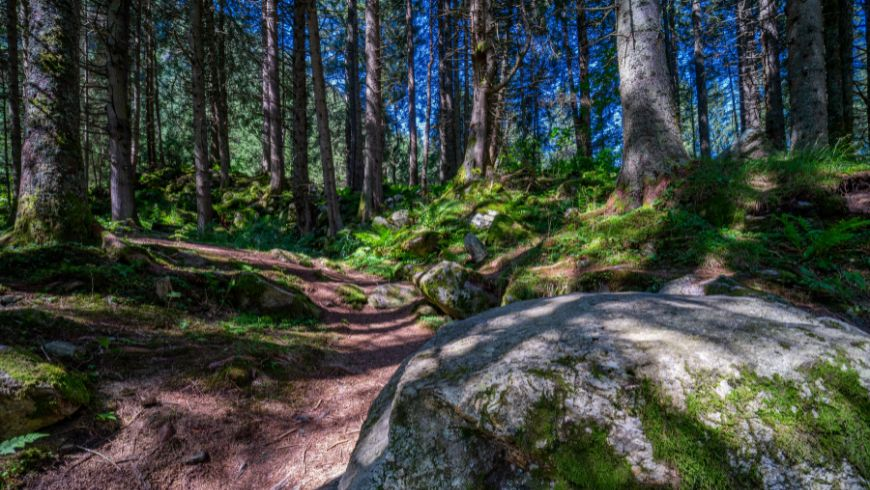 When you step into a park or a forest, you feel enveloped in an atmosphere of serenity and tranquillity that can rarely be recreated elsewhere.
It is a sense of peace that pervades your body and your soul and recharges us like magic. Or else you get the impression of being enveloped in something mysterious and you get the feeling that time stops or, at least, slows down among the trees and that everything really does go back to being on a human scale…
In Japan, people call it Shirin-Yoku, which means bathing in the forest and it is a simple embrace of a tree trunk.
Where to practice Shirin-Yoku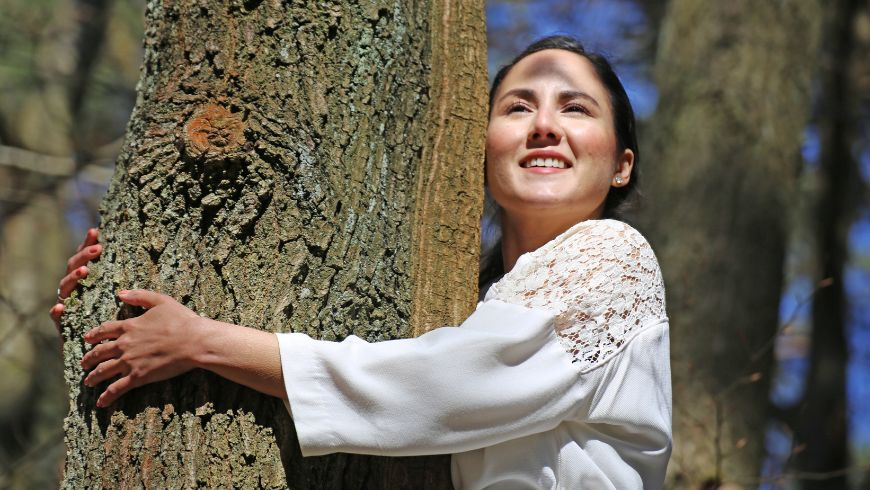 You can practice this green therapy anywhere, because both in the city and at any holiday destination, you can find a plant to hold close to you. It is an experience in which one can strip oneself of everyday stress and go in search of natural beauties that may even bevery close to your home but which you have never seen for real and properly.
The roots of Shirin-Yoku
Shinrin-Yoku was created, as already mentioned, in Japan in the 1980s thanks to the Minister (Akiyama Tomohide) of Agriculture, Forestry and Fisheries.
In Japan, it is a special method of medicine that is almost comparable to our local aromatherapy.
Shirin-Yoku heals mind and body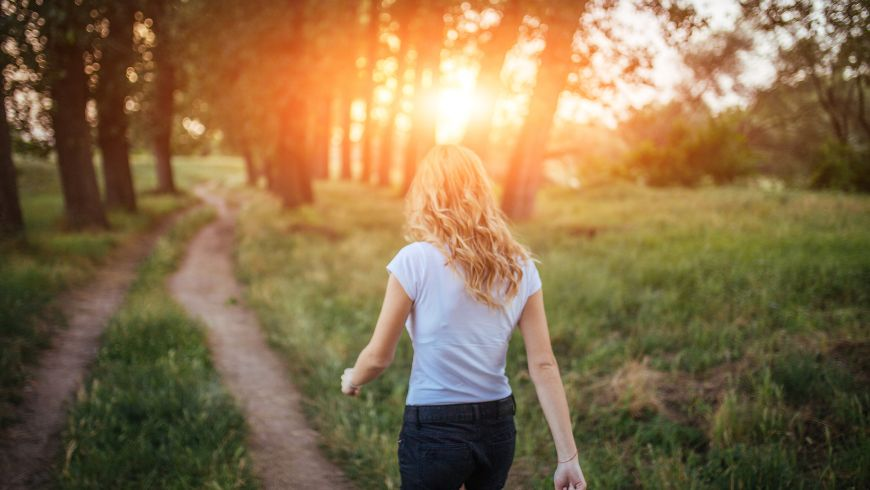 According to scientific studies, walking among the trees is really beneficial. How is it possible?
It is possible because the mere presence of the plants is beneficial and relaxing, thanks to the green colour of the cravings that instil a sense of relaxation and silence. By wandering in nature you can put aside (at least for a moment) the ugly thoughts, the sense of frustration and the stress.
In fact, the link between us and plants is very, very old. Plants have been on earth for about 400 million years, so long before us, and they produce the oxygen that gives us life.
The role that plants play in our lives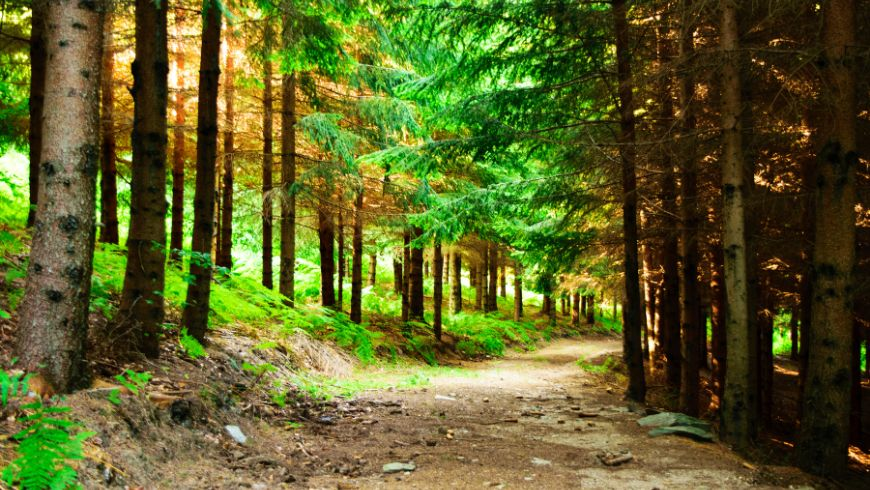 Trees are really very important beings in so many ways. From a scientific point of view, plants both regulate the climate and are crucial in combating global change as well as global warming.
Moreover, plants bond people as they create community and help those suffering from depression, psychological distress and anxiety in a way that little else can.
A peculiarity, perhaps a little less known to most, of plants is that, according to recent studies, they are able to communicate with each other in the event of dangers threatening them.
How to practice Shinrin-Yoku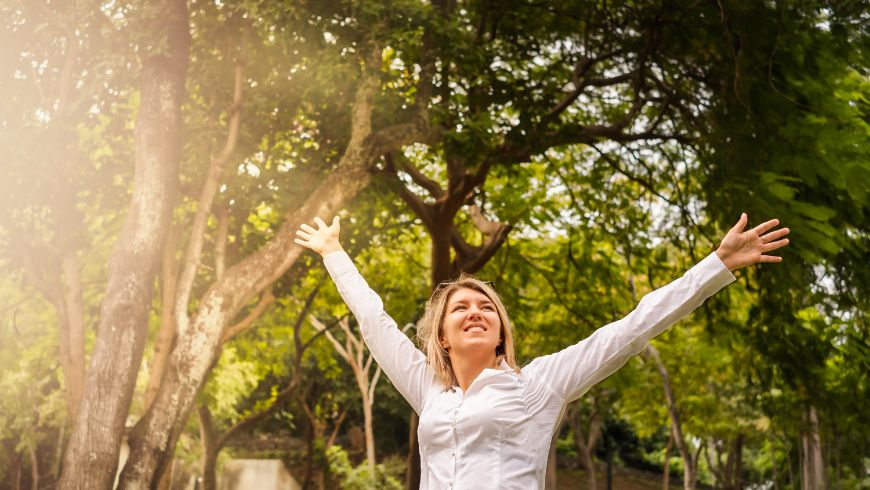 If you want to practice Shinrin-Yoku, you need to to find a forest, park or natural place that is not crowded and that conveys a sense of peace and tranquillity. Then, you need to wander through the park slowly so that you can immerse yourself in this atmosphere. Here you will smell the scent of the nature and hear birdsongs. This procedure calls to mind the principle on which Zen meditation-walking is based.
You will have to focus on you own movements in order to fully live the experience. You should look around and carefully choose "your tree". Once you found it, you need to make physical and mental contact with it.
You can start by caressing the trunk and listen to the sound of nature. Then, hold it closer and take all the time you need! Focus on the great and powerful energy that the plant certainly transmits to you. Breathe in this air that is full of substances that the park releases. Scientists themselves state that this air can stimulate our immune system and the creative.
This experience will benefit your body and your mental health in so many ways. You will see that you won't be able to get enough once you tried. Don't waste time and try Shinrin-Yoku!