If you have chosen to insert your accommodation on Ecobnb is because you love the environment and you want to offer a sustainable stay to your guests. Ecobnb is the leading platform in Europe for sustainable tourism. So, if your eco-friendly accommodation is on the website you can have a certain visibility on an international level. On Ecobnb there are a lot of eco-accommodations, located all over the world. If you want your listing to stand out on the platform, we suggest you follow these simple rules to improve your listing and give more visibility to your accommodation facility.
1. Choose an appealing name for your listing
To make your facility stand out, you should choose an appealing name for your listing, that will synthesize the core of your business. Don't choose too generic names such as "House with a garden", but a name that will differentiate your accommodation and that indicates the peculiarities of your eco B&B. An excellent example of this is Terra Mantra, an eco-sustainable facility, focused on yoga. Just by reading the name of the accommodation, is clear that is connected with the topic of spirituality. Having a distinctive name is useful to stand out on the web, but also for your guests since they will remember the name easily.
2. Blurry pictures? No, thank you
The visual component is taken into consideration by the visitor of your webpage on Ecobnb. If you upload blurry pictures and instead of representing the characteristics of your facility they show some other elements such as the surrounding environment, for the potential guest it will be difficult to make an idea of your eco B&B. So, when you choose which pictures you should upload on your listing, make sure that they are good quality pictures and that they represent the entire facility, the rooms, the bathrooms and other services, such as the garden and the sauna.
If in your accommodation you offer also breakfast, make sure to upload a picture of a well-set table, possibly with a nice background. In this way, your guest will be amazed.
The listing for Maso Azzurro chalet is an excellent example of that: looking at a well-set table with the Adamello Brenta Natural Park in the background, don't you want to leave immediately?
Remember also to insert pictures with smiling people. In this way, the potential guest can already imagine what it will be spending a holiday in your accommodation. Cà Rural is a good example of that. The facility presents itself as a "cabin house experience", an expression that draws attention to whoever is looking for a place to stay. Cà Rural also presents good quality pictures, rich in details and with people who are enjoying their vacation.
So, to summarize, pay attention that your pictures are good quality, that they capture all the features of your facility and that they have people inside them.
3. Short description that will catch the eye
When you describe your facility, the amenities and the activities that can be done, make sure that the description is short but coincided. The description of the listing should be complete but not too long because this could bore the reader and this will make him skip parts of the text and not pay attention. At the same time, you should describe as better as possible what you are proposing. The password is efficiency.
You should try to describe what you are offering appealingly, using a word that can rise an emotion, so the reader will feel involved and will discover by him/herself how it would be to stay in the facility. A good method to do that is using rhetorical questions that will catch the eye of the potential guests and that will make them answer affirmatively to the question.
An example of a good description is the one by Rifugio di Mare, in the province of Alghero. The description is short but concise, and it gives you all the needed information without boring the reader. It also used rhetorical questions and emotional language to involve the reader.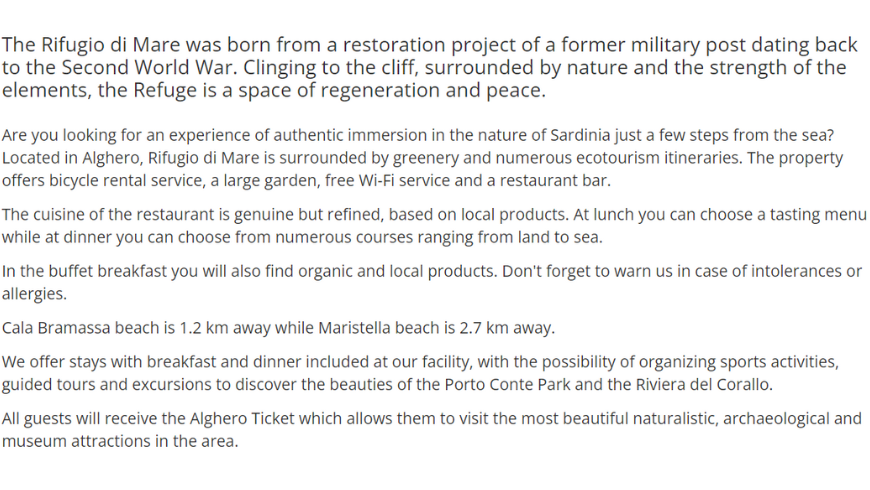 The facilities which follow these few simple rules obtain more visibility on the website and the social media platforms of Ecobnb.
So, if after reading this article you have an idea on how to improve your listing on Ecobnb, what are you waiting for?
On the cover: Borgata Sagna Rotonda, Cuneo